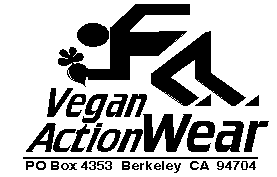 The Vegan Action logo! Quite a few interesting things going on in this picture. First of all, notice how the person in the picture is picking up a veggie? Well, being such a fraile vegan, this proves to be quite hard for our vegan friend to lift anything. Had he ate some meat, maybe he would have the strength to pick up this veggie. Instead, however, the weight of this veggie has ripped his fraile body apart. LOOK AT IT! The upper-half of his torso has been separated from the lower half by the mere weight of a vegetable! PATHETIC! Also, notice that the location of this organization: California! This means it won't be around too much longer due to a severe earthquake that's gonna hit it! Woo Hoo! BYE BYE VEGANS!
---
THE ELITISTS SPEAK!
The rest of this page is going to have a bunch of letters that I've been sent or have simply found to be hilarious. So no more pictures on this particular page, but don't worry, there's plenty more on the next pages as usual for those of you who are too lazy to read. In fact, if any of you have pictures to give me please feel free to do so and I'll take it upon myself to mock them to hell. So here are some of the more humorous emails I've received or have found on the web.

Here's a classic example of the vegan/sXe elitism:

Date: Wed, 26 Mar 1997 20:00:12 -0500 (EST)
From: Sxechss1@aol.com
To: dogmuled@hotmail.com
Subject: hello

Now they I have your attention. I am a SXE chick who wants to tell you to go shoove your foot up your ass. The sxe scene is a great scene and just cause people like you aren't excepted you whine about us. Well let me tell you something I am better than you. You could never get a girl as hot as me. I am a beautiful sxe girl who wants you to die. so you go commit suicide you stupid arrogant asshole. You go murder innocent animals, and who are you to criticize earth crisis, you are a sell out to the human race. you worthless piece of shit
XchristinX


NOW TELL ME THAT WASN'T FUNNY AS SHITE!!! HAHAHA!
Look here girlie girl, I've had more people email me about your one particular email than ANY OTHER message on this page. Everybody thought you were the most "idiotic whore they have ever seen" (that's a direct quote, mind you). Who would want to be with somebody who thinks so highly of themselves? Just like many of the sxe people I've seen who are extremely image conscious, you prove to care about how you look more than the actual cause. DIE.
---


Ok, this wasn't directly mailed to me, but I got it from one of the vegan mailing lists. I almost fell out of my seat laughing at this thing.

Graeme: here is a real world experience. My mother-in-law neeeded a heart valve replaced and her surgeon recommended a pig valve. There was an alternative of a synthetic valve, but the surgeon suggested that it would not be in her best interests to use the pig version. If it were me, I would have taken the synthetic and run the risk that it may not last as long. If there were no synthetic and I needed the valve to survive I would have had an agonizing decision but I would have used the pig valve. Despite all of this, in the case of my mother-in-law I decided to be silent, and to make myself feel a little better I sent some money to Farm Sanctuary. -Dwight


OK STOP LAUGHING AND LISTEN
Call me crazy, but I'd let them put the entire fucking pig in my heart if it meant that they could keep me alive. Hell, I'd be sitting there eating the pork while they were performing the open-heart surgery on me! "That's it! Shove that pig in there! Hey, you guys got any beef jerky around here? Actually, I'm kinda thirsty, how about some MILK?"

It's actually funny how serious vegans are about wanting to be "healthy". I mean, you can eat all the rice cakes and granola in the world and yer still going to die. There's pollution, there's accidents, there's "angry gun-toting meat-eating people" like me.....give it up.
---


For those of you considering veganism, here's the scrumdidleyumpcious meals you get to choose from!

Date: Fri, 28 Mar 1997 10:22:22 +-1200
From: CL MILLER
Subject: Re: Unusual, little known Vegan stuff?
To: Multiple recipients of list VEGAN-L
All these products are vegan: Cavandish and Harveys peppermint cream = dark chocolate (made in germany), praise canola margarine , filo = pastery, Arnotts belgium creams and gingernuts, Beacon chocolate, = Zarbitter chocolate, Darrel lea natural licqorice, Cadburys drinking = chocolate, Hikers delight fruit/nut bars (made in aotearoa/nz), wrigleys = chewing gum, sunrise margarine. These are just a few avaliable in aotearoa/nz, I'm not sure if they are = all avaliable overseas. Please correct me if I am wrong.


WHAT??? NO BEEF?!? Boy, I didn't know I could live off of canola margarine and wrigleys chewing gum! I've gotta try this, it sounds so tasty!
---