Boo Berry Taking Halloween '03 by Storm!
Last year was a pretty good year for Boo Berry. He's been spreading around to more and more stores around the country, a Boo Berry Cookie Kit was released, and there was an offer to get a Boo Berry bank on the back of the cereal boxes. Now while the bank was really nice, it still felt like a kick in the cajones to Boo Berry fans. Why? Because Count Chocula and Frankenberry got their very own FunKo Wacky Wobbler figures! These things looked great and it was if they were saying, "Oh, we're sorry. Boo Berry isn't good enough, so we'll give him a cheap bank instead." Well guess what? As a result of this site and others, hundreds if not thousands of emails were sent to General Mills and this year it seems as though they finally realized just how important Boo Berry really is.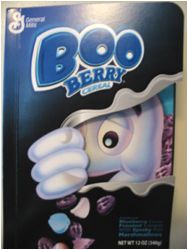 Peek-a-Boo! I see you!
Check out the brand new Boo Berry box! A totally sleek new design, and one that is truly worthy of the awesomeness that is Boo Berry. I damn near had a heart attack when I saw standing proudly on display. And for those of you wondering, you can pick up a box at your local Target and Wal-Mart shops. Some grocery stores carry it too, and if all else fails, you can order it online from General Mills. But that's not all there is to the new box!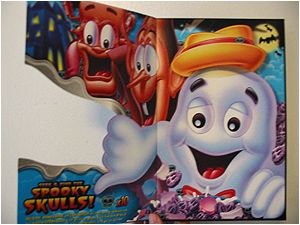 That's right, it folds open to unveil a nice large picture of Boo Berry and a little "Where's Waldo?" type of game. Instead of finding an annoying guy in a striped sweater, you have to find the 10 skulls hidden randomly throughout the picture. Not the most difficult task, but if I was gonna do this, I was gonna do it right.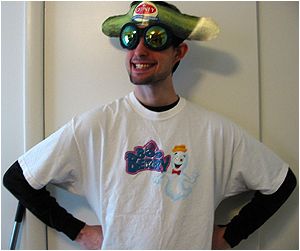 I put on my favorite Boo Berry shirt and prepared for the boorific times ahead.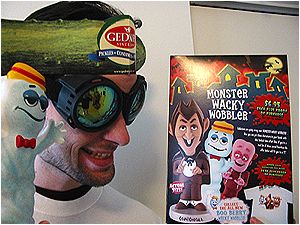 Check it out! This year they've finally released a Boo Berry Wacky Wobbler! All the ordering information is on the back of new boxes of the monster cereals. My Boo Berry bank explained to me that he does have an inferiority complex as a result of the Wacky Wobblers, but I reassured him that he's still aok in my book as I deposited a quarter into the back of his had. That seemed to cheer him up pretty fast.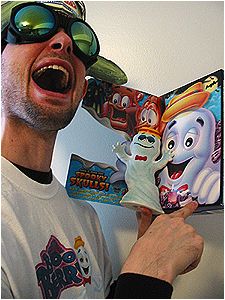 Then Boo Berry and I had a few belly laughs as we tried to find the spooky skulls hidden in the picture on the box. I admit, I had trouble finding them, but Boo Berry's keen eye for the skullish and spooky found the rest. With a job well done, it was obviously time to enjoy a hearty bowl of cereal.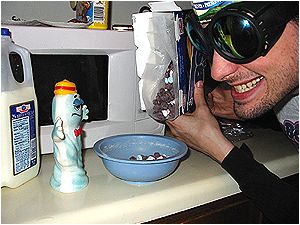 I tried to stop myself from drooling as I poured the delicious cereal into the bowl... oh how it looked and smelled so goooood. Boo Berry bank made sure that I filled it with the proper amount of milk to ensure maximum munching pleasure.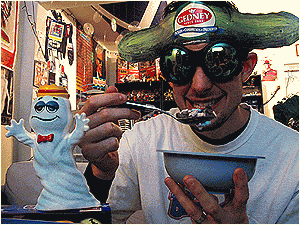 And what a pleasure it was!
So there you have it fellow Boo Berry fans, Boo Berry is back and taking the Halloween season by storm this year! Let's hope that General Mills continues to treat Boo Berry with the respect that he deserves from now on. This is easily a step in the right direction.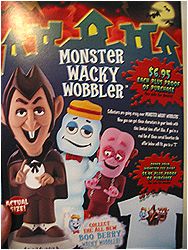 Don't forget to order the all new Boo Berry Wacky Wobbler figure so you can have Boo Berry nod his head right back at you in appreciating for supporting his fine cereal! You can also grab yourself a nifty Monster Cereal t-shirt. Click here if you need an ordering form, but know that you will need to get a UPC code from any of the monster cereal boxes before you can send in your order! The offer expires 12/31/04.
Good luck and enjoy all the Boo Berry goodness of Halloween this year!
-RoG-
webmaster@i-mockery.com
Also, the files for RoG's appearance on The Daily Show are now back online!
CLICK HERE TO VIEW THEM!
---
Want to show support for I-Mockery.com and this Boo Berry site?
Buy something from the I-Mockery Store!
Or buy -RoG- something spiffy from his Amazon Wish-List!
Or you could just buy some bumper stickers!
Or check out some of the other merchandise!