5/4/06 - Thursday - Day 1
1:06am
What can I say? This is simply unreal. We've been talking about moving out to California for so long it's hard to believe it's finally happening. I wasn't until we turned in the keys to our old place, said our final heartfelt goodbyes and jumped onto I-64W that all the talks of us moving to California had become a reality. Before I go on though, I really can't thank all our friends and family enough for helping us pack up our crap over the past few days. We couldn't have done it without you guys are the one thing we truly will miss about Richmond. Also, many thanks to all the people who've emailed in their good luck wishes and road trip tips... I really appreciate it!
So on with the road trip...
Holy bitchcakes! Am I really driving across the entire friggin' country!? Well, considering how many cows, tractors, and stacks of hay I saw today, I'd have to say YES. Re and I were talking about how strange it is that the coasts are so extremely congested, yet as you get farther away from them, the harder it becomes to even find signs of human existence in some areas. After only a few hours of driving, I look out the window and all I can see are thousands upon thousands of trees; some of which are in such large clusters that they appear to be rooted within each other rather than in the ground. Almost as if they're in some ancient tree battle to see which one can be king of the hill.
Today we drove to Tennessee and arrived at our "picked because it had WiFi access" hotel around 11pm. Turned out to be a damned lucky choice because not only was the place a fair price, but the room is insanely huge. It's actually got a living room, a bathroom and a bedroom - complete with two TVs. Not that the TVs matter since I won't be watching them due to being pretty beat from packing all of our belongings and then driving for a long time. But still, just knowing that I could have both sets turned on while running back 'n forth between each room in a futile attempt to watch two shows at once makes me feel like I'm getting my money's worth.
Tomorrow I think we're gonna check out Gatlinburg because we saw some huge billboards displaying sharks (which many of you know I'm obsessed with) and pirates (who proudly display my flag, the "Jolly Roger"). I already snagged a bunch of random brochures from our hotel, many of which are absolutely priceless in their own respect and you can expect to see many photos of them in the near future.
Speaking of photos, we took a lot today and I'll share some of them with you right now. I'd share them all, but honestly, resizing images on a laptop in the middle of the night isn't something I want to do on this trip every day. So here's the plan: each day I'm going to post updates to this road trip journal page with updates about where we are and some of the things we've seen and done. I'll also include a few photos in each post too. Then, once we're settled in at our new place in Los Angeles, I'll do a nice big feature article about the entire trip with more cross country adventure photos than you can shake a star-spangled banner at.
Do we have a deal? You're damned right we do. Alrighty, now that that's out of the way, let's get on with some of the photos from Day 1 of our amazing adventure journey!


It's so haaaaaaard to say goodbyeeeeee to yesterdaaaaaaay...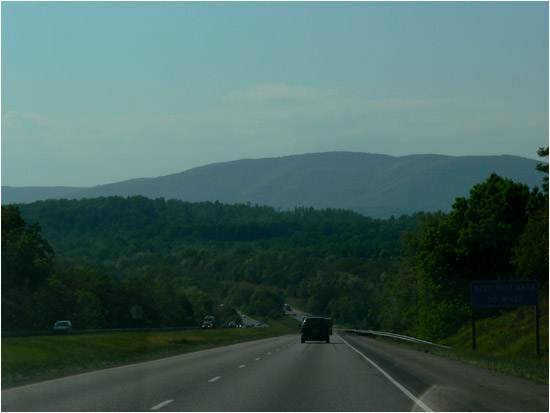 50 miles of nothing but trees to the next rest area? Yeah, well, I suppose
we had better get used to that. At least the view is incredible.

If only they were named "Porky's" after the movie instead of
"Porkies"... then these would be the ultimate pork rinds. I have a
feeling this may be one of the last times I see pork rinds for quite a while. Considering I refuse to even try pork rinds, I think I can live without 'em.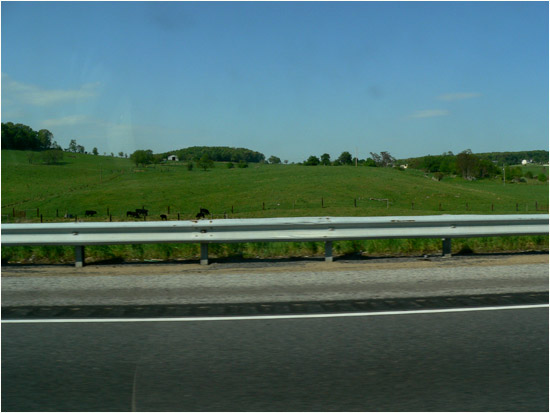 The cows on the farm go MOO! MOO! MOO!

We ran into some light rain along the way, and even out in the middle of nowhere, with no traffic whatsoever... somebody managed to flip their car upside-down thus confirming my beliefs that only people from up North know how to drive.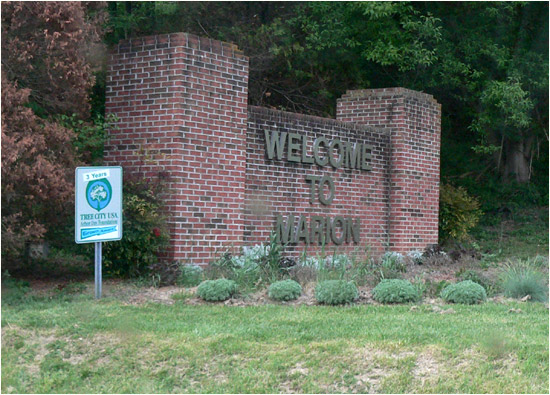 When starvation for dinner finally kicked in, we decided to get off at the Marion, VA exit to see what interesting restaurants we could find. We're hoping to eat at a new place every day rather than live off of the typical fast food joints... why go to the same places you can go to wherever you live when you can try out the local food?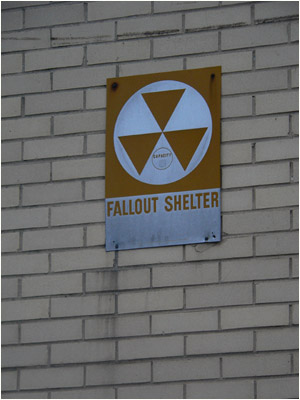 Er... nevermind. Perhaps Marion, VA wasn't the best choice after all.
Actually we did find a hilarious "Japanese Hibachi" (and I use that phrase VERY loosely) restaurant to eat at. Details and photos of that place will come later.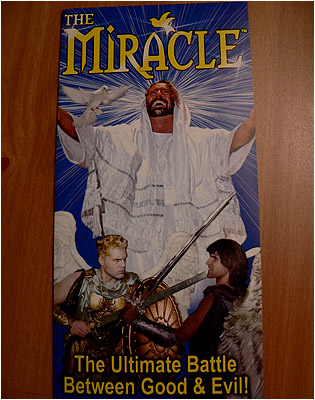 I challenge you. I CHALLENGE you to find a better way to end the
first day of a road trip than with a brochure like this in the hotel!
Ok, that's all for day 1. I'll try to get back online late tomorrow night with some more updates... pending I'm not sent to a watery grave by those sharks and pirates first.
-RoG-
CLICK TO COMMENT ON THIS ENTRY
---
5/5/06 - Friday - Day 2
10:21pm
To say this day was eye-opening would be one hell of an understatement. I honestly thought we'd end up breezing through Tennessee because there wouldn't be much to see, but after finding a brochure for a big aquarium complete with sharks and pirates, we decided we had to stick around and check things out. What we didn't realize that we would pass through Insano-town, USA on our way to the aquarium.
Re woke up in time for the complimentary breakfast that came free with the room while I got in an extra hour of shuteye (hey, I earned it since I stayed up last night getting this journal updated). While I missed out on the make-your-own Belgian waffles, I had come prepared for sleeping late with a butternut donut from Dunkin' Donuts. Their butternut donuts are without a doubt one of the greatest foods on this planet; if you've never tried one, you have my most sincere condolences.
We checked out of the hotel a little before noon and backtracked a few exits on the highway to go check out the aquarium in Gatlinburg. To get to Gatlinburg, however, we had to travel through Pigeon Forge... one of the strangest places I've ever visited in the USA. Pigeon Forge seems to pride itself on being a great place for families to go for vacations, and it's easy to see why. It's a bizarre blend of amusement park rides, $10 helicopter scenic tours, "As Seen On TV" item shops, stores that sell nothing but crazy looking combat knives (and yes I saw the knife from one of my favorite action movies, "Cobra"), fireworks shops, dinner theatres involving religious icons and black bears in a jamboree ho-down!
So I must extend my hearty congrats to those of you who reside in Pigeon Forge, Tennessee for you are all clearly batshit insane and I love you for it.
After continuing on through the madness of Pigeon Forge, all signs of civilization ended as soon as we left the town limits. One minute we were in a billboard blitzed carnival that seemed to go on forever... the next, we were traveling on a windy downward path through the Smoky Mountains. Looking up at the trees high above us from the narrow road we were traveling on, the Smokies did in fact live up to their name. It was an overcast afternoon and it created a really cool smoke-like visual around all of the giant trees. There was also a nice river separating the two sides of the roads during our drive all the way down into Gatlinburg.
While we weren't greeted by a gatlin-gun-toting Jesse Ventura spitting chaw onto our shoes while talking about how it could "make you a goddamned sexual ty-ran-o-saurus," Gatlinburg did offer some other amazing sights. First off, you wouldn't expect to find a giant aquarium and a highly populated town in the middle of a mountainous area seemingly in the middle of nowhere... but there it was. Hell, they even had the General Lee from the Dukes of Hazzard parked along side the road for no apparent reason! While it takes a while to drive into Gatlinburg, it's definitely worth your time, if for no other reason than the fact that the Ripley's people seem to own the entire friggin' town!
There's a Ripley's Believe It Or Not museum, Ripley's Davy Crockett miniature golf course, Ripley's 4D Moving Theater, Ripley's Haunted Mansion, and of course Ripley's Aquarium of the Smokies. I'm pretty sure if we kept on driving through Gatlinburg, we would've found Ripley's Gateway to Hell, Ripley's Sausagefest, and Ripley's Sperm Bank. Either way, between Gatlinburg and Pigeon Forge, you could easily keep yourself entertained for well over a week. But since we only wanted to stay a few hours so we could make our way to Memphis later tonight, we decided to check out the aquarium.
Ripley's Aquarium of the Smokies was pretty damned impressive for two reasons: 1) how the hell did they even get all these giant fish into the bottom of the mountain?2) the view of the sharks was absolutely phenomenal as you stood on a moving floor that slowly glided you underneath the aquarium as they swam on by. Plus, they had piranhas. You just can't go wrong with a cluster of flesh-hungry piranhas. The pirates section of the aquarium was pretty decent too; mainly covering the history of pirates and why you should become one. Actually, if I was a true pirate, I wouldn't have paid the fee to get into the aquarium... I would've hoisted the black flag and then they would be forced to either let me in for free or suffer a most bloody death via pegleg impalement or something along those lines.
All in all, the aquarium was totally worth it and we scored some free ponchos on our way out because it was raining like a mofo when we left. Maybe it's the immature little kid in me, but I always love the opportunity to wear a poncho. It's just an excuse to run around in the rain and see how wet you won't get. Well being the tall bastard that I am, the poncho didn't cover the bottom half of my pants and they got pretty damned soaked but I was having too much fun to give a damn.
We then drove back up the other side of the mountain and through a traffic jam in Pigeon Forge and headed out to I-40W. I figured one traffic jam wasn't too bad, but then I kept on hitting them all along the highway for the next several hours, including a really long jam between Knoxville and Nashville. So that was pretty annoying cuz we probably could've arrived in Memphis an hour or two earlier if it wasn't for the traffic delays. Plus, they were the kind of delays that seemingly had no reason. All of a sudden the traffic would disappear with no signs of real road construction or accidents or a lot of lanes merging together. Damned people can't drive! I can't let the delays bug me much though; the nice thing about a trip like this is that there's no real set times that we have to get to places... we just drift from place to place, checking out all the local attractions and oddities along the way, until we arrive at our final destination.
Well anyway, it was smooth sailing once we hit Nashville, and right after we passed through the city we found a place to eat called Sir Pizza. I mean really, how could you NOT eat at a place called Sir Pizza? It was a nifty independent pizza joint and was frankly the best food we had thus far on the trip. Plus they had a nice selection of classic arcade machines including Pac-Man, Galaga, Centipede and Outrun... and still set at their original 25c to play price. Nothing steams me more than when I see some place that charges a buck to play a fucking game of Pac-Man; there's just no excuse for that.
So with our bellies filled with pizza and enough crushed red peppers to kill someone with a bad case of acid reflux, we hopped back on the road and headed for Memphis. We'll be arriving at our hotel soon and I can only hope it's as nice as the one from last night. Oh and for the record? Typing on a laptop while driving isn't easy. I kid, I kid...
Ok, enough blabbering for now, there will be plenty of time for that when I do the big recap of our entire trip later on. Now it's time to share a few of today's photos with you. Enjoy!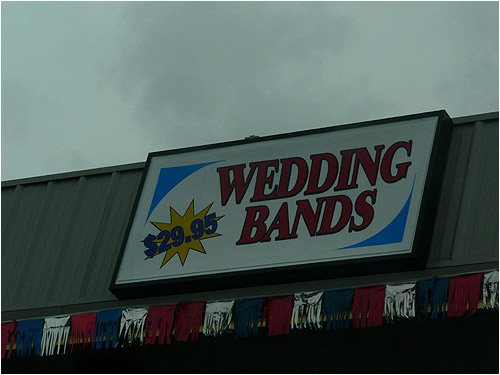 Spent all your cash on psychic readings and useless battle knives? Fret not!
You can still afford a quality wedding band for that someone special!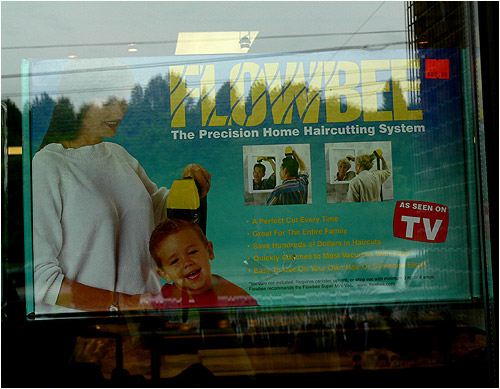 When a Flowbee is of the items featured in a store's limited window
space, you know you're gonna find some fantastic stuff inside.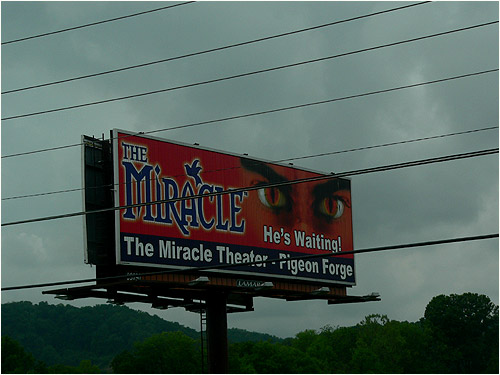 Look out! Satan is waiting for you! Those evil red eyes clearly mean business!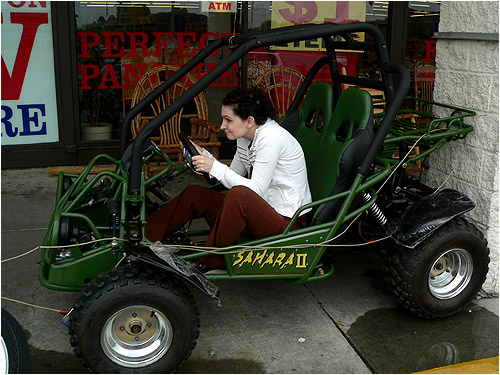 Re ponders leaving me to fend for myself in the old Honda Civic
while she travels her way across the rest of the country in style.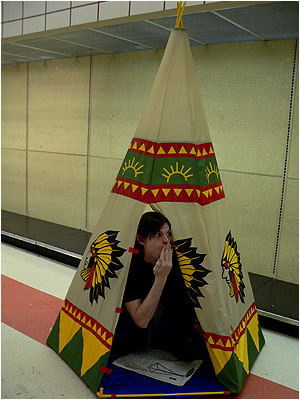 This naturally fills me with rage and I soon make plans
to go on a warpath... after a short nap in my teepee.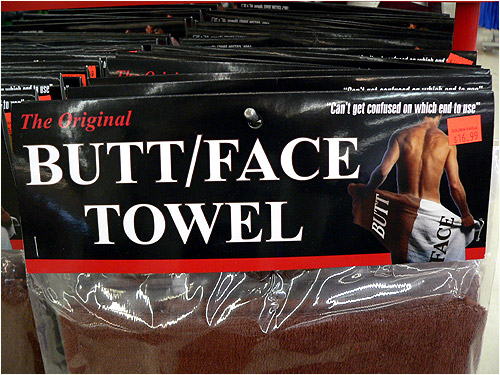 Some things need no captions. The "Butt/Face Towel" is one of those things.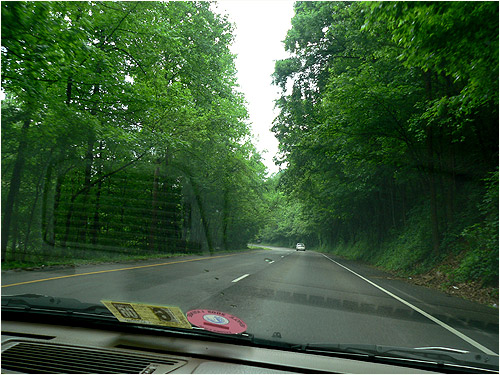 There's an aquarium hidden down within these mountains somewhere I swear!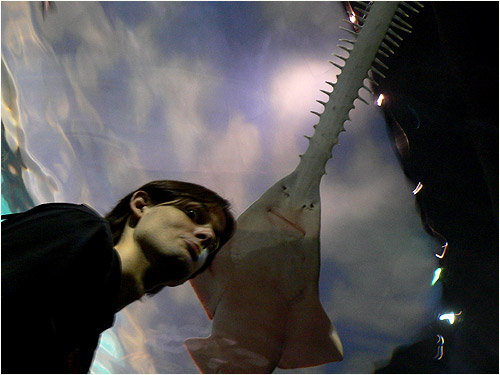 Either we found the Ripley's aquarium or I'm really lost.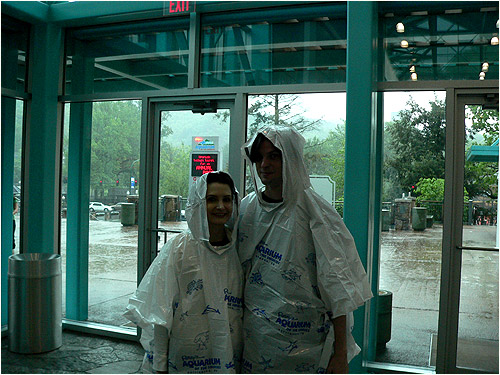 Ponchos make everything better. Everything.
Ok, that's all the pics for today. Don't forget, I'll be posting a ton of photos from each day once I'm all settled in at our new place in Los Angeles. Until then, just keep checking back on this page each night and I'll do my best to bring you the latest news from our traveling adventures. Tomorrow, we're going to Graceland and I had better see the ghost of Elvis... or the Flying Elvises... or the Red Elvises... or at least a handful of those creepy Elvis fanatics that smell like Chinese buffets.
-RoG-
CLICK TO COMMENT ON THIS ENTRY
---
5/6/06 - Saturday - Day 3
7:13pm
I got my Belgian Waffle this morning, and while it was perfect, the hotel was not. I'm not saying the hotel was horrible, but it definitely looked like it had seen better days. It was a Drury hotel and there was nothing but wood paneling and old carpeting as far as the eye could see. I really thought I was living back in the 70's for a little while. The light switch on the wall actually snapped off in my hand and I couldn't use it any more that night. Always a sure sign of quality. Well, either that or just a sign of my amazing brute strength and my inexplicable hatred for switches. But whatever, the bed was fine and the waffle came out perfect too. If a few traffic delays and a broken light switch are the worst things I encounter on this trip, I think it'll be safe to say I had it pretty damned easy.
Alright, so today we headed out to see Graceland in Memphis, Tennessee since pretty much everybody says you have to stop there whether you're an Elvis fan or not. Considering it we were gonna be driving right by it anyway, it was worth a shot. Now I don't know a whole hell of a lot about Elvis (other than the fact that he's dead) so my interests in Graceland were mainly focused on seeing what kind of crazy decorations 'n stuff he had. Well that and I simply HAD to see one of those extremely creepy Elvis fan freaks before leaving. When we first got off the highway, we were surprised at how run-down the area appeared to be. I figured the streets would be lined with Carpet and Elvis impersonators, but there was nothing of the sort. We then arrived at Graceland and sure enough, there were a ton of people there waiting to check out the king of rock 'n roll's home. I'm sure it didn't help that it was a Saturday too.
So we paid for our passes, and I once again used my old student ID from about 10 years ago to get a discount. The nice thing about my old student ID is that it doesn't list a date on it or anything, so as long as I don't age horribly (which I'm sure won't happen given my strict regiment of eating sugary treats on a daily basis) I'll be using this ID to score discounts well into my 60s. By the time they stop accepting that ID for a discounted rate, I should be able to use a senior citizen's discount instead. Yes indeed, I've grabbed life by the balls and it can't escape my iron grip.
While waiting for our turn to check out the Graceland home, we went inside Elvis' private plane The Lisa Marie. All I can say is - damn, that bastard was rich. Sure, his setup might look dated nowadays, but back in his time he really did live like a king. A bed, a bar, a lounge, a meeting room... this aircraft had it all. And most of it was leather or something overly extravagant. Even the fucking belt buckles on the plane were gold-plated. As David Cross would say, "Ha ha, take THAT, poor people!"
We then made our way to the front doors of his Graceland home only to discover that American Idol was filming there today. I don't watch that show because, well, frankly I hate it. I can understand the appeal of watching the complete failures with high hopes at the very beginning of each season, but after that, why anybody cares about the show is beyond me. But there were hordes of screaming teenagers 'n shit at Graceland, and they were all there for the American Idol final four instead of Elvis. None of these four contestants have even won yet and they're being treated like rock stars - complete with people swarming around them in a chaotic frenzy. I swear, I heard someone saying, "she held my hand! oh my god she held my hand! I was this close to her!"
If my life ever gets to such a low point that I break down and cry in joy because a contestant on American Idol came into physical contact with me for a brief moment, do me a favor - shoot me in the face.
Overrated TV series distractions aside, the inside of Elvis' Graceland home was nothing short of amazing. I am now convinced that I need to become mega rich just so that I can have carpet on the walls and on the ceilings of every room in my house. Then I'll hire some help and laugh at them when they have to clean the house by sticking a vacuum cleaner on the ceiling. "Ha ha, take THAT, poor people!"
Traveling through his home (which he bought for only $100,000 mind you), we saw his massive kitchen and TV room with 3 sets built into the wall and a huge couch. We saw a bunch of his old crazy outfits, his gun collection and even his martial arts uniform. Elvis was the king of rock & roll, and if you disagreed with him about this point, he'd pummel you with his karate skills and then snort some coke off your bloodied carcass.
It's definitely one of those places that words can't do enough justice and you need to see it for yourself, but I don't see why everybody was saying I would need to spend a day or two there. It really feels like a tourist trap there, which is understandable because I'm sure "the Elvis industry" is the only thing keeping that town afloat. I'm just saying it's not something you should go out of your way to see, just check it out if you happen to be passing by like we did. We were satisfied with everything we saw after about two hours worth o' sightseeing, so we headed back on I-55, crossed the mighty Mississippi River and drove into Arkansas. And yes, I couldn't help but think of Chevy Chase singing about it in Vacation as we passed on by. Granted, we couldn't see the river too well since the guard rails were level with our little car.
Now I'd love to tell you about Arkansas but so far it's been rain and mud and mud and rain and never-ending fields of mud and rain. Seriously, there's not much here, but that's to be expected when traveling through some of these states. We're gonna try to make it to a hotel right near the border of Oklahoma before the night is over, but who knows... maybe we'll get delayed by some exciting wet fields of mud here in Arkansas that I'll just have to pull the car over to see.
Oh by the way, I hope you all went to your local comic shops to support Free Comic Book Day!
And now, a few pictures from today's action-packed adventures!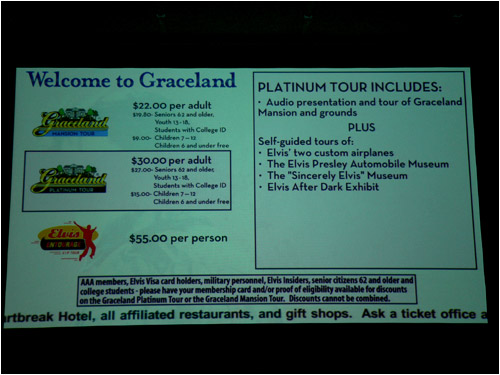 We decided to go with the platinum tour instead of the "Elvis Entourage" tour. Sure, the
Entourage one let you skip in front of everybody in line so that they would all give you
angry stares, and yes it guaranteed that you'd receive a full body massage from the
ghost of Elvis himself, but I just couldn't stomach spending $55 bux on it.


If you're an Elvis fan, the gift shops have more Elvis crap than you could possibly
know what to do with. And it's all extremely overpriced - go figure!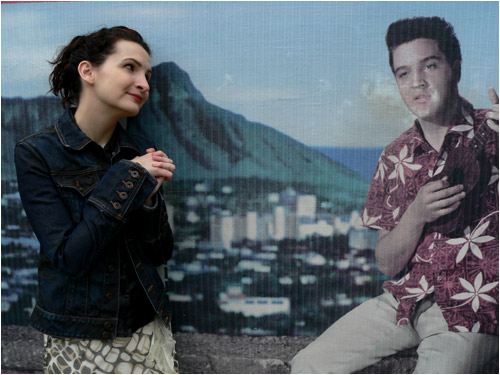 Re got her "oh he's sooooooo dreamy!" photo with Elvis!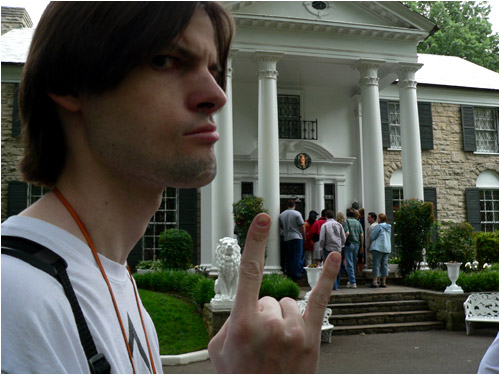 I was too tall for it though, so I settled on taking a picture in front of Graceland.


As you can see, Elvis had a pretty friggin' swanky home!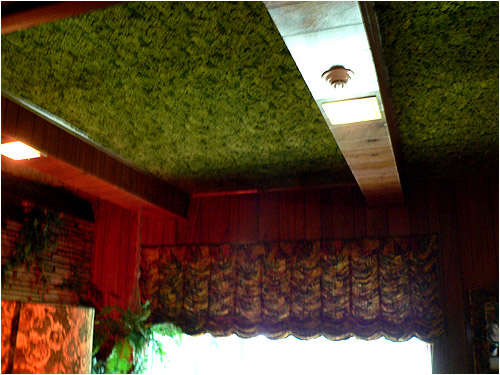 There really was carpeting on the ceilings. Man, that had to be a bitch to clean.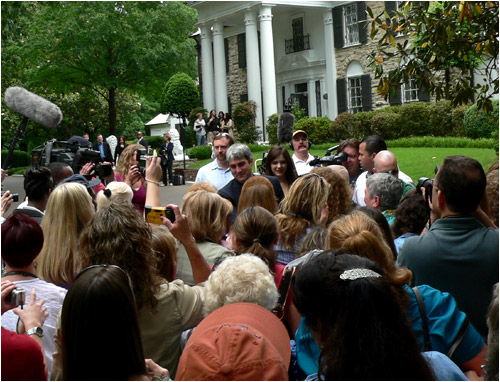 blahblahblahAmericanIdolContestantsblahblahblah...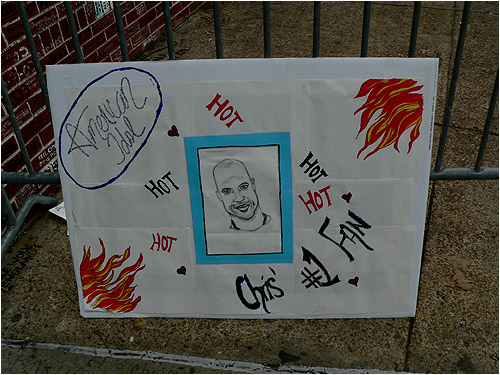 This is truly a sad world we live in...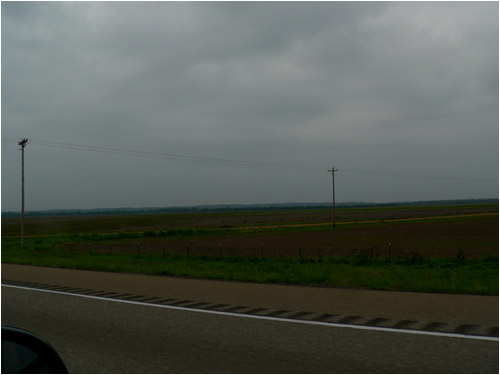 Ah America... my home sweet home.
Alrighty, time for me to head off. We're gonna go eat at some Mexican restaurant called Salsa's. I sure do hope they serve mud-filled fajitas and rain water! Awww, don't feel bad, Arkansas. You know I love you.
-RoG-
CLICK TO COMMENT ON THIS ENTRY
---
5/7/06 - Sunday - Day 4
11:41pm
Where to begin? Today I was expecting to mainly be a day of driving as we drove through Oklahoma towards Texas, but instead, we ended up seeing and doing all sorts o' stuff. And we still made it to Texas (also pronounced "Tee-has").
So we're driving down I-40W in Oklahoma hoping to do nothing but make good time as we drive to Dallas, when all of a sudden we see a billboard for "The Castle". Granted, we had no idea what "The Castle" was, but it had an armored knight on it standing in front of a castle and he seemed to be calling to us. Well, being as this is a trip where we'll stop whenever and wherever the hell we want, we decided to take a detour and check out "The Castle" to see just what it was all about. Turns out, this thing was the largest Renaissance Festival in Oklahoma.
First off, until today, I was a Renaissance Festival virgin... so I really didn't know what to expect going into these things. Ok, I did have ome ideas in my head about what I would probably be seeing: wenches with their gargantuan breasts boosted up to their chins, failed actors trying to speak in old dialects, weapons that would've been a good deal if I didn't have to pay the festival entrance fee, and people gorging on the worst foods money can buy. Well I did see all of those things, but I also saw a lot more that I didn't expect.
Did you know there are pirates at these things? Not just a few, but a whole crew of pirates complete with their own pirate ship. What was most amusing about the pirates is that they had this whole singing, dancing, and joke-tale telling act that they performed in front of a very large crowd. I didn't stick around for the whole thing, but half of their jokes were about how pirates love to rape. They even mentioned how they killed some Muppets and then raped them, especially Miss Piggy. But that's not the best part; the best part is that they were telling these jokes to families with young children. Good times. I bought me a pewter "Jolly Roger" skull 'n crossbones belt to help support their piracy... and rape.
Oh and not to pick on those who are overweight or anything, but goddamn... some of the people there were really pushing their spandex outfits to the limit. There's plenty of nice outfits you could wear that wouldn't make you look so ridiculous and horrible, but costumes involving spandex pants are not on that list.
There's a lot more to tell about the fair I'm sure as I definitely took a lot o' pictures, but I'll save all that blabber for when I do my big cross-country trip wrap-up in the future.
So after a delicious blue raspberry sno-cone, we left the ren-fair and hopped back on the highway for roughly a four-hour drive towards Dallas. Maybe it's me, but Oklahoma seemed to have more cops busting people for speeding than anywhere else. In fact, I don't think I had even seen a cop pull somebody over on this trip until we got to Oklahoma. So word to the wise - if you're in Oklahoma, watch out for the bacon patrol cuz they're clearly watching you! :o
Shortly before making it into Tee-has, we noticed a place called "The Peanut Shoppe" in Durant, Oklahoma. Being a big fan of peanut "sure you may lose a few fillings, but it will be worth it" brittle, I figured it would be worth checking it out. Holy cashews Batman! This place had every kind of peanut creation you could imagine. Peanut brittle, spicy peanuts, chocolate covered peanuts, jalapeno brittle, peanut-less brittle, circus peanuts and a weird taffy-like substance with peanuts in it that they called "Divinity". Oh yeah and they also had a lot of beef jerky and John Deer caps for some reason. We ended up buying about 20 bux worth o' peanutty treats from the place - after all, peanuts make great treats for long car rides and overnight hotel stays.
After that, we made our way into Texas and gave the big state welcome sign the middle finger since it actually bragged about being the home of Dubya Bush. That's just not something I'd be proud of if I were a state. Dallas however, is definitely something to be proud of. We were both shocked at how clean and well planned Dallas was. There was virtually no traffic and the streets were easy as hell to navigate, even without maps. From what I've seen so far, it's also pretty much as clean as San Diego... so consider me impressed. The same can be said for Plano, Texas as well, but it's so close to Dallas that it all seems like it's the same big city.
Now, since I was in Texas, I knew there was only one choice on the menu for my dinner this particular evening: STEAK. On a whim, we chose a place called "Texas Land & Cattle Steak House" and it turned out to be a damned good choice. I got a big-assed smoked steak in this big-assed steak house and after performing my usual ritual of emptying half a bottle of pepper onto it, I scarfed the entire thing down real fast. The garlic mashed potatoes were really good too. If you ever have a chance to eat there, I highly recommend it... it's not like those shitty Outback Steakhouse restaurants where they give you ridiculous portions and the cut is mostly fat. Everything about this place was good, and the price was pretty much the same as an Outback Steakhouse too. Easily the best meal I've had so far on this trip, no doubt about it.
As if we hadn't already done enough today, as we exited the steak house with stuffed gullets, we noticed a huge building being it. The sign on it read "Main Event Entertainment". Turns out this place is a Mecca of bowling lanes, pool tables, air hockey, crazy video games and more. So we went in there and had a blast. Oh, and if Re happens to mention to any of you that she kicked my ass 7-to-3 in a game of air hockey AND beat me in skee-ball... trust me when I say she's lying through her fucking teeth. Just trust me on this okay? You got that? Are we on the same page here? Good.
I don't know if we've just been lucky or what, but this whole picking out places to visit on a whim system has been working out extremely well on this trip so far. And speaking of which, I noticed that I often forget currently in the process of moving to California. I mean, I know this is partially a vacation 'n all, but I seriously haven't even been giving any thought to the move at all... which is good, because for the past month or so, that's been the only thing on my mind.
Guess what? It's time for me to go to sleep here at the Holiday Inn Express in Dallas and time for you to look at some more pictures!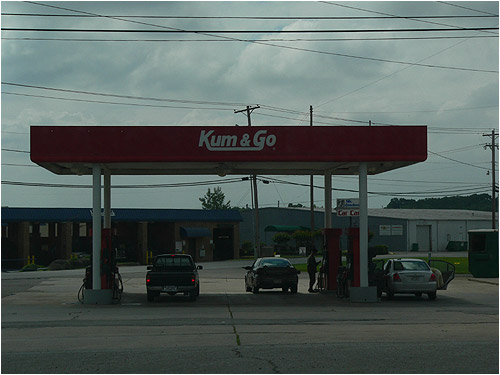 No comment.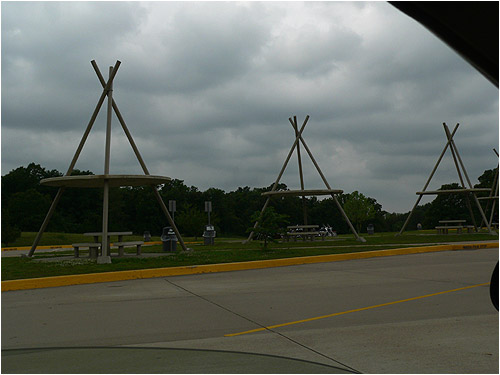 Dine under a teepee at an Oklahoma rest area!


We arrive at The Castle Renaissance Festival and see a police car parked out front.
I guess all the king's knights are having trouble maintaining order on their own eh?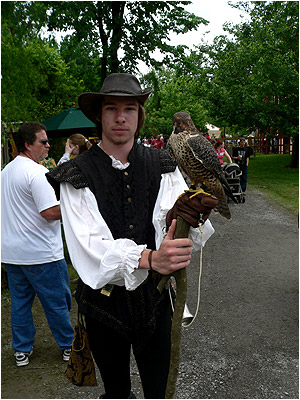 Sir Falco and his Falconian friend.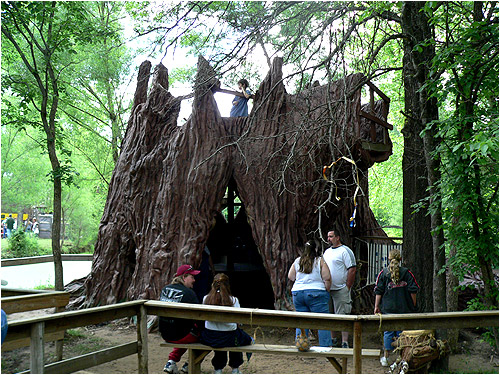 They really went overboard with some of the decorations in this place.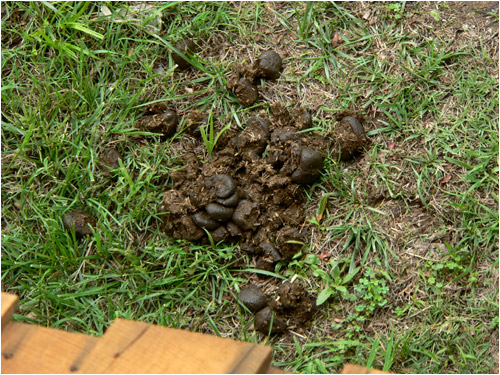 A Renaissance Fair? What a load of horse shit!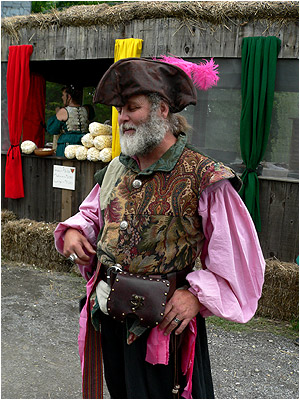 This perfectly pink pirate was hot to trot!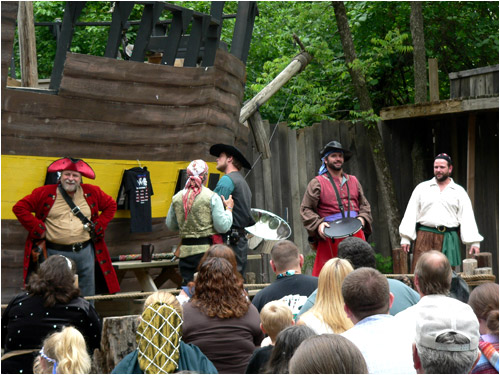 Say, which one o' you landlubbers wants to hear another joke about rape?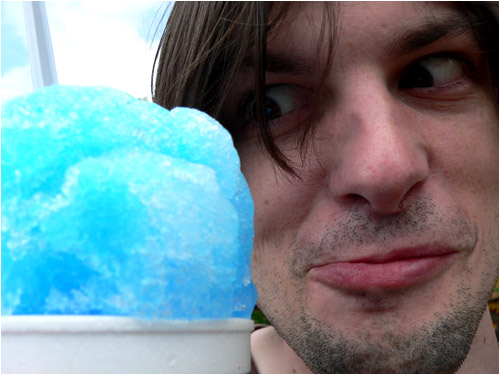 My blue heaven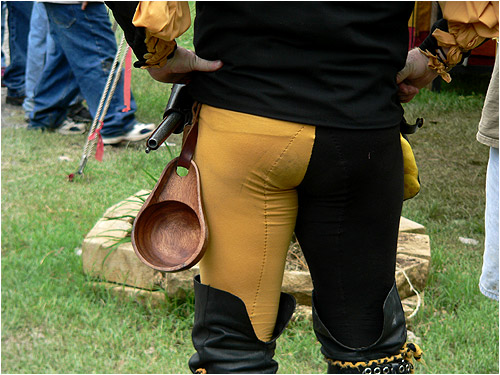 NO NO NO NO NO NO!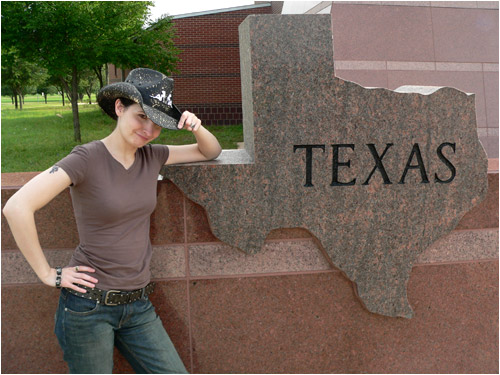 We arrive in Texas and Re does her best to blend in with the locals. Yeeeeee Hawwwww!


I succeed in letting a building burn to the ground in a game of "Hero Firefighters"
while Re whips her horse into shape in some Japanese derby racing game.
Tomorrow we head towards Waco, Texas to check out the Dr. Pepper museum and maybe a crazy cult of people who are gonna kill themselves or something. Oh wait, that already happened right? Ok, well we're at least gonna check out the Dr. Pepper museum. Wouldn't you like to be a pepper too?
-RoG-
CLICK TO COMMENT ON THIS ENTRY
---
5/8/06 - Monday - Day 5
8:06pm
As planned, we passed through Plano and Dallas and made our way to Waco, Texas to check out the one and only Dr. Pepper Museum. While in Waco, I couldn't help but look at every building that had a "no trespassing" sign on it and think, "I bet there's a suicide cult in there!" All I can say about the suicide cults (well, making a stand-off against the ATF is "suicidal" as far as I'm concerned) is that they must be complete idiots to kill themselves when they're within driving distance of the Dr. Pepper Museum, where you can not only learn all about the history of the tasty beverage, but you can taste test stuff that is ONLY sold at the museum!
The Dr. Pepper Museum consists of 3 main areas - the actual museum tour, the gift shop and the classic soda fountain. As you could probably imagine, the museum tour covers pretty much everything one could imagine in the history of Dr. Pepper... the wide variety of bottles, memorabilia, the machines used to make the stuff, a deep well for their water supply, all their old commercials & advertisement signs, a semi-creepy animatronic guy with a stogie talking about the soda and my personal favorite - a section that basically rips into all the Dr. Pepper imitations out there. I think Dr. Nut was my favorite imitation bottle, probably because it had a squirrel on it and I have no idea what that really had to do with the drink itself other than the fact that squirrels like nuts. They also talked about how they sued Mr. Pibb, which is pretty much their only competition these days.
The gift shop had some cool stuff in it, but I wasn't about to spend $75 on a light-up Dr. Pepper sign. I considered getting one of the "I'm a Pepper" t-shirts, but I have far too many t-shirts as it is, not to mention our little Civic is filled up with plenty o' crap at the moment. Other cool items included Dr. Pepper lip balm, a tray that said Dr. Pepper contains no drugs, some old ad reprints, Dr. Pepper pajamas, and cans of Dr. Pepper with pure cane sugar.
Then there was the classic soda fountain which I was really excited about checking out because they had some treats there that were exclusive to the Dr. Pepper museum. First off, they had Triple XXX root beer, and while the drink contains no pornography (that I'm aware of) my taste buds certainly found it to be sexier than Right Said Fred. Seriously, this was without a doubt the best root beer I've ever had, and I've had quite a lot in my time. Why they don't mass distribute this stuff is beyond me. I also tried some of the Dublin Dr. Pepper which contained the pure cane sugar like the original did. In all honesty, it didn't taste that much different than regular Dr. Pepper to me. And finally, I had what they call The Pepper Shaker - it's a milkshake that contains vanilla ice cream, Dr. Pepper syrup, and crushed Oreo cookies. GODDAMN! Once again, this is one of the best things I've ever tasted and it pains me to no end that this treat can only be purchased at the Dr. Pepper museum since it's unlikely that I'll be in Waco, Texas again anytime soon.
Again, to any suicide cults still residing in Waco... make a trip to the Dr. Pepper museum and you'll have a change of heart. Or, at the very least, you'll have a damned good last treat before you leave this world to go visit the alien mothership or whatever crazy scheme your leader has duped you into believing.
On our way back up 35 North towards Amarillo, I noticed a huge skull on the side of the road and simply had to turn around to check out what it was. Skulls and me are like peas in a pod. Turns out, it was a huge Haunted House and Horror Museum! Believe me, I was excited as hell about it, but I guess this one just wasn't meant to be because they're currently remodeling it. The guy there was really nice and told me a bit about the place, how it's one of the highest rated horror attractions in the world (argh! why couldn't it be open!?) and said the fire marshal had to come inspect the place before they could open it back up. It even had some big Texas Chainsaw Nightmare Haunted House. Sonofabitch. Ah well, I've already seen so much crazy 'n cool shit over the past week, I can't get too down about it. But if any of you are in Texas in the next month or two, just head a little north of Waco and you'll see this place just off the highway. You can't miss the giant badass skull on one of its buildings.
Next, we kept driving for a few hours through vast open lands of... nothingness. Then around dinner time we arrived at Wichita Falls and all I can say is WOW. That place was the closest thing to a ghost town that I've ever been to. It looked like a real city in some areas, but practically everything was closed down permanently. Restaurants, hardware shops and believe it or not, even a hip/hop dance club had all gone out of business. Why anybody would even think opening a hip/hop dance club in Wichita Falls would be a good idea is completely baffling to me.
We had to explore around the place for a good 20 minutes before we found a gas station and a place to eat. But once again, we had some really good luck by finding Toscanis Fine Italian Cuisine. It doesn't look like much from the outside, but inside it was a pretty nice restaurant and the food was really good so we were pretty surprised by that. The prices were really cheap too so we left the waitress a big tip instead. Couldn't help but laugh when we first walked in and saw the sign that read, "No unregistered weapons allowed in restaurant." So a word to the wise: make sure that double-barreled shotgun o' yours is registered before you take it out for a fancy wine & dine date at Toscanis in Wichita Falls.
Next, we continued heading towards Amarillo for another two hours or so while laughing at all the "Don't Mess With Texas" signs along the way. We were hoping to stop by the Devil's Rope Museum later today but it was too late by the time we got there and none of the hotels had free rooms. Well, a few did, but they looked scarier than the Bates Motel so fuck that. So what is the Devil's Rope Museum you ask? Unbeknownst to me, there are people who collect barbed-wire and the way cowboys would "brand" their wire was to have their own unique twists and knots in it. So yeah, that's what this museum is dedicated too, all the different twists of barbed wire. There's even a magazine dedicated to collecting barbed wire. Sorry we couldn't go, I'm sure you'll be crying for years to come about the day I didn't bring you mega-awesome photos of a barbed wire museum.
Remember kids, don't mess with Texas... unless it messes with you first, then it's time to take the gloves off and beat the hell out of that oversized land-hog of a state. How about you give some of that land to Rhode Island, huh? Shame on you Texas... SHAME! Sharing is caring. And now I share some pictures with all of you!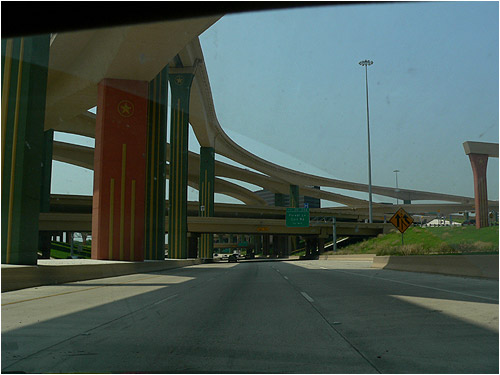 As you can see from the decorative overpass support beams in Dallas, Texas is
unique in that it constantly likes to remind you that it is in fact "Texas".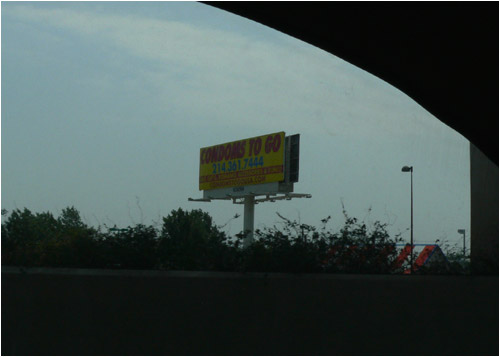 Condoms To Go!
As opposed to the ones you're supposed to buy and use right there in the store.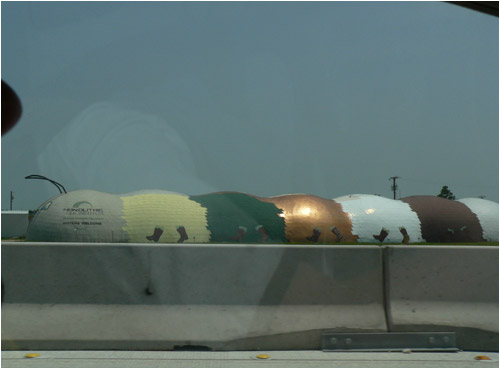 Egads! It's a giant caterpillar building!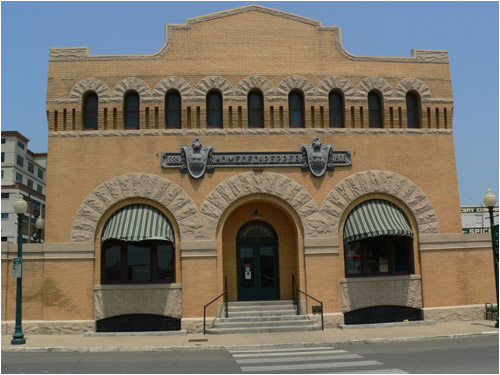 Welcome to the Dr. Pepper Museum!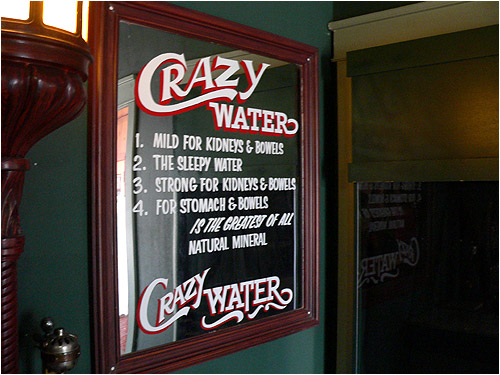 Crazy Water - it'll keep your bowels strong and happy!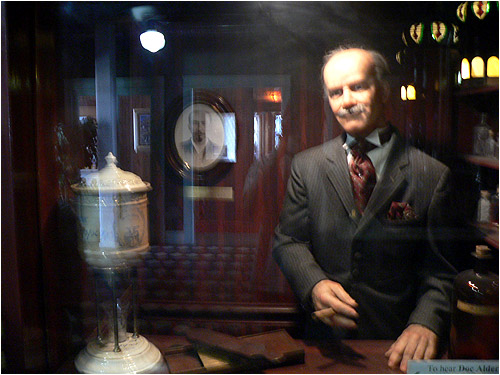 I'll let you guys in on two little secrets:
1) the secret ingredient in my Dr. Pepper drink is the ashes from my cigar!
2) Just because I'm animatronic, that doesn't mean I won't come kill you in your sleep.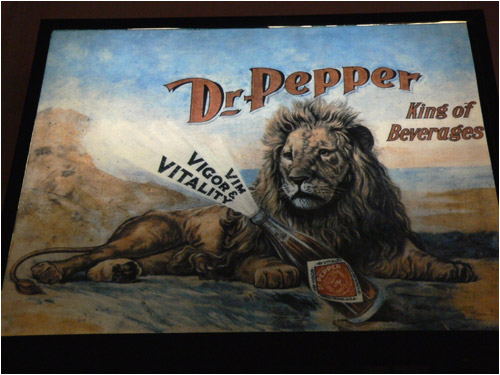 I swear to god, they'd sell 50 times more soda if they made
this the current label on all current bottles of Dr. Pepper.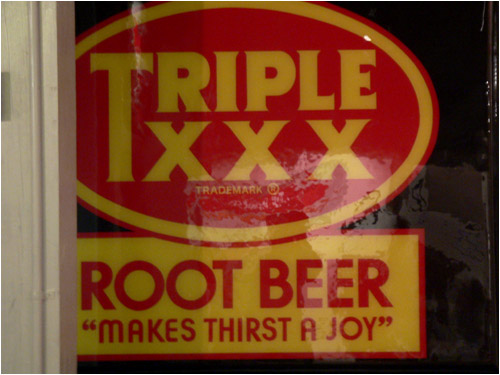 Best. Root Beer. Ever.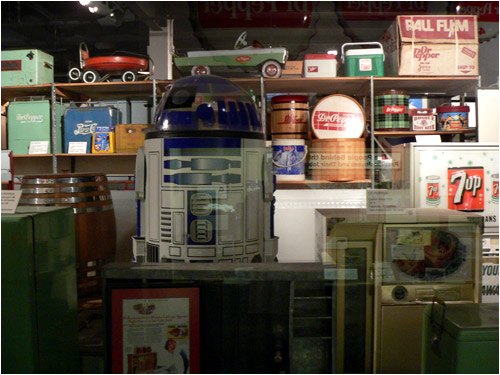 A large collection of in-store soda refrigerators including R2-D2!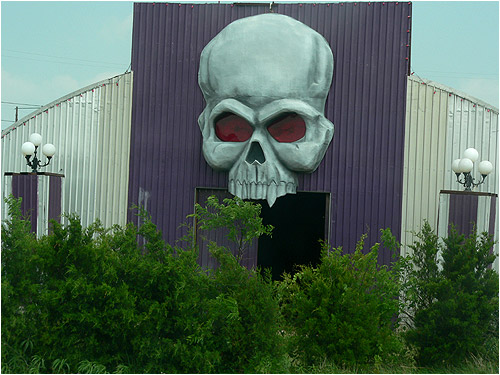 With a skull that immense and badass, how could the rest of the place not kick ass?
Ok, I'm gonna go back to hunting for hotels to stay at. I mean, it can't be too hard to spot one since there's currently nothing but fields of dead grass as far as the eye can see. Tomorrow we head into New Mexico, and it had better be so goddamned "new" that it's still sealed in its wrapper.
-RoG-
CLICK TO COMMENT ON THIS ENTRY
---
5/9/06 - Tuesday - Day 6
6:55pm
Is it me, or is it hot as hell outside? Ok, it's me... and I thank you for the compliment. Actually, it is getting noticeably hotter and I'm sure once we reach the desert areas things will only heat up even more. Today however, we left our hotel shortly after I finished off another one o' my Belgian Waffles. I swear, on this single trip I'm making up for all the years that I never got to eat Belgian Waffles for breakfast and I couldn't be happier about it. Plus they leave the batter out in cups for you so you get to pour the stuff into the waffle iron and then feel like a master chef when you're waffle comes out perfect - even though it takes no skill whatsoever to accomplish such a non-feat.
Anyway, as we were driving out of the Amarillo, Texas city limits on historic Route 66, we noticed some colorful cars off the side of the road out in the middle of a vast open field surrounded by nothing but dirt. Of course! How could we forget - The Cadillac Ranch! Back in 1974, Stanley Marsh had the fronts of 10 Cadillacs buried in the ground while the rest of the bodies stuck out. Ever since then, people have been coming to these half-buried cars and tagging them with graffiti and/or stickers. My particular favorite piece of graffiti had to be the "I love donkeys" one which you'll see a photo of in a little bit. Re found a can of spray paint that still had a little paint left in it so she wrote "strangepuppets" on one of the car tires. I also made sure to leave a few I-Mockery and "Kneel Before Zod" stickers on the cars and on the entrance/exit sign which had a lot of stickers on it already. I'm sure they'll all be covered up completely within a few months, but it's a tradition and who am I to break such an amusingly nonsensical one such as this? This serious world needs more silly shit in it.
From there, we headed on over to Roswell, New Mexico... UFO central. Much like Graceland, this was just one of those places we knew we had to stop by on our road trip if we had the opportunity. Yes, it was guaranteed to be cheesy as hell, but it was sure to give us some good laughs. The drive to Roswell wasn't all that exciting, and it's easy to see how the land is affected by the change in climate as we head further West. Things are definitely looking deader the farther we go... I can't wait to see the desert, that's going to be insane looking.
Re got a speeding ticket, just before we made it to Roswell, in the town of Elida, her first one ever! We were both wondering if one of us would get a speeding ticket on a cross-country drive at some point, but it's as if they were trying to stop us from going into Roswell. The man didn't want us to know the truth about the aliens! Well no speeding ticket was gonna stop us. We came all this way to see some aliens and we weren't gonna leave until we did!
Right off the bat, we checked out Roswell's highly promoted International UFO Museum and Research Center which is totally free (though they do have a donation box, which you should donate to you cheap alien-loving bastards). As soon as you get near the museum, you start seeing those classic alien heads on all of the buildings 'n shit. Hell, even the street lights are shaped like alien heads! It's quite obvious that the town of Roswell is supported entirely by their alien-infatuated tourist industry. Arby's had an Aliens Welcome sign... McDonald's Playland was shaped like a flying saucer... even the tax and loan offices had green alien heads in the window. Anyway, the museum was pretty cool and had all sorts of historical information on alien sightings. Of course, when you see posters for the X-Files and a few cheap latex aliens, any shred of believability is thrown right out the window.
There's also a shitload of alien gift shops. Any item you can possibly think of, chances are one of these shops carries it complete with an alien head design. I might stop by one UFO shop again tomorrow before we leave Roswell simply because they had an ice cream / snack bar and I'm sure they have some alien-themed snacks in there. Maybe a green "alien blood" milkshake or something corny like that.
I gotta say though, I really get the feeling that a lot of people here in Roswell absolutely loathe all of the UFO and alien stuff. I mean, if you were living around all this touristy alien crap 356 days a year, wouldn't you get a little tired of that shit? Absolutely.
So we decided to call it an early day and relax in the hotel room for the rest of the evening, after all the driving we've done over the past week, we could use a few extra hours to just kick back. When I got to the hotel I noticed a sign that read "UFO Meeting Room". I asked the clerk if there was anything alienish about the room at all or if it was just a typical business meeting room. He laughed cuz he knew that I knew what his answer was gonna be - it had nothing to do with aliens, it's just a meeting room... but they're pretty much forced to play along with all the alien themed crap in this town. We talked about all the touristy shops 'n what not for a little bit and you could just tell the guy couldn't stand all that stuff.
Welp, we saw our aliens and we saw some half-buried cars in the middle of nowhere... not bad for a day's worth o' driving. Not bad at all! Tomorrow we head back up towards the Grand Canyon, though it's a fairly long drive so I'm not sure exactly how much I'll have to report on since we won't get there 'til fairly late. Who knows though, maybe I'll see some more interesting stuff to check out on the way up there. But that's for me to think about tomorrow, for now I'm gonna get some much needed rest.
HEY KIDS! IT'S PICTURE PICTURE PICTURE TIME!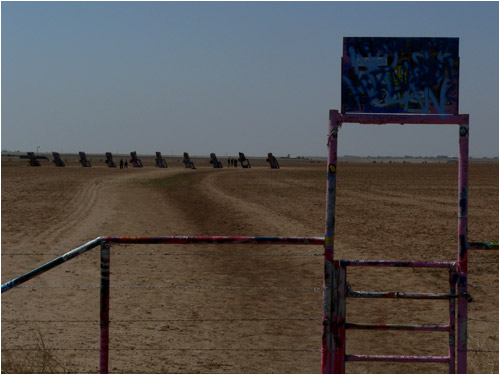 The Cadillac Ranch!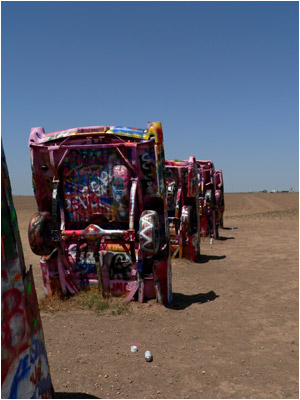 Sometimes you just don't need to give a person a DUI test.
Sometimes you just know.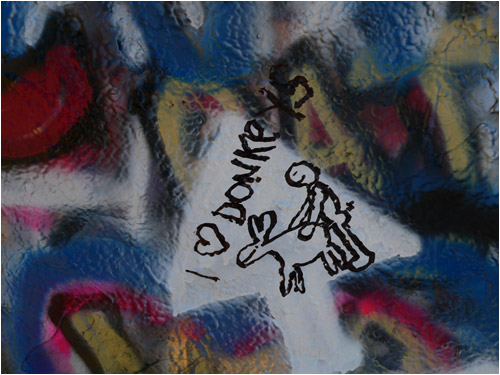 Best. Graffiti. Ever.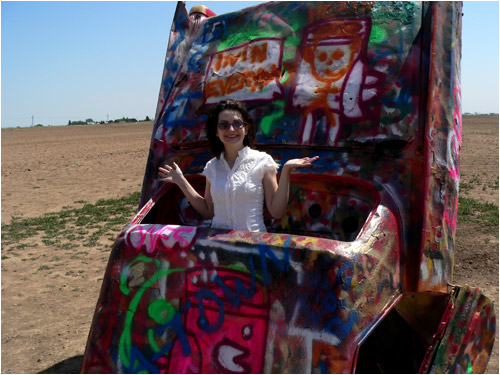 Re contemplates staying overnight in one of the cars instead of at a hotel.
(I bet they give great discounts to AAA members, eh? ehhhh? HAR HAR!)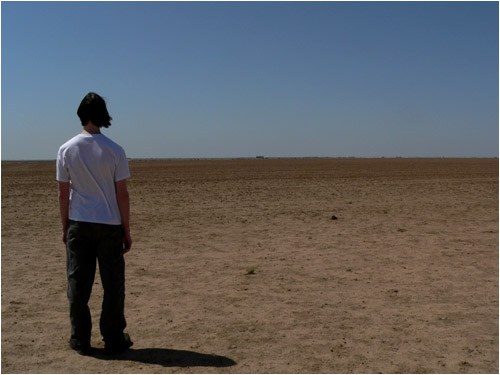 This very well may be my favorite picture ever taken of me.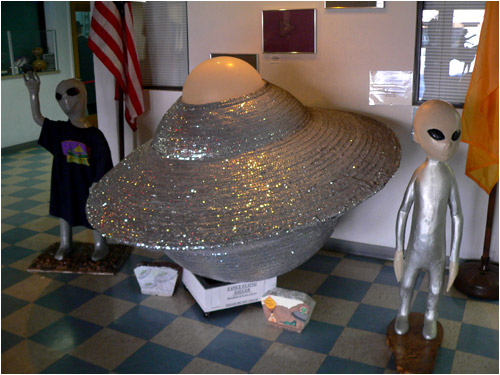 Aliens are always happy to stop for a photo opportunity.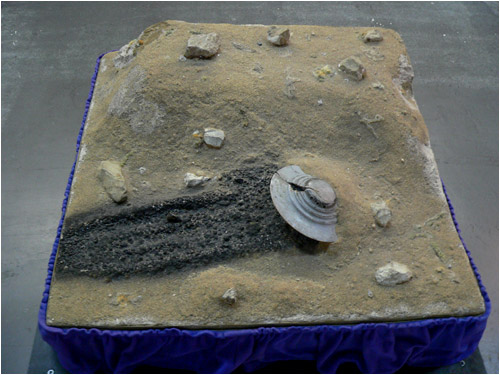 A replica of the original alien crash site or the real thing shrunk down by some
top secret government experimental shrinking ray? You make the call!


Alien souvenirs anybody?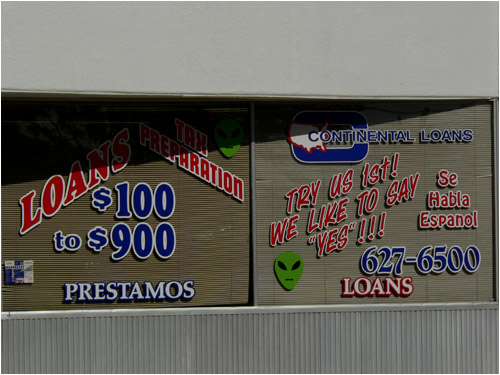 In case you didn't know, aliens can help you get a loan or prepare your taxes!
On a final note, I don't know why, but I'm excited to see a tumbleweed sometime in the near future. God the heat must be really getting to me...
-RoG-
CLICK TO COMMENT ON THIS ENTRY
---
5/10/06 - Wednesday - Day 7
6:55pm
I awoke this morning in Roswell happy to find that my anal cavity hadn't been probed by any aliens... or if they did, they at least did a damned fine job of covering it up. Hey, look on the bright side, the very first sentence of this entry mentioned my anal cavity; this journal post can only go uphill from here. So we left the hotel and stopped by that Alien Zone place that was closing just as we got there yesterday. Speaking with one of the girls who worked there, I found out that they do in fact carry milkshakes and other treats, but they weren't serving that stuff yet because it wasn't officially tourist season yet and they were still getting the shop all setup for it. Heartbroken, I thought I wasn't going to leave Roswell with some kind of green-colored "alien" treat in my belly. But the Alien Zone came through in my darkest hour in the form of a bright alien green lime slushy! It was delicious... no... it was out of this world!
With my green slushy in-hand, we then headed into Alien's Zone's "restricted access" Area 51 room. You have to pay 2 bux to go into it, but that's a small price to pay to check out some aliens g alien scenarios that you can take your picture with. Aliens having a barbeque, aliens fishing on a boat, aliens in a classroom, aliens in a wacky upside-down area, aliens taking a dump in an outhouse... this place had it all. They also had a really nice black light alien city in the very back of the room. You definitely get your 2 bux worth in their Area 51 section.
Now that my Roswell experience was officially complete thanks to one green slushy that I'll never forget, we were ready to head on up all the way towards Flagstaff, Arizona. The drive up through New Mexico was a long one, but the views just got better and better so it was an easy drive. I even saw my first tumbleweed, so that was really exciting. It just rolled across the road in front of our car and kept on a tumblin. Go tumbleweed go! Huge rocky hills eventually started appearing all around us as the drive continued, but words can't do them any justice. It's just one of those things that you have to be there to see in person to truly appreciate (which I'm sure can be said about many of the places we've already been on this trip along with our visit to the Grand Canyon tomorrow).
When 285 connected with I-40 again, we were extremely surprised to find what was without a doubt the coolest roadstop of this entire trip - Clines Corners. Yes, they had gasoline and snacks like all roadstops do, but inside it was soooo much more. It was like we had entered a traveling shoppers paradise: firecrackers, moccasins, Route 66 souvenirs, gags, novelty items, a room filled with Indian trinkets, cattle skulls & horns, cowboy guns and much much more. Hell, they even had those cute little painted pebbles with the googley eyes on them that say "Rock Concert". I used to fucking love those things when I was a kid and I haven't seen those things for sale anywhere in well over 10 years! I found a great Hawaiian shirt in there featuring Route 66 stuff on it too, so I'm happy to report that it is now a part of my wardrobe. This place also had its own candy shop complete with a wide variety of homemade fudges. As if that wasn't enough, they had their own classic diner section and we ate lunch there - great hamburgers and grilled cheese sandwiches!
After that, it was nothing but driving the rest of the day and the scenery continued to get more and more interesting with all the crazy rock formations. It's also been really windy today, and while some of the gusts can bully our little car around, it really helped us keep cool in the 90+ degree weather all day. Oh yeah, when we arrived in Arizona, two huge black trucks with big black tarps passed by us on I-40. Now that's normally not a big deal, but these particular trucks had "Radioactive" warning signs on the back of them! Seeing those trucks fly by a fuel tanker made us think of how we could easily have a Hills Have Eyes situation on our hands should they collide. So hey Arizona, congrats on your radioactive waste! On the plus side, I now have a third arm to drive the car with while eating some rest stop food.
Early in the evening we took what was supposed to be a quick detour so that we could cut right through the middle of the Painted Desert. We saw it and it was definitely cool, some of the rock formations looked like they had big red arteries going through them. So we keep going down this road expecting to see this other route that was on the map which would eventually lead us back to I-40. But it never appeared. We drove for a good hour down this twisty, rocky road in the middle of nowhere without seeing it. There were plenty of dirt roads with no signs whatsoever, but we weren't about to turn down one of those... I've seen enough horror movies to know that's always a bad idea. Eventually we decided that this road either no longer existed or some yokel stole the sign for it, so we turned the car around and drove all the way back to I-40.
Before we got back on I-40, we decided to go to a rest stop real quick to get some more gas and stretch our legs. Re, however, scared the living bejesus out of me when she almost drove directly into a ditch. It was dark out 'n all and she doesn't see too well when driving at night, but goddamn if I hadn't shouted "STOP!!!" we would've ended up in that ditch. On the plus side, that extra burst of adrenalin has helped keep me wide awake for the remainder of our drive to Flagstaff tonight.
So another day goes by in which I didn't think I would have a whole lot to report on, yet plenty happened. A near trip-ending experience with a ditch, a visit to one of the greatest road stops ever, the painted desert, getting lost in the middle of the painted desert and a green alien slushy to top it all off. I swear this road trip is the best thing ever.
But what road trip journal entry would be complete without more of the pictures you crave?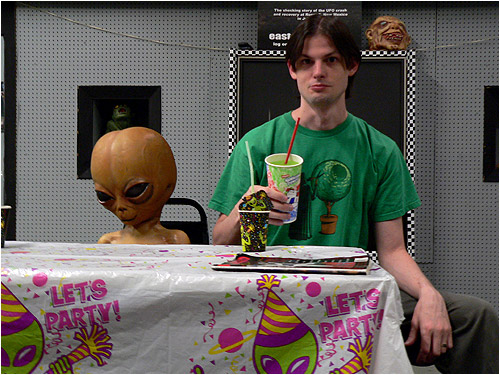 Let's party like it's 5099!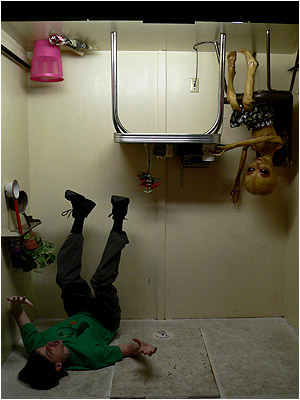 I'm still working on mastering that anti-gravity alien thing...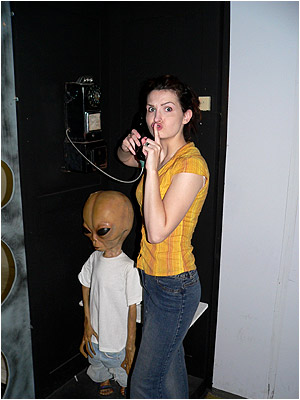 Shhh! I'm calling long distance... to another galaxy! :o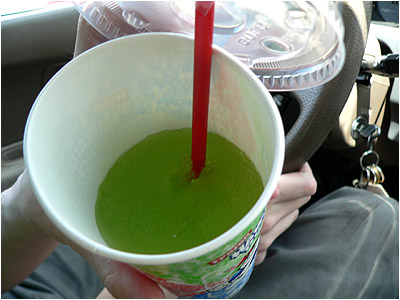 Oh my sweet green alien slushy... how I love thee!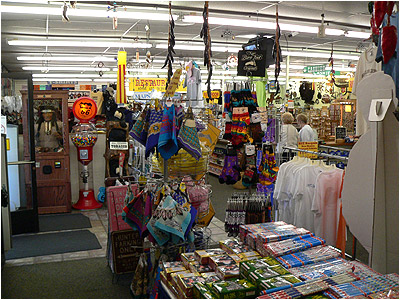 Clines Corners RULES.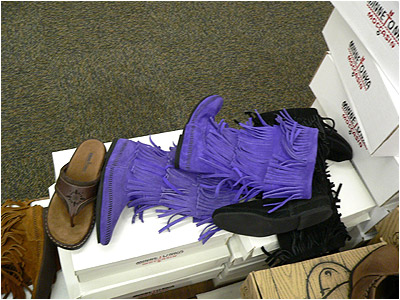 Damn! If only they came in my size!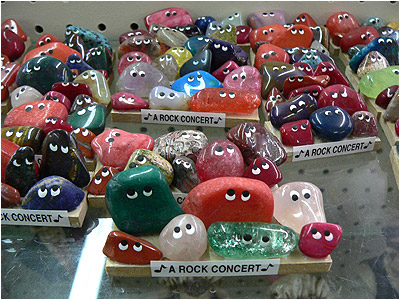 YES!!! THEY LIVE!!!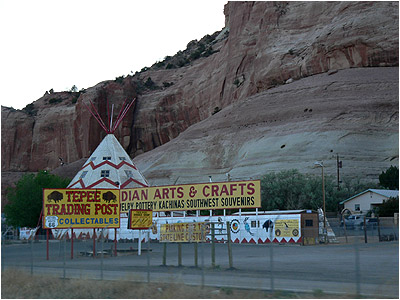 Indian arts are available for trade as soon as you enter Arizona.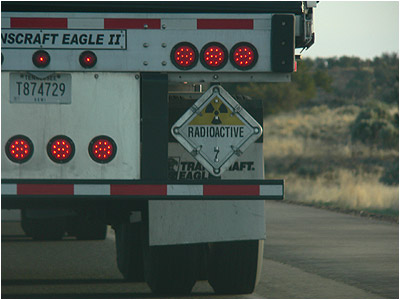 And here I thought the Grand Canyon would be the only excitement in Arizona!
Tomorrow we'll finally get to see the Grand Canyon; and pending nobody gives me a jovial "say, how's it goin buddy?" slap on the back as I'm leaning over the edge, I'm sure I'll have plenty o' fun things to report back to you with. I got my kicks on Route 66... and almost ended up in a ditch.
-RoG-
CLICK TO COMMENT ON THIS ENTRY
---
5/11/06 - Thursday - Day 8
9:03pm
So you know how a hotel room normally comes with some complimentary towels for you to use? Yeah, well our room last night came with a few ones that were wet... compliments of the hotel I suppose. Not only do they give you towels at this place, but they use 'em for you too! My guess is they just use a shitty dryer there that doesn't quite get the job done, cuz the towels clearly hadn't been used. Still, when I brought this up to the people at the front desk when I checked out, they took an extra 20 bux off the bill. So there ya go, a word to the wise: if you're running low on cash, complain about wet towels in your hotel room.
We left Flagstaff, Arizona fairly early so we could have plenty time to check out the Grand Canyon in the afternoon. The drive up there was really nice; open fields with huge mountains in the background, a variety of animals (I never thought I'd see a cow at such a high altitude) and lots of abandoned run-down buildings that had been there for quite some time. One thing I found particularly cool was how there was a lot of differentiation in how many of the mountains looked. I'd look to my left and see a mountain half-covered in snow and full of life and on my right I'd see a mountain that was completely barren with all of it's trees burned down. Don't worry though, I'm sure Smokey the Bear is on the case. Actually, a lot of fires there were apparently set and controlled by the rangers.
There were a decent number of little stores on the way up too. We stopped by one cool shop called the Double Eagle Trading Company. They had plenty of touristy stuff, but also had some real nice authentic Indian crafts in there. Personally, I found it most amusing that they had a big sign at the entrance to the shop that had the word "shit" in it. Not that I'm offending by that in any remote way, but the people who ran this place clearly had a good sense of humor... even if they were the weird reclusive types who live up in the mountains. There was even a Flintstones campground on the way up there, which I didn't really understand since the town wasn't called Bedrock or anything. But considering what weird stuff I've seen on this cross-country trip, I guess seeing a mock-Flintstones village on my way up to the Grand Canyon shouldn't be all that surprising.
Our drive continued up the windy mountain roads for a while and then we finally reached the Grand Canyon. Forget about all the "you had to be there to really appreciate it" things I mentioned in my previous entries, this one truly takes the cake. I honestly feel like it's pointless to try even describing the Grand Canyon to you, you really, REALLY need to just go check it out. I guess the only thing I can say is that it has a special way of making you feel absolutely tiny. It also makes you think about how you could have a monumentally messy suicide there if you so desired.
I noticed that there were more Asian tourists with cameras (yes, living up to their stereotype) at the Grand Canyon than I've ever seen anywhere else. There were also a shitload of motorcycle gangs driving around the area. Even saw some lunatic in a school bus that was painted to look like it was engulfed in hellfire or something. Another unexpected thing was the big fat beetles that were apparently on security detail at the Grand Canyon. They honestly looked like those big fat queen bees, but they were just some kind of weird flying beetle according to some guy. They didn't attack anyone or anything, but they were the most curious insects I've ever seen. They would just come right up to your face and hover there like a hummingbird, staring at you. I admit, I lost a few staring contests with some of 'em, but others wimped out before I had the chance to blink... so I guess I did alright. I guess they just wanted to know what these humans were doing invading their natural habitat. So a hearty "thank you" goes out to all those inquisitive flying fat beetles for not attacking our faces when we stared into your buggy lil' eyes.
Anyway, that's really all I want to say about the Grand Canyon since words simply can't do it justice... neither can photos, but I'll still share a few with you in a little bit. After we had our fill of Grand Canyon sightseeing, we headed all the way back down the mountain and hopped back on I-40W. It was at this point that we saw our first sign for Los Angeles and that's when it really hit home that not only did we make it across the entire friggin' country, but we were almost at our final destination. Well, just under 500 miles at least, but if there's one thing this trip has changed about me it's how driving long distances doesn't bother me at all now. I used to think driving an hour or two was a big hassle, now it's nothing at all.
We also made one last Historic Route 66 stop at a little restaurant/gift shop called Twisters. Had a look at all their cool classic 50's items (poodle skirts and leather jackets galore!) and then sat down for a tasty dinner - which included my second vanilla milkshake of the day. How I'm not feeling sick from that is beyond me, but even if I was, it would've been worth it because those guys make one hell of a mean milkshake! And I can't even begin to tell you how rad I felt, drinking a milkshake in a 50's style restaurant while wearing my new Route 66 Hawaiian t-shirt. Tonight we're gonna stay in Kingman, Arizona (which is just before the California border) and tomorrow we'll drive the final 4-5 hours to our new home. If we have the time, and don't get lost, we're gonna try to stop by a ghost town or two on the way as well.
And right now, you're gonna take a look at another batch o' travel adventure photos! How 'bout that!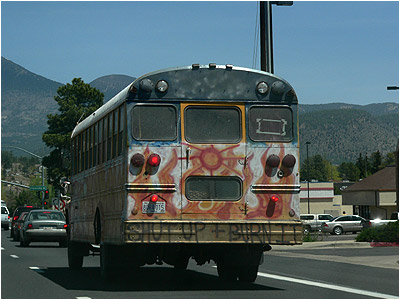 Shut up & Burn it? Ok buddy, will do!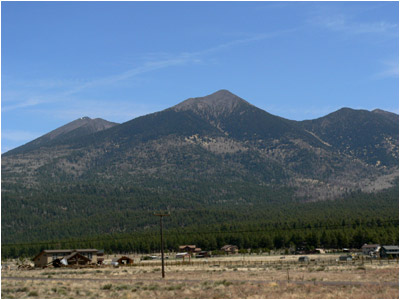 The scenery on the way up to the Grand Canyon is damned nice too!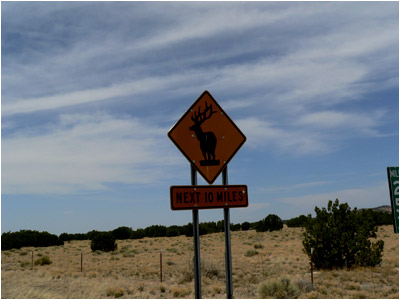 If our tiny car hit one of those, we'd pretty much be screwed.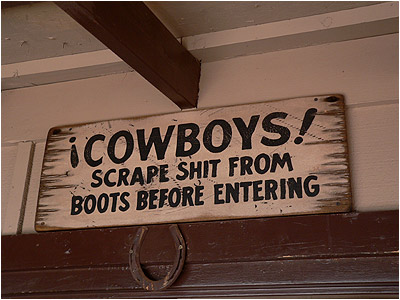 A simple "welcome to our store!" would've sufficed...

What the!? Oh I get it! Har Har!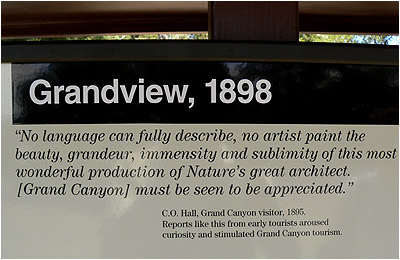 I couldn't have put it better myself.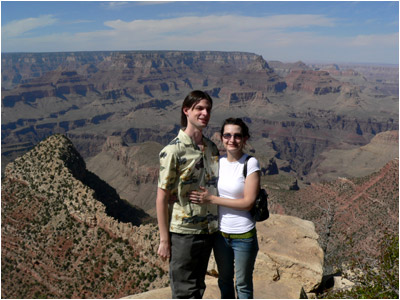 One wrong step and they'll have one hell of a mess to clean up.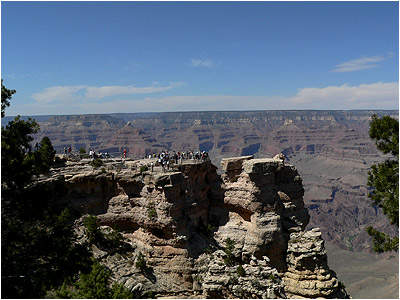 Just to give you a little perspective on just how "grand" the Grand Canyon really is.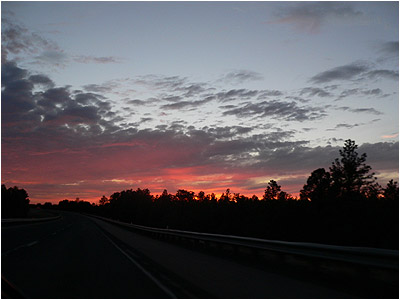 Hell of a nice way to end the day!
Alrighty, that's all for this batch o' photos. By the way, I'm not 100% positive, but this may be my last entry in the travel journal. I'll still do a feature article on our whole journey with tons of photos sometime in the next month, so you still have that to look forward to. Tomorrow we'll be arriving at our new place and we probably won't have internet access ready for a few more days still (unless I happen to find a neighbor with WiFi haha), so that's why I say this may be the last entry in the travel journal. If I can post another update tomorrow though, believe me I will. Either way though, I hope you've enjoyed this travel journal. I hope it's made you feel like you've sorta been here with us as we made our way from the East Coast to the West. And if nothing else, I truly hope it's helped inspire you to make a cross-country trip of your own some day in your life if you haven't already. Thanks for reading and for all the cool comments you've all left in the blog and/or via email. California, here we come!
-RoG-
CLICK TO COMMENT ON THIS ENTRY
---
5/12/06 - Friday - Day 9 (or "We're still alive!")
7:28pm
Did they get lost in the Mojave desert only to have the flesh picked from their bones by hungry vultures? Well, I wouldn't be typing this if that had happened now would I? Thanks for the concern, but we made it to Los Angeles in one piece. As expected though, we've been without internet access for a few days while we've been getting settled into our temporary new home. I'll explain the "temporary" part in a little bit, but first let's get into the details of our final road trip adventure day with one last journal entry!

The last hotel we stayed at was a Holiday Inn Express in Kingman, Arizona. I was a little hesitant to stay there when we pulled up and saw a cop handcuffing some guy right inside the front door; not always a sign that your hotel is located in the best area. Still, it was late and we didn't feel like driving any longer, so I went inside to see if they had any rooms. Turns out it wasn't a guy getting handcuffed, but a kid and the cop was taking the handcuffs off of him.

I ask the front desk person just what the hell was going on and she laughed explaining that it was some prank gone wrong. Turns out, this kid's friends had put him in some handcuffs but they "lost" the key and then ran away. So, the kid went to the front desk and explained that he was stuck in handcuffs. The front desk person then called the police cuz she figured a cop would have a key that could work with the handcuffs. I guess it was that kid's lucky night - the cop's keys worked. The kid looked embarrassed as hell... but I like to think he got some sweet revenge on his so-called friends later that night - perhaps using one of the open cuffs to gouge out their eyes.

The next day we woke up and prepared to cross the Mojave desert by stocking up on some water and checking the fluids in the car one last time. I had a small knife with me though, so if worse came to worse, I could always cut open a cactus right? While most people told me driving across the desert would be a painful experience, I found it to be quite the opposite. Sure, some areas were fairly barren, but so much of it was filled with huge rocky formations and a variety of cacti that we were totally distracted by the fantastic scenery for most of the trip.
As I had hoped we would, we were able to find not one but three different ghost towns along the way. The three ghost towns were in Goffs, Ludlow and Calico - all of which are in California. Going to our first ghost town in Goffs definitely had me thinking back to the other night where we ended up in the middle of the Painted Desert with no signs of the road we were looking for. It took us a little while to get out there, but at least the road we traveled on ran parallel to a cargo train. At the very least, we felt like we weren't alone on our drive to nowhere, and if the car ran out of gas, we could always hop the train and sing "Jimmy Crack Corn" with some crazy drifter just like in "Pee Wee's Big Adventure".
Eventually, we found the Goffs ghost town and there were indeed some parts that were completely abandoned. Oddly enough though, it still looked like a few people lived on the outskirts of the place. Goffs wasn't all that particularly interesting to see since it was just a few abandoned areas, but seeing the old Route 66 paint on the asphalt was pretty cool. It was weird to think how many travelers used to pass through this now desolate place. Looking at the old cracked Goffs Restaurant sign, I could only wonder how many people regretted trying out a heaping bowl of hot chili and then heading into the hot Mojave desert soon after.
The next ghost town in Ludlow was actually a little bit weirder; while Goffs was way off of the main highway, Ludlow was right next to it. In fact, when you get off the exit for Ludlow, there's an active rest stop with a Dairy Queen 'n everything on the other side of the overpass. There were more abandoned buildings in Ludlow, so that was definitely cool to see. In particular, I thought the gas station with the lonely black sparrow sitting on it was a surreal site. He kept cawking at me so I threw him a few french fries. That bird looked happy has hell about it too as I'm sure he had been dining on dust in that old ghost town for a while.
The last ghost town was Calico, and this one actually had advertisement signs for it off the main I-40 highway. Since none of the other ghost towns had advertisements like this, we thought it was quite weird. Still, we were intrigued to at least go check out it so we continued on down the windy road through the rocky hills until we finally got there. Turns out, it's not much of a ghost town at all because a) They charge you 8 bux per person to drive through the town and b) have live actors that perform in it. How lame is that? Since this thing was obviously a far cry from a real ghost town, we turned around and headed back to the highway. What does that 8 bux go towards anyway? Upkeep of all the disheveled buildings? Pfft...
After a few more hours, we finally arrived in Los Angeles. Re commented on how surprised she was by how nice it looked with all the huge Ireland-ish green hills that we drove by along the way. We also lucked out because the other side of the highway was fairly backed up with traffic, something you've gotta get used to here in L.A. unless you know all the right back roads to take (and even those are no guarantee of a speedy passage).
So our new apartment in Glendale turned out to be much cleaner than what we had seen in the pictures which was a nice surprise. Still, we're on a month-to-month lease because this place was just to get us out here so we'd have a place to live while we try to decide exactly where in L.A. we want to be. The apartment is small so we're keeping most of our stuff in storage until we find a new place. In the meantime, we bought a bunch o' cheap essentials - including an inflatable bed. I swear when that thing got pumped up I wanted to dive into a pool with it rather than sleep on it, but it's been actually pretty comfortable so far. Also, my computer desk is a folding card table and my TV stand is a $5.00 chair. Ghettolicious!
While we have everything we need for the moment at our apartment (especially the internet connection) there are definitely a few annoyances about the place. For one thing, most apartment complexes have a laundry room if the apartments themselves don't come with washers and dryers. This place doesn't have either. Instead, they have a washer and dryer in the back alley where we park our cars, so anytime we run some laundry I always feel like we need to keep our eyes on it. It's just weird doing your laundry outdoors. But hey, they have an outdoor gym on Venice Beach so I guess there's a lot of outdoor shit in California I should get used to right? The other annoyance is the shower. Now, they gave us a nice new nozzle with a variety of massaging water stream functions which is great 'n all, but the shower must have been made for someone who is about 4 feet tall, no joke. If I want to wash my head, I literally have to sit down in the tub or arch my back like a contortionist. At least, if I need my nuts cleaned, the shower nozzle is at just the right level to do the job.
It hasn't been the easiest of moves, and I have to say, we were a bit sad to arrive here in Los Angeles because we knew it meant this was the end of our amazing road trip. But we're here and hopefully things are gonna get a bit easier now that we're starting to get more settled in. We've been driving all around town to familiarize ourselves with the area a bit more. Went to Burbank just the other day and there were some extremely nice areas there, especially where the giant IKEA store was. Even saw the Cartoon Network building and instantly started thinking about how cool it would be to work there. Well, I can dream can't I?
Ok, it's time for another fun-filled batch of the photos you love: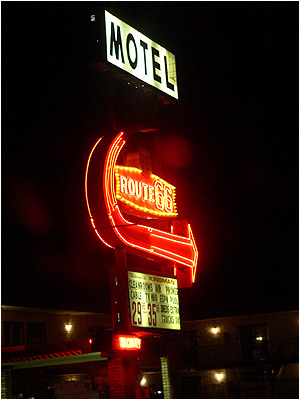 I love all the classic Vegas-style signs along old Route 66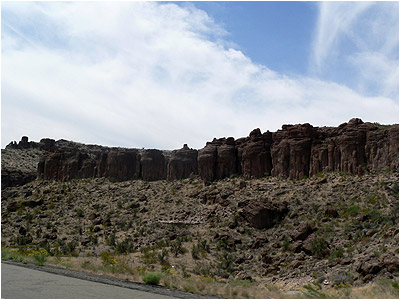 It's hard to believe that some of the strange rocky
formations off the highway like this aren't man-made.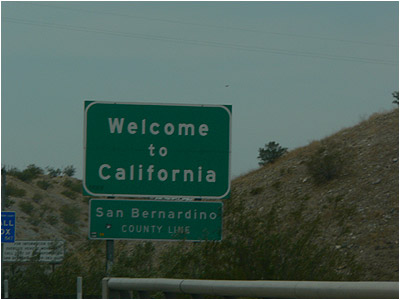 Is it a cruel desert mirage or have we actually made it all the way to California!?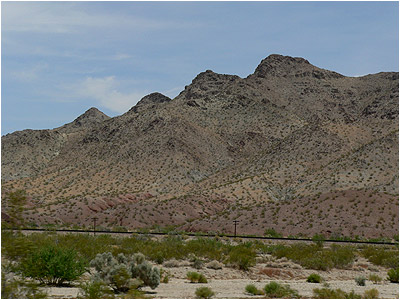 The desert isn't quite as flat as you might think.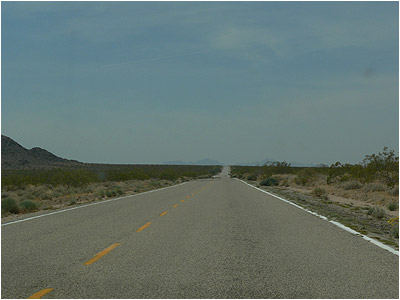 Then again, some other areas are. I sure hope there's a
ghost town somewhere at the end of this road!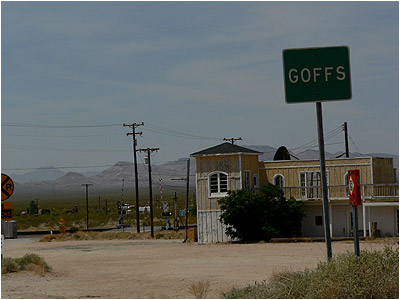 Interested in relocating to Goffs? Please contact your
Century 21 real estate agent for the hottest properties in Goffs!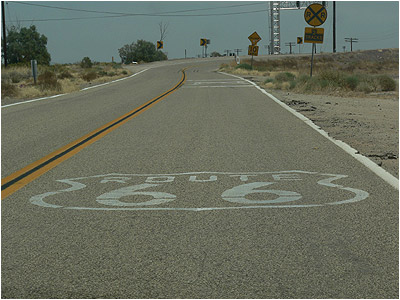 It will never die. NEVER!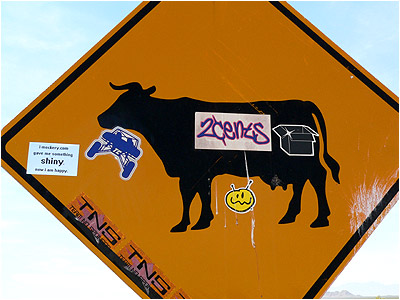 The cow-crossing sign in Goffs will forever
be happy thanks to my shiny sticker.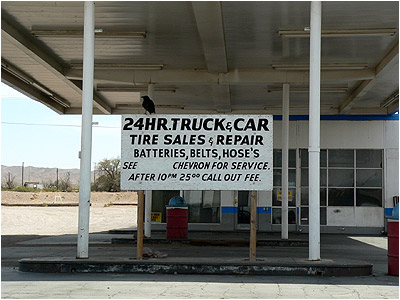 Polly want a french fry?
Well, it's been a truly amazing and unique experience traveling across the country and I'm glad I could share it with all of you on a daily basis. I keep hearing from people about how they've been following the entire journey and reading it each day with their friends. Can't tell you how cool that feels. Again, I hope all of you have the chance to take a cross-country road trip of your own sometime. No matter how hard you may think it is being in the car all that time, I guarantee you'll be glad you did it as soon as you're out there going from town to town with no certainty of where you'll end up each day. It's exciting, it's scary and it's something you'll never forget. Thanks again for reading this travel journal!
-RoG-
p.s.: A big wrap-up of the entire trip with a ton of photos is forthcoming, but due to the amount of photos we took on the trip, it'll probably take me a while to finish the whole thing. update: IT'S READY!
NOW THAT YOU'VE READ THE ENTIRE ROAD TRIP JOURNAL...
CLICK HERE TO SEE OUR HUGE
ROAD TRIP PHOTO GALLERY!!!