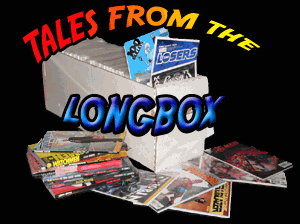 "U.S. 1, Part Two"
6/6/08
by: Protoclown
...CONTINUED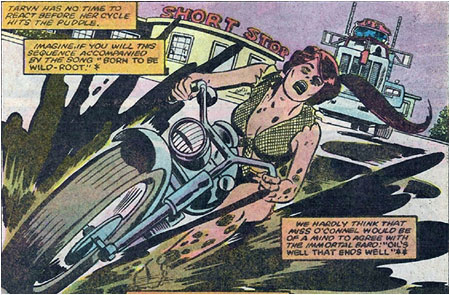 Man, how many relationships have I been in that have ended like this?
She slides to a halt on the grease, and somehow Poppa, Wide Load, and Retread are just magically right there too. They start closing in around her menacingly, while she protests her innocence the whole while.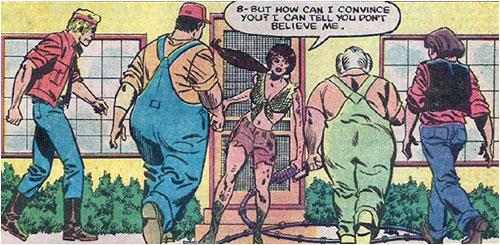 "Braaaaaaaaaaiiiiiins... are not required to read this comic."
In a panic, she starts hitting all the buttons on the hypno-whip, causing a tremendous flash of light and knocking everyone back, even (surprisingly) someone as fat as Wide Load Annie.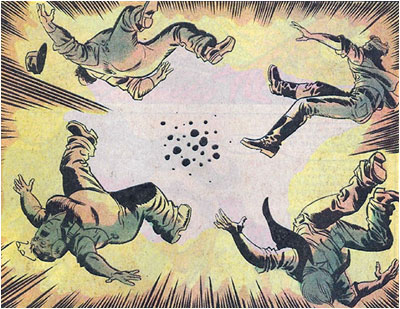 It was only a matter of time before two people as large and "in charge" as
Poppa and Wide Load formed an actual black hole with their combined gravitational pull.
After the light fades and they can all see again, they notice that Taryn is lying on the ground motionless, and U.S. quickly detects that she has no pulse. Just when Retread asks why she would have used the "Kill Self" button on the whip if she actually knew what the hell she was doing, who should show up but MIDNIGHT HERSELF! My GOD!! I so... saw that coming.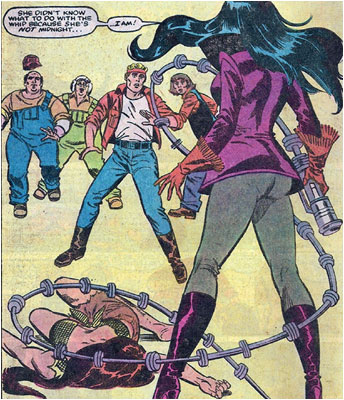 How many relationships have I had that started like this?
But... if Midnight isn't Taryn, then who on earth could she be!?? Tune in next time, dear reader, one mere paragraph below, to find out!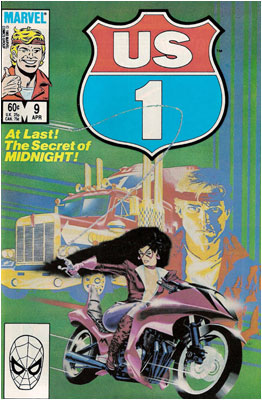 Midnight has a secret? Did I fall asleep and miss something?
Welcome back! Our ninth issue opens with Midnight standing over the corpse of Taryn O'Connell, gloating and telling the Short Stop crew that they are responsible for her death. U.S. doesn't want to hear it though, and as soon as he sees an opportunity to put some poor, innocent Short Stop customers between him and that nasty hypno-whip, he takes it!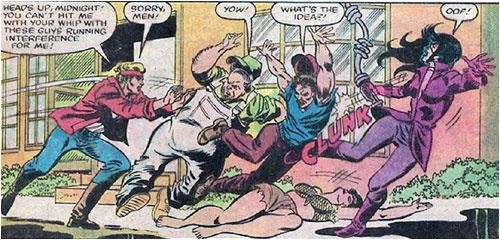 Never one to pass up the opportunity to be an asshole, U.S. gleefully throws some random strangers in harm's way!
Of course, these truckers are none too pleased about being pushed into a big patch of grease, so a fight starts right outside the restaurant, during which Midnight readies her hypno-whip and slips, causing it to hit Taryn's body and fry it with a jolt of electricity, bringing her back to life!


How many impressionable youths out there masturbated to this scene? Are you one of them? Am I?
Midnight gets ready to snap the whip at U.S., but he reminds her that he can control the truck mentally and she is all like "awww sheeiiiit!" as the truck rolls up behind her. Meanwhile, Clutch, Grab, and LeGreed are having a clandestine road sex meeting on the side of the highway, where LeGreed is explaining to the others that he's hired on some help to ensure that the Short Stop crew misses their next mortgage payment, when just at that moment, a zeppelin floats into view above them. Clutch and Grab, being the dumbfucks that they are, even say "It's a bird!", "No, a plane!" as the giant zeppelin floats not twenty yards above them.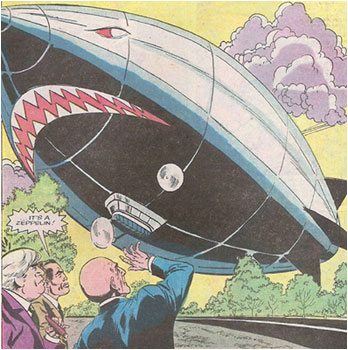 Have you ever seen a fucking bird that looks like this?
Baron von Blimp blunders his way down the ladder and introduces himself, explaining how he has a personal vendetta and interest in seeing the Short Stop close its doors permanently. The Highwayman watches all this on his ubiquitous invisible floating camera system, and says aloud how the good Baron had best make sure his loyalties stay in place while he makes a little money on the side. Meanwhile, on another viewscreen, the alien that U.S. encountered before spies on the Highwayman and mentions that this conflict between him and U.S. has dragged on too long and it's almost time for the final confrontation.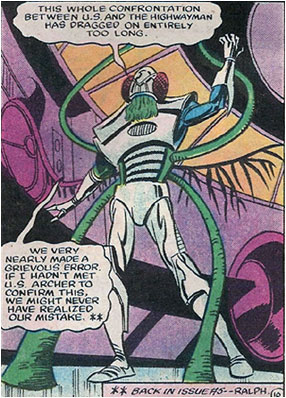 "My dad was a robot, my mom was a plant. What'd you expect?"
Meanwhile, back at the Short Stop, Midnight manages to lash out with the hypno-whip and hit Poppa, Wide Load, and Retread, but before she can have them do anything, Taryn jumps on her and makes her drop the whip.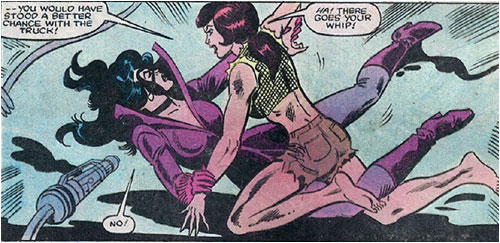 There's actually a slot in the comic where you have to insert a quarter to see the rest of this scene.
As the two of them wrestle around in the oil all sexy-like, Midnight commands her minions to retrieve her whip. But in order to reach it, they have to push past some Short Stop patrons, who are most annoyed about this and start a fight. Just then, the zeppelin appears overhead and who should jump out but a shitload of Nazis! (Seriously).

"Nazis. I hate those guys."
Clutch, Grab, and LeGreed (who are in the zeppelin at this point) are not too happy to see Nazis being used as part of their plan. They express this concern to the Baron, who explains that he isn't even German--he just thinks they have the best-looking uniforms. On the ground below, it's Nazis versus truckers in an all-out brawl the likes of which we've never seen! U.S. picks up the hypno-whip and feverishly tries to figure out how to release his friends from its control without frying himself like Taryn did earlier.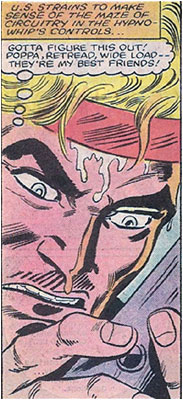 Unfortunately for U.S., his excessive sweating dripped into the circuitry of the whip
and caused a short, which electrocuted and killed him. Naw, I'm just fuckin' with ya.
While he's fiddling with the whip, a bolt of energy flies out of his metal skull and makes contact with the whip, causing a burst of light and energy that freezes all the Nazis and truckers dead in their tracks.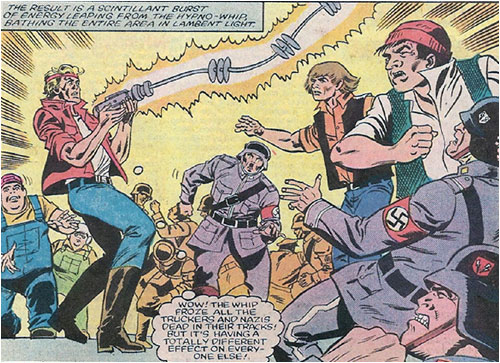 Once everyone's frozen, U.S. debates about whose clothes to remove first, before finally settling on his own.
Midnight, shocked that the secret of the whip has been cracked, collapses on the ground and Taryn pounces on her, pulling off her wig and mask to reveal: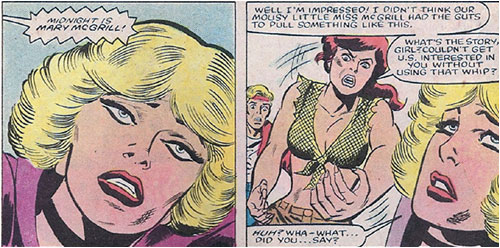 Why, it's Old Man Mary McGrill, proprietor of the abandoned amusement park!
MARY MCFUCKINGGRILL!
I'll give you a minute to pick yourself off the floor. You know, from the shock. (Unless you like reading these things on the floor, in which case, you may take the minute to do something fun for yourself, like constructing a small origami friend. Go on, you earned it--it's yours!) Taryn thinks that Mary's sudden drowsiness is just an act, but U.S. knows better because he has a metal skull, and through linking with the whip, he learned that "Midnight" was just as much a victim of the whip as anyone else. No sooner does he express that thought than the Highwayman shows up to confirm it!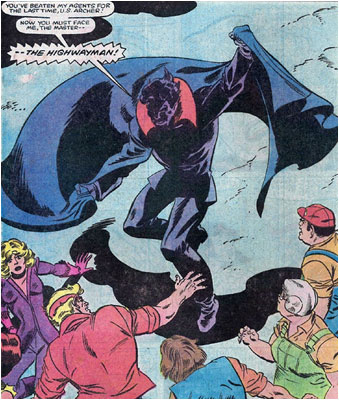 The Highwayman spent hours practicing to get his cape twirl just right.
Could it be that we will finally learn the identity (as if we hadn't already guessed by the end of the first issue) of this mysterious terror of the motorway? Let's press on like a Lee Nail and find out!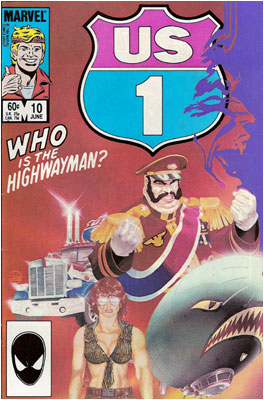 I just have to point out that in the comics they try to make Taryn O'Connell a reasonably
attractive woman. On this cover however, it is evident that she is in fact an ugly man with breasts.
Our tenth issue opens with the Highwayman gloating like any good villain and telling the Short Stop gang how he was behind everything and they played right into his hands the whole time. Mary McGrill stands in a daze next to him while all of the truckers and Nazis are still frozen in place.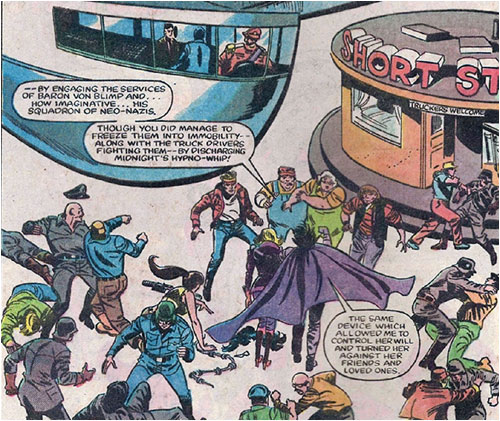 The hypno-whip is so powerful that it hypnotized a HAT to remain FLOATING IN MIDAIR!!!!
While the Highwayman is yammering on, U.S. makes a grab for the hypno-whip and strikes him with it, but unfortunately it does no harm, since he is immune to his own weapons.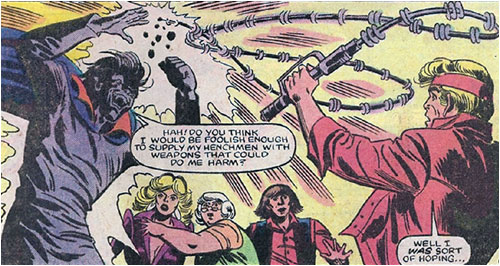 "Fool! I like being whipped! In fact, I am turned on by it! So who is laughing now!??"
Things seem to be at a standstill once again, until U.S. uses his mental link to summon the US-1 to charge straight toward the Highwayman! He has a mental link with his own Blackrig however, and summons it to his defense. And then things are at a standstill once again.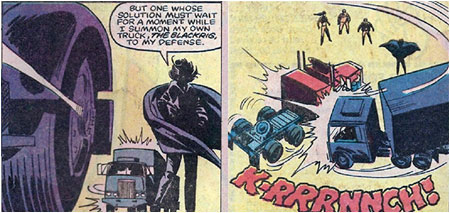 It's like watching two Transformers duking it out, without any of the stuff that makes them actually cool.
The Highwayman tells U.S. that he has been a thorn in his side for far too long, and that it's time to settle the issue of who has total supremacy of the highway once and for all! U.S. is confused and asks what that entails, recapping his entire origin story for us once again, because it's obviously very likely that a new reader would start this book two issues from the end. The Highwayman reveals that U.S.'s brother Jeff is still alive, a revelation that is shocking to NO ONE!!! U.S. lunges for the Highwayman to grab him and pummel more information out of him if need be, when suddenly Baron von Blimp comes bumbling down his zeppelin ladder to the rescue!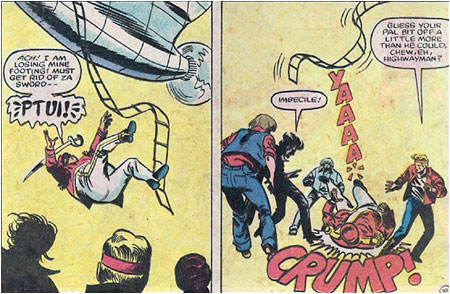 He lost his balance and fell because he was carrying his sword in his mouth. I wish I was making that up.
The Highwayman is none too pleased about this "menacing" entrance...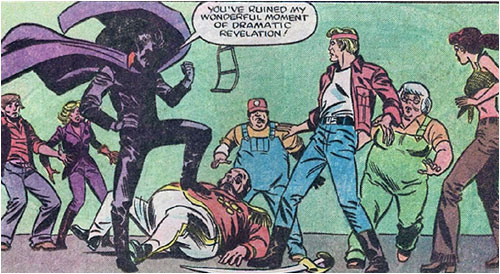 "Behold! I have bested a bear! By which I mean of course, a large hairy man, not an actual bear, good lord, no!"
Just as he's berating his fat henchman, a huge alien spacecraft shows up in the sky right above them!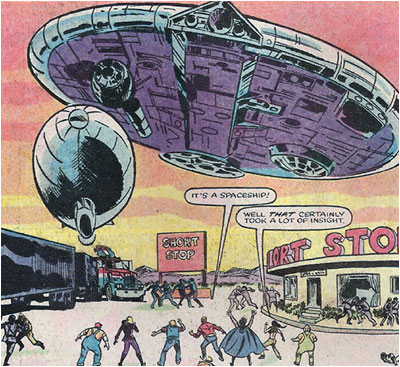 Desperate for a marketing tie-in, Marvel comics negotiated this special Millennium Falcon cameo appearance.
They announce on their space loud speaker (every object on a spaceship must have the "space" descriptor in front) that the Highwayman's time is up, but he yells "No!" and races to the Blackrig, making his escape, but the US-1 is in hot pursuit! They have a highway race battle of epic proportions, with high-tech gadget going up against even higher-still-tech gadget, but my favorite part is when the Highwayman magically makes his face appear on U.S.'s radar screen: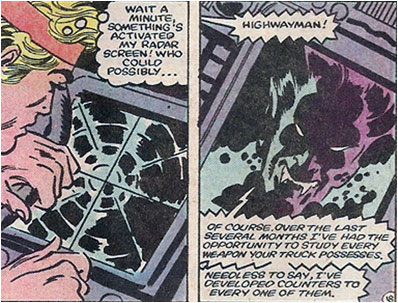 Amazing how the resolution on his crappy radar monitor suddenly got all high definition, isn't it? SUCH is the power of the Highwayman!
U.S. launches a smokescreen and shoots out an oil slick, but the Highwayman anticipates the trap and makes his truck totally fly over it, because he's like that asshole kid down the street who declared that he wasn't just bulletproof but he was "everything-proof" when you were playing "guns" in your childhood years.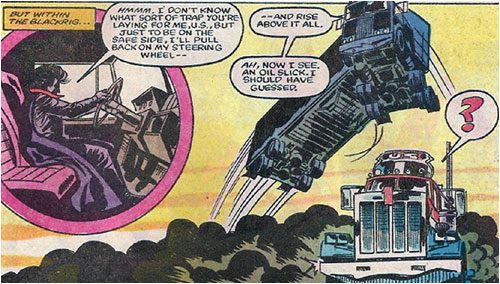 As you can see, banana peels on the highway can lead to very serious accidents, so please, don't litter.
After landing his truck, he randomly decides that they have "played this farce out long enough" and, in a stunning move, reveals that he is none other than... EXACTLY WHO WE ALL EXPECTED!!!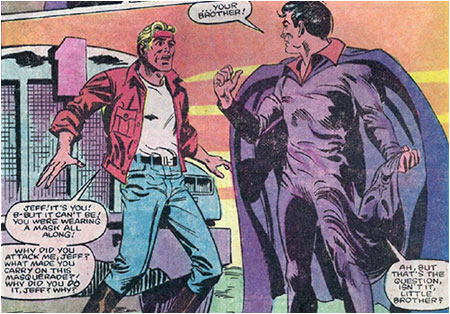 "My brother, huh? That's kind of disappointing. Can you at least put the mask
back on and pretend you're Nightcrawler, or--ooooh, how about Dracula?"
Well, I'm so shocked to my core I think I just pooped myself. Onward to issue eleven then!
THERE'S STILL MORE MADNESS TO SEE!
CLICK HERE TO CONTINUE TO
PAGE THREE OF U.S. 1!