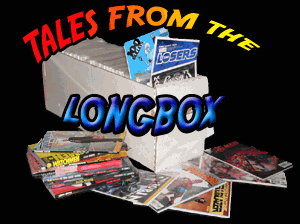 "Frank Miller Spiraling Out of Control"
12/01/08
by: Protoclown
Put on your mittens and Santa hats, kids, because Christmas has come a little early this year. After a year of waiting, Frank Miller's finally released enough issues of "The Goddamn Batman" to warrant another Longbox column! Apparently that kind of insanity takes time to cultivate (it ages like a fine wine). I know many of you have eagerly been waiting to see what happens next, as these All-Star Batman columns are by far the most popular (and most requested) thing I have ever done for this site. And I am pleased as punch to report that Frank Miller's madness has not abated, not one little bit, so the next batch of issues I'm about to discuss are as entertainingly stupid as ever. If you've missed the first and second installments of my All-Star Batman coverage, you'll probably want to start there. Not that it will help you figure out why any of what's going on is actually going on. No one can know that. Probably not even Frank Miller himself. But it is funny, and therefore worth checking out.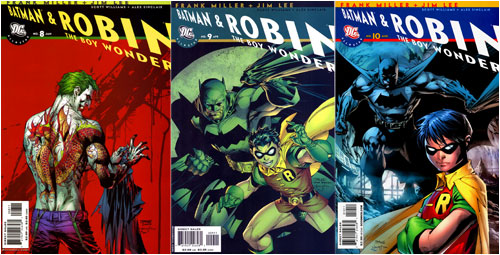 This monthly comic publishes about three issues a year. You can't rush this kind of quality, folks.
Our eighth issue opens with the Joker (finally!) looking out his window at a rain-soaked Gotham City, commenting on how much he loves the city when she cries. We then pan back to see that the Joker has just had sex--with a lady! She's saying how unusual it is for her to have sex with a complete stranger and that she doesn't even know his name. So he tells her they call him the Joker. She thinks about it for a minute, and then remembers that there was a guy called Joker who poisoned the city's water supply last year. Joker tells her that it was him--he was just getting started, and boy was he clumsy and inexperienced in those days, and she doesn't even bat an eye at this news. Thinks he's...joking.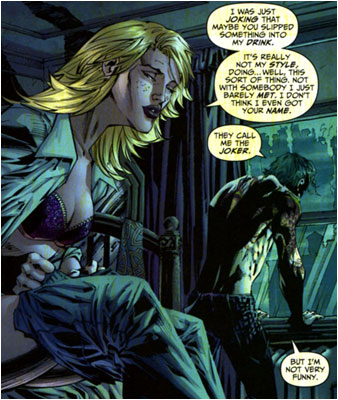 "Do you find my cargo pants sexy?"
Joker says he's tired of talking about himself, so he shifts the conversation over to her. He mentions that she's a big-time attorney who specializes in going after child molesters, and that he loves her in his own special way. So let me get this straight--Joker has not just had sex with some junkie whore who doesn't even know what planet she's on at the moment, but he has managed to pick up a highly successful attorney. Who just happened to go for a guy with green hair and clown make-up. Does that seem at all, oh, I don't know, strange to you? I mean, she makes some joke about how he must have drugged her drink, but she seems pretty lucid to me. What's more, if he possibly drugged her drink, are we to infer that he picked her up in a bar? And nobody thought to notice this odd-looking man, or put two-and-two together and be like "Hey, isn't that the psycho who poisoned our water supply? Maybe we should have the bouncer kick him out or something, cuz you know, we're sorta imbibing lots of liquids in here..." Obviously this chick thinks that clown make-up is super kinky or something, and she's into it, but that's just a little weird for me, that's all I'm saying. Never in my life have I picked up a woman wearing clown make-up. Nor will I. Ever. (Sorry, ladies).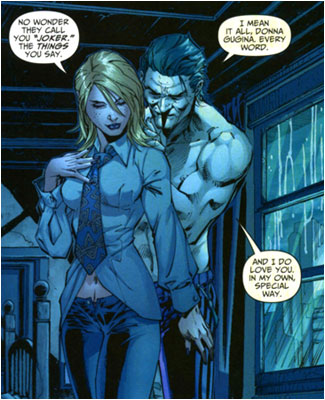 Ever since Ronald McDonald first made her "tingle" down there when she saw
her first commercial, Deborah Dumbleheimer knew that clowns were the only men for her.
Our kinky lawyer gets a little suspicious when the Joker suddenly knows her name and she asks him how he knows so much about her. At this point, Joker does what we were all expecting him to do: punches her in the face, and begins to slowly choke the life out of her with her tie. He tells her again that he loves her as he chokes her to death, while his narration explains that when you're in a place like a hotel and you don't want people to hear, you need to crush the larynx first so the victim can't make any noise. Sound advice.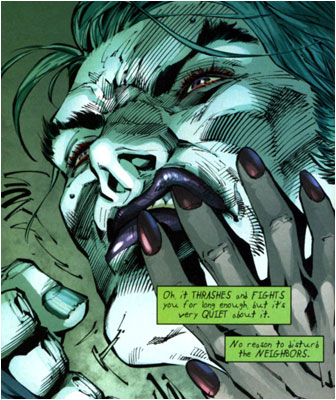 "Awww, baby, I know you ain't done messed up my make-up with yo flailin' hand!"
Now, this hotel bit is important to help understand the absurdity of the next page, which is still finely absurd even without the knowledge that this is all happening in a hotel. In fact, this is my single favorite page in the entire series so far. When I first saw this, I burst out laughing harder than I have at anything else in this series. Standing guard outside the Joker's hotel room is a shirtless neo-Nazi woman with a flat-top haircut and swastika pasties. I know you surely must think I'm making that up, but it's right there below, the original undoctored image. This is pretty much the greatest thing ever, superceding whatever I previously said was the greatest thing ever, and preemptively superceding my next instance of saying it, whenever that may be. The Joker's henchmen? Not clowns or otherwise circus-themed as you might expect. Fucking neo-Nazi women with no modesty, that's what. Oh, ho ho! That wacky clown prince of crime always keeps us guessing, huh? But the best part of it all is that this neo-Nazi chick is standing at attention half naked in the hotel's hallway, guarding his door. Do you suppose that might have turned a few heads as other guests or housekeeping ambled on past the Joker's room? And what did the attorney he picked up from the bar happen to think of Joker's protective "escort"? I just love that Frank Miller had this idea, and then didn't greedily keep it to himself like most of us would probably do if something so embarrassingly ridiculous popped into our heads, but decided to share it with the world. Thank you, Frank. From all of us.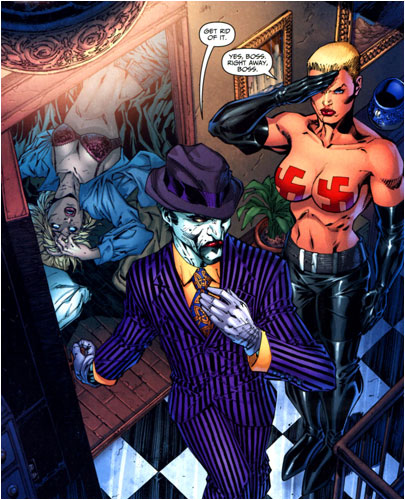 There is no caption that can do this image justice.

Meanwhile, six minutes later, yesterday, in the Batcave, we cut back to Batman and Robin who still have the drugged out Jocko-Boy in their possession, after he's just revealed that it was the Joker who hired him to kill Dick Grayson's parents. Dick asks Batman who the Joker is, and in a very awkward and totally unnecessary exchange, Batman tells him that he's a dangerous psychopath, but then doubts Grayson understands what a psychopath is, or that he's even capable of using polysyllables. Grayson counters by saying that he does in fact know what a psychopath is, and he can use polysyllables, as clearly evidenced by the previous seven issues during any moment in which he had dialog.


Yes, we all fondly remember the exact moment when Robin first uttered what
would later become his favorite battle-cry: "I KNOW HOW TO USE POLYSYLLABLES!"
After that unnecessary bit of stupidity is out of the way, Bats finally tells Dick who the Joker is, and Dick wants to come out and accompany Batman as he hunts him down. But Batman refuses to allow Dick to come along until he stitches himself together a costume, to protect his secret identity, which is a fine idea until you remember that Batman very publicly kidnapped Dick Grayson from the circus, which was all over the media, and the police were hunting him down for it. But I'm sure the public of Gotham City won't figure that one out.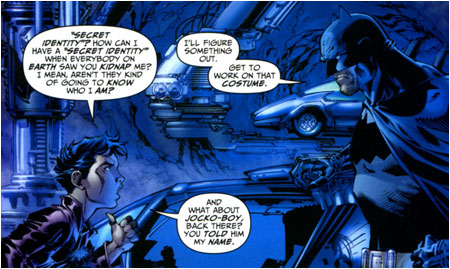 "Don't you sass me, boy! Don't you sass me!"
Batman then leaves the Batcave without Dick, and takes the still-hallucinating Jocko-Boy to the river, into which he dumps him, still tied up and drugged out of his mind. When Jocko-Boy yells from the water that he's still feeling maggots crawling on his skin, Batman lies and tells him that his condition is permanent, that he will never be sane again. Yeah, that's not the kind of thing that might drive a guy to drown himself or anything.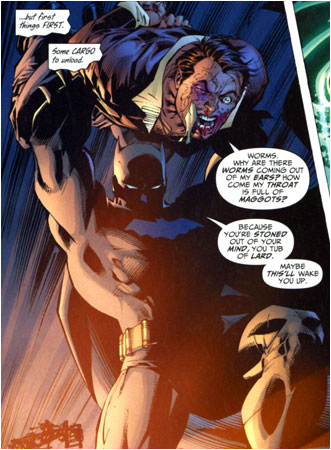 Batman does not yet realize the horrible truth that this is how DC villains are made.
In a hilarious response, Jocko-Boy yells a retort back to Batman, but the Editors joke about how they can't print it, which is odd considering all the blacked-out-but-easily-identifiable curse words they've used in previous issues, and the outright cursing you see later in this very column.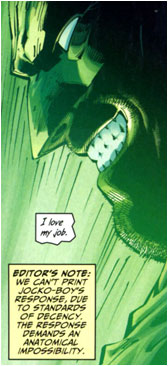 Wow, so the rest of this series has met their
"Standards of Decency"???
Back in the Batcave, Robin is looking through Batman's extensive, not-at-all-locked-away-from-a-twelve-year-old-kidnappee weapons cache, when he stumbles upon a bow and arrow. Imagining himself as a Robin Hood type of character, he tells a mysterious, unseen voice in the darkness (Alfred) that he needs some tights, a cape, and a hood. "Very good, sir", the Darkness replies, before inquiring as to his measurements.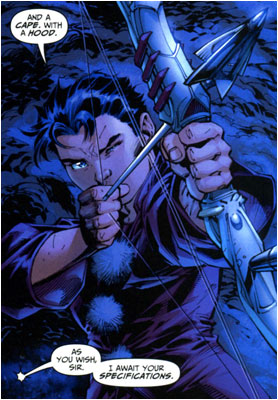 "Yeah, I'm gonna show that crazy Batman fuck what's what when he comes back home!"
Back in the city, Green Lantern sits atop a building eating a hot dog and summons Batman with his "Lantern Signal". Batman doesn't think much of Green Lantern, because he keeps referring to him as a moron over and over again, ad nauseam, in his narration boxes. He even says he's seen more intelligent hockey pucks than ol' Hal Jordan here.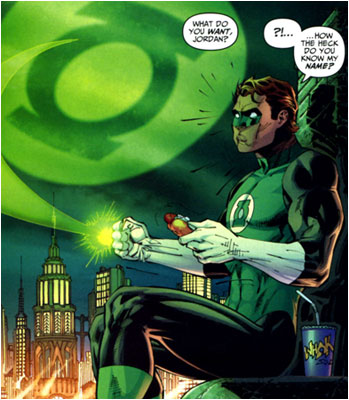 Green Lantern wanted to conjure up some mustard for his hot dog, but he was powerless to do so because it's yellow :(
Green Lantern says he wants to talk, and Batman fucks with him for a while before telling him that he'll only talk at a time and place of his choosing. He gives Lantern a place and a time, and then he leaves, calling him a "moron" as he ducks away into the darkness. Green Lantern is obviously not too happy about being treated so rudely.


"I'll show him! I'm gonna blog about what a jerk that Batman guy is later!"
Next we see the Joker walk through a doorway and there is Catwoman, lying on what I originally had assumed was a pile of trash in the alleyway behind his hotel (and let's face it, that would fit with the rest of the book), but upon closer inspection, it appears she's on a bed made of cats and pillows. She must be staying at the same hotel as the Joker or something. If that hotel frequently attracts freakish clientele like this, maybe the neo-Nazi woman in the hallway would go unnoticed by passers-by. He tells her he's going to get into some mischief and asks her if she'd like to come along. She agrees, because she's apparently stupid and hasn't gotten the memo that he's not much of a team player. Unfortunately that's the last we'll see or hear from the Joker in this installment.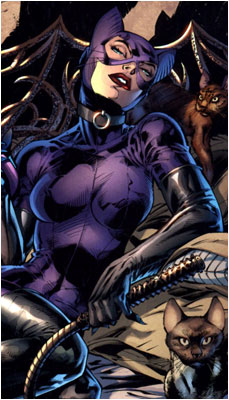 That cat in the bottom right corner looks like his head will just
fly right off the page and bite you.
Batman returns to the Batcave, and Dick Grayson immediately shoots an arrow at his head, presumably trying to kill him, because that's the usual reason you would fire an arrow at someone's head. Batman easily catches the arrow and says "Nice shot." Dick then tells Batman that his superhero name is Hood, and Batman angrily walks over, pulls the hood down in his face, and tells him to ditch the hood and that his name is now Robin. So much for having him create his own superhero identity.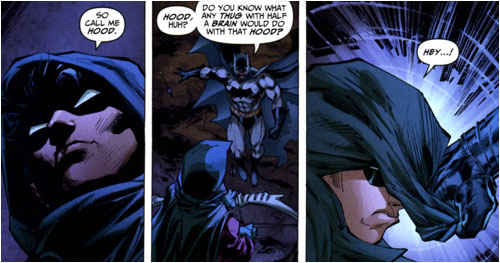 "You want to be Green Arrow's sidekick? Is that it? I'll show you what we do to Green Arrow's sidekick. Fag."
Our ninth issue opens with a very yellow Batman, in a very yellow room, arguing with a very green Hal Jordan.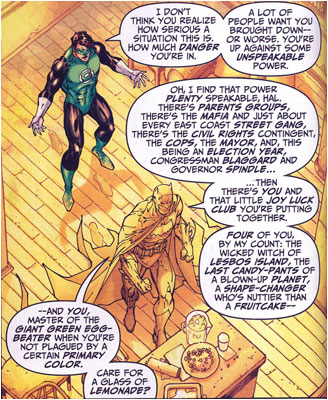 "You painted everything yellow!? Aww, dick move, Batman!"
Yes, it seems that Batman has figured out that the Green Lantern rings have a weakness: they aren't effective against anything yellow. So he cooks up the completely insane idea of putting Robin to work by having him paint everything in one of his safehouses yellow. Including him and Robin. Yeah, that's a sensible and realistic plan.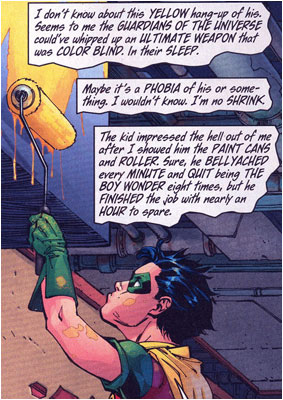 "And after you're done painting everything yellow, boy, you can take out the trash!"
But the best part is the rather disturbing bit of narration that occurs further down in that same panel. "Fast hands"? "My little Robin"? "Big mouth"? Uhhhhhh....just why did he recruit this "Boy Wonder" anyway?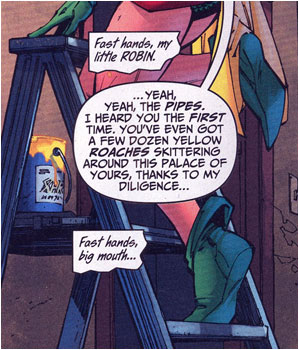 Yeah, this panel isn't creepy or anything like that. Not at all.
Batman offers Green Lantern a cool glass of lemonade, but Jordan's not interested in refreshments at this time. He curses Batman and his lemonade, and then proceeds to get to the point of why he's there--that the Justice League think that Bats might just be a little crazy and they want him to tone it down a few notches because he's giving all costumed heroes a bad name.

Note Robin walking in from the background eating a yellow ice cream cone.
Because if it were chocolate, Green Lantern could use it to ATTACK!
Jordan says that half the world is already calling these caped heroes criminals, and Batman says that's exactly what vigilantes have to be: criminals. Jordan doesn't care for this line of reasoning much and punches Batman in the face.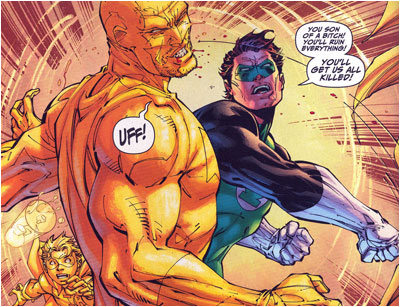 Robin knows that there's a beating in it for him if any lemonade gets spilled.
Green Lantern then yells at Batman for kidnapping the twelve-year-old Dick Grayson, but Batman responds by saying that Robin isn't Dick Grayson, that he in fact dropped Dick Grayson off at a trauma clinic shortly after the attack on his parents.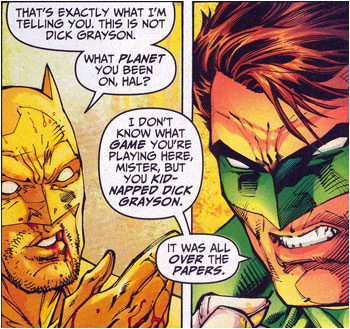 "See this, Hal? I'm making my incredulous face."
THERE'S STILL MORE BATMADNESS TO SEE!
CLICK HERE TO CONTINUE TO PAGE TWO!