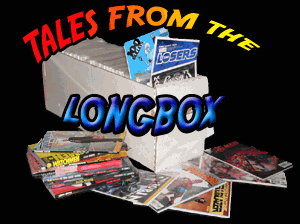 "Frank Miller Spiraling Out of Control"
12/01/08
by: Protoclown
...CONTINUED
Batman and Robin point out that Dick made a public statement to that effect just the day before, and so this boy in the Robin costume couldn't possibly be Dick Grayson. Until Robin then suggests that maybe he is Dick Grayson after all, which about causes Mr. Dummy's head to explode. Frank Miller must have a seething, pathological hatred of the Green Lantern character (at least the Hal Jordan version) to write him this way. His version of Solomon Grundy is probably smarter.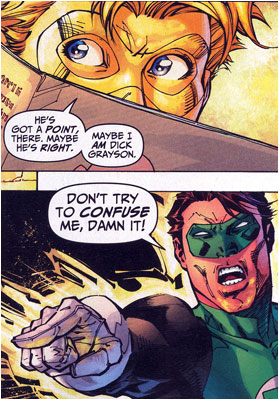 When Jordan gets mad, he sometimes displays his anger by pointing
at someone and making laser pyoo-pyoo-pyoo sounds.
In a further display of Frank Miller's unreasonable hatred for Hal Jordan, we then see that Robin managed to steal his power ring at some point, basically turning him from a superhero into a super zero. Oh, snap! And then Hal tries to get it back, while Robin plays keep-away. Yes, Hal Jordan is being bullied by a twelve-year-old boy.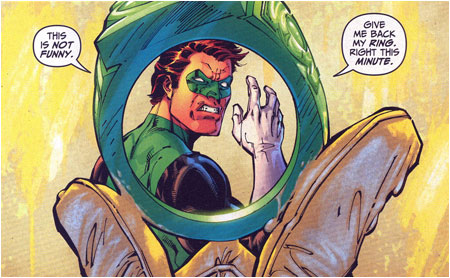 "You can have the ring back, but only if you give me all your lunch money! Ha, ha!"
Robin continues to keep the ring away from Jordan, punching and slapping him around for a bit before finally jabbing him in the throat with his hand and crushing his windpipe, leaving him unable to breathe.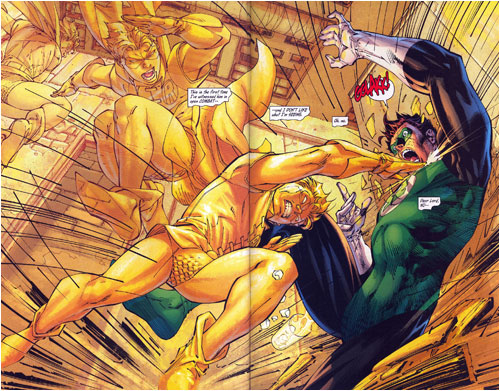 Because Robin was wearing his yellow yellow-room camouflage, Green Lantern never saw the attack coming.
Batman becomes enraged over how his kidnapped, traumatized, unstable, untrained sidekick has just gone all nutso and tried to kill a guy (who would have seen that coming?), throws him into a wall and then punches him in the face.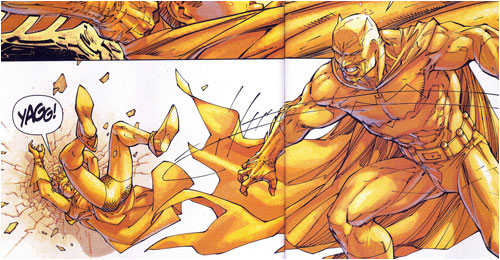 "Goddammit Robin! You forgot to paint one of the walls!"
Meanwhile, Green Lantern is desperately gasping for air as he slowly suffocates to death. Robin does not understand what he did wrong, because he was all on the "Wooooo! Yeah, we some crazy mothafuckas!" page, but Batman has very quickly and unexpectedly switched to another page. You've got to keep your eye on the Goddamn Batman.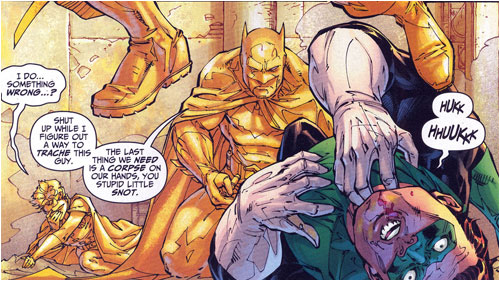 "I...<gasp> see yellow feet...dancing...in the sky. They're <huukk> so...pretty."
Batman takes off his mask, revealing himself as Bruce Wayne to both Robin and Green Lantern, who is a little too busy dying to notice. He hands Robin a vial of deadly nerve gas and tells him to break off the glass tube so that it's jagged enough to pierce human flesh, but oh, be careful not to press the button on the side or it will release the gas and they will all die.


"I know, you'd think I'd have a black beard given my
black hair, but no, it's totally yellow. Weird, right?"
Batman must now perform emergency tracheotomy surgery, with no anesthetic and without proper medical instruments. Nevermind that they have a fucking Green Lantern power ring that can pretty much will anything they can think of into existence. I guess they don't think of that. Or they'd have to take off their yellow gloves to use it, and dammit, they don't have that kind of time!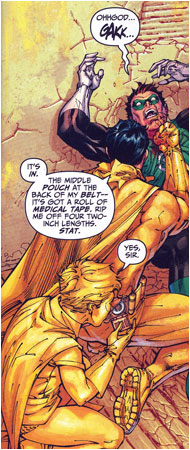 "I learned it by watching YOU, Batman! I learned it by watching YOU!"
Green Lantern's life is saved, and they call an ambulance and leave (no word on whether they give back the power ring) before they get in trouble with the law. At this point, Batman realizes that he may have kind of fucked up a little bit, and that maybe his whole "abducting a twelve-year-old boy whose parents were just murdered and sweeping him up into my crazy lifestyle" plan wasn't thought out quite as well as it could have been. He decides that Robin hasn't had a proper chance to mourn his parents yet, so he drives him out to the graveyard and lets him punch his parents' tombstones and cry in the rain for a bit. That should solve everything!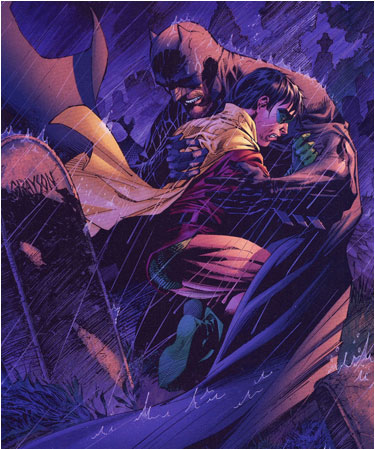 "Yes, that's a nice hug, little Robin. Now, how's about you show me those fast hands of yours?"
Our tenth issue opens with Jim Gordon standing on the edge of a dock, giving an insanely long (seriously, it's like three and a half pages), rambling monologue about nothing in particular. He talks about Superman and his Fortress of Solitude, he talks about his family life a little bit, he talks about his time working as a cop in Chicago, he talks about the beaten, crazy woman dressed in a cat outfit who gave a worthless scrap of cardboard to one of his men. Then he dumps the cardboard into the water, saying it's "not worth a damn to anybody" and walks away.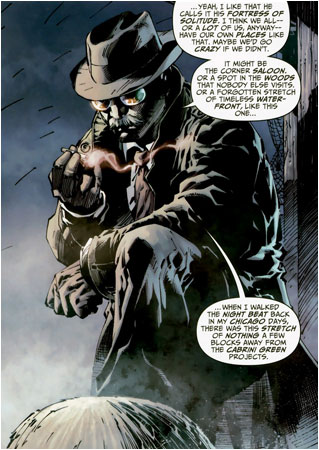 "I ain't even that old, but I find that if you act totally senile and smell vaguely of urine, people don't generally mess with you."

We the reader are left wondering what the fuck Frank Miller is up to this time, when suddenly we discover that Batman and Robin were hiding out under the dock the whole time! Apparently Jim Gordon knew they were there and was saying all those things for Batman's benefit, rather than rambling on to the stars above like a kooky old man. The weird thing is that Batman acts as if he doesn't think that Gordon knew they were there, kind of like when your cat is "hiding" behind the curtains but his tail is sticking out, but you just play along and pretend like you can't find your cat anyway because you know it makes him happy. Anyway, the cardboard simply says "The First Time". Batman knows exactly what this means, and with a "Come on, chum! Let's go!" they're off into the night.

BATMAN: "A note written in lipstick, chum! Probably one of my many lady friends!"
ROBIN: "It could also be the Joker."
BATMAN: "God dammit."

Gordon goes back to his car and the officer waiting back there tells him that his wife just called and she sounded completely shitfaced. So he calls his wife back and sure enough, she is drunk off her ass. She is angry with him for some reason and hangs up on him. Gordon then reminisces on some mystery woman named Sara he's been obsessing over for the entire series. Meanwhile, Batman and Robin go into the sewers and then the subway on their journey to Catwoman.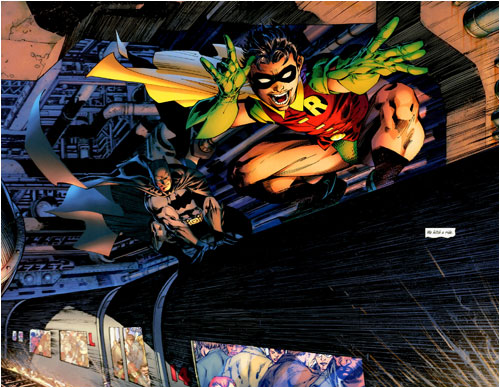 This pose of Robin's cracks me up for some reason. Oh yeah, maybe because it's FUCKING RIDICULOUS.
Batman and Robin finally make it to the place referred to in the note, "the first time", meaning Batman's original Batcave, where he and Catwoman first had sex. At least, that's what I infer from his narration saying "we made a mess of things, Selina and I did that night, a sweaty, dirty, glorious mess". Of course, he could be referring to "the first time" they took some Mr. Clean to the Batcave and really tried to scrub away some of the grit down there. We don't find out why she's such a beat up mess, but we can guess that the Joker probably had something to do with it.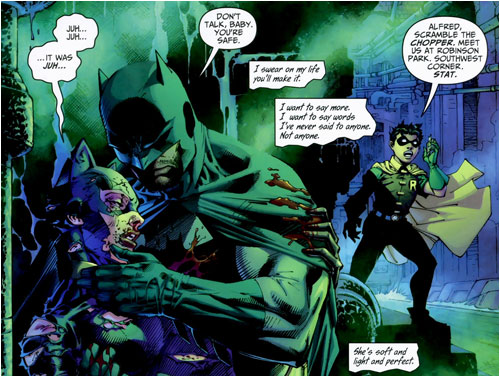 "So...you and Selina first bumped uglies down here, eh? Must've--oh god,
is that poop floating over there? Must've been romantic."
At the same time tomorrow, an hour ago, Batgirl is hitting up an arcade that was built to "clean up the streets", but it actually only served to give all the drug dealers an easy place to hang out and find plenty of new customers. (I should point out here also that the tenth issue was recalled due to the initial run not being censored enough. The black bars weren't dark enough so you could see the curse words underneath them. Well, despite the recall, copies got out and got sold, and then people online removed the black bars altogether. I will use the uncensored version here, because it's more fun.) Batgirl decides to ruin some drug dealer's day by stealing his skateboard.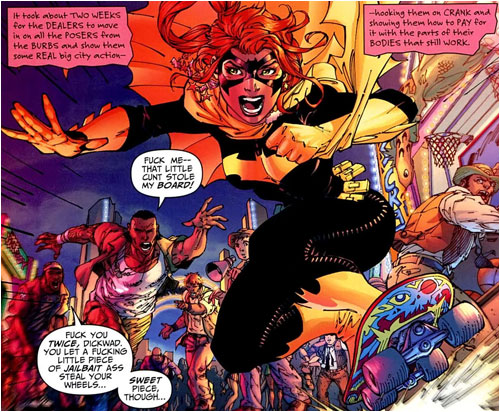 Someday she will work up to stealing the Joker's skateboard, but for now she has to start off small.
These thugs pull out knives but she makes short work of them, proving that they are no match for the Fucking Batgirl!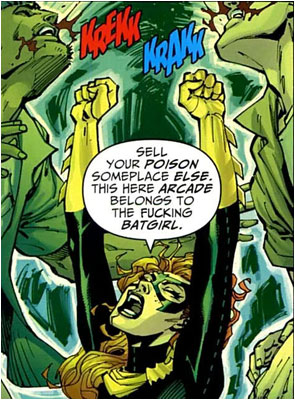 First we have a "Goddamned Batman" and now we have a "Fucking Batgirl"?
Oh, sweet Jesus, thank you. The tree of comedy has borne delicious fruit!

We then cut to Black Canary, who we haven't seen in some time. She has just taken out another bar full of rough customers, has stolen all their money, and then she sets the place on fire, killing everyone inside. Oh, how heroic! Her narrative text features her pondering over recruiting a team of tough broads to help her on her mission, because she worries that if she doesn't have some backup, she's going to develop too much muscle and start looking like a man. I am not making that up.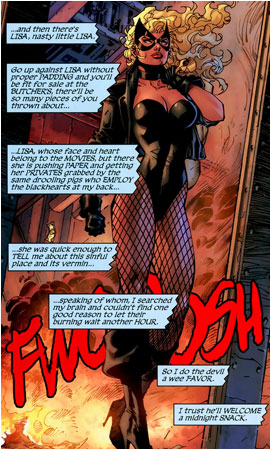 Black Canary is even harsher than the Goddamned Batman,
for a few of her victims were burned to death for fashion crimes.
As she speeds away from the burning bar, she passes right by Jim Gordon and another cop, but they ignore her, because Gordon has gotten word that his wife has gotten into a drunken car crash, and he needs to be there. So you may have gotten away with it this time, Black Canary, but next time you won't be so lucky!!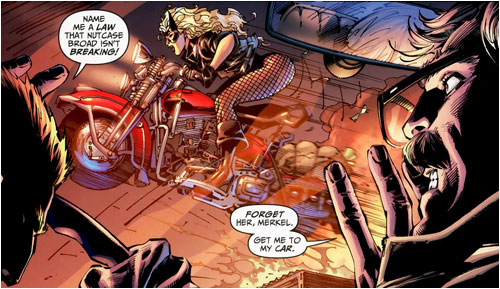 "Name you a law that nutcase isn't breaking? Okay, well, she's not pirating illegal software, she's not jaywalking,
she's not kidnapping, she's not drunk in public, she's not urinating on a public official...pretty sure there's others too..."
Back at the arcade, Batgirl's actions seem to have incited a riot at worst, or an all-out brawl at best, which is something she's not too happy about, because somebody could get killed.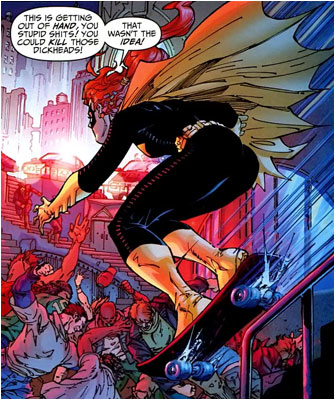 Batgirl watches mothafuckas get killed as she practices tricks off the railing.
Batgirl tries to go in and break it all up, but while she's distracted she ends up getting nabbed by the cops! Curses and drat! Daddy probably won't be too happy about this!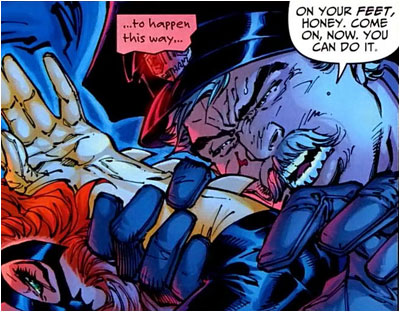 "Alright there, little lady! It's the hoosegow for you, and no mistake!"
But cops should be no problem for Batgirl, right? WRONG! They cuff her and stick her in the back of their car and take her down to the station. She knows that there's no way she's bullshitting (or if you remember from last time, "bullshittinging") her way out of this. Maybe she can convince her dad that it's just a Halloween costume.

Batgirl lowers her head in shame as she realizes how rusty her skateboarding skills have become.
Meanwhile at the hospital, a hot doctor chick in a miniskirt is telling Jim Gordon that his wife is a serious, I mean serious, alcoholic and she will probably fuck up and die from it if she doesn't get serious help. An officer interrupts and tells Gordon that his daughter is calling and that it's important and that she's only allowed one call, but Gordon snaps back for him to take a message because he's hearing about his fuck-up of a wife.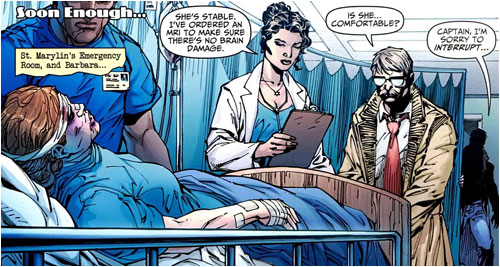 "Mr. Gordon, I've seen entire frats that are less drunk than your wife is right now."
A few minutes later, Gordon realizes what the officer meant by "only allowed one call" and visits his daughter in jail. He seems remarkably not upset about the whole thing. Because he's impressed by her bravery. Gordon tells her about what happened to her mom, and Batgirl tells him that he seems upset by the whole thing and that he should call Sara.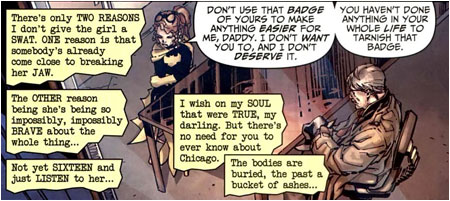 A game: Hidden carefully within this panel are two characters. Can you find them?
Jim has no idea how his daughter found out about Sara, but he decides that she's right. And in our climactic finish (are you ready for this?) Jim Gordon calls the mystery woman Sara, and ASKS HER TO TELL HIM ABOUT HER DAY! Pretty fucking intense, no?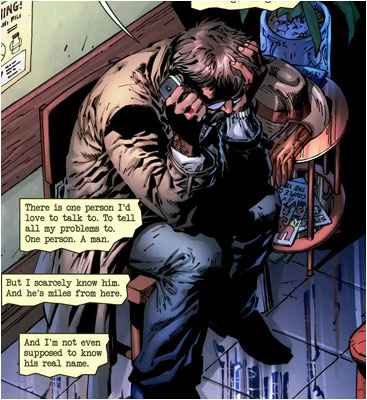 Little does anyone realize that "Sara" is merely the performing name of the Penguin
at his second job working a phone sex hotline.
And that's it for our third installment of All Star Batman and Robin the Boy Wonder. I know you didn't want it to end. Hell, neither did I, but do you think this kind of crazy grows on trees? We still have a lot of crazy to deal with though. The Joker is running around out there, and god only knows what his plan is. Catwoman was beaten up, and we don't know why. Black Canary is still running around being all "heroic" and is now talking about gathering up recruits. The Justice League is still angry at Batman, and will be even more angry now that Robin almost killed Green Lantern. And Batgirl got herself arrested. So as you can see, there's still plenty of potential for crazy with all these plot threads still dangling out there. I for one can't wait until Batman and Joker finally come face to face. My prediction from the last article may yet prove true.
As soon as a few more issues are out, I will return with the next chronicle of the Goddamn Batman's tale! Until then you can create your own Goddamn Batman adventures by getting your own Batman costume, taking one of every pill you can find in the medicine cabinet, and then finding a large rock or a brick and hitting yourself in the head with enough force to generate a decent concussion!
Found any weird, bizarre, stupid or funny comics that
should appear in a future "Tales From the Longbox" column?
Email Protoclown and let him know!