by: -RoG-
Today was a long day for me. An awesome day, but a long one. You see... Re sent me a link to a news site that mentioned something that sounded too good to be true: Candy Corn Oreo Cookies. I thought it was a joke at first and immediately started inspecting the package art JPEG for signs of Photoshop tomfoolery, but upon visiting the official Oreo twitter feed, I learned that they were real and that just about every news outlet online was picking up the story:

Holy crap...
HOLY CRAP! CANDY CORN FLAVORED
OREO COOKIES ARE REAL!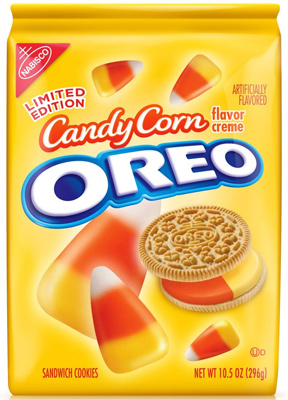 The entire Internet was actually going insane over something flavored like candy corn. Amazing. According to news sites, the cookies were going to be sold exclusively at Target stores starting next week, but when I posted the package photo earlier in the day on I-Mockery's Facebook page, there were already reports of people finding them in stores. I immediately called the Target store closest to me and after being placed on hold and transferred around for a solid 10 minutes, they finally reported back that they had no idea what I was talking about. Not a good start, but I wasn't about to stop trying. I called two more Target locations and got the same story, but on my fourth call, the guy I spoke with confirmed that they had them in stock... but they weren't allowed to start selling them until next week. FOR CHRISSAKES THESE ARE COOKIES! PERISHABLE ITEMS! SELL THEM TO ME OR I'LL TP AND EGG YOUR ENTIRE BUILDING IN THE NAME OF HALLOWEEN!!!
I wanted to drive down there, kick in the door to their stock room and demand they stuff my face with Candy Corn Oreos, but I instead opted for calling more locations. It took several hours and eight tries, but I finally found a place that not only had the cookies, but confirmed they had just been put out on the shelves. Considering this location was more than an hour away from where I live, I had no qualms about making the guy on the phone double check that they were actually on the shelves and were the limited edition Candy Corn Oreo cookies, rather than those typical Halloween ones they put out every year with the orange creme filling. He confirmed they definitely had them and that's all I needed to hear as I sped off in my car as if I was rushing to the hospital in a life or death situation.
When I arrived at the Target store I started to panic a little bit, because they had absolutely none of their seasonal Halloween decorations out yet, unlike some of the stores that were closer to where I lived. I walked over to the snacks and cookies area and finally saw them, unceremoniously stuffed between the other Oreo packages...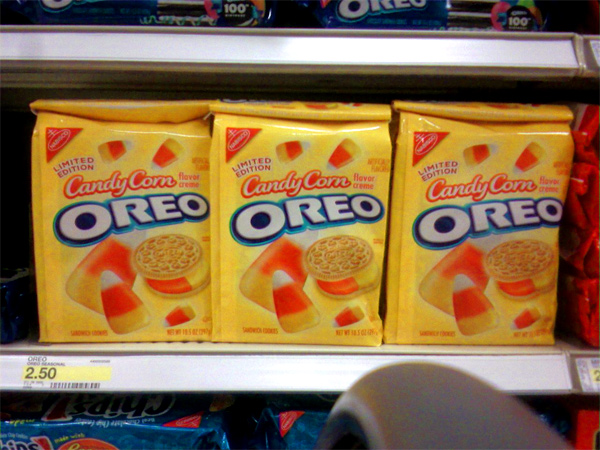 Honestly, I don't know what I was expecting when I found them. I didn't need Sam from Trick 'r Treat to be there in person to deliver them to me... but I did expect more of a display than this. Nabisco should be sending huge cardboard displays filled with blinking lights, spooky music, dancing skeletons and more to house these incredible new cookies. They're far too exciting to be relegated to typical placement on a snack aisle shelf.
But hey, I found them! They were real and I was going to be devouring them the same day they hit the shelves! Considering how many shares my Facebook post got earlier on today, I wasn't about to let you guys down and make you wait until Monday to find out more about these Halloween cookies. So after many phone calls and over two hours of driving, I'm excited to finally bring you the Candy Corn flavored Oreo cookies taste test!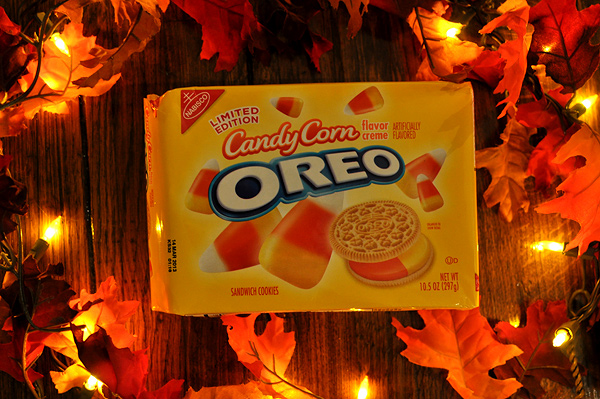 Before we begin, let us all bow our heads and take a moment to thank the Great Pumpkin for the delicious Halloween meal we are about to consume. Good tricks. Good treats. Good God, let's eat!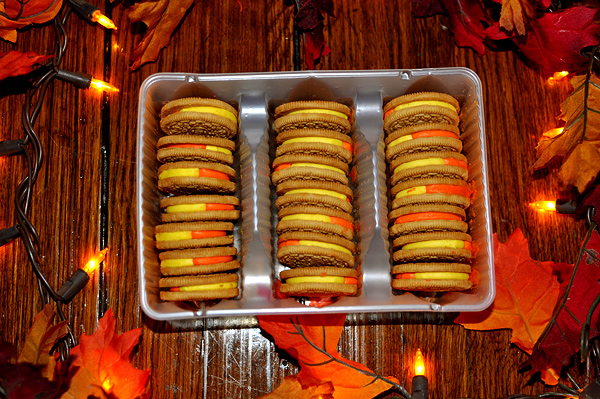 Upon opening the package, you are instantly hit with the unmistakable smell of candy corn. It hits you so hard you'd think you just unloaded a candy corn scented air freshener can directly into your nostrils, and I couldn't be happier about it. Keep in mind, I'm one of the people out there who truly enjoys candy corn. I know people either love it or hate it, but I've been a huge fan of candy corn since my childhood (I like the Mellowcreme Pumpkins even more) and there's no denying that seeing those first bags of the candy hit the store shelves is how many people are notified that Halloween is coming.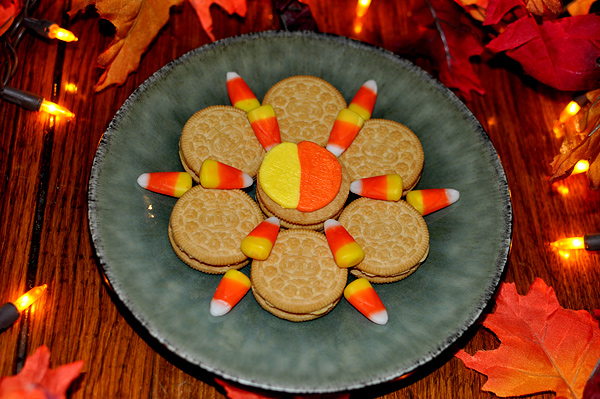 Considering what I went through to get these Oreo cookies today, I felt they deserved a proper Halloween ceremony before I actually took the first bite. So, I arranged them nicely on a plate with their candy corn predecessors and then removed the top from one of the cookies to reveal the orange and yellow creme center. And just look at it... the colors are PERFECT! Totally spot on with real candy corn candies.
Then I took a bite and was immediately relieved to discover that not only did they look and smell right, they tasted like candy corn too. Let me put it this way... if you can't find any of these limited edition candy corn Oreo cookies near where you live, just pick up a pack of their vanilla cookies which are incredibly easy to find. Then do this: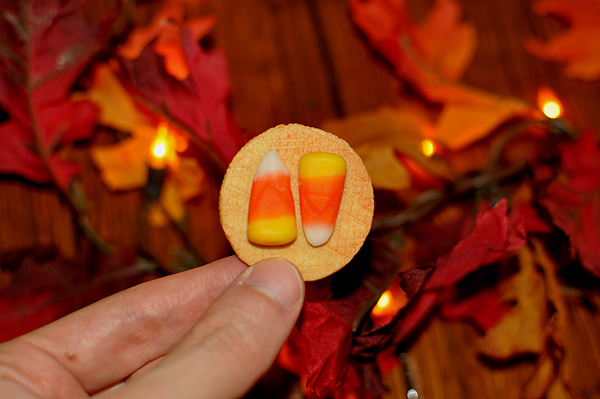 Open up a cookie, lose the creme filling, place two pieces of candy corn on it, and take a bite. What you will be tasting is the EXACT same thing I tasted when ate my first candy corn flavored Oreo cookie. I even tried this myself just to confirm I wasn't imagining things, and other than the different consistency between the hard candies and the soft creme, the taste was identical. I think they're extremely tasty and will definitely be going through more than a few bags o' these bad boys before the end of October.
So what does this all mean? If you love candy corn like I do, it means that you have a huge new reason to celebrate. If you hate candy corn, well... I guess this is yet another spin on the classic Halloween candy treat that you'll avoid eating as if it were a razor-filled apple. Either way, we all have cause to celebrate because these cookies look fantastic, and whether or not you eat 'em, they'll go nicely with all of your Halloween decorations this year. My friends, I believe we have a new staple of Halloween.
Candy Corn flavored Oreo cookies exist. That's pretty awesome and this Halloween season just got a thousand times better.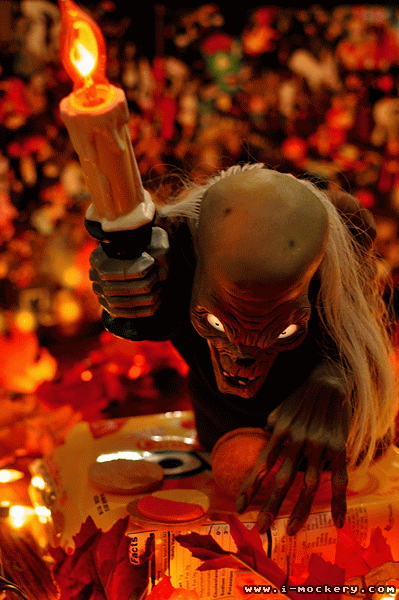 Also, I talked to the Cryptkeeper and he thinks they're absolutely delicious, but he worded it as "Hack-solutely delicious!"
Oh Cryptkeeper... just eat your candy corn Oreos.
Have any questions or comments about this piece?
SHARE YOUR THOUGHTS IN THE READER COMMENTS SECTION BELOW!