by: -RoG-
By this point, I don't think any of us are strangers to Halloween themed sodas. The Extreme Beverage Testers gave all the Halloween Jones Soda flavors a run for their money way back in 2005, and we've seen those same flavors continue to be released practically every year with a few different can designs. In 2009, we even saw three popular soda varieties get a nice "chill to thrill" color-changing can makeover. Of course, carbonated beverages have been promoted in Halloween ads and commercials for ages, so it's not like soda and Halloween are a new combination by any stretch. It's all sugar, and we veteran trick-or-treaters are happy to ingest it in whatever form it comes in on Halloween.
But what if one company was so bold as to actually name their soda "Halloween"? How then would the world react to such news? If the world was like me, it would celebrate by camping out two weeks in advance at the nearest grocery store that planned on carrying the stuff. Okay, so I don't expect the world to follow suit, nor was it necessary to camp out for the stuff, but I'm still here to break the good news to you.
The day is finally upon us: Halloween now has an official soda called "Halloween" and everything about it is incredible!
BEHOLD!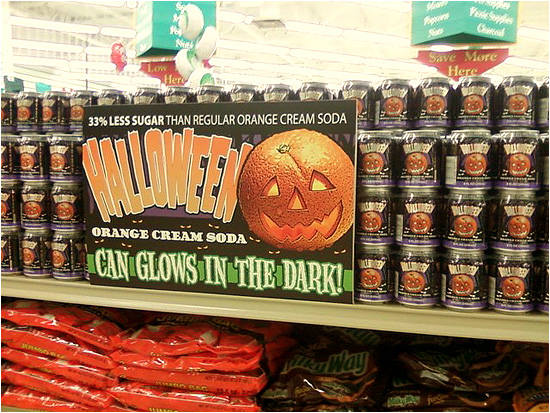 One of I-Mockery's community members (RedCometXIII) was nice enough to tip me off about the stuff being in his local grocery store. I can't believe it's real. HALLOWEEN: THE SODA! This actually happened. We now have a carbonated beverage that we can definitively proclaim to be 100% pure Halloween. And it's super cheap too. A six-pack of these little 8oz cans will only run you two dollars. Two dollars to own the official soda of Halloween? I would've given two kidneys.
If I was in the food industry, I would jump on this idea immediately and give other products the official Halloween moniker. Halloween: The Cereal. Halloween: The Donut. Halloween: The Taco Seasoning Packet. The possibilities are endless.
But before we go making official Halloween this and official Halloween that, let's check out the official soda.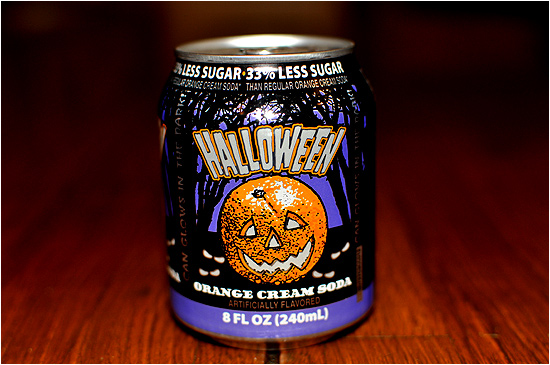 Beautiful. This can is an absolute work of art and worthy of the name "Halloween", for it uses those three essential visuals - orange, purple, and black. Top that off with a smiling jack-o-lantern in front of a spooky forest backdrop and you've got yourself a winning Halloween can design here.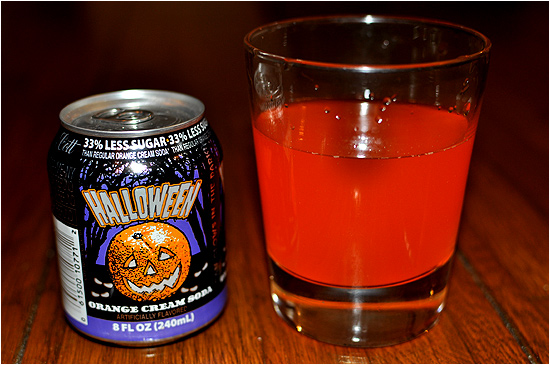 And look at the soda itself. If you somehow managed to capture the Great Pumpkin and you squeezed the the blood from it, it would be a pure orange color much like this. I've always enjoyed cream soda, orange or otherwise, and this stuff does not disappoint at all.
What comes next is what truly pushes this can into legendary Halloween status: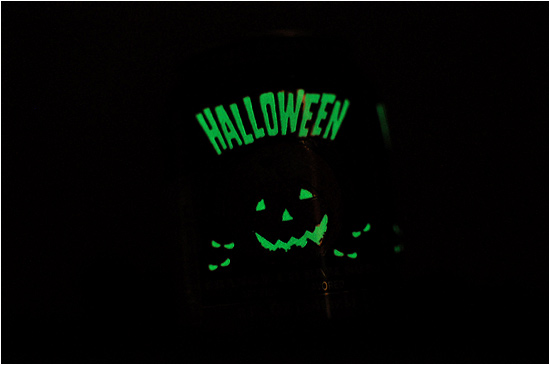 That's right... the can actually glows-in-the-dark! Folks, this is no longer a mere can of soda... this is now a decoration that simply must become a staple of your household Halloween celebrations for years to come. I don't care if you have to buy a plane ticket just to get your hands on the stuff, it's worth it. Look at that can for chrissakes! You owe it to yourself and the Halloween spirit within you to track down the soda and erect an honorary place for this glorious can to reside upon forever.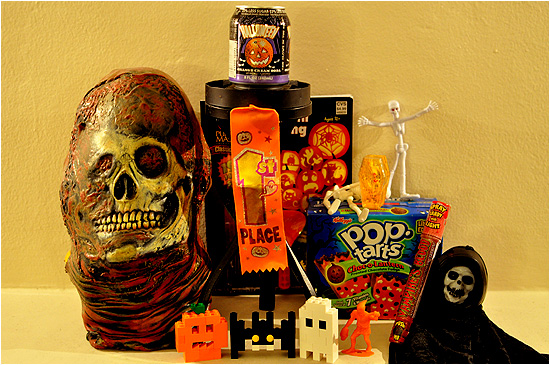 I've already started working on mine.
I can only hope that we will see this Halloween soda released for many years to come. John Carpenter made a smart move by naming his film "Halloween" and it worked out really well for him. Here's hoping the same can be said for Halloween soda.
Have any questions or comments about this piece?
SHARE YOUR THOUGHTS IN THE READER COMMENTS SECTION BELOW!