by: -RoG-
When planning for a Halloween party or just making your home feel more festive for the season, establishing the mood with a good spooky setting is key to making things memorable. You've gotta have good lights and decorations for sure, but there's a good chance you have a TV sitting somewhere in the room where you'll be spending a lot of time. How do you make this particular piece of electronics not look out of place amidst all your bone-chilling decorations? Well, for starters you can drape the set with some gauze and/or fake cobwebs, but you still want something playing on it. My go-to has always been horror movies; even if you and your guests aren't watching them, it never hurts to have some monsters on TV to help set the mood.
Well it turns out there are some DVDs out there specifically made to help you set the mood for Halloween, and I decided to try one of them out. I present you with the Ghoul Log: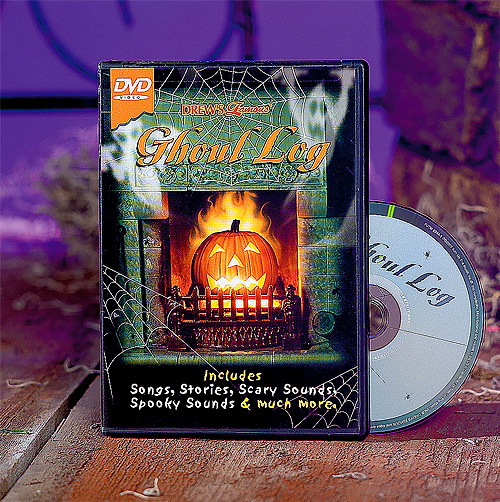 A nice little wordplay on the traditional winter holiday yule log, it's officially titled "Drew's Famous Ghoul Log" even though nobody I've talked to has ever heard of it despite the fact that I've found it in dozens of seasonal Halloween shops. Still, we shouldn't let a lack of exposure sway us from checking something out, as there are always diamonds in the rough. And just look at the promotional presentation for the thing: a Halloween DVD featuring a fireplace with a jack-o-lantern set ablaze! The warm glow of the pumpkin has even inspired some maggots and worms to come out of hiding in the mossy background so they can nestle up next to it. What's not to love? I had to give this thing a shot.
Plus, my television set actually sits right in front of an old faux fireplace, so the idea of being able to turn it into one with a Halloween theme sounded amazing. A flaming jack-o-lantern in your fireplace that burns forever? It's like the Headless Horseman decided to lend you his head so you could throw a kickass Halloween party. Consider me sold. Let's hit play and see what horrors unfold!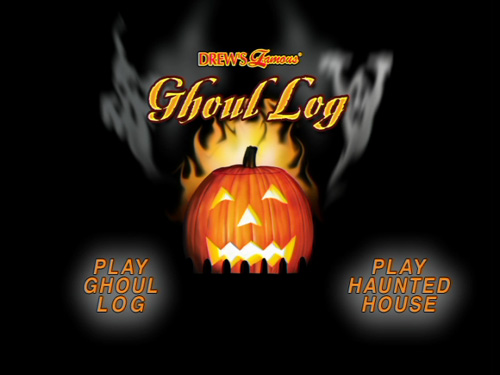 Alright, it's not the most amazing looking title screen, but it gets the job done and still shows the same pumpkin from the cover of the DVD, so that's good. One can't expect true works of art on a low budget Halloween screensaver DVD anyway, so let's ignore the cheap fonts and glow effects and get right into the DVD. At least we can look forward to a glowing jack-o-lantern resting within a fireplace...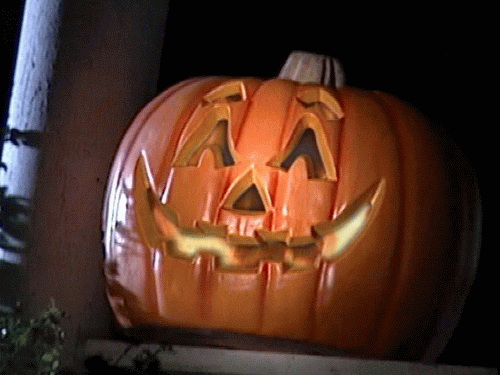 ...or not. Yes my friends, what you are looking at is exactly what is displayed on your screen when you select "Ghoul Log" from the main menu of the DVD. It's a photograph of a fake, novelty pumpkin burning inside. It's not really burning, mind you, for those are some awful special effects flames. You can buy stock looping video clips of real fires... the guy who put this thing together couldn't even do that. He decided to go for using a still photo of a novelty pumpkin and then add some horrible animated flame effects to it. I'm pretty sure this thing was created in under 5 minutes while the creator was on a major bender.
Was there really no budget to just set a few pumpkins on fire? Sure the pumpkins may not last long, but I bet it would be far more visually appealing to see a variety of jack-o-lanterns set ablaze as they become charred and slowly fall apart.
There are some standard Halloween tunes playing in various spots on the DVD too, such as "Toccata & Fugue in D Minor" along with some typical sound effects like screams and bubbling cauldrons. It's better than pure silence, but it's not enough to distract you from how bad this thing really looks.
Keep in mind, one of the promotional bits of text for the DVD read, "Watch a blazing fireplace while listening to the songs and scary and spooky sounds on this disc!" There's not a single blazing fireplace on the entire DVD, unless you're talking about the one on the case itself. Say, that's not a bad idea. I'd much rather stare at the Ghoul Log DVD case instead of what it's displaying on my TV screen.

After a few minutes, it cycles through two additional novelty pumpkins sitting on the same porch with the same poorly Photoshopped fire effects. It swaps between those three novelty pumpkins for forty-three minutes straight while playing miscellaneous sound effects and does absolutely nothing else. Horrible. HORRIBLE.
Alright, so we struck out on the Ghoul Log, but maybe we'll have better luck with the "Haunted House" portion of the DVD. Let's fire it up and hope for the best: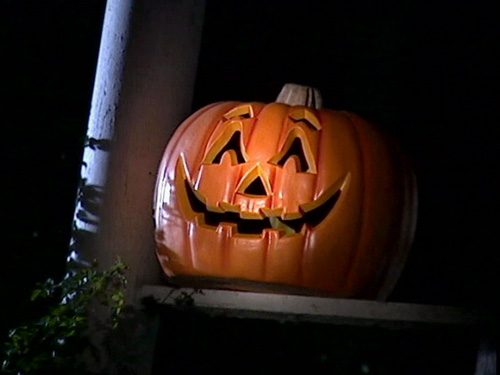 You've gotta be shitting me. It's the SAME PUMPKIN, just zoomed out a bit and no cheap flames! I'm starting to wonder if this DVD is a hidden camera prank, where they're secretly filming my stunned reactions to how incredibly bad it is. I had to fast-forward for about a minute before it changed to a new sequence of scenes involving a haunted house.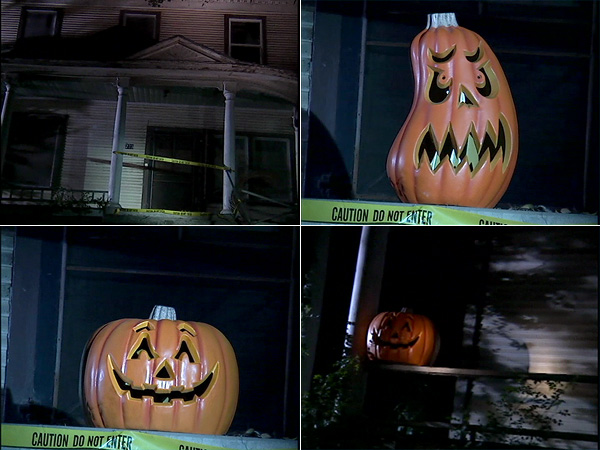 Well, I'm not sure it's a haunted house so much as it's a condemned house with a few strands of "CAUTION: DO NOT ENTER" tape blocking entry to the front porch. So they probably used sub-standard building materials when the house was constructed... I don't think adding a few (of the same) pumpkin props to the place qualifies it as being haunted. And yes, it does cycle back to that same pumpkin we've seen far too many times already.
Finally, around the three minute mark, we enter the so-called haunted house and...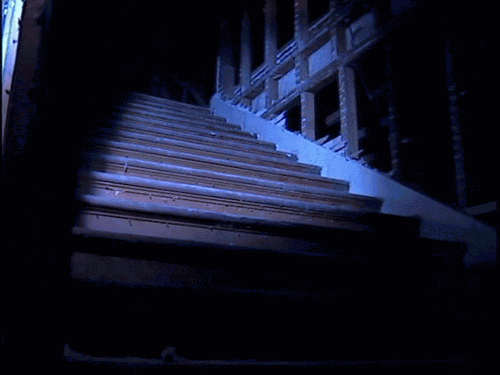 Great. More of the same pumpkins. Now they're appearing in different positions on a staircase. Awesome. Faaaaaaaantastic. Money well spent!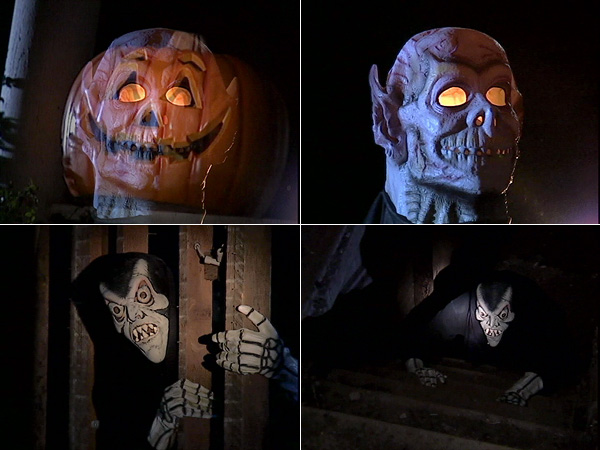 Whoah! We appear to have a newcomer to the mix! It's some kind of vampire-demon hybrid that's being super-imposed on top of that damn Ghoul Log pumpkin. It soon crossfades to a shot of just the mask alone. Yep, that sure is a Halloween mask just sitting there alright. Yep.
Then finally, it happens... we see a tiny sliver of a sign of life on this cursed DVD in the form of some guy wearing a cheap monster mask, cloak, and oversized skeleton gloves. He starts by peeking out from behind some wood pillars presumably located in the basement, and then it cuts to him acting like he's struggling to crawl up some stairs before a cellar door gets slammed in his face.
So wait - first he was standing behind various planks of wood, trying to act surprised that he got caught in the camera spotlight, and now he's suddenly crawling desperately on the ground as if he was hobbled? What the hell happened to him? Sadly (or perhaps not), we'll never know, because he only appears once on the entire DVD for a whopping fourteen seconds between the 4:38 and 4:52 marks. Goodbye monster man... sorry for slamming that cellar door in your face.
Honestly, I feel bad for the guy. I mean, he probably responded to some ad on Craigslist that said something like:
"Looking for aspiring method actor to play a spooky monster in an upcoming independent film. No pay, but you will get a copy of the final product for your reel. Also, by appearing in this film, you agree to waive all rights to legal action should a cellar door smash into your face. I'm just using that as an example, and I'm sure nothing like that would actually happen. Also, this shoot will have no craft services, so BYOB."
And I bet they still charged him for that copy for his reel. Bastards.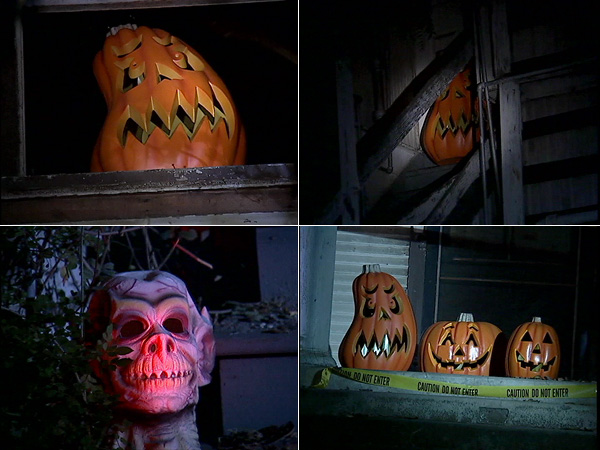 So after monster man gets the door slammed in his face, it's back to more of the same ol' crap with the pumpkins in various places including window sills and rustic staircases. We do see that vampire-demon hybrid mask one more time too before it ends on a shot of all three pumpkin props together staring at you as if to say, "Ghoul Log? More like Fool Log. Thanks for spending ten dollars on us, sucker!" Did I mention this DVD is seriously atrocious? It really is. It really, really is.
And wanna know something even more amazing? It somehow made its way onto Netflix. I say we start a campaign right here and now to get it officially listed on IMDB. If we can get it on there, it'll surely be able to sink lower than Manos ever did.
By the way, if you're having trouble believing what I'm saying about this abysmal release, you can watch for yourself. Here's a 10-minute clip somebody posted so you can witness just how painful it really is:
In the end, I guess what's truly sad about all this is that there's a far better homemade "Ghoul Log" video on Youtube that somebody made for us to watch for free:
It's still low budget and doesn't run nearly as long, yet it's obviously far, far superior to its commercial release counterpart. They even used real candle flames! Whoah! That must've cost a whole fifty cents! More importantly, they actually featured a log in a video about something called a "Ghoul Log". That's more than we can say for the DVD.
The Ghoul Log is such a great idea in concept, which is why it's extra disappointing that its execution is so insanely piss poor. So yeah, I can't recommend "Drew's Famous Ghoul Log" since Drew should be the one paying you to watch it, not the other way around. I hate you Ghoul Log.
Have any questions or comments about this piece?
SHARE YOUR THOUGHTS IN THE READER COMMENTS SECTION BELOW!