by: Protoclown
If you're familiar with the stories of H.P. Lovecraft and his Cthulhu Mythos, then you're no doubt aware of the Great Old Ones, the unspeakably horrible dark gods of evil and chaos whose horrific appearances cause madness with but the briefest glimpse. But what do we really know about them? Our knowledge of these hideous, evil creatures is somewhat limited. Which is why I have decided to risk my own sanity, taking it upon myself to research these dark and powerful forces so that we might learn something and build an encyclopedia of knowledge about them. I have put together what I was able to compile, incomplete and limited as it may be. Read on, dear reader, if you dare, and if you have the constitution for such things, but beware!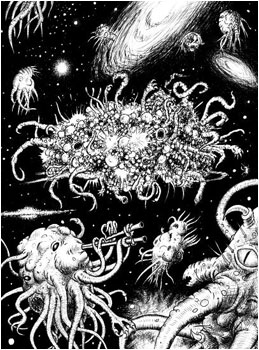 Azathoth
They say that Azathoth is the main god in all of the Cthulhu Mythos, that it had a hand in creating the very universe itself. Its appearance is that of an amorphous blob, floating in the center of all existence, endlessly writhing to the monotonous piping of a badly-played flute. Its essence is found all throughout the universe. Servants and worshippers mindlessly dance around it to the tune of the repetitive, dull piping that surrounds it (it's kind of like an episode of American Idol). Now, imagine if you will, you're in your exploration shiftship floating through the ether of some newly discovered dimension, and you come across this blobby, tone-deaf thing squirming around and embarrassingly trying to perform whatever it passes off as dancing. Just pipe-pipe-piping the same crappy tune over and over for all eternity. Can you imagine how fucking annoying that would be? I shudder to think.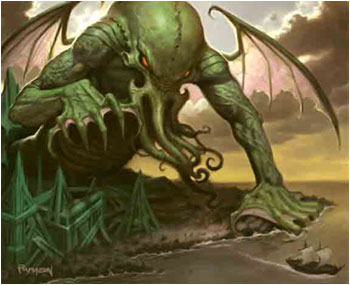 Cthulhu
Here he is, the man of the hour, the star of the show! Cthulhu may not be the most powerful of the Great Old Ones, but he is the most popular. He has stuffed dolls, a role-playing game, video games, songs--hell, the "Cthulhu" mythos is named after him, after all. He'll probably have his own cartoon series and breakfast cereal ("Cthulh-Os") soon enough. Sleeping deep under the Pacific Ocean in the great corpse city of R'lyeh (and you know that any name that has arbitrary apostrophes in it fucking means business), he promises to one day arise from the depths and go on a destructive hissy-fit rampage to prove to the world that Godzilla is his bitch. He also likes to play "tickle monster" with his tentacles.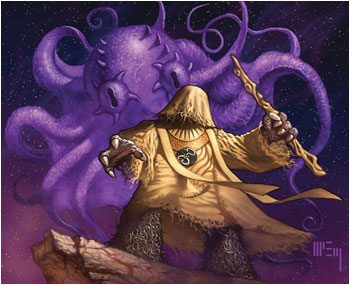 Hastur the Unspeakable
Also known as The King in Yellow, little is known about Hastur, except that nobody knows what he truly looks like under his yellow robes, and that his name is supposed to be unspeakable. They say that if you speak his name, you will not only draw his attention upon you, but you will add to his unholy powers, because belief is power, and to speak of something and name it is to give it belief. It has nothing to do with his name being unpronounceable, because let's face it, Hastur is a pretty easy two-syllable name to say. If his name was something like, say, Xv'bylrlvzz3qaqwrttlnpsa, then that would be a lot more convenient, because it wouldn't be so tempting to say it. But no, he had to go with the evil god equivalent of "John Smith" which is so easy to say that it's finished rolling off your tongue before you even realize what's happened. He's pretty clever that way, but as yellow is the color of piss and cowards, his fashion sense leaves something to be desired.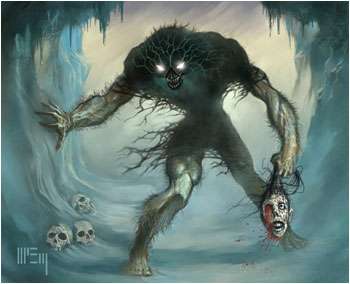 Ithaqua
Often known by Native Americans as Wendigo, Ithaqua usually appears as a 60-foot tall furry humanoid creature (nevermind the picture, he obviously killed a guy who was also 60-feet tall). Sometimes he is known to capture travelers of the icy wastes and takes them back to his caves, where he does god only knows what to them. We know this because occasionally corpses (or partial corpses) are found, after he has had his way with them (no, not like that, you pervert). However, he got a little taste of his own medicine the time that he captured Luke Skywalker and stuck him to the ceiling to save as a snack. Lost his arm that time, he did.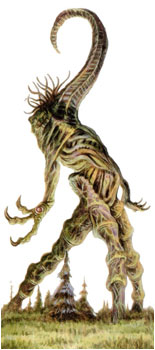 Nyarlathotep
Nyarlatotep has a Thousand Faces, only a few of which have been recognized and catalogued. He is most often depicted with an eyeless, mouthless tentacle for a head, which is sort of appropriate, because as far as evil gods go, he's kind of a dickhead. Also known as the Crawling Chaos, Nyarlathotep's goal is to usher in the Dark Times when all the Great Old Ones return, by slowly corrupting all of humanity. The most effective way he has found to achieve this goal has been to motivate more and more people to run for political office. In his dark vision of the future, we will every one of us be politicians.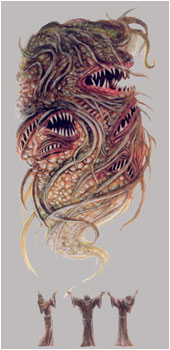 Shub-Niggurath
Shub-Niggurath, which sounds like it contains a racial slur so don't pronounce it that way, also known as the Black Goat of the Woods With a Thousand Young, usually appears as a blobby protoplasm (has it ever seen a goat before?) that constantly pukes up all manner of life forms, before devouring them again if they aren't lucky enough to escape. This biological blob contains tentacles, testicles, eyes, mouths, vaginas and hoofed limbs which are constantly poking out or opening widely before dissolving back into the writhing mass, which means that it has probably appeared in no less than two thousand Japanese porno cartoons. Worshippers and cultists willingly line up to have sex with the gargantuan beast, which immediately indicates to me that they've never heard of websites like Match.com or eHarmony. It's not that hard to get laid these days, guys. You don't have to go there.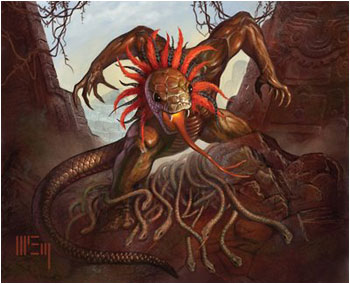 Yig
Known as the Father of Serpents, Yig wassss a man until he was mutated by Cobra-La spores. Now he can transform into a giant snake or a half-man, half-snake reptilian creature, with a wild-looking collar that gives him the appearance of a flower for a head. Often made fun of for his embarrassing lisp, Yig goes out of his way to love the ladies in an effort to prove to his fellow Great Old Ones that he's not gay (but they lovingly accept him either way).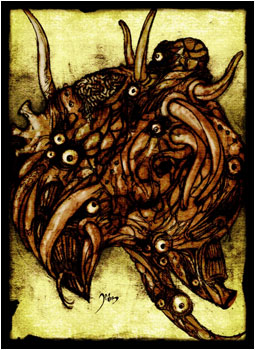 Yog-Sothoth
Also known as the Key or Gate, Yog-Sothoth often appears as a writhing mass of tentacles and glowing globes that are always shifting around, melting into one another and then breaking or bursting apart. It also possesses the power to move through time and space, which means that it can go on Excellent Adventures like Bill and Ted. The fact that life goes on as normal means that Yog-Sothoth must be particularly ineffective since it could just go back to the beginning of time and kill mankind at the dawn of life, or kill any of us in our cribs as babies. Also, if I could travel through time I would be totally rich, so why does this thing live in an empty realm outside of time and space rather than in a giant money house?
These are but a small few of the Great Old Ones, for to go into any greater detail on these horrible, horrible creatures would be to invite utter madness upon you, and we certainly don't want that. Now that you've read this, you know that the next time someone comes up to you and says, "Hey, there's a group of us getting together at the community center tonight to worship and try to summon Nyarlathotep", you just say NO!
Have any questions or comments about this piece?
SHARE YOUR THOUGHTS IN THE READER COMMENTS SECTION BELOW!