by: -RoG-
Of all the treats one can indulge in during the Halloween season, perhaps none look more like blood & guts than salsa. Well, I suppose actual blood & guts could work too, but I doubt they'd taste nearly as good as some fresh salsa. But what about the chips you use to scoop up the salsa with? Not too scary, right? Well, some enterprising companies have taken it upon themselves to ensure that even your snack chips are appropriately spooky for the Halloween season. With that in mind, here are three varieties of snack chips that are certainly capable of making your teeth retreat back up into your gums in utter terror.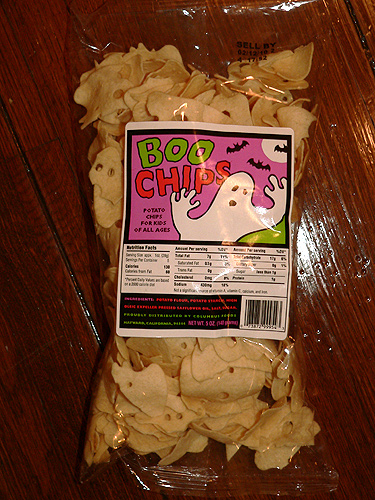 Boo Chips
First up, we have Boo Chips. I picked this bag up a previous season, but they're still being sold in various grocery stores. What I liked about this right off the bat was how the label made them look like they were produced by kids. I mean, it wouldn't surprise me at all if the owner of Columbus Foods (the creator of Boo Chips) asked his or her kid to whip up a ghost picture for their label. What can I say... I'm a sucker for labels that I feel like I could've actually drawn them. I also love that the ghost on the label appears to be extremely annoyed with the bats above his head, as if he's shooing them away like pesky flies.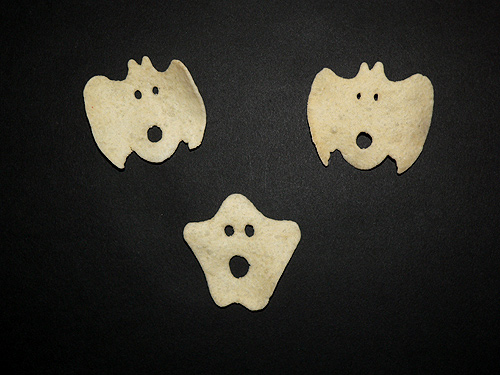 Now the chips themselves look pretty fantastic. They come in two different shapes: Bats and Ghosts. I'd probably have to go with the ghost shape as my favorite of the two, only because it could easily be mistaken for one of those flying squirrels we've all seen in those nature documentaries. (If you haven't seen one, do a Google image search for "flying squirrel" and you'll see exactly what I mean.) Whether it's a flying ghost or a flying squirrel, it's 100% great, and I also like that the chips are making the same "ooooh" face that Boo the ghost makes whenever you turn your back on him in Super Mario World.
I'm also happy to report that the chips taste pretty good too and they remind me a lot of plain Pringles. They're also the healthiest of the three chip varieties I'm covering today, which is good since you'll surely be eating a truckload of candy this Halloween season too. So yeah, if you can find 'em, I would definitely recommend picking up a bag of Boo Chips so you too can say you seized the opportunity to chow down on a bat, an apparition... or a flying squirrel.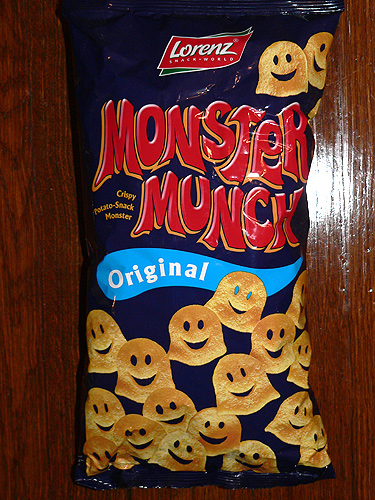 Monster Munch
Next up we have Monster Munch by Lorenz. I found this bag of adorable, happy little "Potato-Snack Monsters" at a World Market store. While the logo and package art leaves much to be desired, there's simply no denying how effective the display of all those smiling, ghost-like monsters clamoring for your attention really is. I wanted to tear into the bag right there in the store just so I could see their smiling monster mugs up close.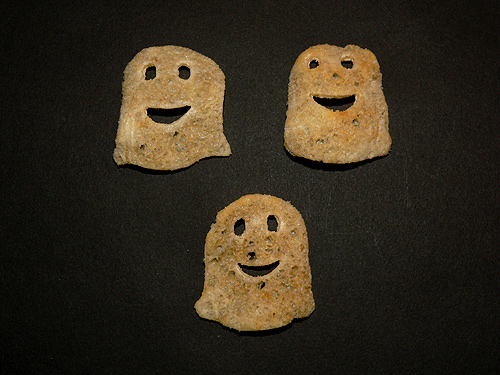 You can't tell me looking at those things doesn't make your face want to explode with glee. It's as if they took a piece of melba toast and shaped it into ghosts who are so insanely happy, they make Casper look like a gloomy asshole.
While they may look like melba toast, remember, these are potato snacks. They're like potato chips, only a bit thicker than average. Not bad, and they do have a really nice crunchy texture, but I wouldn't say they taste better than standard potato chips. Still, I feel like every one of these chips should be bronzed and displayed in a place of honor as a constant reminder that even haunted monsters from the netherworld can be upbeat.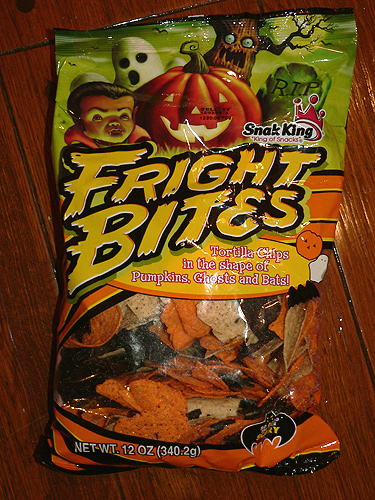 Fright Bites
Last on my list, is a heaping bag of Fright Bites. Produced by Snak King, the self-proclaimed "King of Snacks", these are the most easily found of the three Halloween chip varieties I'm covering today, and I've seen them in grocery stores for years. Why am I covering them just now? Priorities.
If nothing else, Fright Bites easily win the competition for best package art. It really is everything we could hope for in a seasonal Halloween treat package, even putting to shame the art on many boxes of candy: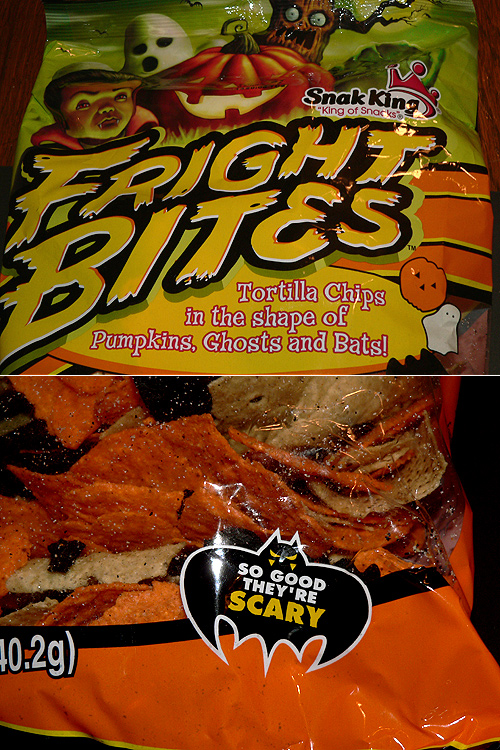 Vampires, ghosts, jack-o-lanterns, and terrified trees adorn the eye-grabbing package, and it seems as if not a single bit of space is wasted. You have a nice little cellophane window so you can see the chips inside, but there's still plenty of real estate left for some extra bits of clip-art, and a vampire bat warning you that Fright Bites are "So good, they're SCARY!"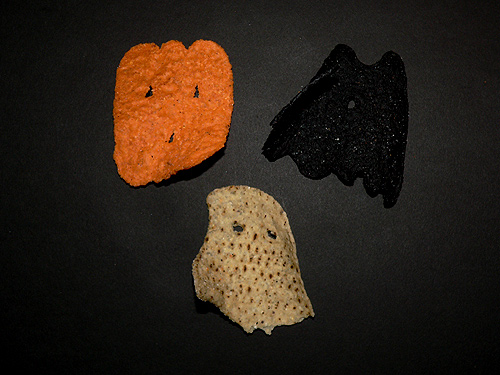 The chips themselves are just like your standard corn tortilla chips like Tostitos or what have you, but they come in white, orange, and black colors to continue the Halloween theme. Now I don't know if the Snak King really is the king of snacks, but he's definitely not the king of shaping them. Of the three varieties of chips, these are definitely the saddest when it comes to shapes. Granted, they're the most brittle and hard to shape, but it can sometimes be hard to even find enough chips that actually look like pumpkins, ghosts, and bats. Still, when it comes down to it, I'll gladly take these over standard tortilla chips any day of the week, because they taste good and the colors go well with any Halloween setup.
And there you have it. If you happen to spot some other horrifying snack chips that I have yet to cover, please let me know and I'll do my best to track them down for a future update of this article. In the meantime, you now have three varieties of Halloween snack chips to seek out and terrorize your mouth with this season. Be sure to drop a comment below and lemme know your thoughts on 'em and which one is your favorite so far. If you don't, may you forever be haunted by flying squirrel spectres.
Have any questions or comments about this piece?
SHARE YOUR THOUGHTS IN THE READER COMMENTS SECTION BELOW!