by: -RoG-
As the argument about whether vinyl or digital music sounds better continues to rage on amongst audiophiles, I'll never forget the old flexi discs that were included with a variety of cereal boxes and magazines back in the day. The fact that you could have an album built right into a box of cereal which you could then cut out and play on your record player was just too cool for a kid. Sure, nowadays they include compact discs or links to free downloads online to accomplish the same thing, but there was something a bit more special about the flexi discs. They felt more personal, like the companies put some true effort into giving us a real prize to go along with our cereal (Honeycomb cereal in particular had some great Halloween flexi discs).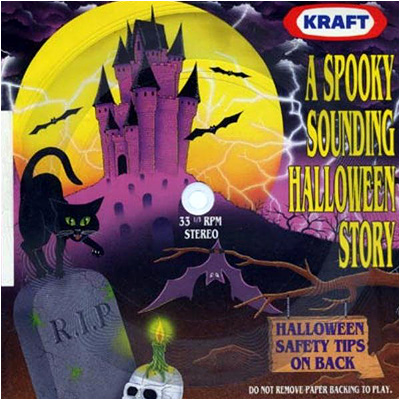 Well, back in 1978, Kraft decided to put out a flexi disc called "A Spooky Sounding Halloween Story" with the intention of educating kids about Halloween Safety and sharing a spooky story with them. As you can see, the recording is imprinted directly onto the promotion and we'll take a listen to that in a minute. But first, I wanted to quickly share their safety tips on the back of the disc: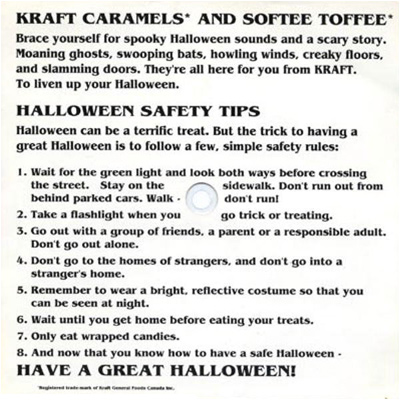 Kraft made some good treats 'n all, but I think receiving a box of their mac 'n cheese while trick-or-treating would've been far more exciting for any kid. As for the safety tips, my personal favorite is number 4 which boldly states: "Don't go to the homes of strangers, and don't go into a stranger's home." Let that sink in for a minute. Don't go into the homes of strangers AND don't go into a stranger's home. These are two very different things, so I hope you remember both of them when you go out trick-or-treating this season. Number 7 could be misconstrued as telling kids to eat candies without even removing the wrappers, so they probably should've worded it a little better. I'm also not sure how number 8 "And now that you know how to have a safe Halloween - have a great Halloween!" is a safety tip in any way whatsoever.
Now as for the "Spooky Sounding Halloween Story" itself, it's a pretty straightforward setup with grandpa telling his granddaughter Melissa a spooky tale along with some typical spooky sound effects at the end. What's funny is how any chance of this tale being remotely spooky is ruined by the constant safety rule interjections. When he talks about going into the vacant house across the street, you immediately think about it being haunted, until grandpa start blabbing about waiting for the light to turn green before crossing the street to walk to the house. Kinda kills the mood they were trying to establish, ya know? That and the blatant advertisement for Kraft candies at the end of the story. Just hit the play button below and you too can experience this spooky old flexidisc without the use of a record player... IF YOU DARE!
Have any questions or comments about this piece?
-RoG-