by: -RoG-
Libraries. Remember those? I sure do. Before the Internet came around, we had to resort to paying these places a visit for research... or just some good ol' peace 'n quiet, a commodity that's becoming harder and harder to find these days. You may be surprised to know that libraries still exist today. I know, I know, you think I'm trying to pull your leg, but I swear they're still around! Sure, most of them are probably used as homeless shelters, but there are a few legitimate ones as well.
So why all the blabber about libraries? I'll tell you why. When I was a kid, I often went to the local county library to check out the latest Choose Your Own Adventure books. Titles such as "You Are A Shark", "The Cave Of Time" and "The Green Slime" were amongst my favorites... but there was something else at the library that I treasured even more. You see, around the time I started going there, I had received my first boombox. It was a Yorx brand boombox and I was convinced it was the best thing anybody on the planet had ever seen. It had a dual cassette player with high-speed dubbing. It had an equalizer and detachable speakers. It had a black and white TV set built right into it. It even had a portable walkman that you could plug right into it. How cool is that? Oh sure, we have iPods 'n all that crap now, but trust me... it was simply the greatest boombox a kid could ever have at the time. And what better way to make use of it than by checking out all of the tapes that my local library had in stock?
Sure, the place had some pretty awful stuff that nobody in their right mind would want, but they actually had some truly good tapes as well. Out of all the things I checked out from that library, none were checked out more than this one: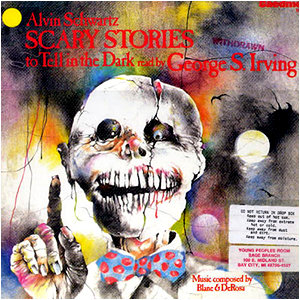 Scary Stories to Tell in the Dark. It was a collection of spooky stories based on urban legend and folklore, written by Alvin Schwartz and narrated by George S. Irving. There are some absolutely classic tracks on here. "The Hearse Song", "Cold As Clay", "The Big Toe" and the infamous story about "The Hook" just to name a few. I have to say, as fun as these classic stories are, it's Irving who really puts this album over the top for me. You can just tell the guy had a lot of fun recording it, and as a result, it was an album I never forgot. Well, I finally found a copy of the album and now I would like to share it, one of my favorite childhood memories, with you guys. While some kids would lay down to sleep at night with "soothing sounds of nature" albums, this was one of the albums I dozed off into dreamland with. This is a true Halloween classic and I hope you all enjoy it as much as I did and still do. Once you're done listening to it, perhaps you can answer one question for me... WHEREEEEEE ISSSSSS MYYYYYYY TOOOOOOEEEEE????
Have any questions or comments about this piece?
-RoG-