by: -RoG-
There was a time when people believed that interactive VCR board games were the wave of the future, and companies were eager to get on board. Between the mid-eighties and mid-nineties, there were dozens of board games that required players to pop in a VHS tape in order to play. From Clue and Wayne's World to the X-Files and Wrestlemania, there were a wide variety of these interactive video board games on the market at the time, and most of them were ultra-cheesy.
The most infamous of these games is most likely the horror VCR board game "Nightmare" (also known as "Atmosfear").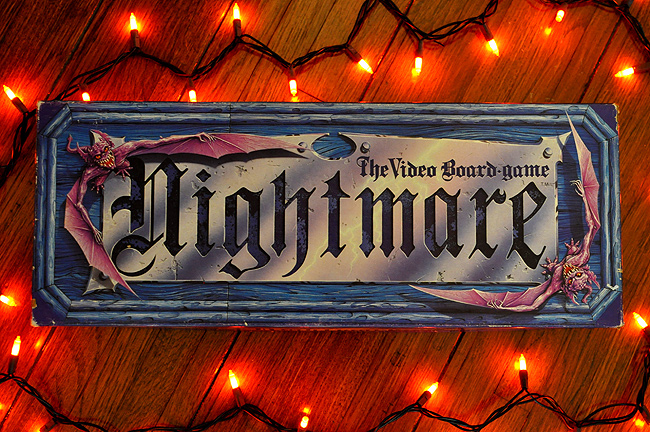 Looks pretty great, doesn't it? Absolutely. They did a great job on the packaging, giving it the appearance and shape of an old wooden coffin, complete with a couple o' ferocious looking vampire bats. It's certainly larger and thicker than your average board game box, so buyers definitely felt like they'd be getting a lot of bang for their buck.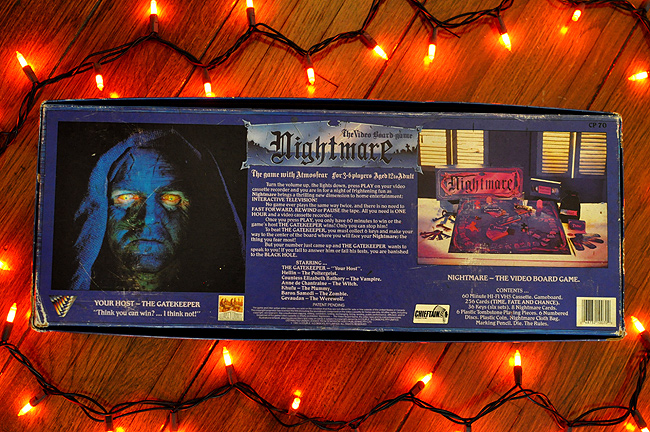 And just look at that guy on the back of the box! He is The Gatekeeper, and you're going to learn a lot more about him, because he's pretty much the one thing everybody remembers about this game. On the box, he looks pretty great; almost like he's a hybrid of the Emperor from Star Wars and Nix (Daniel von Bargen) from Lord of Illusions on the box. Combine those visuals with hyperbole such as, "Nightmare brings a thrilling new dimension to home entertainment; INTERACTIVE TELEVISION!" and a bold taunt from The Gatekeeper which reads, "Think you can win? ... I think not!", and many people were ready to hand over their money for a chance to forever curse their VCRs and give it a try.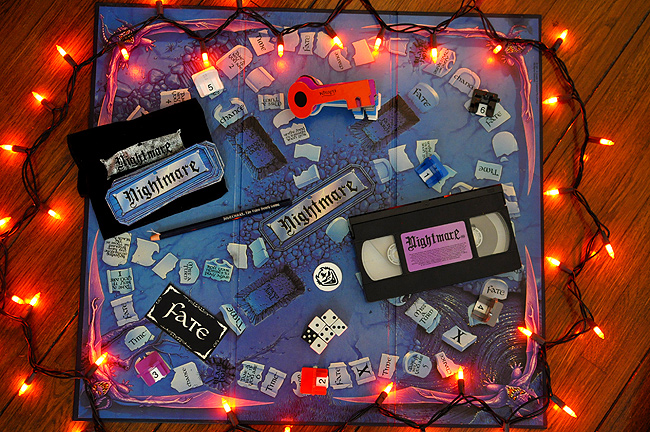 Gotta give credit where credit is due; the board playfield for Nightmare looks great. You really can't go wrong with a variety of knocked over tombstones carving out an inescapable path as players are surrounded by four giant vampire bats. A very nice playfield indeed. There are also sets of keys, cards (time, fate, and chance), and more for the players to use in the game.
The object of Nightmare is to beat The Gatekeeper at his own game, and you need to collect all 6 keys and then make it to the center of the board to face your own personal nightmare (which you write down on a card) before the 60-minute-long tape runs up. If you don't beat the game before the tape VHS tape runs out of time, The Gatekeeper automatically wins.
This being an interactive game, you'll find that The Gatekeeper will interrupt you quite often. Sometimes he'll help you out, other times he'll set you back or even ridicule you. More than anything, however, he's going to yell at you. A LOT.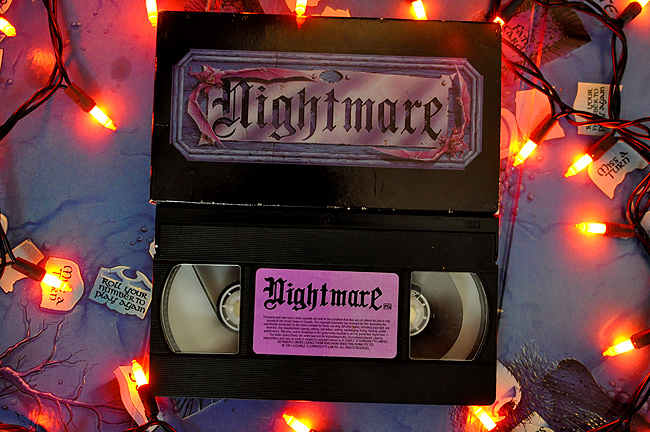 Shortly after you pop in the VHS tape, you'll meet The Gatekeeper himself, played by actor Wenanty Nosul. I'm happy to report that Wenanty is still acting to this day, but most will agree that Nightmare was the greatest project he was ever a part of (with, perhaps, the exception of some crazy Guinness commercials he did).
In the Nightmare game, his voice reminds me of Uncle Reuben Klopek from The 'Burbs - very gravelly and seemingly angry at all times. Only difference is this guy really likes to roll his R's, call people "maggots", and then banish them a lot. When you're not being yelled at by the indignant Gatekeeper, you're treated to a timer on the screen with a crescent moon and some generic haunted house style music playing in the background.
But you don't want to just read my descriptions of The Gatekeeper... you want to see him in action! Well, I'm happy to report that one person was kind enough to upload the entire VHS tape to YouTube so anybody who has a copy of the game can play it without having to hook up an old VCR. More importantly, now you can see the amazing acting chops of Wenanty Nosul in action as The Gatekeeper. Behold!
If you don't want to sit through the full hour long video, allow me to point out some highlights that you can skip to, because yes, I watched the entire thing for you:
- First appearance of The Gatekeeper. (0:00:44)

- The Gatekeeper impersonates a cow for now apparent reason. (00:01:26)

- "Yes, my Gatekeeper!" yelled in a thick, French-like accent. (00:01:45)

- "You will be the first to r-r-r-r-r-roll the dice!" (00:03:20)

- "Stop!" Big lightning strike in an attempt to make players jump. (00:09:19)

- Feigned yawning. Is the Gatekeeper getting tired of his own act? (00:10:37)

- Gatekeeper insults you: "That is a stupid name isn't it, you maggot?" (00:13:15)

- Cheesy skeleton effects on Gatekeeper's mouth! (00:23:34)

- Rampant ageism. (00:34:07)

- Longest rolling R's yet! "R-r-r-r-r-r-r-r-r-r-r-r-r-r-r-r-r-r-r-r-r-roll the dice!" (00:35:20)

- Gatekeeper's appearance changing with new look & voice effects. (00:37:31)

- "Because, I'm the Gatekeeper, and this is my game, and your Nightmare!" followed by him snorting loudly and a child laughing. No seriously. (00:39:56)

- The Gatekeeper breaks down and starts crying. (00:41:06)

- Another change in his appearance. (00:47:37)

- A genuine staring contest with The Gatekeeper! Can you beat him? (00:52:38)

- The Gatekeeper's eyes are now glowing. (00:56:17)

- The Gatekeeper is now wearing spooky contacts! (01:02:18)

- "The Ghost Train is coming, kiddies!" (01:03:14)

- The 60-minute timer expires and The Gatekeeper wins. (01:03:36)

- Advertisement for Baron Samedi: Nightmare II, Zombie. (01:03:50)
Man, it's been ages since I've seen that video, and having watched the full thing, I think I know why. As you can see, the production value of The Gatekeeper's VHS tape was about as low as your average fast food safety guidelines training video. I could achieve a similar effect by wearing a bath towel on my head and holding a flashlight below my face.
And yet, here I am... still wanting more of The Gatekeeper. The fact that he's still out there acting today is proof there's a huge, untapped resource of unintentional comedic brilliance that current board game companies could capitalize on. I don't want The Gatekeeper reserved to Nightmare... I want to see him in ALL future board games!
Just think about it for a minute...
Monopoly. "You landed on Baltic Avenue, and I have a hotel there, so pay me now, you maggot!"

Clue. "Wait. The colonel's last name is Mustard? That is a stupid name! I banish you!"

Candyland. "Listen to me! I'm taking the Gumdr-r-r-r-r-r-o-p Path through the Gumdr-r-r-r-r-r-o-p Mountains!"
If only someone at these board game companies had the vision to see just how great Wenanty Nosul truly is. Ah well, one can always dream...
That about does it for my piece all about The Gatekeeper, er... I mean... Nightmare. Huge thanks to Luke Adams for generously sending me a copy of the Nightmare VCR horror board game to feature on I-Mockery during our "Two Months of Halloween" celebration this year! And on that note, I'll leave you with the original TV commercial for Nightmare that made it look like a FAR more exciting board game than it actually is.
Hope you enjoy it... YOU LITTLE MAGGOTS!
Have any questions or comments about this piece?
SHARE YOUR THOUGHTS IN THE READER COMMENTS SECTION BELOW!