by: Dr. Boogie
Television. It's mostly garbage but it can be useful if you want to carry out a conspiracy to brainwash and kill all the "undesirables" in the country by giving them brain tumors. Long before the major networks implemented a plan like this using shows like King of Queens and The Big Bang Theory, Videodrome showed us how it could happen at a small UHF station in Canada.
I think. There was a lot going on in that movie and it's kind of hard to sort it out when the main character is hallucinating in a dungeon where he whips his moaning TV set.
What is clear is that Videodrome is a movie with a lot to say about the gut. Max Renn (James Woods) decided to go with his gut and start broadcasting a mysterious program called Videodrome, and his gut steered him wrong. How wrong? Let's examine the extent of that wrongness that can take place when you combine your gut, video tapes, and David Cronenberg: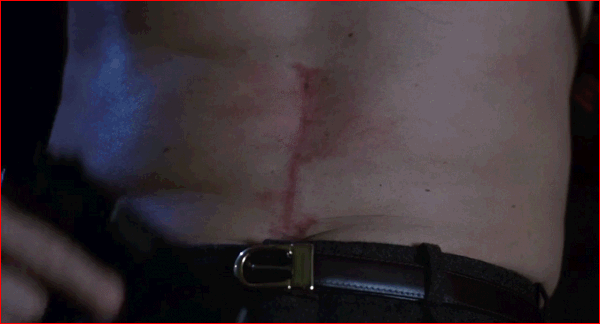 As Max begins to dig into the origins of Videodrome, he discovers that merely watching the program has given him a brain tumor. Worse yet, this is causing him to have bizarre hallucinations about TVs, his masochist girlfriend, and all of a sudden, his own torso.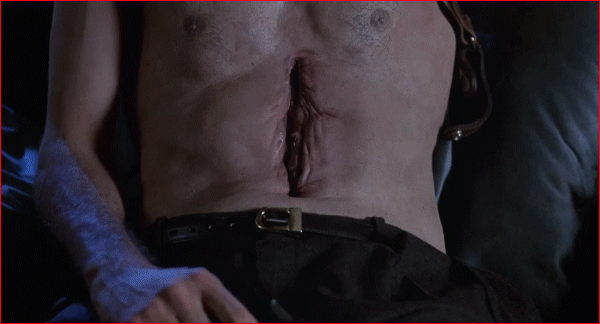 When you're scratching yourself with a loaded gun, this has got to be the last thing you're worried about.
Upon seeing this, Max does not let out a horrified scream, possibly because he has a gaping hole in his diaphragm. Instead, he gets downright curious about what's going on with his torso. Rather than seek out some bandages, or maybe a flashlight, he opts to check out the wound with whatever's handy.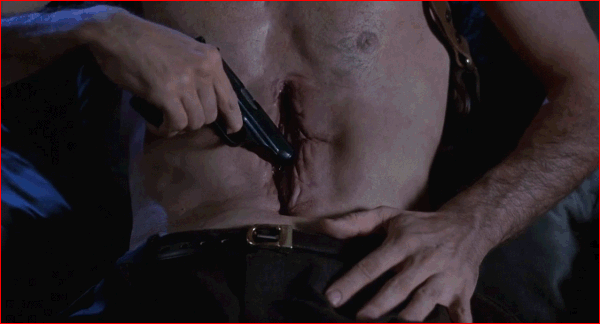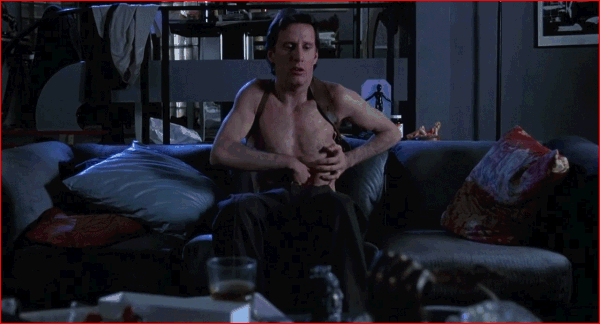 And he really gets it in there. It looks like he's not entirely comfortable with shoving a gun and his entire hand into his gut, but you gotta do what you gotta do. You know what it's like: you're sitting at home alone, and you get that urge. The urge to jam a foreign object into your body. Oh yeah, you judge him, but someone always has to be the first to put something where it hasn't been before. They may not always survive, but they were pioneers all the same.
Unfortunately, Max forgets the most important rules of putting things in yourself: never go too deep on the first time, and make sure you can maintain a solid grip.
Also, don't act like you dropped that gun. You know damn well where you put it.

That was just the beginning of Max's gut problems. Later on, he careens headlong into the Videodrome conspiracy and suddenly he's not the only one interested in filling up his new manpurse:
Evil eyeglass salesman Barry Convex wants full control of Max's UHF station so he can broadcast Videodrome and, I guess, create a ton of other people with tumors and gashes. If his plan works, he's going to need a lot more VCRs capable of handling the new self-aspirating line of cassette tapes.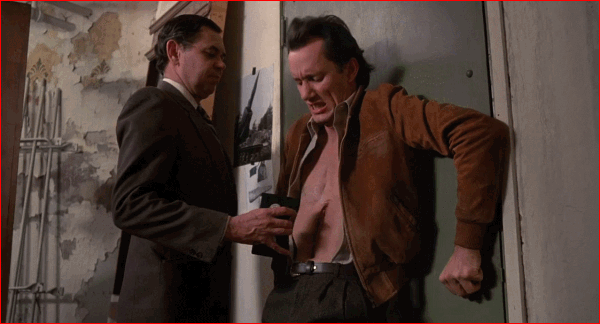 Gently, Barry, gently! At least take him out for a nice dinner first!
As you might imagine, having a strange tape inserted into his VCR-like gut turns him into a homicidal madman. And just as Jason had his machete and Freddy had his razor glove, Max has his own signature weapon:
That gun he stowed in there for safe keeping. He finally fished it back out. What a relief.
And would you look at that, he learned his lesson about maintaining a good grip: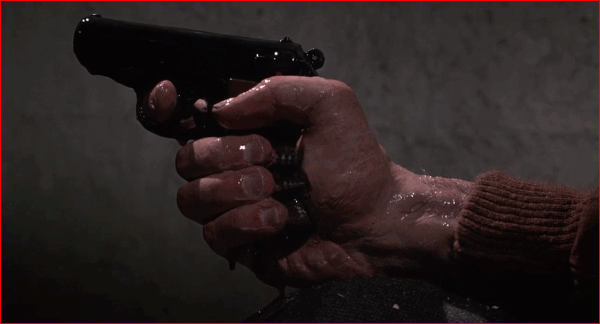 That's a grip so tight it lasts right through the rest of the movie! And I wouldn't have thought it could get tighter than tying your fingers to your wrists with electrical cabling, but that was before I saw the whole thing kind of... scab over.
Having a big, slimy, mutated hand seems like it would be a big liability as a video assassin, or whatever this is. Thank goodness it comes and goes freely and his hand is normal right up until he yanks that gun out of his gut holster.

As if things weren't confusing enough following him being brainwashed by a tape in the gut, he then gets brainwashed a second time by a rival group with a fixation on video as a sort of religious experience. They implore him to strike back at the people who turned his stomach into something that seems like it should be censored if it were on TV before 10pm. So he sets out to "use the weapons they've given you to destroy them."
Here's what that looks like:
First up is Harlan, the traitorous technician who tricked him into tumorizing his own brain. Harlan got cocky seeing Convex jam a cassette in Max and figures anyone can do it. What he doesn't realize is that you should never mess with another man's gut gash.
Max flexes his kegels and crushes Harlan's hand. Screaming, Harlan yanks it back out and is left with just a cylinder of meat and bone.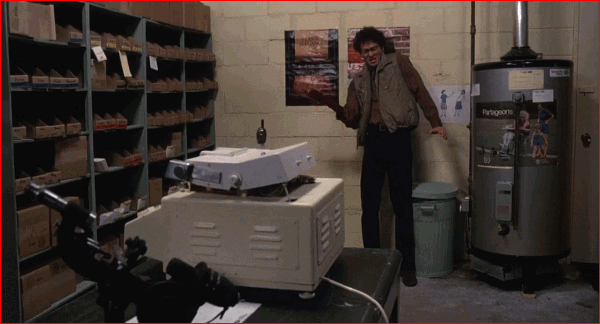 I mean a grenade. Yes, Max turned his hand into a grenade. Sure.
I mean, I don't make the rules of Videodrome. Who's to say you can't reach into Max's gut and expect to withdraw explosives where once there were limbs?

And so, with only ten minutes left to wrap up everything, Max's gut steers him towards Pittsburgh. Convex is hosting a big eyeglass event and Max has a perfect plan to assassinate him: run on stage and shoot him.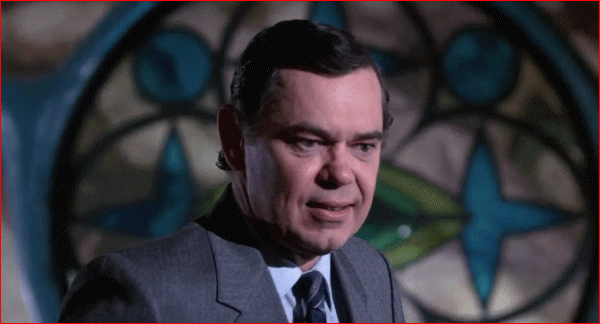 The plan goes off without a hitch. Max signs off with his classic catchphrase, "Death to Videodrome, long live the new flesh," and bolts out of there.
Meanwhile, Convex refuses to die with dignity.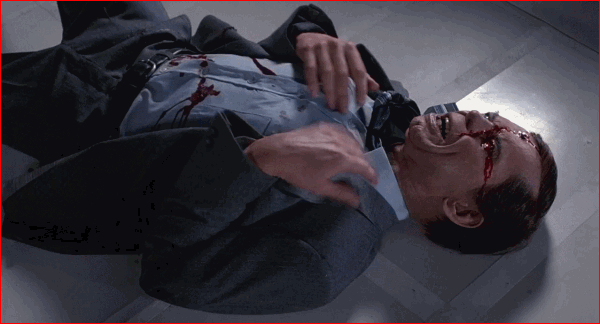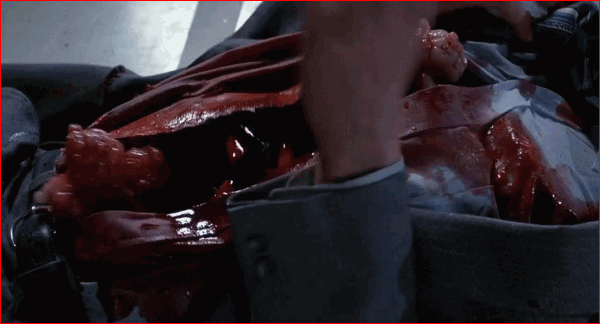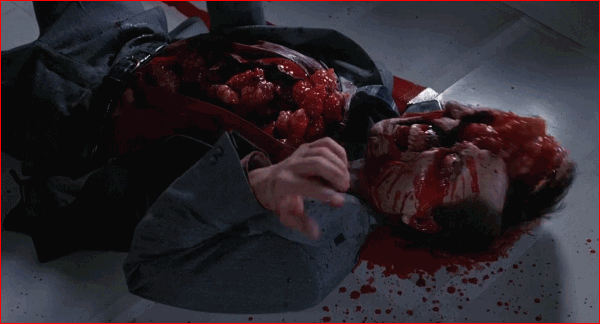 Sometimes you watch a movie and you see something you can't explain, something that doesn't make any sense even within the context of a strange movie, but you're still glad the director decided to include it. This is one of those moments.
The only thing better than watching Convex's corpse push all the blood and gristle out of itself is listening to the accompanying soundtrack. Good on Max for dropping the mic near enough for everyone in the convention hall to hear it.
I'm so grateful that the advent of the digital age has more or less prevented us from having our brains infected with tumors that make our guts turn into VCRs, but that is no reason not to slack off. Sit-ups, elbow-to-knees, planks, whatever it takes to keep your abs toned and free of unwanted slots.
Also, avoid any Pittsburgh-based web sites featuring torture and murder. You might wake up with a Blu-ray player in your gut, and if you thought the copyright protection was tough before, wait until you get an DMCA takedown on your own brain!

Long live the new flesh!
***IMPORTANT NOTE***: I-Mockery's 2016 Halloween Club Packs are now available for purchase, and each one comes with vintage Halloween toys, trading cards, candies and much more! It's a great way to support the site for all the free Halloween content we provide you with AND you get some awesome stuff mailed to you. Click here for details!
Have any questions or comments about this piece?
SHARE YOUR THOUGHTS IN THE READER COMMENTS SECTION BELOW!