by: Dr. Boogie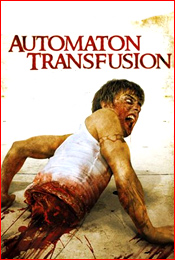 I don't see many horror movies these days, so I'm mostly open to suggestion on the subject. Someone suggested that I check out Automaton Transfusion, a new zombie movie that was produced in nine days on a budget of only $30,000. I couldn't find much information about the movie, but I was curious to see what the director was able to do with so little money. In 1968, George spent $114,000 and made "Night of the Living Dead". In 2006, Steve C. Miller spent $30,000 and made... a complete fool of himself.
Right off the bat, I knew something was wrong when it looked like the bulk of the footage was filmed on a camera phone. Almost nothing was made of the plot beyond "teens go to party, and are chased by zombies" until the very end of the film. The dialogue consists of little more than yelling (for the men), and crying (for the ladies). Best of all, the serious scenes, where characters are showing how the fear of being eaten alive is getting to them, are marred by acting so over-the-top that you can't even laugh at it.
But the movie did have a few gory set pieces here and there. Most are nothing to write home about (I-Mockery is my home), but one scene managed to surprise me:

There's a big high school party at someone's house out in the boondocks. I don't remember who, or if they were even named at any point in the movie. The point is that everyone is having a good time when a new guest shows up at the door. It's "Matty", a character only shown once before now, in a scene where his zombie mother bit him on the cheek while he yelled like an extra in a Godzilla movie. The huge, bleeding gash in his cheek causes one of the party goers, a pregnant woman, to ask if he's alright. He responds thusly:

A punch in the gut is bad enough, but all the more when you're pregnant. I assume. But that's not the end of it.

Matty yanks out her unborn child and starts eating it in front of her. I wish I had more shots of it, but the camerawork was done by a Parkinson's sufferer who drank too many Red Bulls and starting filming the scene while having a seizure during an earthquake.
Still, kudos for showing a new way to combat teen pregnancy.
Have any questions or comments about this piece?
Dr. Boogie