by: Dr. Boogie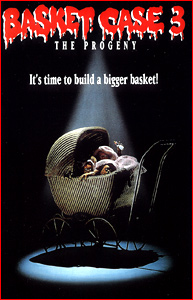 Director Frank Henenlotter has unusual tastes.
The man makes a movie about a legless mutant in a wicker basket carrying out a series of gruesome murders with the help of his insane brother, and then decides that isn't weird enough. By the third film in the Basket Case franchise (Basket Case 3: The Progeny), you've got the mutant, Belial, and his "normal" brother, Duane, staying with a family of freaks. Wouldn't you know it, Belial has found the only other legless mutant in the world and knocked her up. That particular scene is not included here. To give you an idea of what you're missing, just imagine two lungfish humping.
Anyway, the freaks run into a spot of trouble when a bunch of local cops decide to kidnap Duane and Belial's kids, and kill Belial's woman. Belial is furious. He's furious all the time, but now it's especially bad. Time to get even:
Like all good plans, the genius of this one lies in its simplicity: have one of the freaks discretely drop off Belial's basket at the police station and wait for the bumbling cops to bring it inside. Phase One goes off without a hitch. Time to move onto Phase Two: strangulation.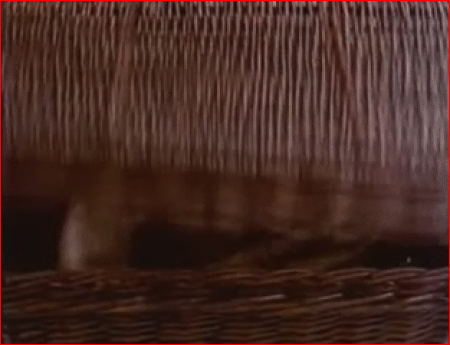 Belial makes up for his lack of legs by having exceptionally powerful arms. He propels himself out of the basket and starts choking out the nearest cop. A violent attack, no doubt, but choking someone to death can take a while. The other cops should have plenty of time to...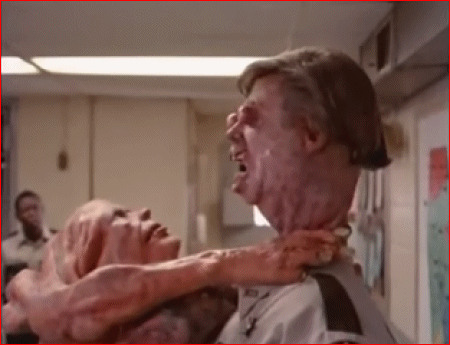 Ooh, maybe not. Belials chokes the cop so hard his teeth start popping out of his head. And that doesn't even make sense!
The other cops can only look on in horror: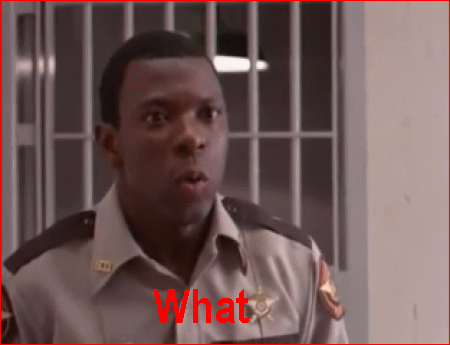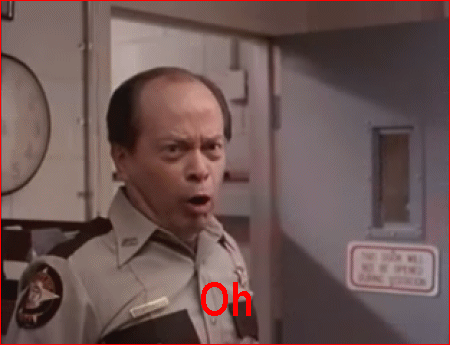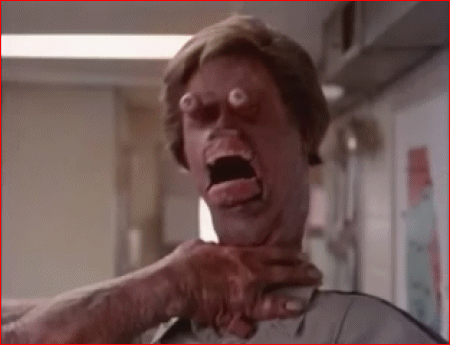 First things first: no, the balding cop is not the mayor from Ghostbusters.
As you may have guessed from those gifs, and from everything I've said about the movie up 'til now, it falls well within the bounds of the horror-comedy genre. Sure, there's plenty of blood and killing, but the kills are so cartoonish, the effects so cheesy, that you can't help but laugh. Plus, in spite of the fact that Belial is a bloodthirsty freak whose powerful arms are employed almost exclusively for mangling, you really do wind up cheering for him.
A father fighting to protect his kids. What could be more wholesome than that?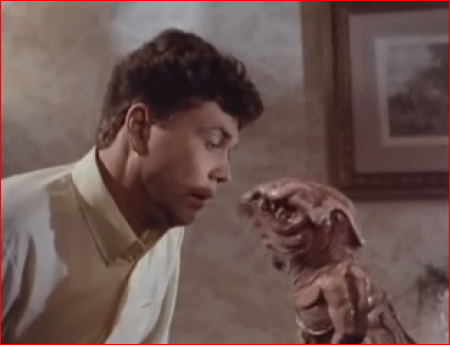 Have any questions or comments about this piece?
SHARE YOUR THOUGHTS IN THE READER COMMENTS SECTION BELOW!