by: -RoG-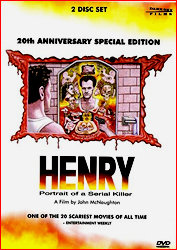 Henry: Portrait of a Serial Killer is just about as visceral as it gets when it comes to horror movies. While the majority of films in the genre allow you to suspend your disbelief, Henry shoves a cold dosage of reality right down your throat in a most unsettling manner. It's not a long film and it only had a budget of roughly $100,000... but it accomplishes more with that short amount of time and small budget than most big horror franchise films could hope to do.
Loosely based on the story of real-life murderer, Henry Lee Lucas, the film hits close to home with its gritty camera work and Michael Rooker's impressive film debut as the leading man... er... psycho. Henry is a serial killer who basically indulges in his bloodthirsty impulses at will and then moves on to another town. He does this because he knows exactly how the police think. "If you shoot someone in the head with a .45 every time you kill somebody, it becomes like your fingerprint, see? But if you strangle one, stab another, and one you cut up, and one you don't, then the police don't know what to do. They think you're four different people. What they really want, what makes their job so much easier, is pattern. What they call a modus operandi."
He eventually meets up with Otis, a loser who he met in prison, and after moving into an apartment together, they start killing people. That brings us to my favorite scene in the movie...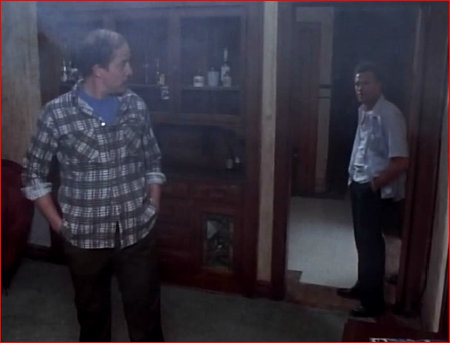 Aside from the murdering, Henry and Otis leave extraordinarily dull lives. One night, Otis is sitting around the house, drinking beer and trying to watch TV, but his set is getting bad reception. He smacks it a few times, but when that doesn't work, he kicks the screen and busts it. Yeah, in case you hadn't guessed, Otis isn't exactly the brightest guy. That should come as no surprise though, since "Otis" isn't exactly a name that's typically assigned to the greatest thinkers of our time.
After he argues with Otis about the TV set, Henry shows us that he's the one who knows how to solve life's little problems such as this one. "Let's go shopping."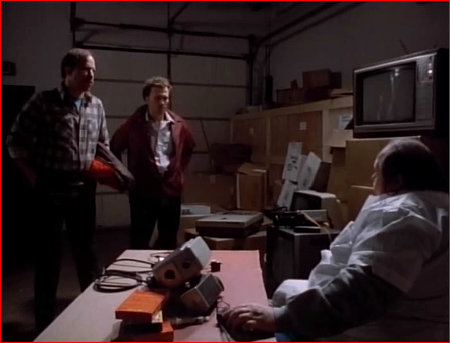 No, this isn't Best Buy, Radio Shack or any other major electronics retailer. I don't think the place even has a name, but if it did, it would be something like "Angry Fat Guy's Warehouse Of Wonder And Stolen Goods". Not exactly the kind of place you'll get a good warranty at, if you catch my drift.
Henry and Otis talk to him for a while about what TV sets he has for sale, and after he's done giving his whole sarcastically insulting sales pitch, they decide to go with the cheapest $50 set he has. This, of course, pisses off our portly fence friend, and he starts bitching at them for wasting his time. "What's the matter, you got shit in your ears? Don't give me sorry, you dumb ass! Did I stutter? Gimme the $50 and get out!" That's just bad customer service if you ask me. You know that saying about the customer is always right? Well, Henry is a customer, and boy oh boy is he gonna show this guy just how wrong he was for insulting him.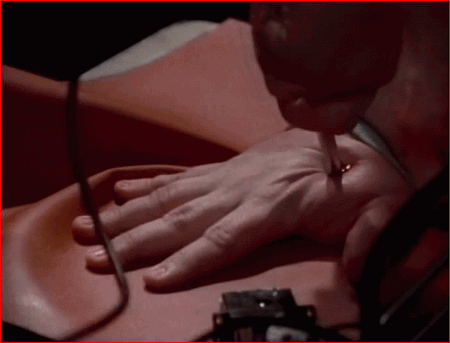 First, Henry grabs a soldering iron and jabs it into the guy's hand, and then repeatedly stabs him in the chest with it while Otis holds him down. When he tires of that, Henry picks up the TV and smashes it directly onto his head. So if you happen to be in sales and you get the urge to yell at one of your customers, make sure said customer isn't a serial killer.
Oh wait, you thought they were done with the guy? Nopers! To finish the job, Henry instructs the always obedient Otis to plug the set in and we quickly learn why television sets never became a fashionable form of headwear...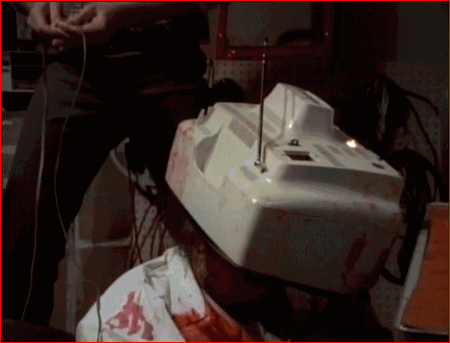 Remember when mom told you about how watching TV too close would fry your brain? Turns out she was right.
Have any questions or comments about this piece?
Email -RoG-