by: Dr. Boogie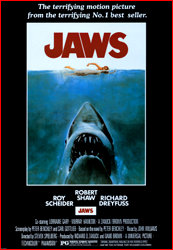 Hey, remember that movie about a killer shark? I'm sorry, remember THE movie about a killer shark? Of course you do. Hell, it made being afraid of sharks chic!
Almost as memorable as the shark itself was Quint, the obsessed fisherman who was out to get him. He was tough as nails, and as grizzled a fisherman as you could get. He was loaded with enough scars and nutty stories to make even the longest giant shark stakeouts go by in a flash. Even his introduction was harsh: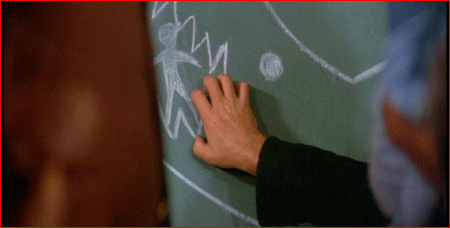 SCREEEEEEEEEEEECH
And he did that with such stubby fingernails.
Anyway, several shark attacks later, Quint heads out to bring down the shark with the help of police chief Martin Brody (Roy Scheider) and annoying, nasally-voiced marine biologist Martin Hooper (Richard Dreyfuss). After comparing scars and having the size of his boat called into question, Quint finally believes he has the shark right where he wants it. Unfortunately, the opposite is true.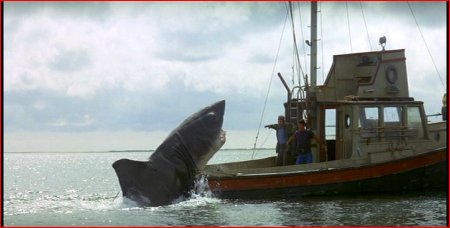 With the Orca's motor disabled and the annoying ichthyologist out of the picture, the title character tosses himself onto the back of the boat, hoping to gulp down Brody and Quint. Brody manages to dive inside the cabin, Quint almost...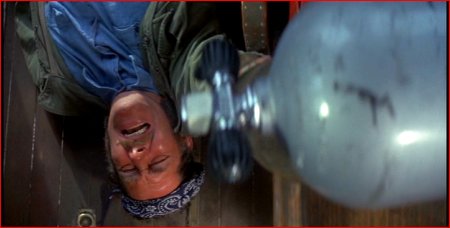 Quint makes a grab for the table, but gets his fingers squashed by a rolling scuba tank. He tries to grab Brody's hand, but it's hard to get a good grip when you only have one good hand left. He slides down the inclined deck and into the jaws of Jaws.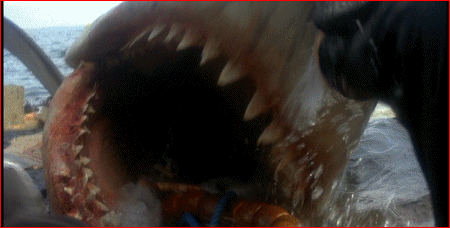 For a little while, it looks like Quint might actually be able to kick his way off of the shark's snout and over to the safety of the...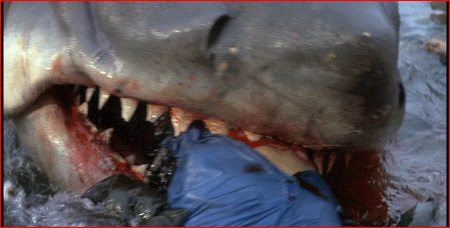 Oh wait, nevermind. The shark bites down on Quint's lower half, and Quint screams like a little girl. Even more brutal that Quint's screaming, however, is the awful crunching sound of Jaws biting into him.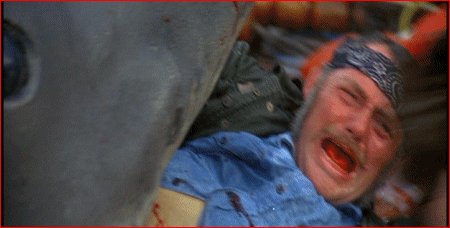 The shark shakes Quint back and forth. To his credit, Quint doesn't go down without a fight. Even with a giant shark biting him in half, he still has the presence of mind to grab his machete and start stabbing it in the face. But this shark has been swimming around for an entire day with a bunch of harpoons impaled in its back. A little nick on the cheek isn't going to ruin his meal.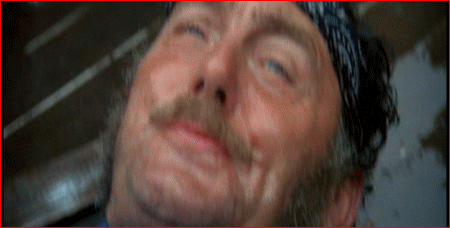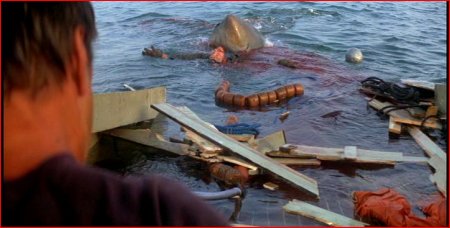 "Farewell and adieu to you, fair Spanish ladies. Farewell and adieu, you ladies of Spain. For we've received orders for to sail back to Boston. And so nevermore shall we see you again." Goodbye, Quint. You really should've thought about getting a bigger boat.
On the upshot, the same scuba tank that smashed Quint's hand winds up being the very thing needed to take the shark out for good. When coupled with a rifle, that is.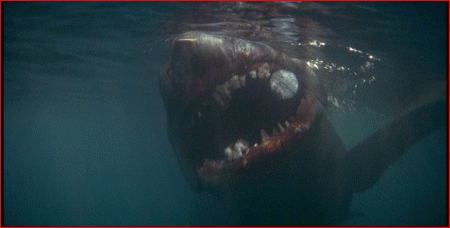 Have any questions or comments about this piece?
Email Dr. Boogie
EEEEEEEEEEEEEEEEEEEK! YOU FOUND SCARY-ASS TRADING CARD #1!
COLLECT ALL 12 SERIES III CARDS FOR A SPECIAL 13TH CARD!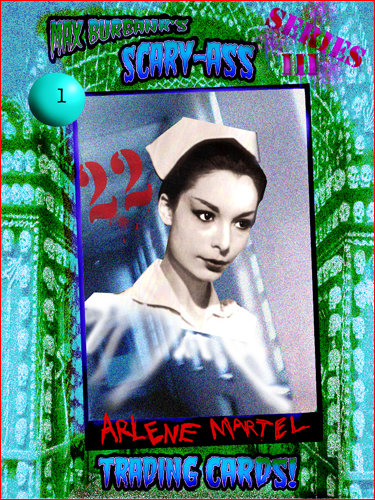 i-mockery.com/halloween/cards08/martel-card1.jpg
*copy this URL down, you'll need it once you've found all 12 cards!*
If you've never watched "Twilight Zone" this lady means nothing to you. If you have... "Room for one more, honey..."

Brrrrrrrrr...

Two minutes of screen time tops, and for millions of people that phrase sends a chill down the spine. Try saying it as someone gets on a crowded elevator and see how many people shudder. As the nurse/stewardess in the classic episode "Room 22", Arlene Martel spun that phrase into the brainstem of a generation.

Oh, and she also played Spock's wife in "Amok Time".
Find all 12 Series III "Scary-Ass Trading Cards" this September and October (2008) and you'll not only get a special secret final 13th card emailed to you, but you'll automatically be entered to win a Halloween prize pack from I-Mockery! Cards will be placed in random new I-Mockery articles during the months of September and October. Simply copy the URLs of each card down into a text file whenever you find them.
Once you have collected the URLs of all the cards, simply email them to webmaster@i-mockery.com with the subject line "I-Mockery's Scary-Ass Trading Cards!" and you will have the special 13th card emailed to you and you'll be entered to win a Halloween prize pack which may include masks, DVDs and more! Remember, the cards MUST say "Series III" on them or they will not be counted.
Do NOT email the actual card graphics to us. We only want you to email us the URLs of all the cards which you can find directly underneath them.