by: -RoG-
Maximum Overdrive is a movie that I've always had a soft spot for despite countless people telling me it's awful. It's one of those flicks that starts off so hilariously good, there was apparently nowhere for them to go but downhill. Not only did Stephen King write it, but it's also his directorial debut, and the fact that he never directed another movie afterwards should clue you in on what a bomb this flick was when it came out. King also admitted to being "coked out of his mind" during the production of the film, and the director of photography actually lost an eye during a production accident with a lawnmower, so there's that too. Still, I don't let any of the bad reviews or stories about the production change my fond childhood memories of viewing it countless times.
Say what you want about the film, but there's no denying it's a great cheesy horror movie concept. As the earth passes through the tail of Rhea-M, a rogue comet, all forms of machinery (especially trucks) go haywire and start trying to kill every living creature in sight. It's campy as hell, but I can't deny my love for scenes like a drawbridge flipping over cars and causing a huge watermelon spill that would satisfy even the most hardcore Gallagher fans. And of course, there's the opening scene at the bank with Stephen King himself...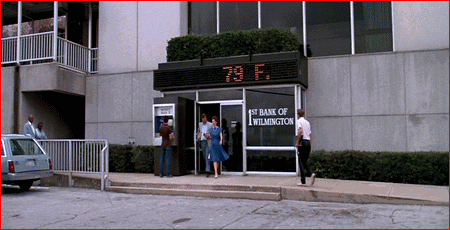 After the bank sign politely reminds us that it's a lovely 79 degrees out, it displays "FUCK YOU" on the scrolling prompter. Next, Stephen King himself walks up to the Money Man ATM and inserts his bank card, only to be told he's an asshole. Shocked, he calls to his wife, "Honey! C'mon over here, Sugar-buns. This machine just called me an asshole!" Come on, how can you possibly not love a scene like that? Still, no watermelon carnage, insulting ATMs or even badass evil toy trucks with the Green Goblin on the front grill can compare to my absolute favorite sequence in Maximum Overdrive: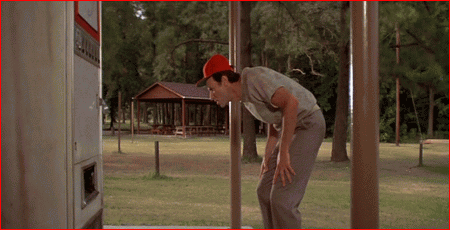 A little league coach is proud of his team for doing well, so he offers to go over to the soda machine and buy them each a can. He inserts a few quarters and makes his selection, but nothing comes out, so he bangs on the machine a bit. Then the coach steps back to take a look at it, and suddenly a cola can jettisons out of the machine and hits him square in the nuts. His eyes go wide with shock, and before he can even react, another can hits him with another nutshot. The coach drops to his knees in agony and the machine then shoots one more can out directly at his head with such force that it kills him and leaves a bloody indentation on his forehead. But the cola machine isn't finished yet.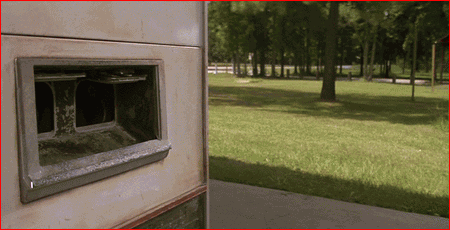 It's still shooting cans out at the rest of the little league team! One kid puts on a catcher's mask and crawls over to the coach, but once he realizes the coach is dead, he makes a run for it. Most of his team is already unconscious (or dead) from being pelted with cola cans, but one of his teammates is escaping via dirt bike in the outfield when this happens:
The kid falls off his bike and a steamroller suddenly bursts through the outfield fence. The kid doesn't even have a chance to get up and run (ok, he does, but he just lays there like a mortified moron), and the steamroller runs right over him. You can even see his head get smooshed right under the big roller.
Death by soda machine, the taboo of children being killed... it's far from the best "man vs. machine" tale ever put on film, but it sure was one hell of a memorable way to start off a horror movie.
Have any questions or comments about this piece?
SHARE YOUR THOUGHTS IN THE READER COMMENTS SECTION BELOW!