by: Dr. Boogie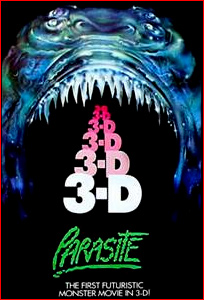 When it was first made, Parasite had a tagline, but nowadays, the tagline for the movie is, "Demi Moore in her first starring role!" Seems like kind of a weak tagline, but the preceding one was, "You will not feel the terror until you experience the movie!" You have to see our movie before you can be afraid of what's going on in it! Movies are funny that way. Anyway, you could be forgiven for not recognizing Demi right away. To put it lightly, her shirts fit a little better in this film.
Plastic surgery aside, Parasite is about a doctor who creates a parasite for a bunch of shadowy arms dealer types. Instead of going the obvious route and creating a microscopic parasite, Dr. Paul Dean decides to make a giant worm that latches onto you and slowly devours you for several days. He has second thoughts about his line of work when one of said parasites tries to make a meal out of him, and flees with a sample to try and get the damn thing off his torso. Unfortunately, he decides to make camp in a town of about five people that's being menaced by a gang twice that size, and guess what: the parasite escapes.
I could talk about how the brain dead gang members allow a giant leech to devour two of their friends, or how the actor playing Dr. Dean looks like he's already been hollowed out by the creature, but no. The most memorable scene is even better:
After the parasite latches onto yet another one of their friends, the gang decides to seek out Dr. Dean in the hopes that he has forgiven them for beating him up and unleashing the parasite. They don't find him, so they decide to leave their dying friend with Miss Daley, a former actress-turned-painted-spinster who runs the boarding house where Dean was staying. Now keep in mind this happens after the leech has already killed a person, then snuck its way onto a second person in the same room while no one was looking.
But hey, what are the odds it'll do that twice?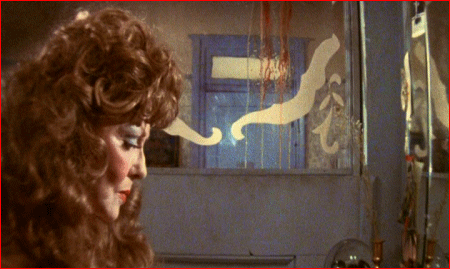 Oh, pretty good, I'd say.
It slowly dawns on Miss Daley that the purple goo dripping down from the ceiling isn't one of her many, many beauty products. What could it be?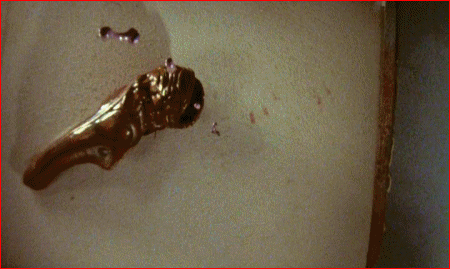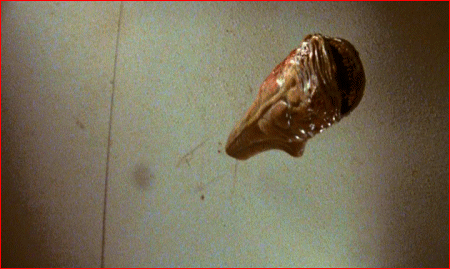 D'oh!
Before going any further, I should explain that Parasite was made in 3D back when people were just getting into the fad (well, when people were getting into it AGAIN). As such, there are quite a few shots like that last one of something coming towards the camera for a cheap scare. Not to foreshadow or anything...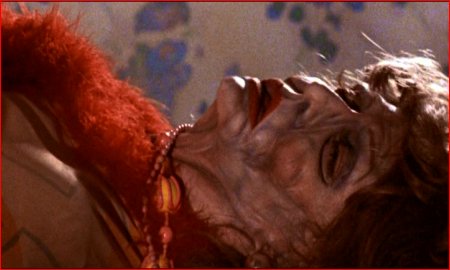 Some indeterminate amount of time later, Miss Daley isn't looking so good. She wasn't looking that great before, but she's at least twice as pale and gaunt as she was before. Plus, she's twitching about and making strange gurgling noises.
She finally keels over after about a minute of this. Then she slowly rolls onto her side. I wonder why...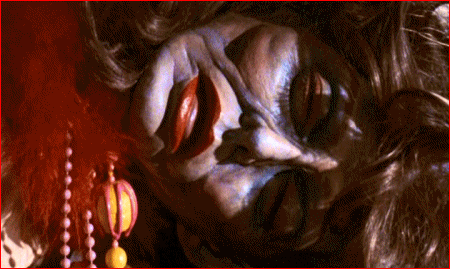 I know don't why, but suddenly I'm hungry for a hamburger.
Have any questions or comments about this piece?
SHARE YOUR THOUGHTS IN THE READER COMMENTS SECTION BELOW!