by: Dr. Boogie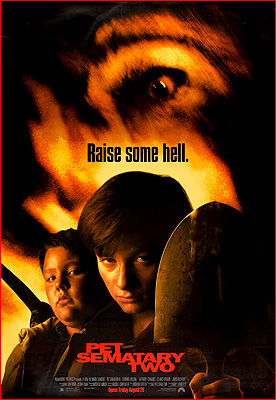 When I think of Pet Sematary, I think of one thing: years being confused about the correct spelling of the word "cemetery". Right about the time I figured out there were no A's in the word, the sequel came out.
The idea of a cemetery that brings buried ______ back to life was pretty well explored in the first movie, so you had to wonder what was left for Pet Sematary 2. The answer: more human zombies, and more humans making bad decisions. Also a ton more gore, most of it from animals being torn to pieces because hey, what's more entertaining than a box full of shredded kittens?
This time, the chief burier is Jeff, played by a post-Terminator 2 Edward Furlong. He buries a friend's dog, and it goes on a rampage before he can figure out that glowing red eyes and no heartbeat mean a muzzle is in order. Amidst the carnage, Sheriff Gus (played by actor/kurgan Clancy Brown) is slain and brought back to life as a weird, sadistic zombie. At first, he manages to limit his zombie bloodlust to killing and skinning rabbits for fun, but eventually, he moves onto adolescent psychopath Clyde.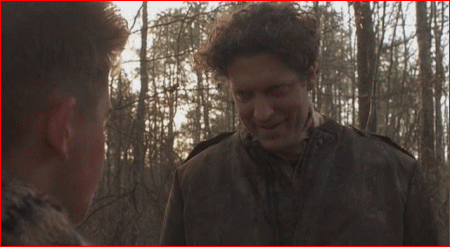 Clyde is beginning to sense that maybe Gus isn't just going to give him a slap on the wrist for threatening to mutilate Jeff. This is a movie that doesn't make you think too hard when it comes to figuring out who is going to wind up a victim.
Anyway, Zombie Gus is big on using whatever's on hand for his kills, and Clyde happened to leave a running motorcycle nearby.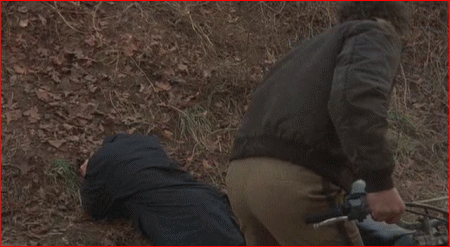 More than murder, it seems like Gus is mainly interested in giggling maniacally. Thrusting a spinning wheel to within inches of Clyde's face gives him plenty of leeway for that. Then again, maybe he's just laughing at that scarf. Clyde may be a seething cauldron of directionless rage, but he knows the importance of covering your throat during the cold and flu seasons.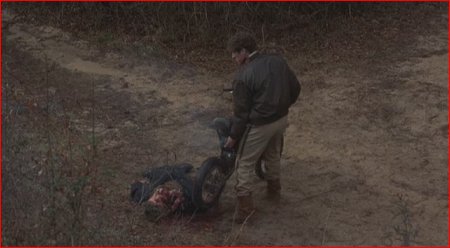 He's less stringent when it comes to wearing loose clothing around machinery.
But Clyde's moment isn't over yet! Gus decides that he would make a great zombie, too. In the meantime, there's more dead animals to look at, but at long last, Clyde emerges once more to play out his unexplained hatred of Jeff: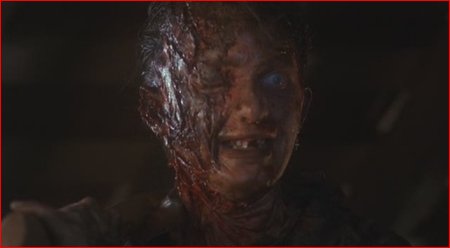 Clyde had no trouble beating the shit out of Jeff prior to becoming a zombie, so adding zombie strength makes their climactic fight even more lopsided. Thank goodness Jeff has what every underdog needs in a fight: happenstance. He grabs a live wire that falls near him and uses it to tickle the back of Clyde's throat.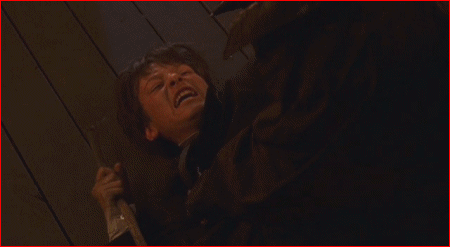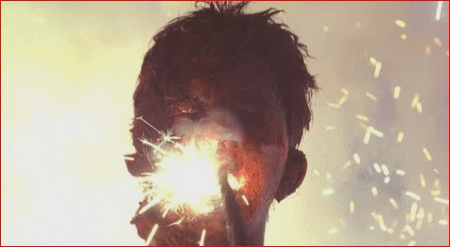 Man, this movie hates Clyde's head!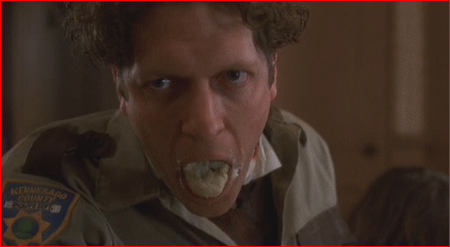 Have any questions or comments about this piece?
SHARE YOUR THOUGHTS IN THE READER COMMENTS SECTION BELOW!