by: Protoclown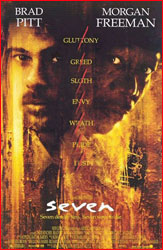 Okay, so Se7en (also known as "Seven") is not strictly a horror movie, but it is a pretty good thriller, and it has some pretty grisly and horrific moments, so I'm going to talk about it, if you don't mind (and even if you do). For the scene I'm about to talk about, Detectives Mills and Somerset (played by Brad Pitt and Morgan Freeman) are trying to catch a serial killer whose crimes are based on the Seven Deadly Sins, and they discover some fingerprints at a crime scene that lead them to the house of a pedophile named Victor.
After raiding his home and entering his bedroom, they discover an unmoving lump covered by a blanket on his bed.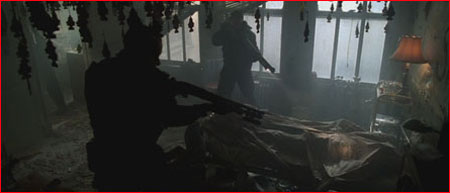 The police cautiously approach, and at this point I'd like to take the moment to point out that if you ever enter a room that is absolutely covered in pine tree (or any other kind, for that matter) air fresheners dangling from the ceiling, you should just turn around and leave. Whatever you find in that room is not going to be pleasant. Even if someone told you that there's a chest full of money or a room full of horny disease-free hookers who are feeling generous, just turn around and leave. I promise you, you will be glad that you did.
The SWAT guys pull back the sheet to reveal a horrible, stinky corpse rotting on the bed. It's just completely wasted away, practically a skeleton with skin painted onto it, with all kinds of horrible cuts, bruises and sores all over its body.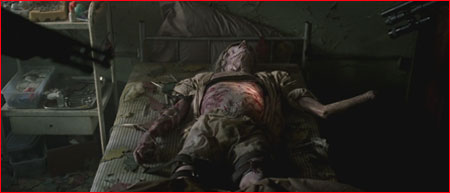 Detective Somerset looks up at the wall and sees that this is another of the serial killer's victims, this one representing the sin of "sloth". Yes, there's nothing more lazy than being dead, as it turns out!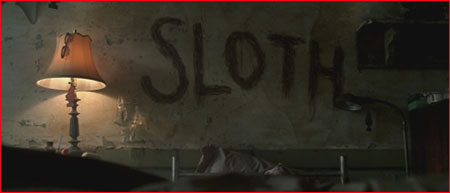 One of the SWAT guys gets up close to examine the body, muttering to himself that the bastard got what he deserved, when suddenly we find out that our "corpse" is not a corpse at all! Somehow this horribly maimed husk of a person that looks like something Marilyn Manson would have sex with is still alive!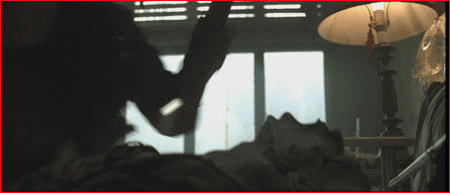 This living corpse writhes around in vain on the bed for a while, coughing and moaning, seemingly unaware of its surroundings. It's a pretty damned freaky moment, because this "man" isn't really a man at all anymore, having become something less than human from its ordeal of being tied to a bed, unable to move at all for an entire year.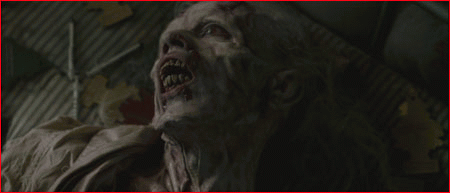 At this point we realize that our serial killer isn't just a killer, but he's a fucked up twisted torturer as well. This is some disturbing shit, far more realistic and fucked up than what I've seen in a lot of horror movies, and that's why I feel like it absolutely belongs on this list.
Have any questions or comments about this piece?
Email Protoclown