...CONTINUED

Well, the fight is only slightly less pathetic than Captain America's upside-down antics a few moments ago. After some of the most lamentable displays of horizontal acrobatics on a tombstone, Captain America chases Spiderman all the way to his car... his... uh... Spider-Car? No, actually it's just some shitty old blue car from the 70's. It's even missing a hubcap! You'd think a superhero (er... villain) such as Spidey would at least be able to afford some decent chrome for his ride. Maybe he's just planning on calling MTV up on the phone in hopes that they'll "pimp his ride" sooner or later. Yeah good luck with that dream, Spidey. Good friggin' luck.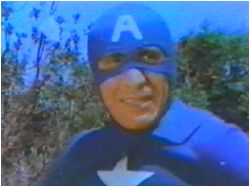 Before Spidey is able to get away in the car, Captain America jumps onto the door and tries to run the car off the road. Spidey just starts punching him in the head repeatedly until he finally falls off. Awww, don't feel too bad Captain America, you gave it your best shot and I'm sure you'll get him next time. Yeah! But what about Santo? Where has that crazy Mexican wrestler been during all of this action!? I thought he was supposed to be helping out! Oh wait here he is, doing what he does best: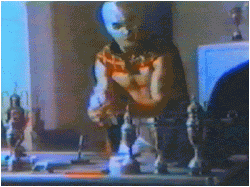 SHOVING THINGS INTO HIS CROTCH.
I guess they put Santo on "spy duty" since that spy girl obviously couldn't get the job done without being captured and bitchslapped into oblivion. Unlike the spy girl who took photos of suspicious things, Santo skips all the foreplay and shoves anything he finds directly into his crotch. I swear, if you whacked his crotch with a stick, it would explode like a piñata - with goodies scattering all over the floor.

I'm sure you're as surprised as I am to see that the owner of the establishment which Santo was snooping around in didn't particularly appreciate the fact that Santo was shoving some of his possessions into his crotch. He holds Santo up with a gun and attempts to remove his mask. Big mistake. If there's one thing I've learned in my travels around this world is that you should never remove the mask of a Mexican wrestler. "It puts them into berserker mode." -Chuck Noblet
What happens next? Well, after he knocks out the guy, he...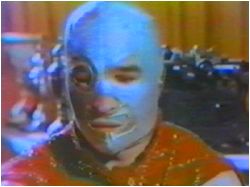 GODDAMNIT SANTO! STOP SHOVING THINGS DOWN YOUR CROTCH!
NOT EVERYTHING YOU COME IN CONTACT WITH NEEDS TO
BE STUFFED INTO YOUR GROIN AREA! FOR SHAME!!!
Once his crotch is completely filled with goodies, Santo decides to leave this place only to find that he's somehow in the middle of a martial arts dojo? Yeah I don't get it either. I think the filmmakers just happened to have access to a gym and some guys with martial arts uniforms, so they decided to throw it in there. Believe me, if these guys are black belts, then I'm Fat Albert. The whole scene is extremely amateurish as these tiny guys just bounce off of Santo as he manhandles them. Again, not a single bit moment of the fight scenes in this film appear to have been rehearsed. Now if the actors actually had some fighting skills, that might prove to be interesting, but in this case... it's not.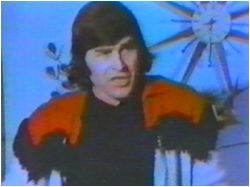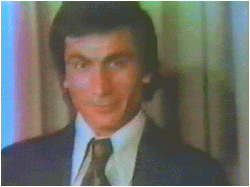 Back at "Good Guy Headquarters" (hey, have you got a better name for it?) Captain America and Santo celebrate their jobs well done. Santo celebrates by wearing one of the most hideous jackets I've ever seen. It's got these huge red shoulder-pads with black strips of fabric hanging down from it. He literally looks like he's here to try out for the WWF's "Legion of Doom" but isn't quite able to make the cut. Captain America, on the other hand, is lookin' all slick in his GQ suit as he toasts his friends with a glass of fine liquor. Classy as hell. Now that's a guy America can actually be proud of! Maybe.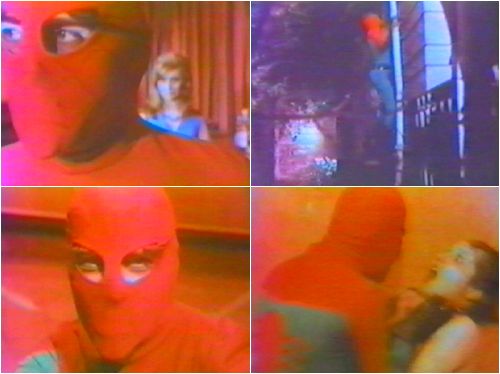 Spider-Man obviously isn't too happy since a bunch of his goons just had the crap kicked out of them, plus they lost a hostage to bitchslap. Bitchslapable hostages are harder to come by than you might think. I guess Spidey just had to blow off a little steam, because he runs out into the middle of the night to kill off some random woman. This is one of the only times we actually see him do something sorta like the real Spider-Man would do. He scales the wall of a house. Ok, he doesn't actually climb it with his bare hands sticking to it or anything, he climbs up a drainage pipe. But hey, in a movie this absurdly weak, beggars can't be choosers.
He soon makes his way into the woman's house and finds her in the shower and strangles her to death. There's two things I never thought I'd see happen in my life:
1) A monkey in charge of things at the oval office.
2) Spider-Man strangle a nude woman to death.
Well, now that I've seen both, I guess nothing from this point on will come as a shock.

Oh but it appears I may have spoke to soon. You see, after Captain America and his crew read the paper to (apparently) learn about the lady Spider-Man murdered the night before, we cut to a scene in Spiderman's lair. I didn't even know he had a lair, but there it is. Spidey appears to be pissed at one of his employees, the guy who Santo knocked out earlier on. And just what does Spidey do to people who let him down?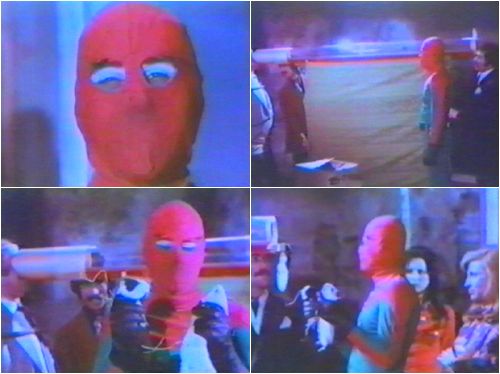 Words just can't do this scene any justice so let me just explain what happens. They have the guy tied up to a post, but instead of giving him the ol' bitchslap™, a huge plastic cylinder is placed up against his face. Spider-Man then removes not one but TWO GUINEA PIGS. Do you see where I'm going with this? No? Fine, just watch...

GUINEA PIG DOOM!

Yep, that's right, those guinea pigs ATE HIS FACE! Death by guinea pigs... that's gotta be a first in films. Easily a supervillain milestone if I've ever seen one. So for those of you keeping score Spider-Man has done the following so far:
Killed a woman with a boat propeller to the face

Jumped out of a makeshift tee-pee and stabbed some guy in the mafia

Strangled a nude woman to death in the shower

Commanded a squad of guinea pigs to eat some poor bastard's face
I hate to admit it, but I think I'm starting to like this Spider-Man better than the real "good guy" one. Let's see if he can keep the momentum going.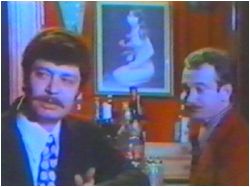 So uh, back at the local club, we're treated to same gal dancing around with tassels on her boobs. Guess the filmmakers knew they had a steaming pile of shit on their hands here, so they had to throw in some cleavage if they had any hopes of getting someone to rent it. I don't think it worked, but hey, at least those guys at the bar appear to be enjoying the show.

Elsewhere, Spider-Man and Santo are finally fighting together! They invade some random basement (or maybe it's the "lair" from earlier?) and start duking it out with more goons. Why there are blow-up dolls propped up against the wall in the background is beyond me. Actually, no it's not beyond me, I'd just rather not think about what they were doing with them, ok?

Finally, we get to see a sign of real superhero strength as the two lift up the rear-end of a getaway car. They then let it go crashing right into a wall and the goons are as good as dead. Unfortunately, Spidey isn't in the car with them. He's busy putting on those black gloves of his to commit some more horrible acts against mankind.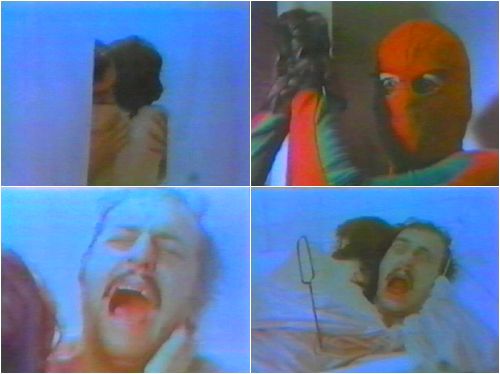 It appears as though Spider-Man really enjoyed killing that lady in the shower earlier on because he's back at it again. Only this time, there's a man in the shower too and rather than strangle them one at a time, he skewers them with a metal object. Spidey then steals some little statuette and runs back to his evil headquarters. I'm not sure, but I think seeing the man and woman gettin' their freak on in the shower made Spidey's extra special spider-sense tingle. :(
Will Spidey go on a maniacal rape-fest?
Will Spidey's eyebrows go on a maniacal rape-fest?
Will Spidey's eyebrows hop off of his face and rape him?
continue to page 3 to find out!
---
help support I-Mockery by supporting our sponsors:

---
Running a big site like I-Mockery takes a lot o' time and costs moola too.
Want to help show your support?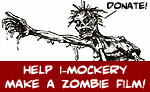 DONATE TO OUR ZOMBIE MOVIE!
Come talk about this piece & more on our Message Forums!