by: Protoclown
In celebration of this Halloween season, some friends and I decided to drive up to Pennsylvania for a weekend, to hit up a couple of interesting places we'd heard about but never seen. The first one being Centralia, a small town that's had a coal mine fire burning underneath it for over forty years, and is said to be one of the main inspirations for the "Silent Hill" series of games; the second was Egg Hill Church, which has a pretty interesting spooky story surrounding it, but we'll get into that later.
Since it's a five hour drive from Richmond and we wanted to have the full day to explore, we decided to head up to Pennsylvania after work on a Friday night and crash in a motel. So we stayed at the fine, fine Econolodge in Frackville. Seeing this display in their "lobby" (which was actually about the size of a small closet) reminded me why I refuse to ever eat Otis Spunkmeyer cookies (as if the name alone isn't suggestive enough).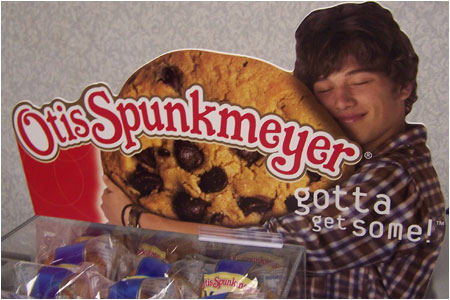 From there we walked over to the Dutch Kitchen next door and had breakfast before starting our grand adventure. You can see the place behind me in the picture here, so I know you'll believe me when I tell you that it smelled exactly the way my and quite possibly your grandmother's house used to smell. There were all kinds of dolls, trinkets, treasures, and other pointless nick nacks all over the walls of the place, so it was really representative of "small town America". I look sad and disturbed in this picture because it was in the morning. I do not like mornings. They frighten and confuse me.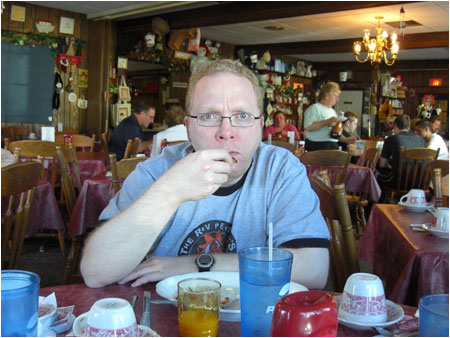 Before hitting up Centralia proper, we had arranged to take a tour of a coal mine in the next town over, which I believe was called Ashland. Fortunately the mine that we went into was not on fire, which is important to note, or I would be dead while writing this.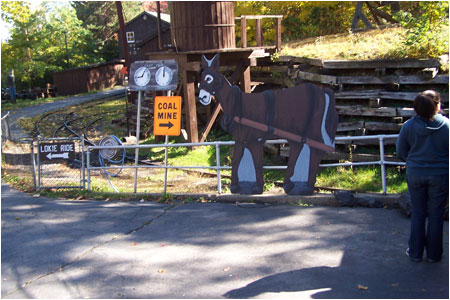 We had a little time to kill before the next tour of the mine was to begin, so we decided to check out the gift shop, and I amused myself by finding silly things among the countless rocks they had for sale. I found a children's book called "Geo the Geode", about a friendly little geode, who, gosh darn it, is just really happy to be here.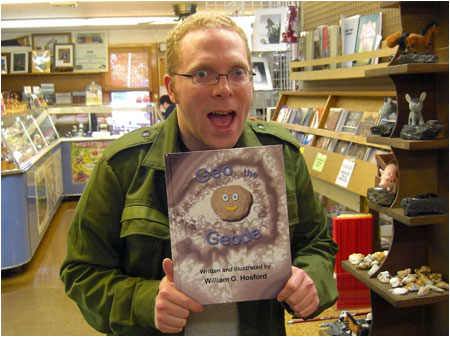 They also had a bin full of stuffed animals that came packaged with tiny towels for some reason. Unfortunately, the way they did the packaging made each animal look like it was either really well endowed, or that it was fucking the absolute hell out of the towel it was attached to. Some of the choices of animals were a bit strange. Horses and donkeys I can understand, being that it's a coal mine, but I don't really understand the inclusion of sharks and whales, unless there's something about coal mines I just don't know.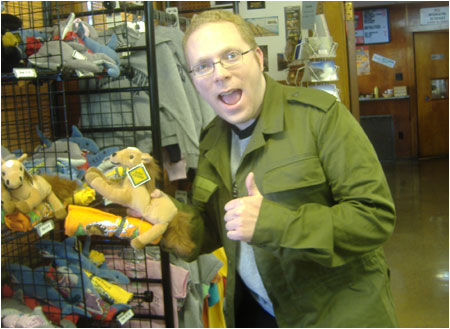 Just when it was about time to venture down into the mine, we saw this sign, which was very reassuring. Still, it's important to remember not to ride your four-wheeler or go swimming down in the freezing, absolute darkness of the mine. I know how tempting it can be, but take my advice: just don't.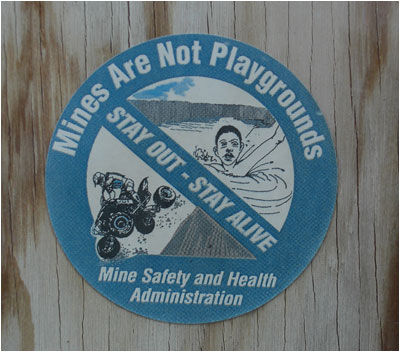 Then we all piled into the little train and went down into the mine itself. Almost all of the pictures of the train ride were unusable because they were too blurred, but the way I'm sitting in this one I think gives an impression of just how chilly it is down there. They said to be sure to wear a jacket while going into the mine, but I didn't really believe it would be that bad. But it actually was pretty damned chilly.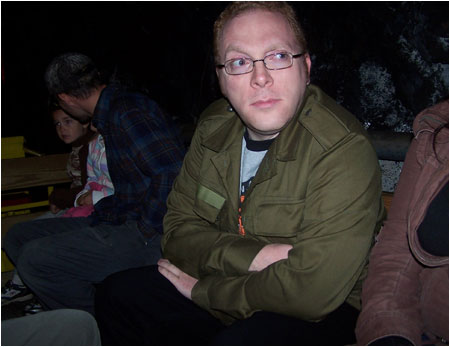 The mine tour was pretty cool, because I'd never really been in an environment like that before. At one point the tour guide was talking to us and he switched out the lights so we could all appreciate the absolute darkness for a few moments. Of course, when the lights returned, three people were gone, never to be found again, but that's just part of the experience. They also had creepy mannequins set up throughout the tunnels, just so you could see them out of the corner of your eye and believe that you were being stalked by some disgruntled mine worker-turned-killer.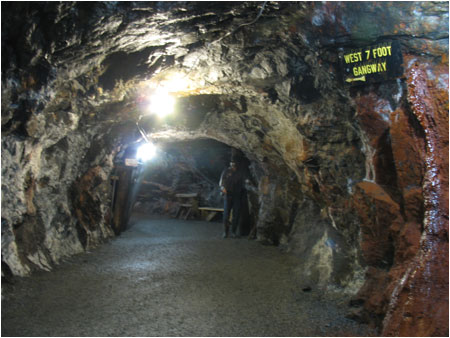 Of course, none of the mannequins were as creepy as little "Timmy" here, whose dirt covered face had this permanently mournful look etched into it, as if to say "Please mister, can you spare a few breadcrumbs? I have been working in this mine since I was four. There is no joy left for me." I believe I even heard one frustrated parent threatening to leave their child here and take "Timmy" back to the surface world with them instead. Or maybe that was just me imagining what I would do.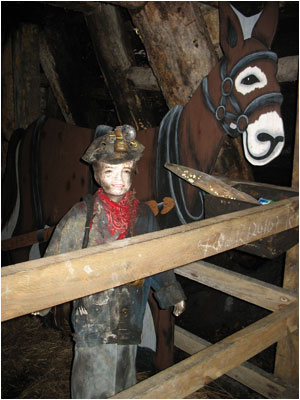 Here's a fake donkey mannequin (just like in the clothing stores) attached to a cart filled with coal. This is the hallway where the guy turned out the lights completely and a scuttling, dragging sound was heard in the darkness.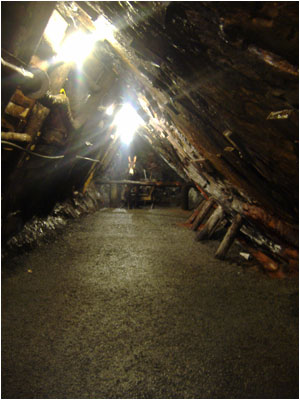 There were of course all kinds of shafts going up and down through the mine, many of them for hundreds of feet, and you could look up or down them as far as the light would allow. This shaft was one that went down, blocked by a protective grate so nobody could fall down into it, of course. They had a cardboard cutout of what looked like a dancing, happy sailor dude standing horizontally on the side of the wall. I can assure you that if you fell down there you would neither be happy nor dancing. But you might be a sailor, for all I know.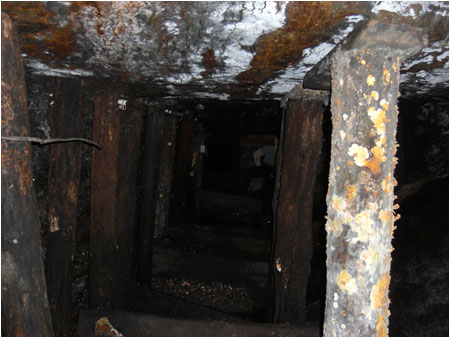 After the mine tour was over we hopped aboard a train called the Henry Clay and took a little tour around the hills nearby, while the guide told us about Centralia and the history of the coal mine.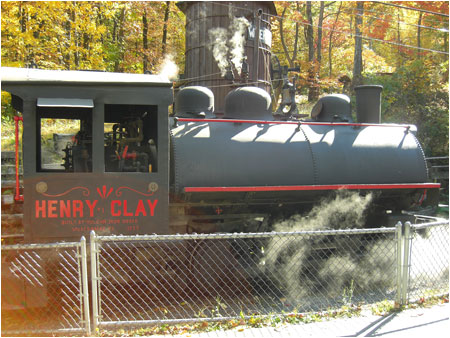 While on board the train we passed by a big barn with a bunch of antlers mounted to one of the walls. Many of those antlers look too tiny to belong to deer to me, so I'm guessing they probably come from the fearsome Northeastern Devil Squirrel. Also, I wish we'd gotten a good picture of it, but you can see part of it in the window there--they had this ghoulish masked scarecrow thing in the window, which was obviously there for Halloween.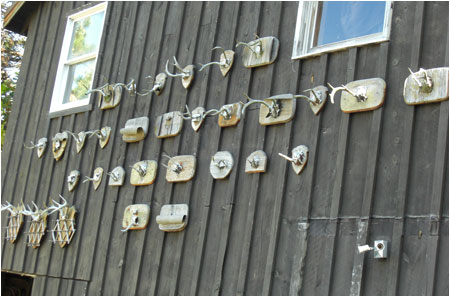 Here's a picture of an oldschool bootlegging mine operation/child day care center from back in the days of the Great Depression. These guys would decide to make a little extra money on the side when the companies that owned the mines would cut back due to the faltering economy. You could also toss your child down into the hole for the day and hoist them back up on the bucket in the evening.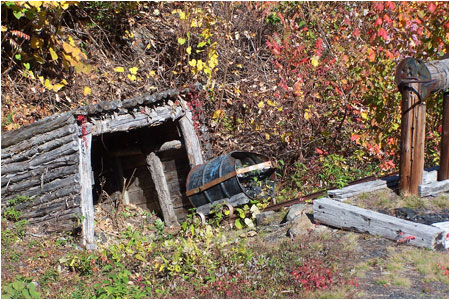 The train conductor was actually pretty cool. He hung around for a while after the tour and talked to people, and gave us directions so we could find our way into the abandoned parts of Centralia. Note carefully that he's standing right next to a deadly cloud of "Silent Hill fog" and shows no concern at all. Fucking badass.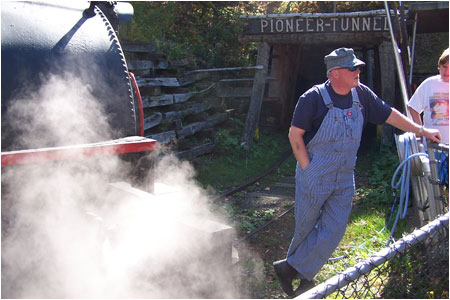 We were now ready to head out to Centralia proper. We didn't quite know what to expect, but I found this picture online, which suggested to me that the earth would open beneath us and smoke would pour out as we were sucked into the very bowels of Hell itself. We however encountered nothing of the kind, unfortunately.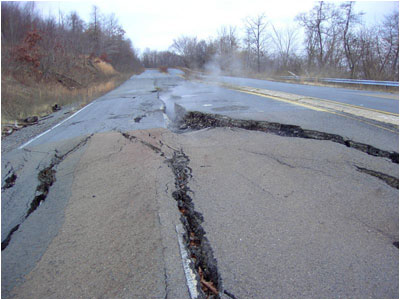 There's still more to see!
CLICK HERE TO CONTINUE TO
PAGE 2 OF THE CENTRALIA TRIP!