by: Protoclown
...CONTINUED
After driving around for a while we found what we imagined must be the best place to stop the car and get out to do some exploring. Most of what is left of Centralia appears to be piles and mounds of rubble, leftover from both the mining operation and the destruction of most of the remaining buildings. You can see a little bit of smoke rising from the ground here, but unfortunately the day wasn't cold enough to get a really good example of what they say it can look like.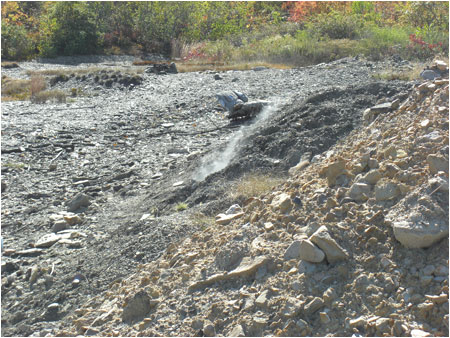 While we were exploring, an older couple from New York stopped and ended up talking to us for quite a while. Though they weren't local, they apparently visited often and knew a lot about the history of the area, so this guy pointed out to us where a lot of the stuff in the town used to be back in the day, before almost everything got torn down. I didn't think anybody had snapped a picture of this, but my friend Lauren apparently did manage to get one while he was telling us about the town.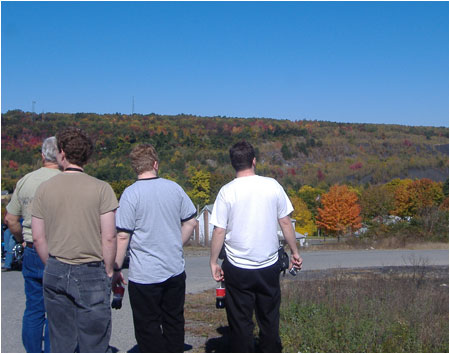 As we spoke to the guy, we couldn't help but note with some irony that this former coal mining town now seemed to be taking advantage of wind power.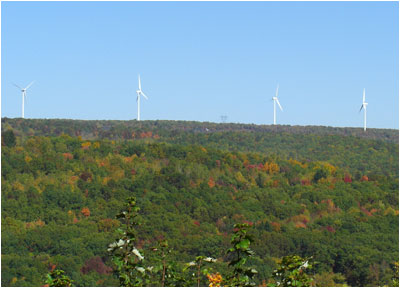 Off in the distance you could see what were basically small mountains of leftovers from the coal mining operation, where they had stripped all this rock out from the earth and just left it piled around. Note the chair on its side in the foreground, indicating that THIS VERY SPOT was once someone's LIVING ROOM! Either that, or someone dumped a chair there. You know, either one of those.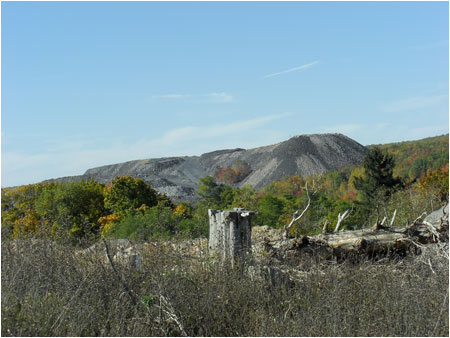 There were piles of junk like this scattered around randomly in the hilly rubble area. It was kind of like a really big yard sale where everything was free and possibly on fire.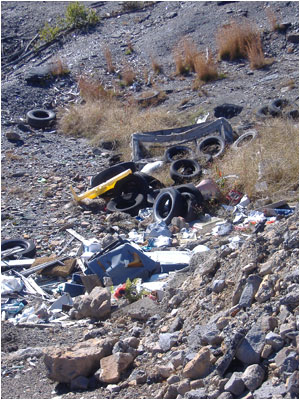 And just in case you needed a reminder that an underground fire raged below, there were occasional holes in the ground, from which steam would rise up, though not in a large enough amount to show in this photograph. However, you could stick your hand down near the hole and see for yourself that it was insanely fucking hot.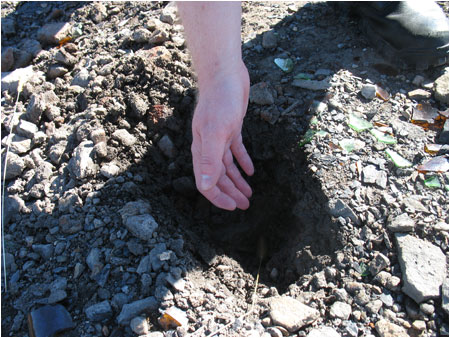 Unfortunately this scene below was pretty typical of what most of the area looked like. Most of the abandoned buildings had been torn down in the last decade or so, so Centralia doesn't give an impression of a ghost town so much as an empty lot. Pretty far from spooky, especially when you consider that the vehicle you can barely make out in the distance on this street is actually a mail truck delivering to one of the dozen or so people that still live in the "town".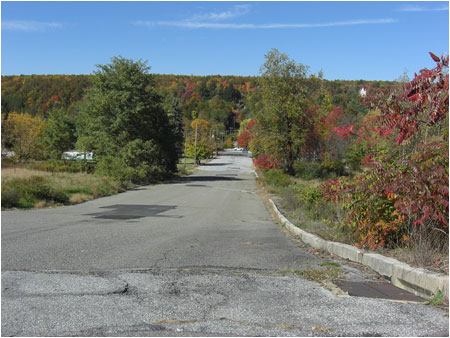 So needless to say, while it was interesting to see, we were a bit disappointed, because it didn't exactly live up to the "Silent Hill" reputation. Maybe in years past when there were still lots of old, empty buildings lingering around and you could see plenty of smoke rising on a cold day, but nowadays it just looks like a construction site waiting to happen. For those of you as disappointed by the lack of spookiness as we were, I find that the picture below and an active imagination help somewhat. HOLY SHIT! WE WERE LUCKY TO HAVE GOTTEN THAT SHOT AND MADE IT OUT ALIVE!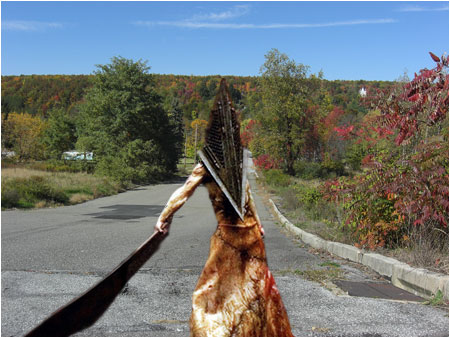 There was still one church in town at the top of a hill for the few people that remained, and it looked pretty cool so we decided to check it out and pose for an album cover on the steps. Unfortunately it's not a very good album cover, which is why I didn't bother zooming in. Also, you wouldn't have seen how many steps there are if I had. So just imagine that the album cover is completely badass and we'll be good to go. It's also worth mentioning that there were about a million bugs flying around in front of the church door. Seriously, it was like something out of a horror movie.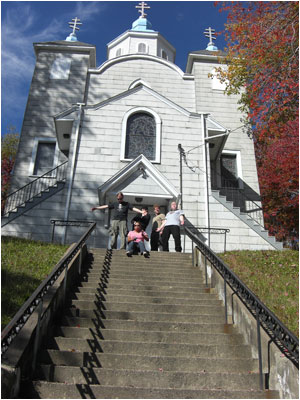 Behind the church at the top of a hill was a pretty typical cemetery, but the strange thing was that there was a random bathtub out of nowhere just sitting along the side of the steps. We didn't quite know what to make of that, but if the dead should ever rise, these zombies at least will have a place where they can wash off and make themselves presentable before they start coming after people.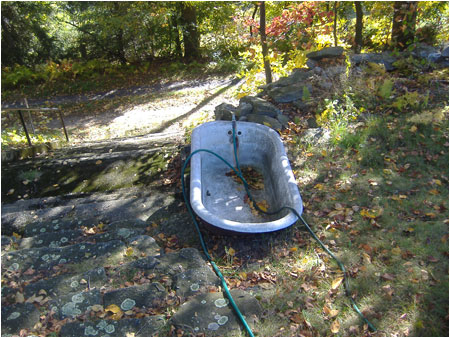 My friends Scott and Nikki went exploring on their own for a while and they came back saying that around the corner they saw a couple of horses. I didn't see them myself, which is probably a good thing because if I had, then we definitely would have been in a horror movie. Empty church, shitloads of bugs, and horses? There's no way we would have survived.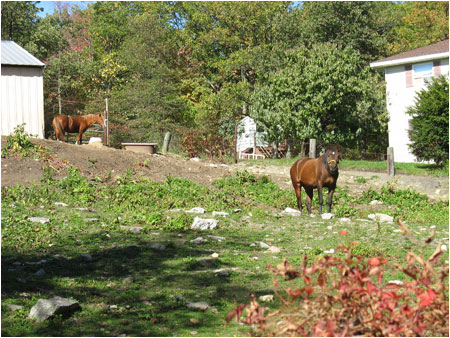 As we were returning to the cars and getting ready to leave for Egg Hill, we saw this HUGE fucking spider trying to pick up my car and carry it away. It actually ate the quarter seconds after this photo was taken.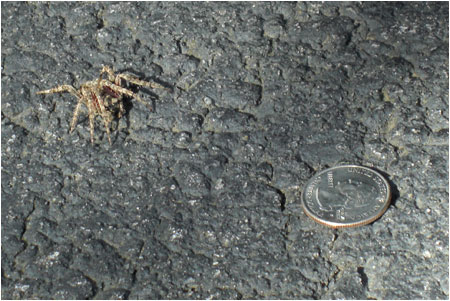 Here's the Centralia Municipal Building that clearly hasn't seen any use in quite some time...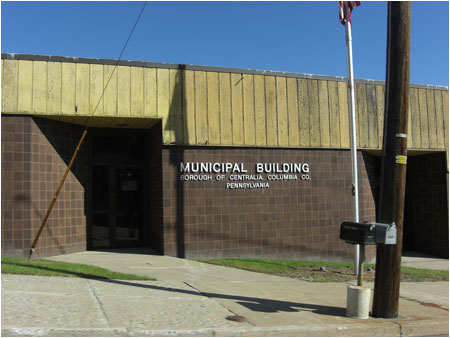 As we left to make our way for Egg Hill, we snapped this shot of a shrine they had set up on the outskirts of town. It seemed like some kind of memorial, but as far as I know, nobody actually died due to the mine fire. Perhaps it was a memorial to the town itself.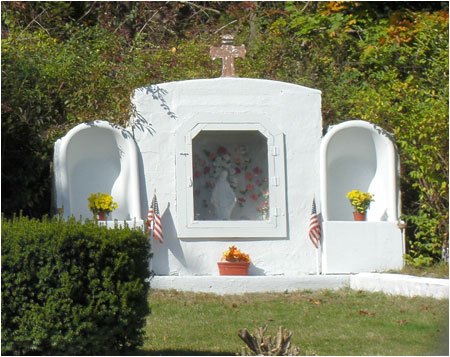 I can only imagine how frustrating and annoying it must have been for Scott driving the car behind mine, because we had no idea where we were going for one thing, and we kept slowing down or pulling off to the side randomly to get pictures of different things that seemed interesting but not worth getting out of the car over. Apparently Scott did not care for that much as he flicked us off during one of those stops. And the best part is, I'm not even bothering to use the picture that made us stop in the first place here in the piece! Haha! Suck it, Scott!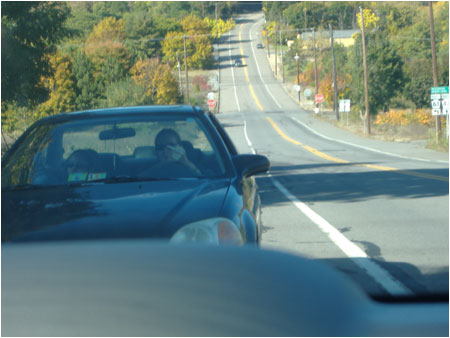 There's still more to see!
CLICK HERE TO CONTINUE TO
PAGE 3 OF THE CENTRALIA TRIP!