by: Protoclown
...CONTINUED
This is a pretty typical example of the kinds of tiny little towns we passed through on our journey through central Pennsylvania to get to Egg Hill. Just wanted to give you a sense of the area.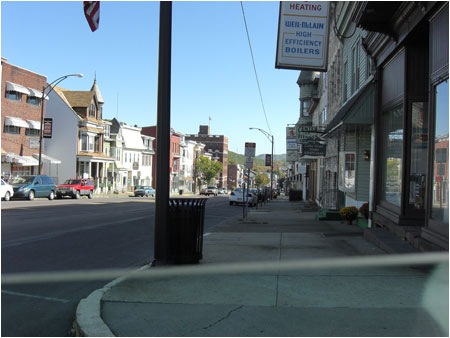 In one of those small towns we spotted a pizza place with a less than appetizing name... I'm betting the pizza from this joint is a bit soggier than most other places, if you catch my drift.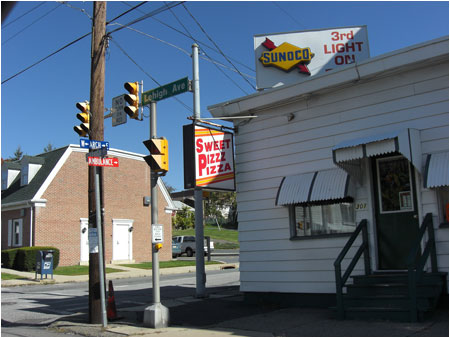 And of course, what road trip would be complete without the experience of getting pulled over for speeding in some backwards ass town where they don't bother to have the speed limit posted until after you pass through the speed trap... 35 miles per hour on this road. Who would have guessed?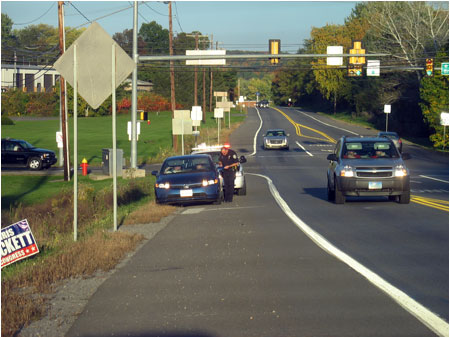 And now for Egg Hill Church. A friend of mine who went to college near there told me the story years ago, and even though it's absurdly unbelievable, I always found it kind of fascinating. Now with all creepy legends, there are many variations, but the story as I heard it goes like this: one day, a long time ago (I don't know exactly when, but it was built in 1860, so anytime after that) the preacher in this church had a brain aneurysm which drove him completely insane, and he poisoned his congregation and then went downstairs to the sunday school and hacked up the children with a hatchet or an axe. After he came to his senses, he was so stricken with grief that he went outside and hanged himself on a nearby tree (other versions say he hanged himself in the bell tower). The legend had it that there were a bunch of gravestones outside that all had the same date of death (now verified untrue). The second part of the story as told to me was that back in the 1970s some kids from Penn State went there one night and decided to scare "the new guy" so they locked him in the abandoned church, and whatever he saw or heard inside scared him so much he died of a heart attack. It is bullshit? Almost certainly. But it does make for a rather captivating yarn, and ever since I first heard about the place and how creepy it was, I knew I wanted to find and see it for myself.
Unfortunately, thanks to the delays of getting pulled over and Dave's GPS device leading us astray quite a few times (to be fair, the area is not well mapped, but the next time Mr. T tells me "turn left, fool!" I won't be inclined to trust him), we got there well after dark, which made things way spookier, but didn't give us the best photographs. Fortunately I found a couple pics online that show the place during the day. Here is the church itself: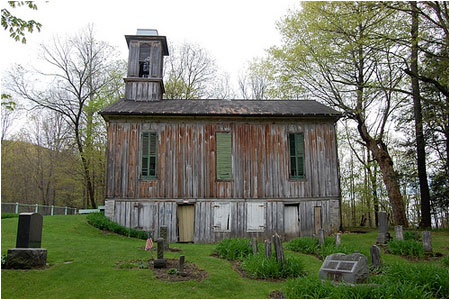 And here is the graveyard, as seen during the day. See how close that house is in the background? The guy in that house was out walking his dog, and he warned us not to go inside the church, or the police would be called, and we would be busted. Well, damn. So that meant we had to limit our photography to outside, but the church is all boarded up and covered with "No Trespassing" signs so technically we would have been breaking in if we'd done so.
So we had to make the best of it and take pictures outside, and at night. Not exactly ideal, but we'd come a long way, and it was better than nothing. I've tweaked these photos in Photoshop as well as I can to make things visible while still trying to maintain the feel of just how insanely creepy this place is.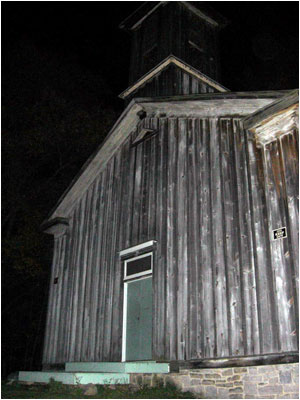 I don't exactly believe that the story surrounding this place is true, but when you see the place for yourself it's completely understandable how such a creepy tale came about in the first place. It's the kind of place that looks like it could have hosted some pretty fucked up shit.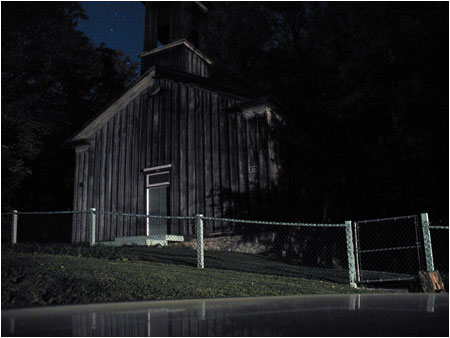 There was this huge, spooky, gnarled tree outside the fenced in area. Could this be the tree mentioned in the legend? It certainly looks creepy enough to have helped inspire that kind of story. Scott took a lot of pictures of this tree, and those "orbs" showed up in almost every one of them. Not that that means fuck all, but it's interesting. You can see a small, pale red one toward the bottom (the bright red light is just the reflection of a car's tail light).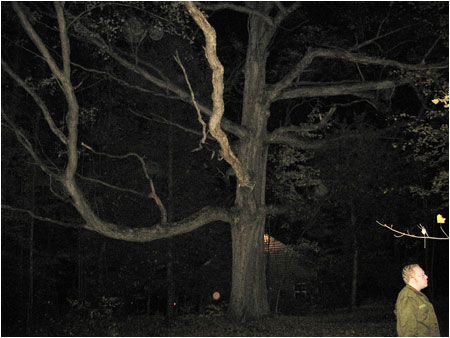 Scott and I were the only ones willing to go inside the fenced in area. Not because the others were afraid of ghosts or anything, but because everyone else was a little too worried that the guy's warning to not go into the church extended to the grounds as well. So while Scott and I were wandering around inside the fenced in area, our other friends went back to hang out in the cars because they'd had their fill of picture taking and were ready to go. While we were wandering around, I heard my friend Sam shout "Jason!" with some urgency, as if the guy from the house had returned or the police had showed up or something. So I turned to Scott and said "Shit, Sam's calling us! We gotta go!" and ran back to the car. When I got there, they were all sitting calmly talking to one another. I asked Sam why he called me, and they were all like "Very funny, Jason." It took me a while to convince them that I wasn't fucking with them. Now maybe it was just all in my head because I was worried about the possibility that we might be trespassing just being in there, but I definitely heard him calling my name.
This is interesting because several years ago my friends Lauren (who was along this time) and Travis went there while in the area based on my recounting the story and they experienced a situation where they split up and then they each heard the other calling out to them, but when they reunited they discovered that neither one of them had been doing so. Does it mean the place is haunted? Not really, but it is pretty damned eerie. I know I heard Sam calling to me. I just don't know if it was real or in my head.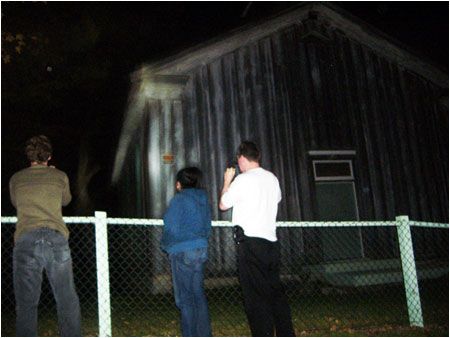 I like this picture because those red lights in the upper right look like demonic, glowing eyes looking out from within the church or something. It's almost certainly a reflection of a nearby car's tail lights, but it looks fucking awesome.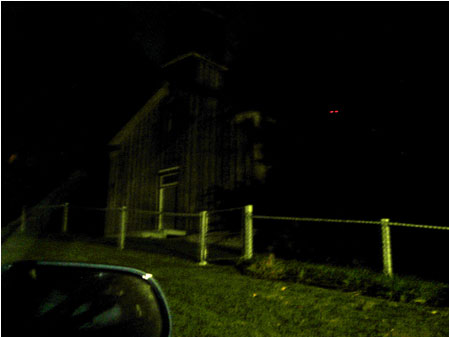 Here's another shot of the CREEPY TREE OF DEATH.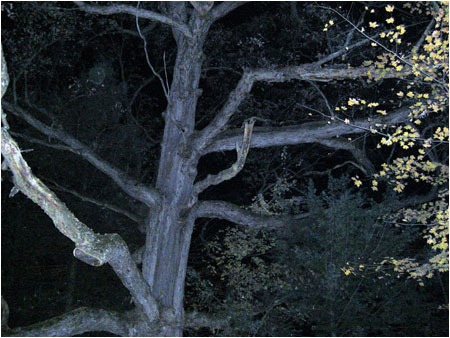 I like this picture because it's a nice contrast to the daytime pic of the church up above, because it's taken at almost the same exact angle. And look at all the orbs! MY GOD! WE'RE UNDER ATTACK BY IMPERFECTIONS IN PHOTOGRAPHY!!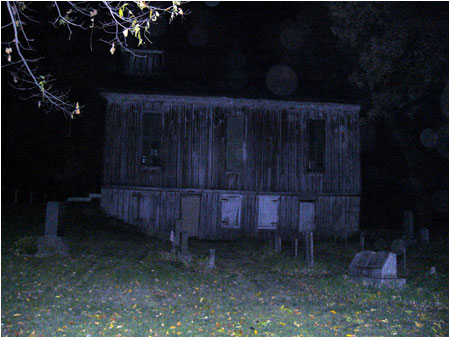 Here you can see where the side door of the church is boarded up, but not very well. Scott and I went up and tried to get a peek inside through the rather large crack there, but you couldn't see much of anything. And since this side of the church faced the nearby house, we didn't want to linger by the door too long for fear of looking like we were breaking in.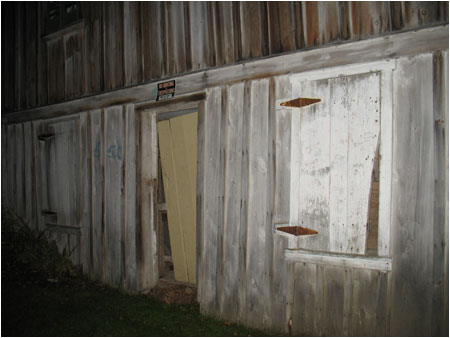 Check out the pile of crumbled tombstones laying next to the church there...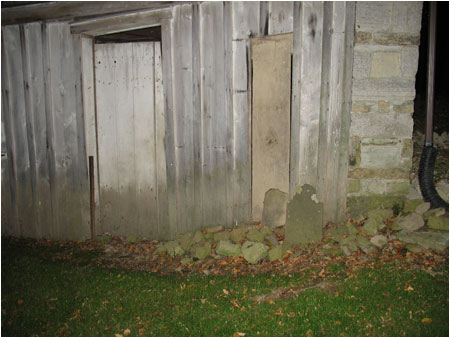 This is I think my favorite picture from the whole trip. I just think the silhouettes look really cool illuminated by the floodlights of the house behind them.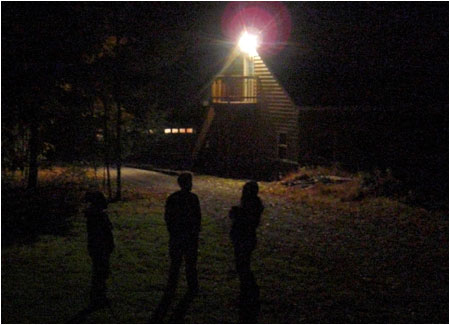 And now I will leave you with a picture we just had to snap on our way back home. Coming into Egg Hill we passed by an aptly named road that just says it all about the area we were in, so we stopped to take a picture of it as we left town. Bible Road indeed.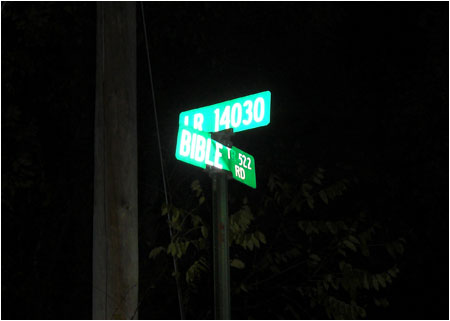 So Centralia itself was pretty disappointing as far as creepy factor, and we didn't get to see Egg Hill in the daylight initially as we'd hoped, but it MORE than made up for the lack of creepy in Centralia. I mean, whether you believe in ghosts or think the legend is bullshit or what, it's just a creepy, eerie looking place if nothing else. It could be the most innocent place in the world, but I guarantee you that if you go there, especially at night, the hair on the back of your neck will stand up a bit.
I love going to check out spooky places like this, so if you have any suggestions of places worth checking out, let us know. I've got the east coast covered, and Roger's got the west, so if it's feasible for one of us to make it there, it might be doable for next year's Halloween season. Hell, if you have any cool stories about haunted places that we couldn't feasibly visit, share them with us in the comments section below this article anyway! I want to hear them!
I would also like to thank my friends Scott, Lauren, Sam, and Dave for taking (and letting me use) all these pictures!
Have any questions or comments about this piece?
Email Protoclown