Who could forget being introduced to Count Pop? Since his story from last year, Count Pop has become incredibly famous. He's gone on a world tour, cured cancer, wrote several novels, brawled at a retirement home, and impregnated many-a-pumpkin. He's also continued to annoy the living daylights out of I-Mockery's very own Protoclown, believing that they're absolute best friends. Today, Count Pop invites us to tag along with him, because he's going to wake up Protoclown with a big Halloween surprise!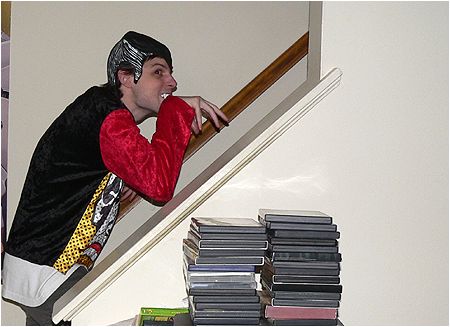 HEY THERE HEP CATS, IT'S YOUR OLD PAL COUNT POP HERE TO SHARE WITH YOU AN ADVENTURE OF WONDER AND HOPE AND GLEE! TODAY I AM GOING TO SURPRISE MY BESTEST FRIEND IN ZEE WHOLE WIDE WORLD, PROTOCLOWN! I AM GOING TO TAKE HIM ON A VERY SPECIAL TRIP TODAY AND HE WILL BE MORE EXCITED THAN WHEN HE LISTENS TO WHAM!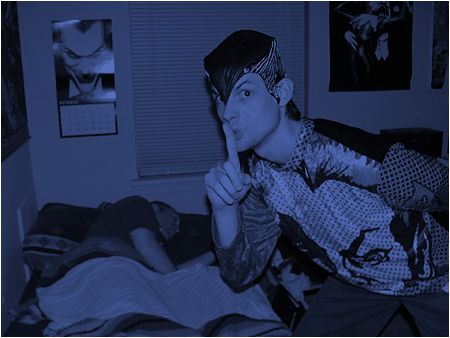 SHHHH! HE IS SOUND ASLEEP RIGHT NOW, DREAMING OF GUMDROPS AND LOLLIPOPS AND SUGARY DELIGHTS! I'LL TIPTOE OVER NEAR HIS BED AND WAKE HIM UP WITH THE BIG NEWS! BOY OH BOY, HE SURE IS GONNA BE SURPRISED!
HEY PROTOCLOWN! WAKE UP! I AM TAKING YOU ON A SPECIAL TRIP TO THE CHESTERFIELD BERRY FARM TODAY FOR ALL KINDS OF HALLOWEEN FUN!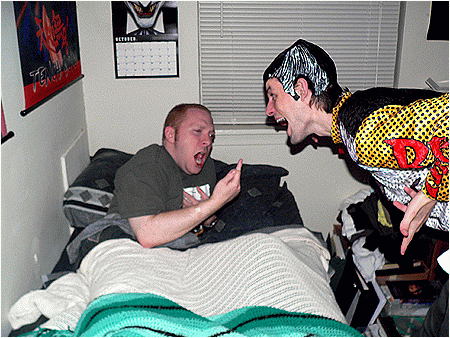 LOOK HOW EXCITED HE IS! HE'S SO EXCITED HE HAS PASSED OUT! OH NO! HE'S NOT PASSED OUT! HE HAD A HEART ATTACK! THE NEWS WAS SO GOOD THAT HIS HEART COULD NOT HANDLE THE JOY SO IT DECIDED TO SAY "GOOD BYE PROTOCLOWN, I LEAVE YOU IN THE VERY CAPABLE AND SEXY HANDS OF COUNT POP!"
WELL DON'T YOU WORRY PROTOCLOWN! I WILL MAKE YOU GOOD AS NEW! I'LL MAKE YOU BETTER THAN GOOD AS NEW! I'LL MAKE YOU NEWGOODER!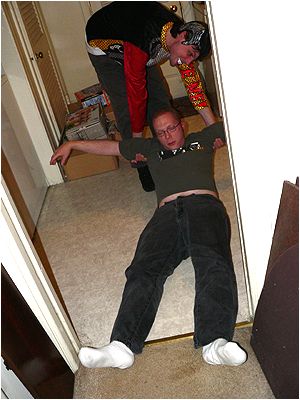 I REMEMBER SEEING THIS FRANKENSTEIN MOVIE AT A DRIVE-IN THEATER ONE NIGHT. THEY TOOK THIS DEAD GUY AND MADE HIM HAPPY BY BRINGING HIM BACK TO LIFE WITH LIGHTNING! HAPPY LIGHTNING! WELL I DO NOT THINK PROTOCLOWN OWNS A LIGHTNING MACHINE, BUT WE CAN IMPROVISE, BECAUSE THAT'S WHAT COUNT POP DOES WHEN HE'S ROCKIN' AND A ROLLIN'!
BY THE WAY, SORRY IF I HURT YOU WHEN I DRAGGED YOU DOWN THE STAIRS PROTOCLOWN! OH WAIT, YOU CAN'T BE HURTED! YOU ARE STILL DEAD! HAHAHA!
RIGHT ON!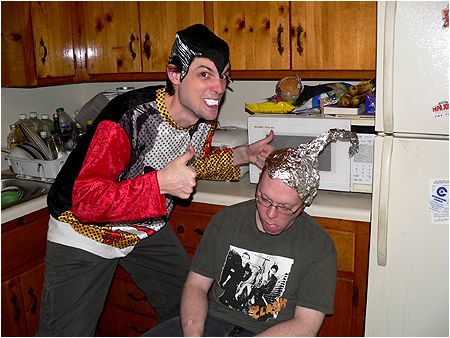 THIS IS MY GENIUS DEVICE CALLED "THE POPINATOR". YOU MIGHT THINK IT MAKES POPCORN, BUT THAT WOULD BE WRONGER THAN WRONG. THIS DEVICE WILL PUMP PROTOCLOWN FULL OF ROCKABILLY JUICES TO GET HIS BODY MOVIN! SURE, THERE MIGHT BE SOME SLIGHT SIDE-EFFECTS, BUT NOTHING TOO DRASTIC! OK LET'S FLIP THE SWITCH AND BRING OUR PAL BACK TO LIFE!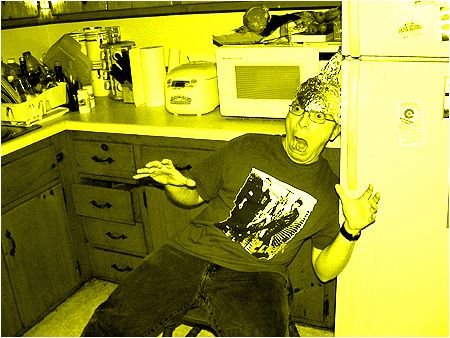 LET THERE BE LIFE!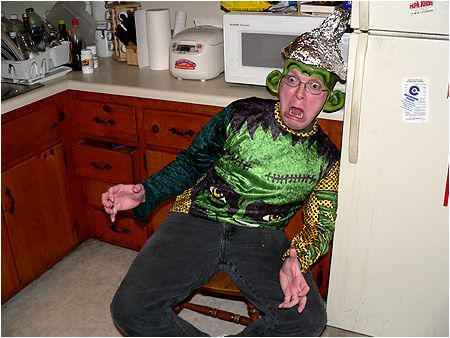 RAAAAAAAAAAAR!!!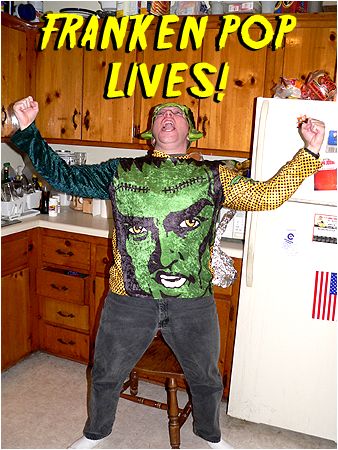 HOORAY! I HAVE SAVED MY BESTEST FRIEND IN THE WORLD AND NOW HE IS NO LONGER PROTOCLOWN, HE WILL FOREVER BE KNOWN AS FRANKEN POP!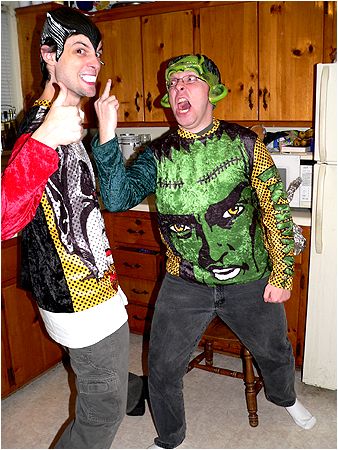 I THINK HE LIKES HIS NEW NAME, DON'T YOU? YES!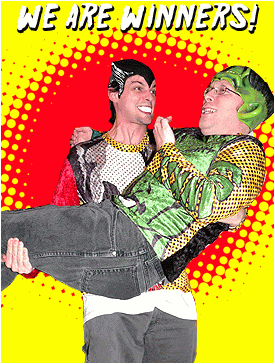 AND NOW LET US GO TO THE CHESTERFIELD BERRY FARM WHERE MANY HALLOWEEN ADVENTURES AWAIT US! ARE YOU READY TO HOP ABOARD THE COUNT POP EXPRESS THAT'S BOUND TO AMAZE AND IMPRESS? YES! YES! YES!
LET'S SKEEDADDLE!
CLICK HERE TO CONTINUE TO PAGE 2
OF THE COUNT POP STORY!
---
help support I-Mockery by supporting our sponsors:

---
Running a big site like I-Mockery takes a lot o' time and costs moola too.
Want to help show your support?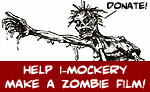 DONATE TO OUR ZOMBIE MOVIE!
Come talk about this piece & more on our Message Forums!
click here for more minimocks!

---


[Minimocks] [Articles] [Games] [Mockeries] [Shorts] [Comics] [Blog] [Info] [Forum] [Advertise] [Home]


Copyright © 1999-2007 I-Mockery.com : All Rights Reserved : ()
No portion of I-Mockery may be reprinted in any form without prior consent
We reserve the right to swallow your soul... and spit out the chewy parts.