...CONTINUED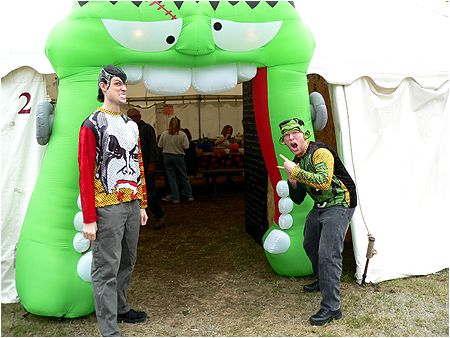 COUNT POP: THIS IS THE CHESTERFIELD BERRY FARM? I DO NOT SEE BERRIES! I DO NOT SEE FARMS! I JUST SEE A GIANT FRANKENMOUTH WANTING TO SWALLOW US WHOLE BECAUSE LET'S FACE IT, WE LOOK TASTY AND MAJESTIC!
FRANKEN POP: YES WE DO LOOK SCRUMDILLYUMPTIOUS, TO THE MAX! MAYBE THERE ARE BERRIES INSIDE THE MOUTH! I THINK I SEE SOME NUTS IN THERE TOO!
COUNT POP: DO NOT SAY THOSE THINGS ABOUT THE PARENTS! JUST BECAUSE THEY CHOSE TO GIVE BIRTH DOESN'T MAKE THEM NUTS! IT MAKES THEM CRAZY LIKE A FOX WHO ATE A LITTLE CAESAR'S CRAZY BREAD! BUT THAT'S OK BY ME, MORE FUTURE FANS OF COUNT POP!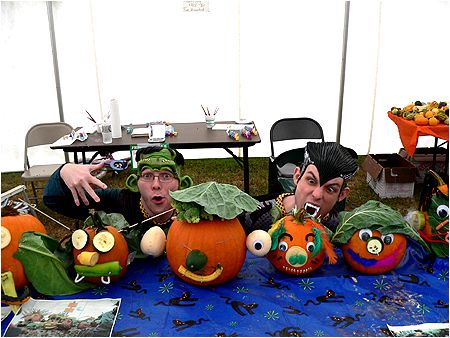 FRANKEN POP: YO, ALL MY PUMPKIN PEEPS BE REPRESENTIN' ON THE TABLE WITH LEAFS ON THEIR HEADS AND WHATNOT. AND THAT ONE GUY IS DOING THE BEAUTY SLEEPS BECAUSE HE HAS CUCUMBER EYE GOGGLES.
COUNT POP: MY PUMPKIN TASTED LIKE FEATHERS AND PLASTIC. :(
FRANKEN POP: EVERYONE KNOWS THAT PUMPKIN BLOOD IS MADE UP OF FEATHERS BECAUSE GOD DESIGNED THEM TO BE ANGEL SOLDIERS IN HIS ARMY OF LOVE!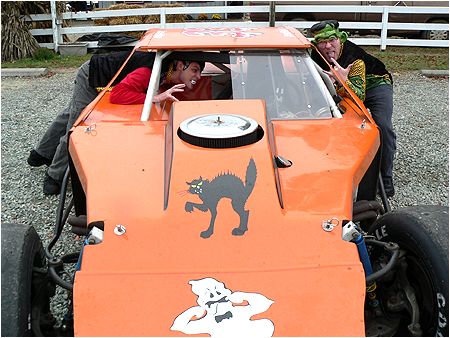 COUNT POP: HEY FOLKS! THIS IS THE POPMOBILE! WE SPED ON OVER TO THE FARM IN THIS THING! AT LEAST, IN A PERFECT WORLD, WHERE I WAS THE PRESIDENT OF THE UNITED STATES OF ROCKERICA, THIS WOULD BE MY CAR.
FRANKEN POP: YOU KNOW THAT THIS IS ACTUALLY THE POPEMOBILE REPAINTED, YOU CAN EVEN SEE WHERE THE GLASS DOME HE USED TO FOG UP WITH HIS OLD MAN GASSES WAS AND EVERYTHING... THE DECAL OF THE STRIKING COBRA ON THE HOOD IS GONE THOUGH...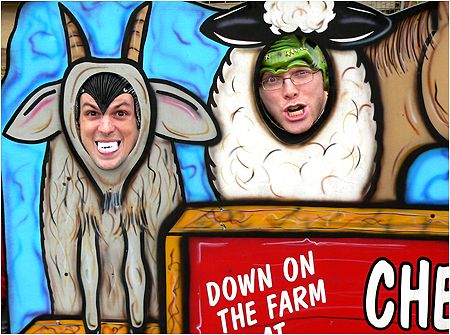 FRANKEN POP: HERE WE ARE REPRESENTIN' OUR SPIRIT TOTEMS. YOU DON'T MESS WITH THE WOLFPACK, HOMEBOY. EVER!
COUNT POP: LOOK AT ME I'M A BILLY GOAT! SCRATCH THAT! I'M A ROCKABILLY GOAT!
FRANKEN POP: YOU HAVE LITTLE GOAT LEGS LIKE AN ANGRY T-REX. I WOULD PAY QUARTERS TO SEE YOU FIGHT A ROCK 'EM SOCK 'EM ROBOT.
COUNT POP: I WOULD PAY QUARTERS TO HAVE A ROBOT FRIEND!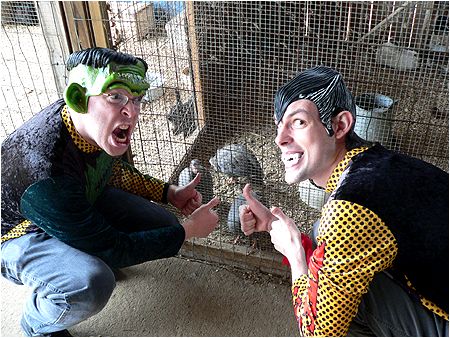 FRANKEN POP: YOU DONE A GOOD JOB, CHICKENTURKEY THINGS!
COUNT POP: THEY SURE HAVE! THEY EAT LOTS OF CORN AND SOMEHOW TURN IT INTO A SMELL THAT SMELLS LIKE A FIERY HELL WHERE CORNS GO TO DIE.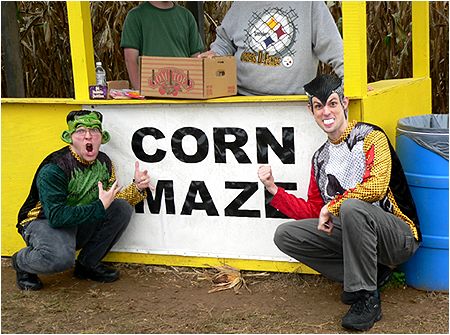 FRANKEN POP: I DON'T KNOW WHAT A CORN MAZE IS, BUT I DON'T THINK WE NEED TO HIRE A DETECTIVE TO FIND OUT WHEN THE TWO POPS ARE ON THE CASE!
COUNT POP: OH I THOUGHT IT SAID CORN MAIZE, WHICH WOULD BE KIND OF REDUNDANT! READING OPENS UP A WORLD FULL OF WONDER WHEN YOU'RE A POP!
FRANKEN POP: READING IS FOR SISSIES AND STUPIDHEADS!
COUNT POP: NO WAY! JUST BECAUSE YOU DROPPED OUT OF SCHOOL DOESN'T MEAN IT ISN'T COOL! DISCOVER THE FEELING, LEARN TO READ!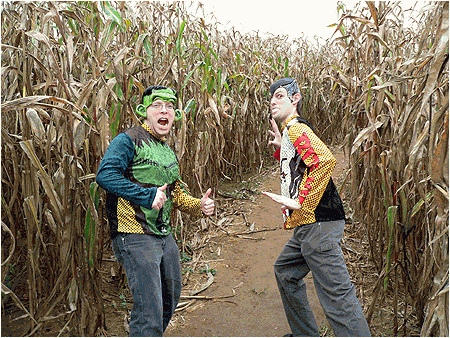 COUNT POP: LOOK AT ALL THIS CORN! IT'S LIKE WE'RE IN THAT MOVIE "THE LABYRINTH" ONLY DAVID BOWIE ISN'T SINGING "I SAW MY BABY, CRYIN' HARD AS BABE COULD CRY!" TO US.
FRANKEN POP: SPEAK FOR YOURSELF! DAVID BOWIE ALWAYS SINGS TO ME IN MY HEAD, USUALLY WHEN I AM TRYING TO GO TO SLEEP. BUT THIS IS ABOUT CORN! I HEAR THERE ARE A LOT OF CORN SITES ON THE INTERNET, SO THIS SHOULD BE A PRETTY EXCITING TRIP!
COUNT POP: DISCOVER THE FEELING, LEARN TO INTERNET!
FRANKEN POP: PEOPLE ON THE INTERNETS PAY ALL KINDS OF MONEY FOR DIGITAL CORN BUT HERE WE ARE IN THE WILDS OF NATURE EXPERIENCING THE REAL THING!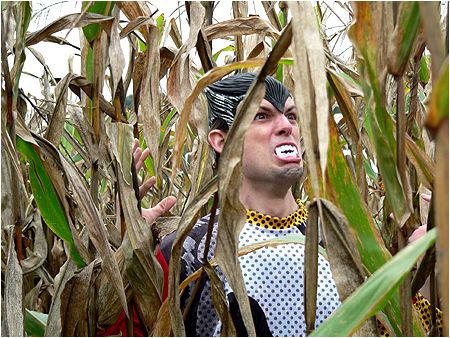 COUNT POP: WHAT IS THIS! THIS IS NOT THE LAND OF WONDERMENT AND HAPPY CORN PUPPETS THAT I EXPECTED! HOW WILL I EVER LISTEN TO ROCK 'N ROLL IN THIS PLACE! I DON'T EVEN SEE ANY GUITARS! NOT EVEN AIR GUITARS! EVEN JOURNEY HAD AIR GUITARS TO PLAY IN THEIR "SEPARATE WAYS" VIDEO! I DON'T EVEN HAVE ROOM TO PLAY AN AIR KAZOO IN THIS MADNESS!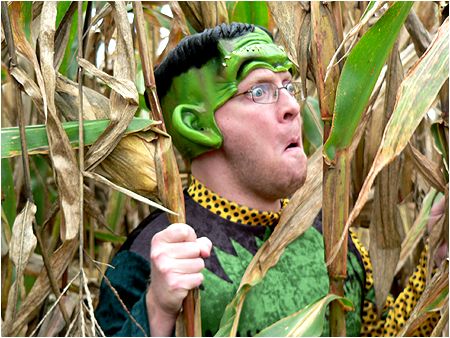 FRANKEN POP: TERROR! I AM AFRAID A MONKEY WILL COME OUT AND PEE ON MY LEG. I HAVE NIGHTMARES ABOUT THIS. AND WHAT IF THE MONKEY HAS A CHAINSAW?
FRANKEN POP: I DON'T KNOW WHY PEOPLE ON THE INTERNET PAY SO MUCH FOR THIS BECAUSE WE ARE LOST AND I THINK WE WILL DIE HERE IN THIS MAZE OF CORN. EVERY TIME WE TRY TO LEAVE IT SEEMS LIKE MORE CORN POPS UP IN OUR FACES! THERE IS NO ESCAPE!
COUNT POP: I THINK I HEARD THE GREAT CORNKIN! IT'S LIKE THAT GREAT PUMPKIN GUY FROM THE PEANUTS, BUT THE CORNKIN MAKES YOU EAT POPCORN UNTIL YOU TURN INTO AN EAR OF CORN. THAT'S WHAT ALL THESE EARS OF CORN ARE... HIS VICTIMS!
COUNT POP: EVERY TIME YOU OPEN UP AN EAR OF CORN, YOU SET FREE THE TRAPPED SOUL WITHIN IT! GROOVIN!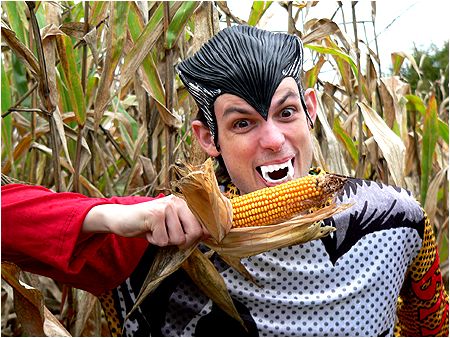 COUNT POP: AND NOW IT'S TIME TO EAT THE CORN SO THAT IT NEVER TRAPS ANYBODY AGAIN! WE HAVE A LOT OF SOULS TO SAVE AND CORN TO EAT! I HOPE I DON'T GET BUTTER AND SALT ON THE SOULS BECAUSE THAT'S WHAT I LIKE ON MY CORN!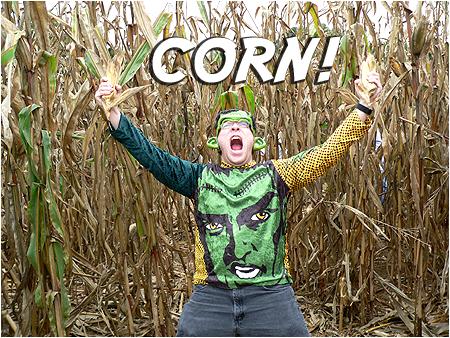 FRANKEN POP: NOW IT IS TIME TO PUT MY "WWCKD" BRACELET TO USE AND DO WHAT CAPTAIN KIRK WOULD DO IN A SITUATION LIKE THIS.
COUNT POP: FILM A PRICELINE.COM COMMERCIAL?
FRANKEN POP: I'M TALKING STAR TREK 2, WHEN HE STILL HAD CREDIBILITY AS AN ACTOR.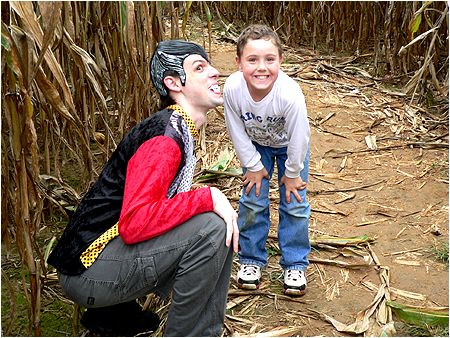 COUNT POP: HERE'S A FRISKY YOUNG BOPPER! SORRY LIL' GUY! I DON'T HAVE A SODA POP FOUNTAIN HANDY, OTHERWISE I'D MAKE YOU A ROOTBEER FLOAT! SAY, IF YOU EVER FIGURE OUT HOW TO GET OUT OF HERE, BE SURE TO LET US KNOW! OR MAYBE YOU'RE A GHOST AND YOU CAN JUST FLOAT THROUGH THE CORN! AND WHAT IF I WAS ABLE TO MAKE A ROOTBEER FLOAT FOR YOU! I'D BE GIVING A FLOAT TO A GHOST THAT COULD FLOAT! IF WE HAD ANY MORE FLOATS AROUND HERE WE'D HAVE A BONA FIDE HALLOWEEN PARADE!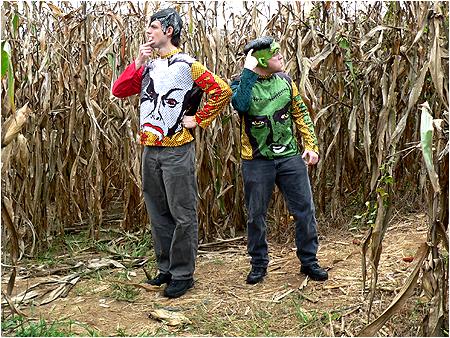 FRANKEN POP: I DON'T RECALL COMING FROM EITHER DIRECTION. DIDN'T WE GET AIR DROPPED IN? THE DAYS HAVE ALL STARTED TO BLUR TOGETHER. I AM CONFUSED AND AM READY TO EAT HUMAN FLESH TO SURVIVE.
COUNT POP: WAIT, YOU WERE JUST TALKING STAR TREK STUFF, WOULDN'T THAT MEAN WE WERE BEAMED DOWN?
FRANKEN POP: I AM TALKING ABOUT REAL LIFE, NOT YOUR STUPID SPACE FAIRIES. THIS IS SERIOUS!
COUNT POP: SERIOUS IS A DISH BEST SERVED NEVER!
CLICK HERE TO CONTINUE TO PAGE 3
OF THE COUNT POP STORY!
---
SUGGEST THIS PIECE TO A FRIEND!
---
help support I-Mockery by supporting our sponsors:

---
Running a big site like I-Mockery takes a lot o' time and costs moola too.
Want to help show your support?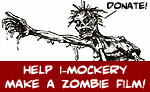 DONATE TO OUR ZOMBIE MOVIE!
Come talk about this piece & more on our Message Forums!
click here for more minimocks!

---


[Minimocks] [Articles] [Games] [Mockeries] [Shorts] [Comics] [Blog] [Info] [Forum] [Advertise] [Home]


Copyright © 1999-2007 I-Mockery.com : All Rights Reserved : ()
No portion of I-Mockery may be reprinted in any form without prior consent
We reserve the right to swallow your soul... and spit out the chewy parts.