...CONTINUED
COUNT POP: THIS IS SKELEE MCNELLEE, HE'S ONE OF THE MAIN BOPPERS HERE IN THE PIRATES COVE! WE ARE GREAT FRIENDS THAT LOVE TO BOOGIE DOWN UNTIL THE BATS COME HOME! AND WHEN THEY DO COME HOME, WE INVITE THEM IN FOR HOT CIDER AND POPCORN BALLS! IT'S THE BEST OF TIMES IN THIS MAGICAL LAND!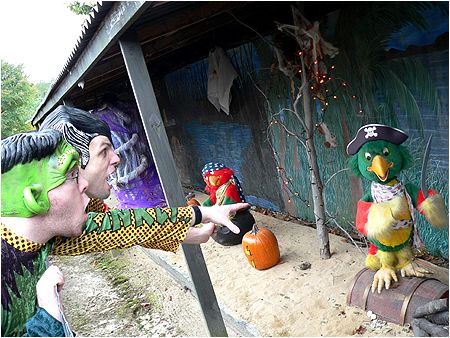 FRANKEN POP: LOOK! A PIRATE BIRD! I WONDER IF HE HAS A LITTLE MIDGET PERSON TO COME AND SIT ON HIS SHOULDER AND EAT CRACKERS AND TALK!
COUNT POP: I'LL SIT ON HIS SHOULDER IF HE FEEDS ME SUNFLOWER SEEDS WHENEVER I SAY THINGS RIGHT!
COUNT POP: WHAT DOES IT WANT!? WHAT DOES IT WANT! IS IT ANGRY BECAUSE I MADE FIRES AT SUMMER CAMP WITH WOOD FROM TREES?
FRANKEN POP: I HAVE NEVER SEEN SUCH COLD RAGE IN THE EYES OF MAN OR BEAST! LET US GO BEFORE HUGS US TO DEATH WITH HIS CRUSHING SIX-ARMED EMBRACE!
COUNT POP: WAIT! MAYBE IT JUST WANTS TO BE FED SOME MIRACLE GROW! AND WHO BUILT THAT ROOF ON TOP OF IT? DON'T THEY REALIZE WHEN IT GROWS TALL THEIR ROOF WILL BE DESTROYED? I WOULD HATE TO SEE SUCH AMAZING CRAFTSMANSHIP GET DESTROYED!
FRANKEN POP: IT IS A MUPPET'S ANGRY STEPDAD. I DON'T LIKE HIM BECAUSE HE GROUNDS THE MUPPETS AND WON'T LET THEM COME OUT FOR TEA PARTIES WHICH I TAKE ALL THE TIME TO PREPARE FOR.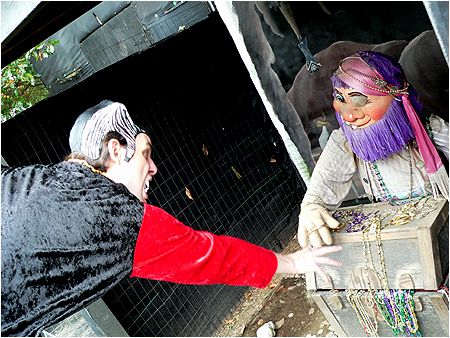 COUNT POP: DON'T BE A LAME-O-SQUARE MISTER PIRATE! SHARE THE WEALTH AND YOU'LL BE LIKE COUNT POP! YOU'LL BE OUT-OF-SIGHT!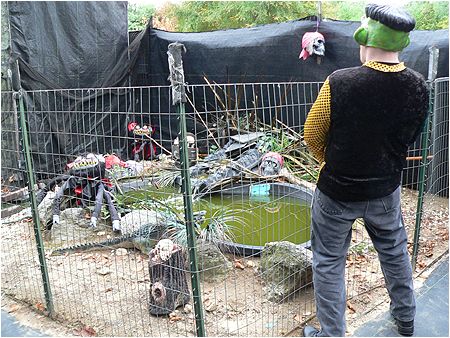 FRANKEN POP: GOING THROUGH CORN WHOLE MAZES AND PLUNDERING PIRATES' BOOTY IS HARD WORK FOR A POP TO DO. TIME FOR A BATHROOM BREAK!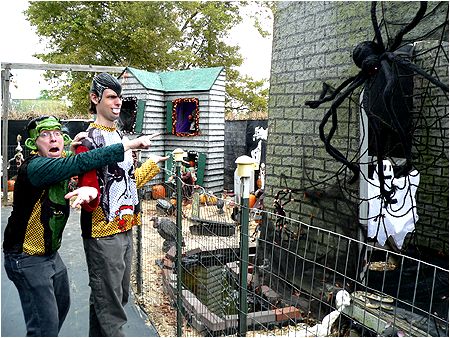 COUNT POP: WHAT'S THE BIG DEAL DADDIO? IT'S JUST A SPIDER WEAVING A WEB OF ROCKABILLY GOODNESS!
FRANKEN POP: LOOK AT ALL THE MOSS ON THAT WALL! THEY DON'T MAINTAIN THEIR CASTLE AT ALL! THAT'S A SURE FIRE WAY TO END UP HOMELESS! WAIT... THERE'S A SPIDER?
COUNT POP: THAT WALL MESS LOOKS LIKE A JOB FOR THE SCRUBBING BUBBLES! THEY'LL GET ANY TILES CLEAN AND LOOK HUNKY-DORY WHILE THEY DO IT!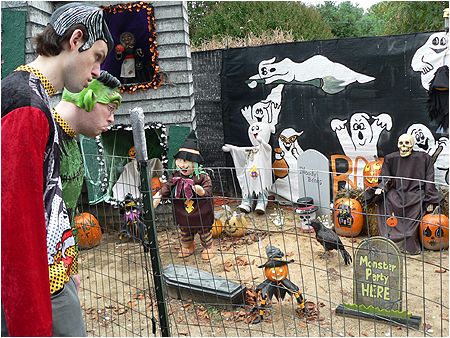 COUNT POP: THEY SHOULDN'T HAVE SAD THINGS LIKE THIS IN A PIRATES COVE.
FRANKEN POP: IT IS TIME TO POUR OUT A FORTY FOR ALL OUR PAPER GHOST HOMIES.
COUNT POP: JUST LIKE IN THAT BOYZ 2 MEN VIDEO. "IT'S SO HAAAAAAAAAAARD SO SAY GOODBYEEEEEE TO YESTERDAAAAAAAAAAAAAAY..."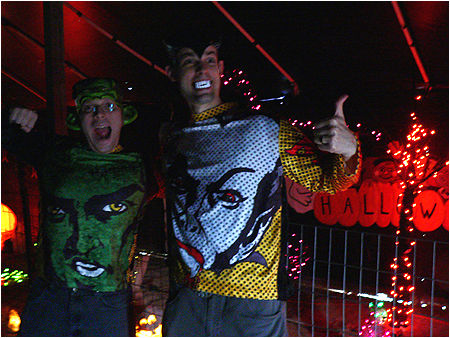 COUNT POP: NOW THIS IS MORE LIKE IT! LET'S GET THE HALLO-BOOGIE BEAT THUMPIN SO THE GHOULIES IN THE HOUSE CAN START JUMPIN! IT'S A RADTASTIC GROOVIN TIME!
FRANKEN POP: I JUST HOPE THERE ARE SOME FINE LADY GHOULIES OUT THERE BECAUSE IF THIS IS LIKE THAT BREAKFAST PARTY YOU HAD WHERE NO LADIES SHOWED UP AND WE HAD TO EAT ALL THAT EXTRA SAUSAGE OURSELVES, I WILL BE SORELY DISAPPOINTED.
COUNT POP: AND ALL THAT CORN!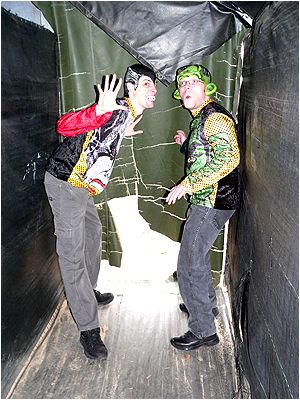 FRANKEN POP: A LIGHT AT THE END OF THE TUNNEL? IS THIS THE GATEWAY TO HEAVEN?
COUNT POP: GO INTO THE LIGHT CAROL-POP!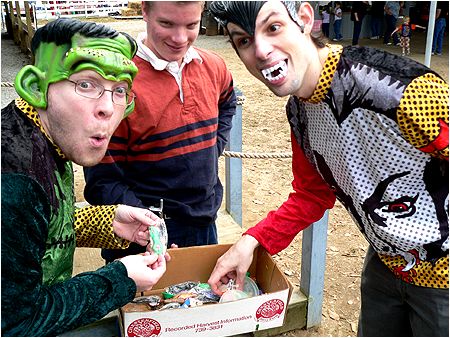 FRANKEN POP: IT IS HEAVEN! THEY'RE GIVING OUT PRIZES FOR THE LUCKY FEW WHO SURVIVE THE TERRORS OF THE PIRATES' COVE!
COUNT POP: IT WASN'T FILLED WITH TERRORS! I GOT TO DANCE AND HANG WITH MY JIVIN' SKELEE MCNELLEE PAL AND THAT SPELLS OUT ONE HECK OF A ROCKTACULAR TIME IN THE BIG BOOK OF HALLOWEEN HIGH JINKS!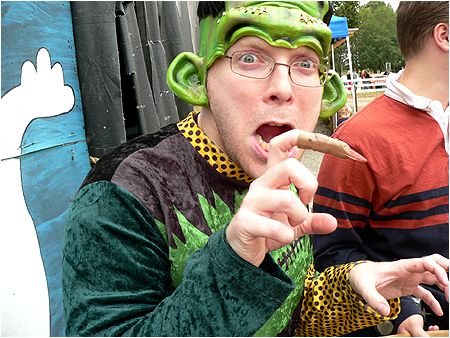 FRANKEN POP: I WILL TAKE PRIZE OF PROSTHETIC FINGER CLAW, IN THE EVENT I LOSE MY FINGER IN HORRIBLE INDUSTRIAL ACCIDENT. YOU CAN NEVER HAVE TOO MANY EXTRA BODY PARTS LAYING AROUND, JUST IN CASE!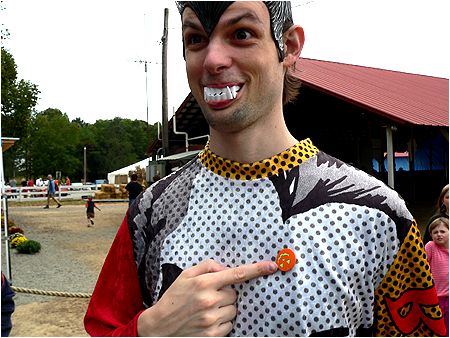 COUNT POP: I GOT A PUMPKIN PIN! REMEMBER KIDS, ALWAYS USE SAFETY WHEN PUTTING ON A PIN, THEY CAN STICK YOU AND IF THAT HAPPENS AND YOU DON'T HAVE BACTINE HANDY, YOU MIGHT NEED A TETANUS SHOT!
AND HEY! TURN THAT FROWN UPSIDE-DOWN PUMPKIN PIN! WE'RE GOING ON A HAYRIDE TO LOOK AT THE PUMPKIN PATCHES!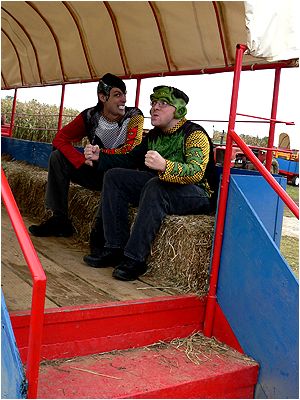 FRANKEN POP: I AM READY TO FEEL THE G-FORCES OF THE HAY WAGON! LET'S DO A BARREL ROLL AND SHOOT DOWN SOME MIGS!
COUNT POP: IT'S A GOOD THING THAT THEY HAVE TRACTORS PULLING US INSTEAD OF HORSES BECAUSE THE HORSES WOULD EAT ALL THE HAY AND WE WOULDN'T HAVE ANY HAY TO RIDE ON AND THEN WE WOULD HAVE TO SUE THEM FOR FALSE ADVERTISING!
FRANKEN POP: THEY WOULD COME INSIDE AND EAT OUR SEATS AND THEN OUR BUTTOCKS WOULD BE BOUNCING ON THE HARD WOOD THE WHOLE WAY. :(
COUNT POP: LOOK AT IT OUT THERE! IT'S LIKE A GREAT BIG WORLD OF PUMPKINS! PUMPKINS THAT NEED A HOME. CAN WE ADOPT A PUMPKIN? THE ONE I ADOPTED LAST YEAR DIED, BUT I AM A GOOD PARENT! I PLAYED IT CHUBBY CHECKER'S "THE TWIST" 25 TIMES A DAY!
FRANKEN POP: YOU HAVE TO JUMP THROUGH SOME SERIOUS LEGAL HOOPS TO GET APPROVED FOR PUMPKIN ADOPTION, AND SOME OF THEM ARE EVEN ON FIRE! YOU MUST BE QUITE A PUMPKIN DADDY-O INDEED!
COUNT POP: BUT I'VE GOT ALL THE HEPCATS ACROSS THE NATION CLAMORING FOR SOME MORE OF THE COUNT POP SALVATION! I'LL JUMP THROUGH ANY LEGAL HOOPS AND USE THEM AS HULA-HOOPS AND BEFORE THEY KNOW IT, THOSE LITTLE ORANGE GROOVEMASTERS WILL BE SINGING A NEW ROCKABILLY TUNE!
CLICK HERE TO CONTINUE TO PAGE 5
OF THE COUNT POP STORY!
---
SUGGEST THIS PIECE TO A FRIEND!
---
help support I-Mockery by supporting our sponsors:

---
Running a big site like I-Mockery takes a lot o' time and costs moola too.
Want to help show your support?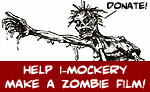 DONATE TO OUR ZOMBIE MOVIE!
Come talk about this piece & more on our Message Forums!
click here for more minimocks!

---


[Minimocks] [Articles] [Games] [Mockeries] [Shorts] [Comics] [Blog] [Info] [Forum] [Advertise] [Home]


Copyright © 1999-2007 I-Mockery.com : All Rights Reserved : ()
No portion of I-Mockery may be reprinted in any form without prior consent
We reserve the right to swallow your soul... and spit out the chewy parts.