People were worried that Count Pop might not make a return this year. Since his story from last year, Count Pop has become an international superstar: topping the album charts without even releasing a record, winning the Oscar without appearing in a movie, and becoming President of the World without even being elected. With such fame and fortune, it's amazing to think that he still takes time out of his busy schedule to entertain the readers of I-Mockery come Halloween every year. Today, Count Pop invites us to tag along with him for an adventure filled with action and romance!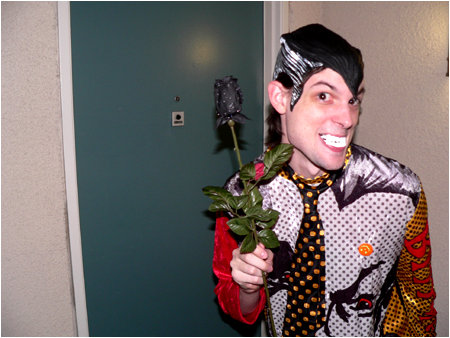 HEY HEY HEY THERE DADDIOS! IT'S YOUR SUPER ROCKABILLY PAL, COUNT POP, HERE TO TAKE YOU FOR A RIDE ON THE WILD SIDE! TODAY I AM GOING ON A BLIND DATE! WHY THEY CALL THEM BLIND DATES I DO NOT KNOW BECAUSE I AM NOT BLIND AND SHE HAD BETTER NOT BE. IF SHE IS, THAT WILL BE TOO BAD FOR HER, BECAUSE I AM QUITE THE LOOKER IF I DO SAY SO MYSELF! BUNS OF STEEL! I AM ALSO REALLY SMOOTH WITH THE LADIES SO I GOT HER A SPOOKY BLACK ROSE! WHEN SHE SEES IT, SHE WILL BECOME FRIGHTENED AND ASK ME TO HOLD HER AND PROTECT HER FROM ITS SPOOKINESS! MAYBE I CAN SING "EVERY ROSE HAS ITS THORN" TO HELP SET THE MOOD. AND THAT'S HOW YOU SCORE BIG POINTS WITH THE LADIES, FELLAS!
*KNOCK* *KNOCK*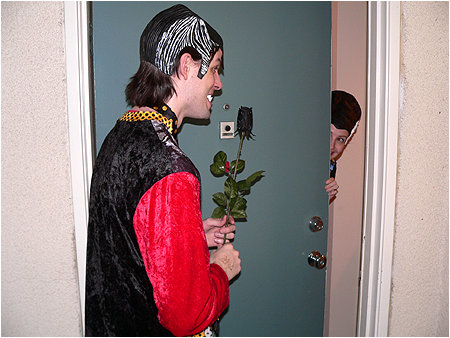 COUNT POP: HELLO PRETTY LADY! MY NAME IS COUNT, COUNT POP AND I'M YOUR DENSITY! I MEAN, I'M YOUR DESTINY! HAHAHA DON'T YOU JUST LOVE "BACK TO THE FUTURE"? SO HEY, I BROUGHT YOU THIS BLACK ROSE!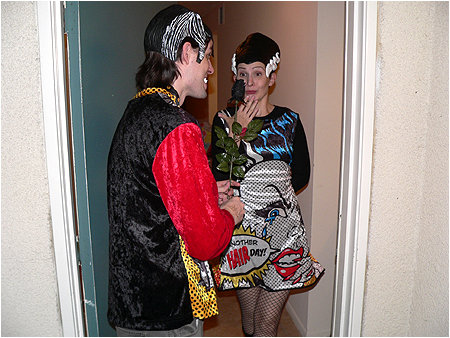 POP BRIDE: OOOOOO! *MUNCH* *MUNCH* *MUNCH*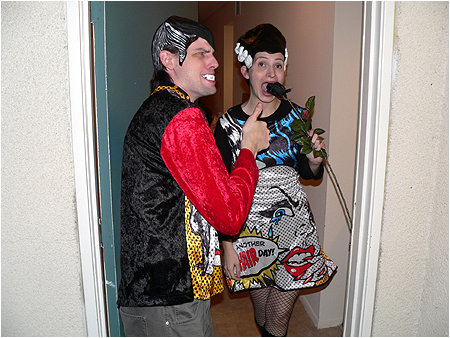 COUNT POP: WELL, SINCE YOU ATE THE ROSE I GUESS THIS MEANS I DON'T HAVE TO SPRING FOR A BOX OF CHOCOLATES LATER ON. AND COUNT POP'S LOYAL FANBASE KNOWS THAT HE'S ALL ABOUT TWO THINGS: CHICKEN FAJITAS AND SAVING MONEY! ANYWAY, I HAVE A WONDERFUL DATE OF WONDROUS WONDERMENT AND MAGIC PLANNED FOR US! ARE YOU READY TO GO?
*MINUTES LATER, AFTER A RECKLESS
5000MPH SPEED-DEMON DRIVE IN
COUNT POP'S "POP-MOBILE",
THEY ARRIVE AT VENICE BEACH*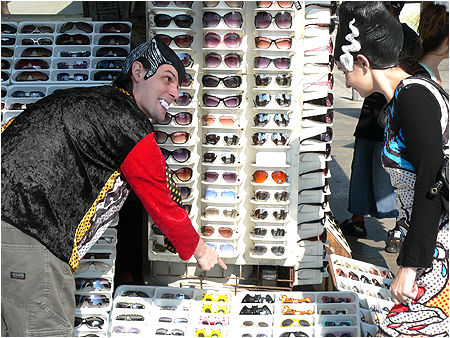 COUNT POP: NOW BEFORE WE GO HAVE FUN IN THE SUN WITH EVERYONE WHO DOESN'T HAVE A GUN, IT'S IMPORTANT THAT WE PROTECT OUR EYES. AS YOU KNOW, OUR EYES ARE OUR WINDOWS TO THE WORLD AND IF YOU DON'T TAKE CARE OF THEM, THEY'LL SHATTER JUST LIKE REAL GLASS WINDOWS. I'VE SEEN THE SUN DO THIS TO THE EYEBALLS OF SOME VERY CLOSE FRIENDS OF MINE AND IT WASN'T A PRETTY SIGHT. SO WHAT DO YA THINK ABOUT THIS PAIR? I THINK THEY'D LOOK LIKE THE BEES KNEES ON YOUR PRETTY MUG!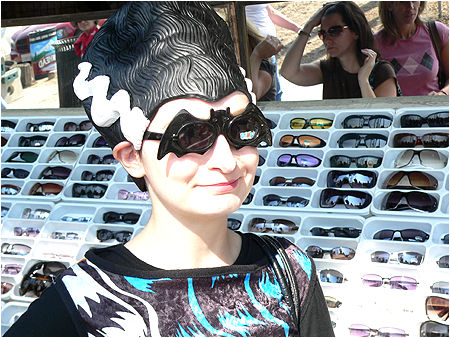 COUNT POP: YES! YES INDEEDY! WE HAVE A WINNER!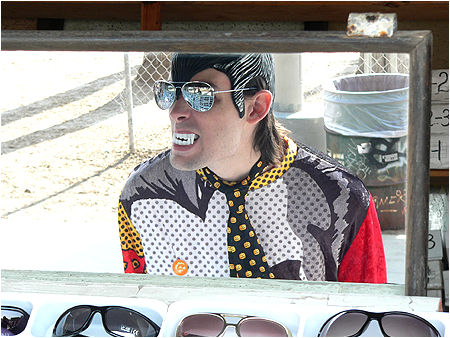 COUNT POP: SAAAAY! I LOOK LIKE A MOVIE STAR WITH THESE ON! OR AT LEAST I LOOK LIKE ONE OF THE COPS FROM THAT "CHIPS" TV SHOW. ALL I NEED IS A POLICE UNIFORM AND A MOTORCYCLE AND THE LADIES WILL GLADLY HAVE ME PUT THEM "UNDER HOUSE ARREST" IF YOU KNOW WHAT I MEAN! PLUS, WITH THESE MIRRORED GLASSES, ALL THE LADIES CAN FIX THEIR MAKE-UP WHILE I STARE AT THEM. IT'S A WIN-WIN SITUATION!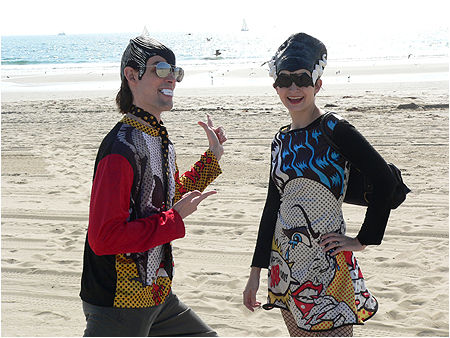 COUNT POP: I TOLD YOU THIS WAS GONNA BE A GREAT DAY, MY BONA-FIDE BEACH BRIDE BABE! THE SUN IS SHINING, THE SAND IS SANDING, THE WATER IS WET, AND WE'RE HERE FOR ACTION, FUN AND ROMANCE!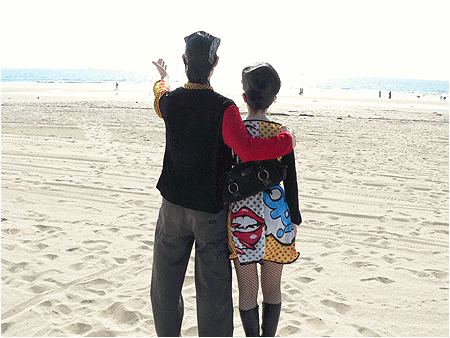 COUNT POP: CAN YOU SMELL IT? THAT'S THE SMELL OF THE OCEAN! WHO WOULD'VE THOUGHT THAT WHALES COULD PRODUCE SUCH A PIQUANT STINK? THEN AGAIN, MAYBE THAT'S JUST THE COLOGNE I PUT ON TO WOO YOU WITH! DON'T WORRY, I'M SURE YOUR KNEES ARE GETTING WEAK FROM THIS EXPERIENCE, SO I'LL HOLD ONTO YOU REAL CLOSE JUST LIKE THE BIG BOPPER WOULD!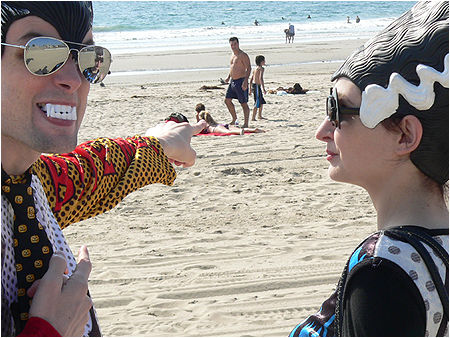 COUNT POP: HA HA! BEACH-GOERS ARE SO WEIRD! LOOK AT THAT ONE! SHE HAS HER BUTTOCKS SHINING IN THE SUN FOR ALL THE CHILDREN TO SEE! AND HERE I THOUGHT THAT SHINY BUTTOCKS WERE ONLY USED AS THE MATING CALL OF WILD MONKEYS AND GORILLAS!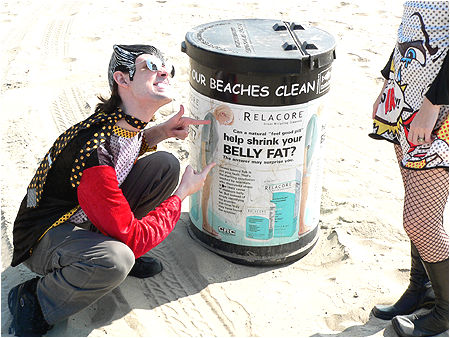 COUNT POP: HEY LOOK! APPARENTLY YOU CAN DISPOSE OF YOUR BELLY FAT IN THIS HANDY TRASH CAN! I'M SURE YOU'VE BEEN WANTING TO GET RID OF SOME OF THAT BELLY FAT, WOULD YOU CARE TO MAKE A DEPOSIT?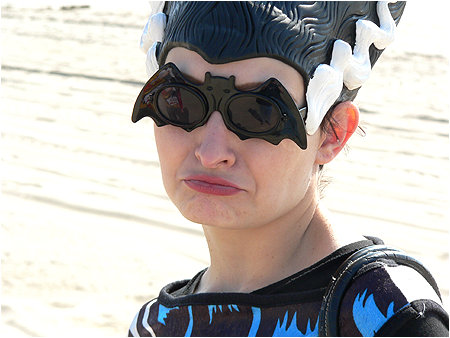 COUNT POP: AWWW... WHY SO GLUM, CHUM? YOU KNOW YOUR POPTACULAR PAL IS ONLY KIDDING! IF YOU READ ABOUT ME ON ONE OF THE THOUSANDS OF COUNT POP INTERNET FAN SITES, YOU'D KNOW I REFUSE TO DATE WOMEN WHO WEIGH MORE THAN 40 POUNDS SIMPLY BECAUSE I DON'T WANT THEM EATING ALL OF MY HALLOWEEN CANDY! I FIGURE THE SKINNY ONES DON'T HAVE THE STRENGTH TO LIFT THE CANDIES TO THEIR MOUTHS... OR FEND OFF MY PASSIONATE ADVANCES FOR THAT MATTER! CRAZY WOW!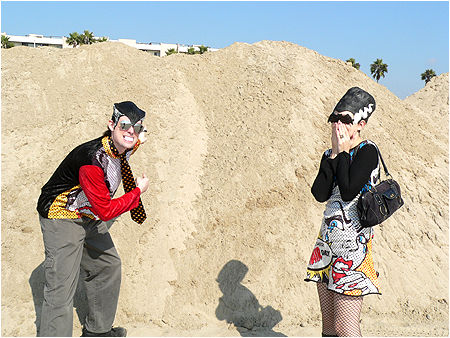 COUNT POP: LOOOOOOOK! IT'S A NATURAL SAND-SLIDE! THESE HAVE BEEN AROUND SINCE LONG BEFORE THE DINOSAURS WERE ALIVE! AND WHEN THE DINOSAURS WERE STILL HOPPIN' AND A BOPPIN', THEY TOO WOULD GO FOR A RIDE DOWN THESE SAND SLIDES FOR THE BEST OF TIMES! WHAT SAY WE GIVE IT A SHOT!? OH YEAH, YOU'RE WEARING A SKIRT, NO PROBLEM! YOU CAN CATCH ME INSTEAD! HERE I COME!
COUNT POP: WOOOOOOOOO! SLIDING INTO THE ARMS OF A LOVED ONE FROM ATOP A SANDY MOUNTAIN IS PRETTY MUCH THE BEST THING EVER! EVEN BETTER THAN ROCKIN' AN ELECTRIC EEL INTO SUBMISSION WITH MY ELECTRIC GUITAR AND A TUNE ABOUT THE GOOD OL' DAYS!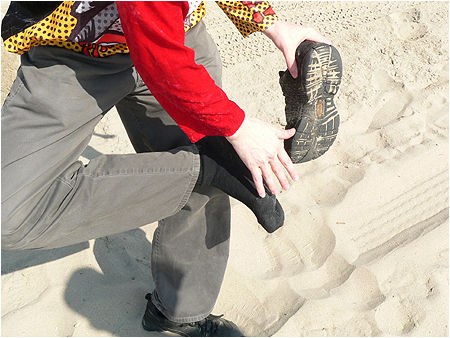 COUNT POP: OH SAND! WHY MUST YOU ALWAYS TRY TO HITCHHIKE A RIDE WITH ME FROM INSIDE MY SHOES AND UNDEROOS? STAY ON THE BEACH WHERE YOU BELONG, FOR IT IS A MUCH MORE EXCITING AND FAR LESS STINKY PLACE TO BE!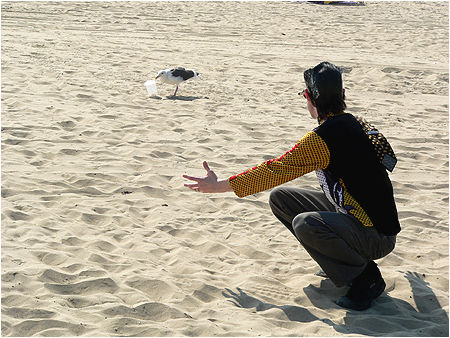 COUNT POP: LOOK AT THE BIRDS ON VENICE BEACH! THEY HAVE EVOLVED AND LEARNED HOW TO USE DINNERWARE FOR THEIR MEALS! HELLO PRETTY BIRD! WHERE DID YOU GET THAT CUP FILLED WITH WATER? DO YOU OWN SOME OF MY GREATEST HITS ALBUMS TOO?
CLICK HERE TO CONTINUE TO PAGE 2
OF THE COUNT POP STORY!
---
help support I-Mockery by supporting our sponsors:

---
Running a big site like I-Mockery takes a lot o' time and costs moola too.
Want to help show your support?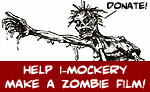 DONATE TO OUR ZOMBIE MOVIE!
Come talk about this piece & more on our Message Forums!
click here for more minimocks!

---


[Minimocks] [Articles] [Games] [Mockeries] [Shorts] [Comics] [Blog] [Info] [Forum] [Advertise] [Home]


Copyright © 1999-2007 I-Mockery.com : All Rights Reserved : ()
No portion of I-Mockery may be reprinted in any form without prior consent
We reserve the right to swallow your soul... and spit out the chewy parts.