...CONTINUED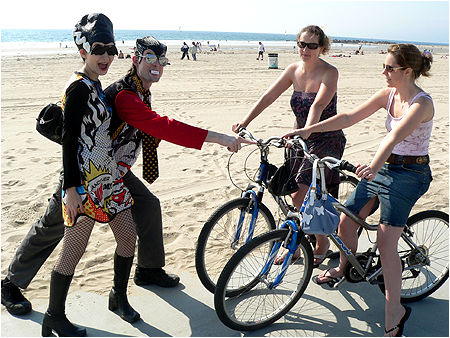 COUNT POP: OOOO! LOOK! THESE LADIES WITH THE FOREIGN ACCENTS HAVE BIKES TO RIDE ON! DEAREST FOREIGN LADIES WITH THE FOREIGN ACCENTS FROM A FOREIGN LAND, WHERE OH WHERE DID YOU GET THESE BIKES TO TRANSPORT YOUR FOREIGN SELVES ON? I HOPE THEY'RE FROM A LOCAL PLACE AND NOT YOUR FOREIGN HOME COUNTRIES!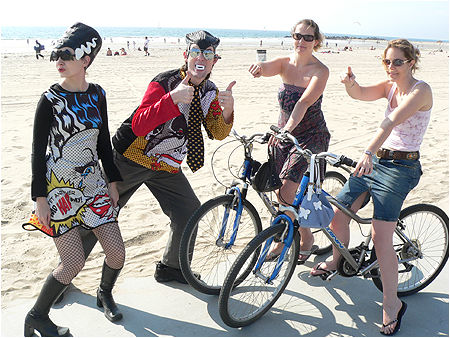 FOREIGN LADIES (translated): "WAFFLES AND BEER STEINS CAN BE FOUND OVER THAT WAY! BE SURE TO FROLIC IN THE FJORDS AND BUY A SOUVENIR EIFFEL TOWER WHILE YOU TAKE A TOUR ON THE ZEPPELIN BLIMP AND YOU ENJOY THE SCENIC VIEWS OF THE ICELANDIC LANDSCAPES!"
COUNT POP: I HAVE NO IDEA WHAT YOU FOREIGN LADIES REALLY JUST SAID BUT I AM QUITE SURE THAT YOUR FINGERS ARE POINTING US TO A NEARBY LAND FILLED WITH MANY BICYCLE-RENTAL JOYS!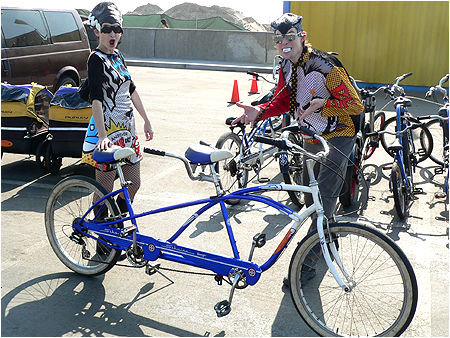 COUNT POP: A BIKE FOR TWO! OUR DREAMS COULD NOT BECOME MORE AWESOMELY TRUE! WELL MAYBE IF WE COULD WEAR JET-PACKS WHILE RIDING THE BIKE, BUT I THINK THE EXHAUST FUMES WOULD BURN YOU TO A CRISP AND THAT WOULD DEFINITELY BE LIKE FEEDING OUR DATE A WOEFUL KNUCKLE SANDWICH!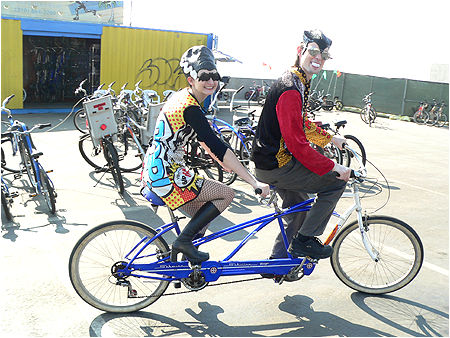 COUNT POP: IT'S TOO BAD THAT THESE BIKES DON'T COME EQUIPPED WITH A RADIO THAT PLAYS THE DOUBLE-MINT GUM THEME SONG WHILE YOU PEDDLE, BECAUSE IT WAS ALWAYS PEOPLE IN THOSE GUM COMMERCIALS WHO HAD THE BEST OF TIMES ON THESE DOUBLE BIKES! CHEWING GUM AND RIDING DOUBLE BIKES IS THE ROCKABILLY WAY OF LIFE!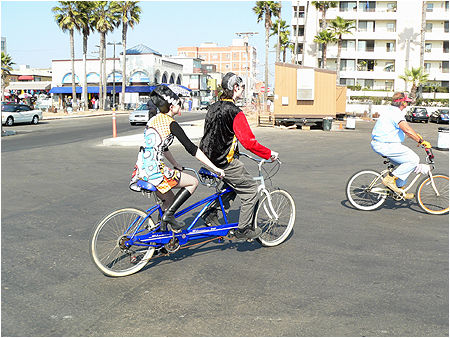 COUNT POP: HELLO MISTER BABY BLUE JOGGING SUIT! MIND IF WE TAG ALONG WITH YOU FOR A RIDE? EVEN THOUGH YOU DON'T HAVE A GREAT DOUBLE BIKE LIKE US, WE WILL STILL BE YOUR FRIENDS 'TIL THE END!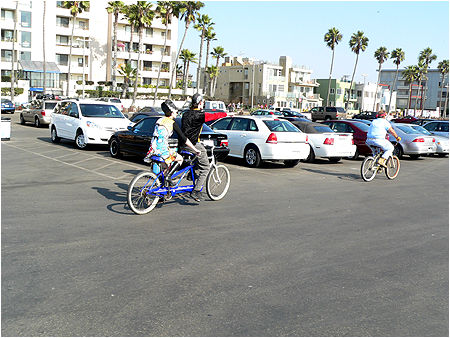 COUNT POP: HEY! WHERE ARE YOU GOING! OH I GET IT, YOU ARE ONE OF THOSE SPEED RACER GUYS! WELL IF I DIDN'T HAVE A LADY PRESENT, I WOULD LAY A PATCH AND SPEED ON PAST YOU, BUT I MUST KEEP HER SAFE BECAUSE SHE HAS A BEAUTIFUL HAIRDO AND THE HIGH VELOCITIES OF MY POWER PEDDLING WOULD MOST DEFINITELY RUIN IT AND MAKE HER ONE SAD HEPCAT! YOU WIN THIS TIME MISTER BLUE JOGGING SUIT LANCE ARMSTRONG! WE SHALL MEET AGAIN! RIGHT ON!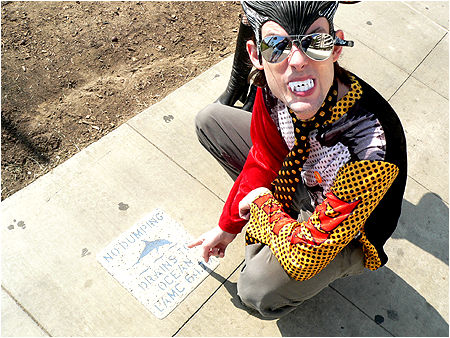 COUNT POP: REMEMBER KIDS! SMOKEY THE BEAR SAYS ONLY YOU CAN PREVENT FOREST FIRES, BUT POLLUTEY THE DOLPHIN SAYS ONLY YOU CAN PREVENT SEA SLUDGE! NO DUMPING IN THE OCEAN UNLESS YOU HAVE A JUMBO SIZED CAN OF TETRA FISH FOOD FLAKES THAT YOU WANT TO GET RID OF! THEN IT'S AOK BY ME!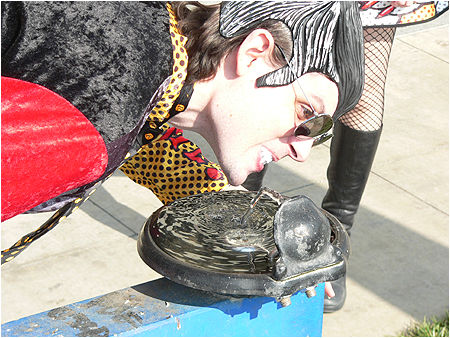 COUNT POP: WE'LL GO SHOPPING IN JUST ONE MOMENT MY LOVE! BUT FIRST I MUST PARTAKE IN SOME WATER - THE SOOTHING NECTAR OF NATURE! SURE, IT'S BEING PUMPED THROUGH RUSTY PIPES THAT ARE MOST LIKELY CARRYING ALL SORTS OF DISEASES AND IT'S WARMER THAN THE SAND BENEATH OUR FEET... BUT SOMEHOW IT STILL REALLY HITS THE SPOT!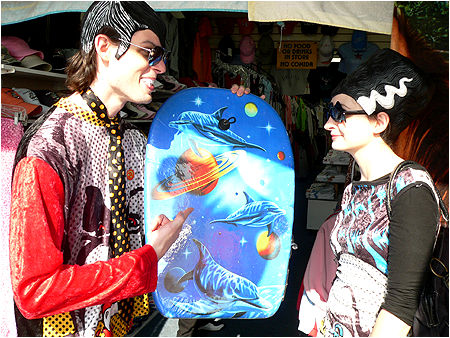 COUNT POP: KNOCK. KNOCK.
POP BRIDE: WHO'S THERE?
COUNT POP: BOOGIE BOARD!
POP BRIDE: BOOGIE BOARD WHO?
COUNT POP: INTERGALACTIC SPACE DOLPHINS BOOGIE BOARD! HAHAHAHAHAHAHAHAHAHAHAHAHAHAHA! I BET YOU DIDN'T KNOW DOLPHINS COULD SWIM THROUGH THE GALAXIES! IN SPACE, NO ONE CAN HEAR YOUR BLOWHOLE SPURT WATER.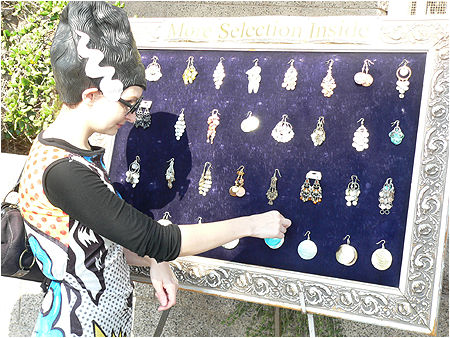 POP BRIDE: OOOOOOOOHHH! PRETTY EARRINGS! I THINK I'LL TRY ON A FEW PAIRS!
*WHAT FEELS LIKE 40 HOURS LATER*
(BUT IS REALLY LESS THAN 2 MINUTES)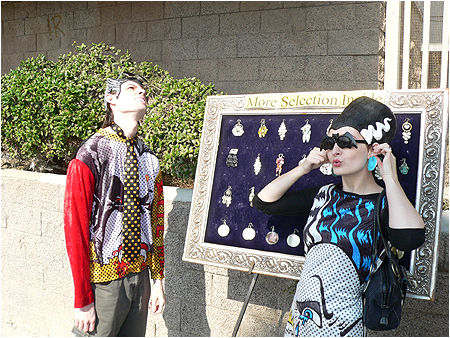 COUNT POP: OH COME ON! WE'VE BEEN HERE FOR LIKE A BAJILLION YEARS NOW! THIS IS MORE BORING THAN LISTENING TO MUSIC THAT DOESN'T JUMP, JIVE AND WAIL! LET'S GO LOOK AT THE FUN THINGS THAT PUT SMILES ON PEOPLE'S FACES, NOT THE THINGS THAT MAKE THEM GROW OLD AND KNIT SWEATERS FOR THEIR GRANDCHILDREN! HOP TO IT!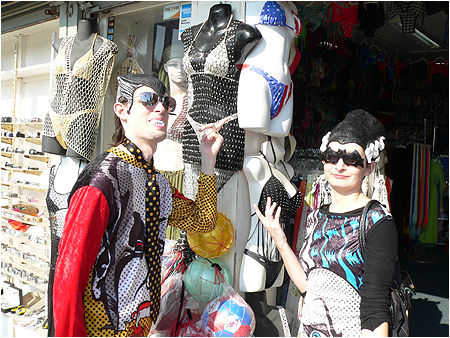 COUNT POP: HOLY GUACAMOLE! NOW THAT'S THE KINDA SHOPPING I'M TALKING ABOUT! WHAT SAY YOU TRY ON AN AMERICAN FLAG BIKINI AND CELEBRATE THIS COUNTRY'S FREEDOM TO BE HOPPIN' AND A BOPPIN' IN THE BUFF!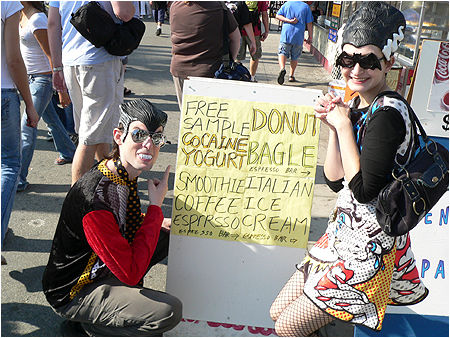 COUNT POP: THE PEOPLE ON VENICE BEACH LIKE THEIR HEALTHY FOODS! CORN DOGS, WHEATGRASS SHAKES, ICEE SLUSHY TREATS, AND COCAINE-FILLED YOGURT! I HEARD THAT THE COCAINE WILL SUPPOSEDLY HELP ME FIND MY THIRD EYE THAT ALL THE HEPCAT FORTUNE-TELLERS ON THE SIDEWALK ALWAYS TELL ME ABOUT! MAYBE I'LL TRY THAT LATER ON IF MY EYES GO BAD, BUT IF YOU ASK ME, MY VISION IS ALREADY OUT OF SIGHT!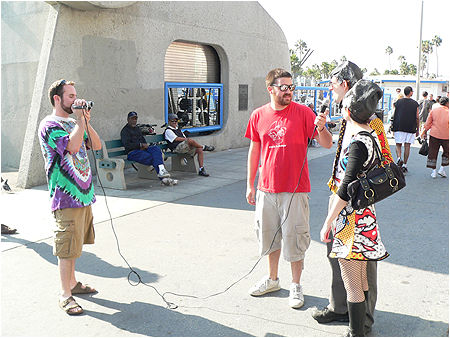 COUNT POP: NOW HERE'S A GREAT WAY FOR ALL YOU GUYS TO IMPRESS A DATE! WALK DOWN THE STREET AND HAVE THE TV STATIONS AND MEDIA HORDE YOU BECAUSE YOU'RE A FAMOUS SUPERSTAR AROUND THE WORLD! OF COURSE, YOU HAVE TO BECOME A FAMOUS SUPERSTAR AROUND THE WORLD FIRST, JUST LIKE COUNT POP, BUT AFTER THAT IT'S SMOOTH SAILING!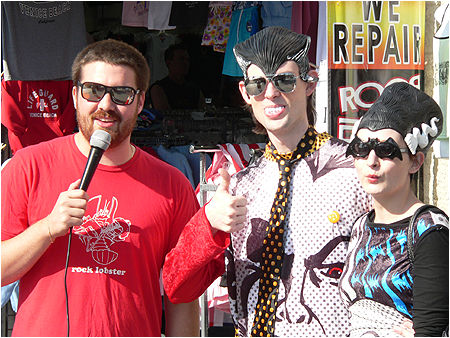 VERY REPUTABLE NEWS GUY: SO COUNT POP, HAVING CONQUERED THE WORLD OF ENTERTAINMENT, AND CLEARLY SCORING THE HOTTEST HAUNTED HALLOWEEN BABE ON THE PLANET, WHAT ARE YOUR PLANS FOR THE FUTURE?
COUNT POP: WELL KIP - I MEAN, I ASSUME YOUR NAME IS KIP SINCE MOST NEWS GUYS HAVE GREAT SPEEDY NAMES LIKE "KIP" AND "GORT" AND "REX" AND "BALTHAZAR" - I THINK I'M GONNA CONTINUE TO ROCK, ROCK AROUND THE CLOCK ALL NIGHT!
VERY REPUTABLE NEWS GUY: SOUNDS FANTASTIC! I'LL BE SURE TO JOIN YOUR FAN CLUB... TWICE!
COUNT POP: GREAT! I'LL EVEN WAIVE THE 2ND MONTHLY MEMBERSHIP FEE SO YOU'LL ONLY HAVE TO PAY THE $10,000 ONCE!
VERY REPUTABLE NEWS GUY: GOLLY! THAT SOUNDS REALLY SWELL! SO COUNT POP, CAN YOU HELP OUT OUR TV SHOW RATINGS BY DOING SOMETHING THE WORLD HAS NEVER SEEN BEFORE?
COUNT POP: SURE! HOW'S THIS?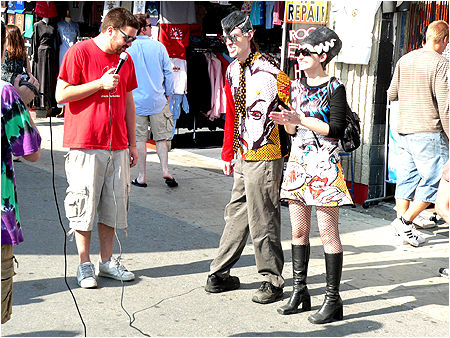 VERY REPUTABLE NEWS GUY: YOU TURNED YOUR FOOT ALL THE WAY AROUND! THAT'S THE MOST AMAZING THING I HAVE EVER SEEN! BURY ME NOW, FOR I HAVE SEEN ALL THAT LIFE HAS TO OFFER!
COUNT POP: HOORAY FOR LIFE! HOORAY FOR TWISTY LEG ACTION! HOORAY FOR JELL-O! IT'S HAPPY HUG TIME!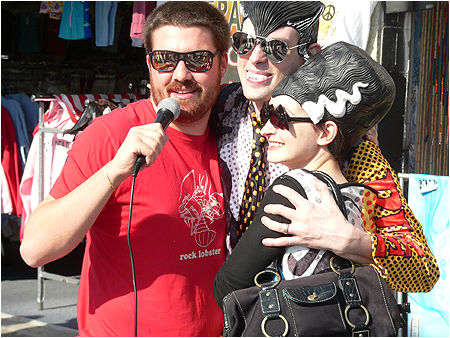 COUNT POP: OK THAT WAS A GREAT GROUP HUG! BE SURE TO TELL YOUR CAMERA GUY I SAID THANKS A LOT FOR WEARING A TIE-DYE SHIRT DURING THIS FILM SHOOT BECAUSE IT'S IMPORTANT TO DRESS LIKE A TRUE PROFESSIONAL SO PEOPLE TAKE YOU SERIOUSLY AS A REPUTABLE NEWS STATION! RIGHT? RIGHT ON!
CLICK HERE TO CONTINUE TO PAGE 3
OF THE COUNT POP STORY!
---
help support I-Mockery by supporting our sponsors:

---
Running a big site like I-Mockery takes a lot o' time and costs moola too.
Want to help show your support?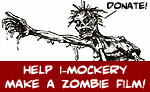 DONATE TO OUR ZOMBIE MOVIE!
Come talk about this piece & more on our Message Forums!
click here for more minimocks!

---


[Minimocks] [Articles] [Games] [Mockeries] [Shorts] [Comics] [Blog] [Info] [Forum] [Advertise] [Home]


Copyright © 1999-2007 I-Mockery.com : All Rights Reserved : ()
No portion of I-Mockery may be reprinted in any form without prior consent
We reserve the right to swallow your soul... and spit out the chewy parts.