...CONTINUED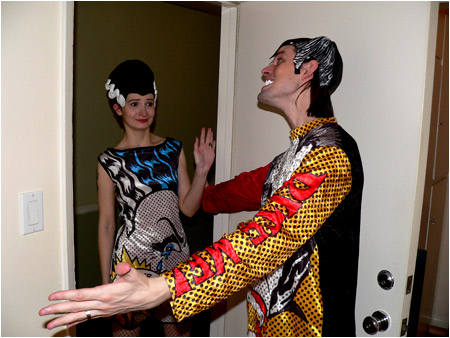 WHY IT BE MY FAIR LADY, POP BRIDE! SO GLAD YOU COULD MAKE IT TO PARTY AND SHAKE IT!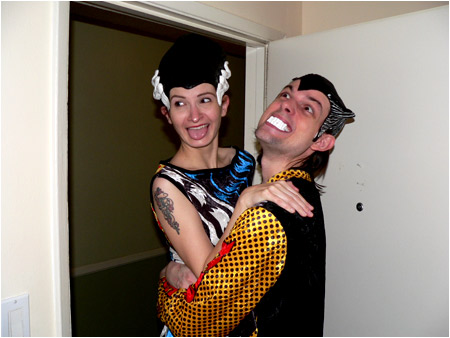 HAPPY BIHALLOWEENAY!!!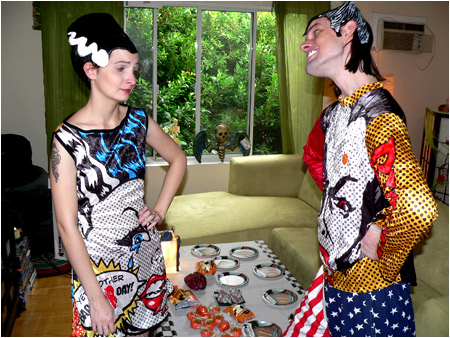 COUNT POP: SO WHAT'S THE WORD, LADYBIRD? ARE YOU READY TO HAVE A ZOOT SUIT RIOT HERE AT OUR HALLOWEENY HOOTENANNY?
POP BRIDE: HALLOWEEN HOOTENANNY? I THOUGHT JOHNNY DEPP WAS SIGNING AUTOGRAPHS HERE TODAY!
COUNT POP: NO, BUT I HAVE BEEN LEGALLY AUTHORIZED BY THE LAW OFFICES OF COUNT AND POP TO SIGN ALL AUTOGRAPHS FOR HIM! DID YOU KNOW DISNEY ASKED ME TO BE THE STAR OF THOSE PIRATES OF THE CARIBBEAN MOVIES? I TURNED THEM DOWN BECAUSE I WAS ON A ROCKABILLY TOUR AND I THOUGHT THE MOVIES SHOULD'VE BEEN CALLED "BOBBY MCFERRIN'S BOPPIN' CARIBBEAN CRUISELINE ADVENTURE!" IF THEY HAD NAMED THE MOVIES THIS, THEY WOULD HAVE BEEN SUCCESSFUL INSTEAD OF THE HUGE BOX OFFICE FAILURES THAT THEY WERE. BUT HEY, NOT EVERYBODY WANTS TO LISTEN TO COUNT POP'S SAGELY ADVICE!
POP BRIDE: WELL I—
COUNT POP: HOLD THAT THOUGHT, SUGAR LIPS! I HEAR ANOTHER GUEST HAS ARRIVED AT THE DOOR!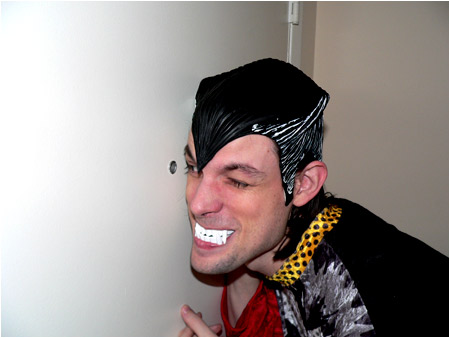 WHO COULD THAT BE A RAP-TAP-A-TAPPIN' AT MY DOOR? I CAN SEE YOU THROUGH THE PEEP HOLE AND YOU DEFINITELY DON'T LOOK LIKE A MARSHMALLOW PEEP!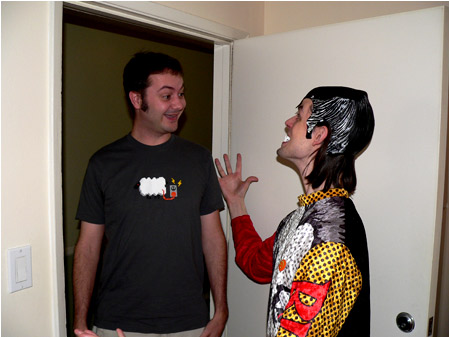 HEY EVERYBODY! LOOK! IT'S TOM! TOM IS AN OLD BUDDY OF MINE AND WE ARE FRIENDS FOREVER! TOGETHER FOREVER AND NEVER TO PART, TOGETHER FOREVER WE TWO! AND DON'T YOU KNOW THAT I WOULD MOVE HEAVEN AND EARTH TO BE TOGETHER FOREVER WITH YOU!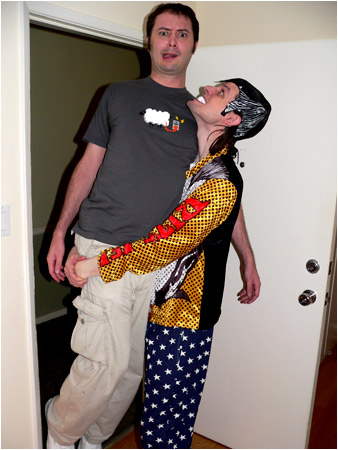 HAPPY BIHALLOWEENAY!!!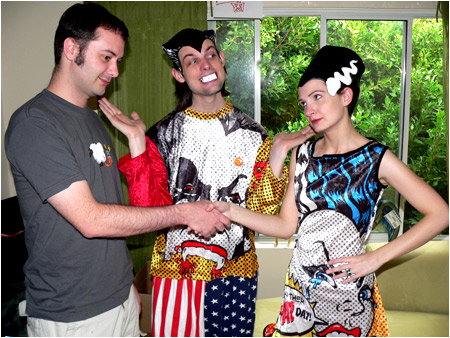 COUNT POP: TOM MEET POP BRIDE! POP BRIDE MEET TOM! EVERYBODY MEET ME BECAUSE I AM YOUR HOST AND I'LL SERVE YOU TOAST!
TOM: UH, HEY THERE...
POP BRIDE: YEAH... HI.
COUNT POP: THAT'S THE SPIRIT! NOW ARE YOU TWO READY FOR THE HALLOWEEN HOOTENANNY HULLABALOO TO BEGIN?
POP BRIDE: ACTUALLY, I DIDN'T PLAN ON—
COUNT POP: BEING SO ENTERTAINED? YEAH I KNOW, I REALLY CAN THROW A PARTY CAN'T I? WELL NOTHING IS TOO GOOD FOR MY BEST BOOGEDY BUDDIES!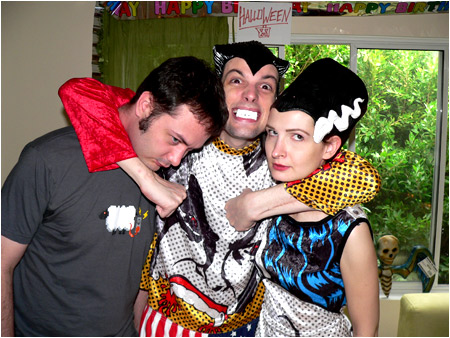 COUNT POP: BOOGEDYBOOGEDYBOOGEDYBOO BUDDIES!
COUNT POP: HEY GUYS! NOW THAT YOU'RE ALL EXCITED TO PARTY, HERE'S A BAG OF HALLOWEENY BALLOONS FOR YOU TO HAVE FUN BLOWING UP!
TOM: WAIT, WHY SHOULD WE BLOW THESE UP?
POP BRIDE: YEAH, AND WHERE ARE THE OTHER GUESTS?
COUNT POP: THE OTHER GUESTS? THIS IS A PRIVATE PARTY AND YOU'RE THE GUESTS OF HONOR! AND YOU HAVE THE HONOR OF BLOWING UP SOME BALLOONS!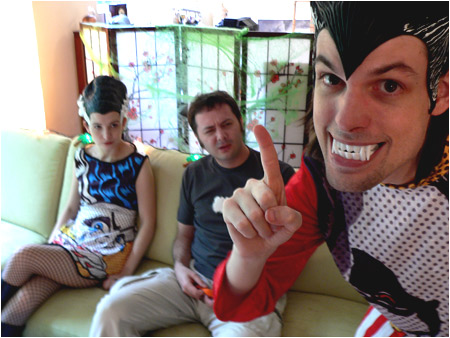 COUNT POP: YOU KNOW SOMETHIN? YOUR POPSTER PAL JUST REALIZED THAT TOM ISN'T REALLY DRESSED FOR THE OCCASION! HE'S NOT EVEN DRESSED FOR SUCCESS! BUT WHAT YOU GUYS DIDN'T KNOW IS THAT HE CAN BECOME DRESSED FOR SUCCESS WITH A LITTLE MOOD LIGHTING. OR SHOULD I SAY MOON LIGHTING! THAT'S RIGHT, TOM IS REALLY AN HONORARY MEMBER OF THE WEREWOLVES OF AMERICAN ROCKABILLY GOOD TIMES!
TOM: WHAT!? NO I'M NOT!
COUNT POP: HA HA! SEE, ONE OF THE DRAWBACKS OF BEING A WEREWOLF IS THAT IN MOST CASES, THE WOLFY MAN DOESN'T EVER REMEMBER WOLFING OUT. THAT MOVIE "TEEN WOLF" SURE WAS A LOT OF FUN, BUT IT WASN'T 100% ACCURATE! YOU SEE, THERE ARE MANY WAYS TO BRING OUT THE WOLF IN SOMEBODY WHETHER THEY KNOW THEY'RE A WEREWOLF OR NOT. THE MOST COMMON WAY TO BRING THEM OUT IS WITH A FULL MOON, BUT IT'S STILL BRIGHT AS CAN BE OUT HERE IN SUNNY CALIFORNIA, SO HOW CAN WE BRING HIM OUT?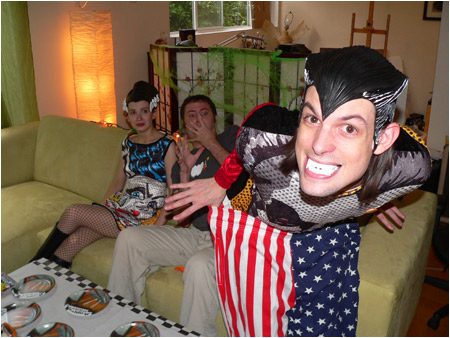 COUNT POP: WITH ANOTHER KIND OF FULL MOON!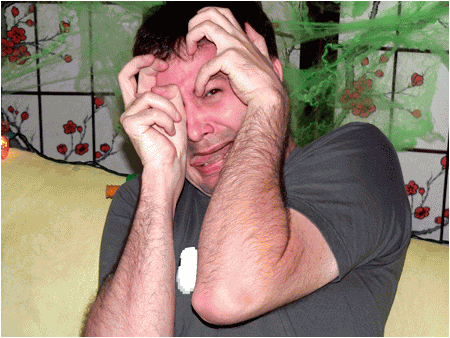 TOM: WAAAAAAARRRRGHAASAGRASGAAAGHGHH!@#!!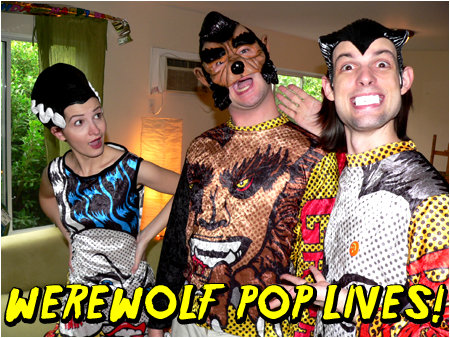 COUNT POP: WHAT'S HAPPENIN' THERE WOLFMAN JACK? DO YOU WANT TO HOWL AT MY FULL MOON AGAIN?
WEREWOLF POP: GIVE A DOG A BREAK!
POP BRIDE: PLEASE DON'T EVER DO THAT AGAIN, COUNT POP, I HAVE ENOUGH WHITE STREAKS IN MY HAIR!
COUNT POP: YEAH, SEEING SOMEBODY TURN INTO A WOLF CAN BE A FRIGHTENING THING, HUH!
POP BRIDE: NO, I MEANT WHEN YOU—
COUNT POP: SAY! I KNOW WHAT WILL TITILLATE YOUR TONGUES INTO ROCKABILLY RAPTURE!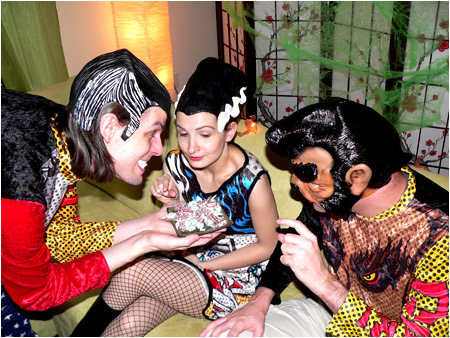 COUNT POP: HAVE SOME DELICIOUS CANDIES, DADDIOS!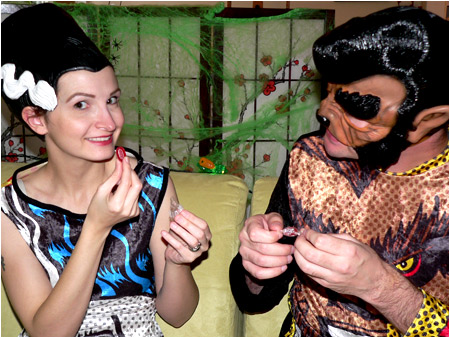 POP BRIDE: OOOH! I LIKE-A-DA CANDIES! GIMME!
WEREWOLF POP: I'LL EAT ANYTHING IF IT WILL HELP REMOVE THE IMAGE OF POP'S PASTY POSTERIOR FROM MY MEDULLA OBLONGATA!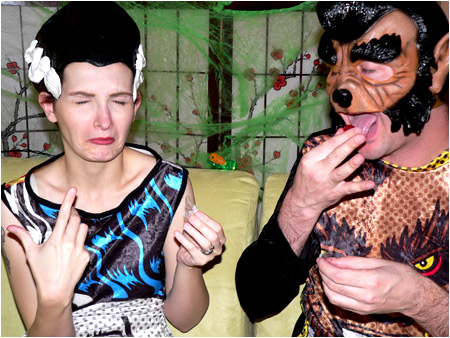 POP BRIDE: EUAAAAAAAAGGGHHHH! WHAT IS THIS!?
WEREWOLF POP: IT... TASTES... LIKE... COUGH DROPS!!!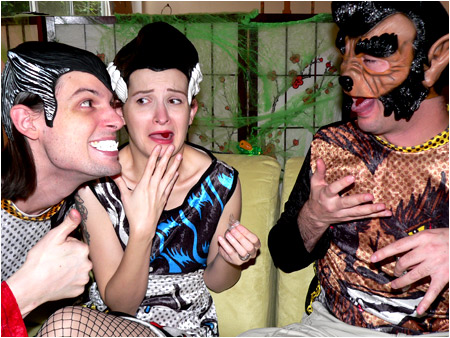 COUNT POP: HAHAHA! SORRY GUYS! THE OL' POPSTER ACCIDENTALLY MIXED UP HIS CANDY PLATE WITH HIS COUGH DROPS PLATE! BUT LOOK AT IT THIS WAY, I'VE GOT YOUR HEALTH IN MY BEST INTERESTS! YOU WON'T BE GETTING SICK SINCE YOU'RE EATING MEDICINE! THIS IS SUCH A HEALTHY PARTY!
POP BRIDE: I THINK I'M GONNA THROW UP!
WEREWOLF POP: I ALREADY DID, IN MY PANTS!
COUNT POP: WHAT WAS THAT ABOUT PANTS? OH YOU MUST'VE BEEN TALKING ABOUT MY AMERIPANTS™! YEAH, THEY'RE PRETTY MUCH THE TALK OF THE TOWN AND WHEN A TOWN TALKS, THAT'S PRETTY AMAZING BECAUSE IT'S A GEOGRAPHICAL LOCATION AND NOT A SINGLE CONSCIOUS BEING THAT CAN CONVERSE WITH OTHER PEOPLE! RIGHT ON!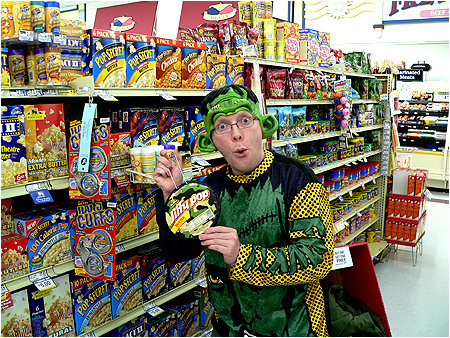 FRANKEN POP: HEY THERE EVERYBODY! IT'S ME, YOUR OLD PAL, FRANKEN POP! I'M STILL LIVING ON THE EAST COAST! I COULDN'T BOARD A PLANE TO GO SEE COUNT POP ON THE WEST COAST FOR HIS MEGA BIG HONKIN' HALLOWEEN PARTY BECAUSE THE AIRPORT SECURITY PEOPLE THOUGHT THE METALS IN MY HEAD WERE SOME SORT OF TERRORIST THREAT! SO, I DECIDED I WOULD THROW A HALLOWEEN PARTY FOR ONE AT MY OWN PLACE WITH ANOTHER "POP" PAL OF MINE... JIFFY POP!
FRANKEN POP: WELCOME HOME JIFFY POP! TOGETHER WE WILL BECOME ONE AS WE WATCH ANIME AND RE-RUNS OF RAINBOW BRITE ALL INTO THE NIGHT! BUT FIRST, YOU MUST COME OUT OF YOUR SHELL, LIKE A HERMIT CRAB WHEN HE NEEDS TO FIND A BIGGER HOME OR JUST WANTS A BACK MASSAGE FROM A BUDDY!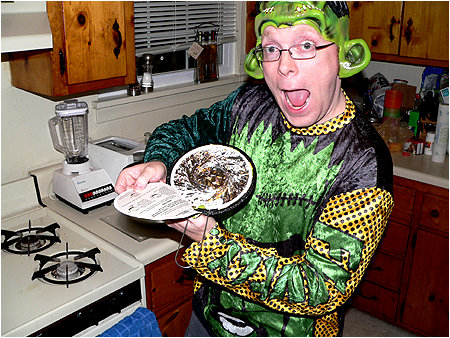 FRANKEN POP: JIFFY POP SURE IS SHINY! IT'S ALSO NOT AS LOUD AS COUNT POP OR ANY OF THE OTHER POP FRIENDS... YET! ONCE OL' JIFFY STARTS TO HEAT UP, HE CAN GET REALLY NOISY REALLY FAST, AND THAT'S WHEN THE POPPIN' PARTY REALLY BEGINS!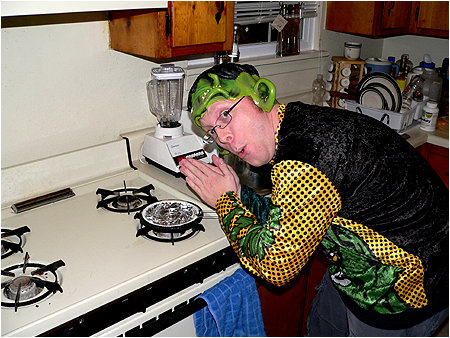 FRANKEN POP: OKAY JIFFY! LET ME WARM YOUR GIBLETS SO YOU CAN SHOW THE WORLD WHAT YOU'RE MADE OF! I CAN'T WAIT TO EAT YOU! YOU'RE MY FAVORITE THING IN THIS WORLD AND NOTHING'S GONNA STOP ME FROM ENJOYING THIS HALLOWEEN NIGHT WITH YOU!
CLICK HERE TO CONTINUE TO PAGE 3
OF THE COUNT POP STORY!
---
help support I-Mockery by supporting our sponsors:

---
Running a big site like I-Mockery takes a lot o' time and costs moola too.
Want to help show your support?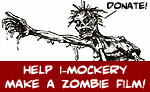 DONATE TO OUR ZOMBIE MOVIE!
Come talk about this piece & more on our Message Forums!
click here for more minimocks!

---


[Minimocks] [Articles] [Games] [Mockeries] [Shorts] [Comics] [Blog] [Info] [Forum] [Advertise] [Home]


Copyright © 1999-2007 I-Mockery.com : All Rights Reserved : ()
No portion of I-Mockery may be reprinted in any form without prior consent
We reserve the right to swallow your soul... and spit out the chewy parts.