by: -RoG-
...CONTINUED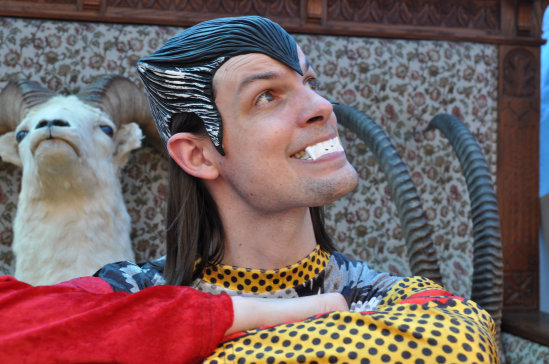 RAMS, GOATS, DUCKS, PLATYPUS, SNAILS, ROBOTS... WHATEVER KIND OF WILDLIFE YOU'RE LOOKING FOR, YOU CAN FIND IT STUFFED AND MOUNTED HERE IN PASADENA. MAYBE WHEN I RETIRE I'LL HAVE MY HEAD STUFFED AND MOUNTED FOR A NICE FAMILY TO ENJOY IN THEIR LIVING ROOM. HAHAHA! LIKE I WOULD EVER RETIRE? THIS BOPSTER IS ETERNAL AS IS MY DISCOGRAPHY, SO SORRY NICE FAMILY PEOPLES, BUT THERE WILL BE NO TAXES OR TAXIDERMY IN MY FUTURE!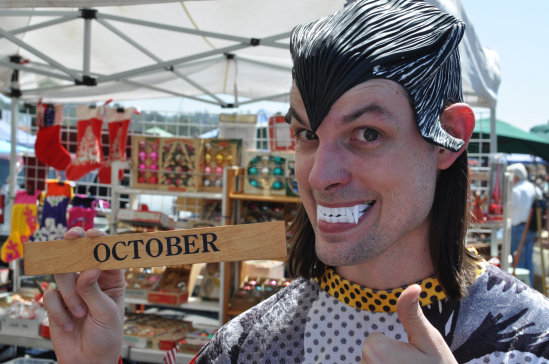 WHAT COULD BE BETTER THAN A WOODEN BLOCK WITH "OCTOBER" WRITTEN ON IT? THAT'S THE KIND OF THING THAT WOULD COME IN HANDY FOR ANY SPOOKY SOUL! BUT YOU CAN'T CALL THEM OCTOBER BLOCKS, YOU NEED A CATCHIER NAME LIKE "ROCKTOBER BLOCKTOBER BLOX!" YOU ARE WELCOME TO USE THIS NAME FOR YOUR BLOCKY PRODUCTS, JUST MAKE SURE COUNT POP GETS SOME RESIDUAL CHECKS FOR LENDING YOU SUCH A FINE TITLE! I'LL USE THE MONEY FOR MY NEXT FANG WAXING!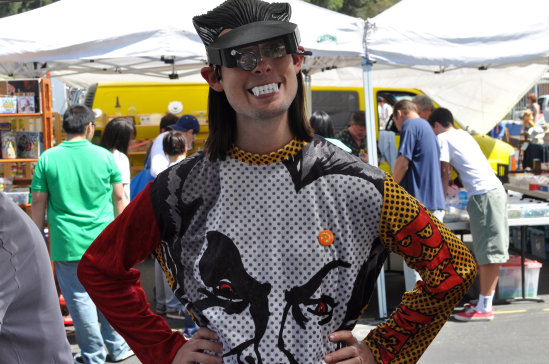 I CAN SEE DEEP INTO YOUR EYES AND DIRECTLY INTO YOUR BRAINS RIGHT NOW WITH THE AID OF THIS HANDY DEVICE! LOOKS LIKE YOU HAVE COUNT POP ON YOUR MIND! WELL GEE, I ALREADY KNEW THAT, SO I GUESS THIS THING IS PRETTY USELESS. NO SALE!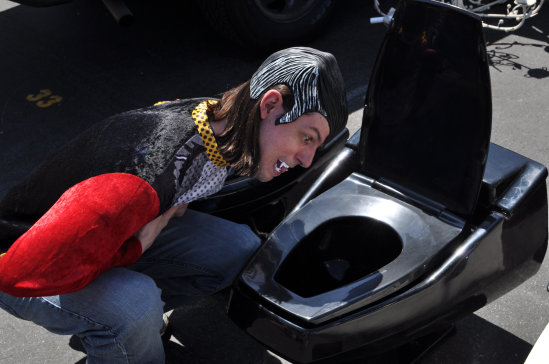 WHEN IT COMES TO TOILETS, THIS ROCKABILLY RADSTER BELIEVES IN THE CLASSIC "TRY IT BEFORE YOU BUY IT" CREEDO. BUT HERE'S THE SCOOP, THE SELLER WOULDN'T LET ME POOP, WHICH IS UNFORTUNATE SINCE I JUST ATE SOME PEA SOUP. I REALLY NEED TO GO IN ORDER TO TEST THE QUALITY OF THE TOILET FLOW! IT'S TIME TO TAKE THIS MERCHANT TO COURT! THE POPLE'S COURT!
ALL RISE! NOW PRESIDING IS THE HONORABLE JUDGE POP, PERFORMER OF ROCKABILLY GOODNESS AND PURVEYOR OF BOPPIN' JUSTICE! I HAVE HEARD THE PLEAS AND SEEN THE FLEAS FROM BOTH THE PLAINTIFF AND THE DEFENDANT AND AM READY TO PRESENT MY VERDICT!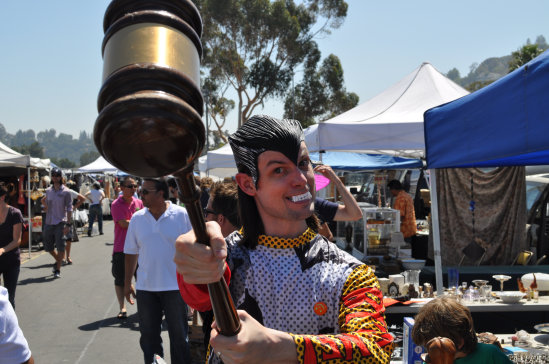 GUILTY!
I HEREBY AWARD THE PLAINTIFF, COUNT POP, FULL LEGAL GUARDIANSHIP OVER THE STYGIAN ONYX TOILET! MAY ITS SWIRLING WATERS HEAL THE RIFT BETWEEN YOU THAT YEARS WITHOUT POPTACULAR TUNE EXPOSURE HAS SURELY CAUSED! *BONK*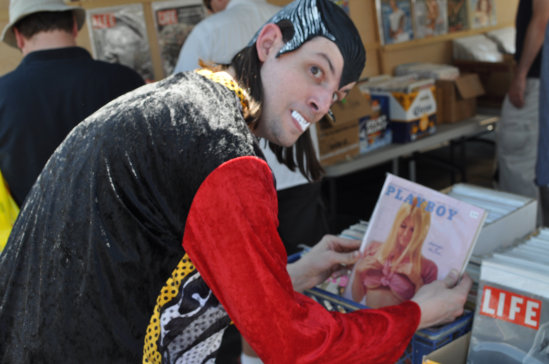 WHOOPSIE! HEY THERE YOUNG BOPPERS, I WAS JUST LOOKING FOR SOME READING MATERIAL FOR WHEN I'M SITTING ON THE STYGIAN ONYX TOILET! IT'S PURELY RESEARCH MATERIAL, SO I CAN LEARN ABOUT MY FANTASTIC FEMALE AUDIENCE MEMBERS! ACCORDING TO THIS MAGAZINE, ALL OF MY FEMME FATALE FANS ENJOY LONG WALKS ON THE BEACH AND NONSTOP BEDROOM BOPPIN' SESSIONS! I HAD BETTER PICK UP A FEW MORE COPIES OF THIS MAGAZINE JUST TO MAKE SURE I KNOW ALL THERE IS TO KNOW ABOUT THESE LOVELY LADIES! TO KNOW YOUR AUDIENCE IS DIVINE!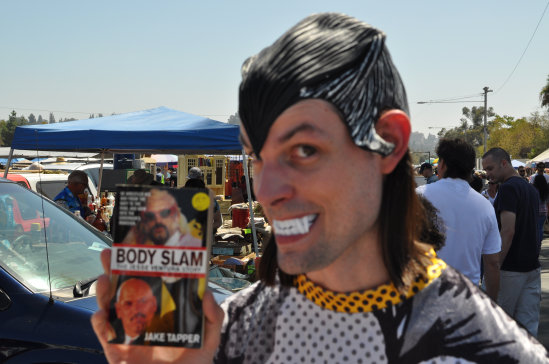 JESSE "THE BODY" VENTURA WROTE AN AWE-INSPIRING BOOK CALLED BODY SLAM, BUT I WAS FAR MORE INSPIRED WHEN HE TALKED ABOUT BEING A DINOSAUR IN PREDATOR. I FORGET HOW THE LINE GOES EXACTLY, BUT IT WAS SOMETHING LIKE, "EATING THIS BEEFARONI WILL MAKE YOU A GOLLY DARN HAPPY-GO-LUCKY BRONTOSAURUS, JUST LIKE ME!" THOSE WORDS CHANGED MY LIFE FOREVER, JESSE, SO THANK YOU FOR BODY SLAMMING MY HEART RIGHT FROM THE START!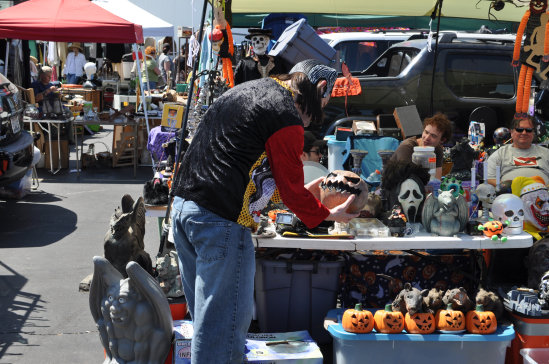 FINALLY! I'VE FOUND A BOOTH THAT HAS HALLOWEENY ITEMS FOR SALE INSTEAD OF TOILETS AND THINGS COVERED DUST AND FLEAS! I WILL DEFINITELY BUY SOMETHING HERE, BUT WHAT? A JACK-O-LANTERN PROP? A FOAM GARGOYLE? A USED PSYCHO CLOWN MASK? WHAT SHOULD I BUY???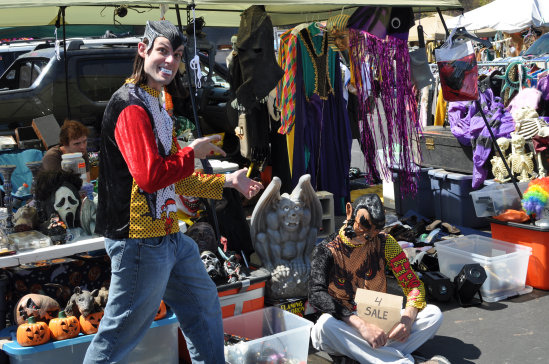 WAIT A MINUTE! WHAT'S THIS HORRIFYING HALLOWEEN ITEM I SEE SITTING ON THE GROUND BEFORE ME? COULD IT BE? IS IT... YES!!!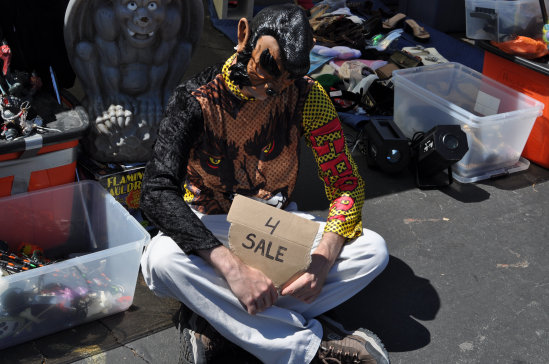 OH MY GOLLY GAWKIN' GOODNESS, IT'S WEREWOLF POP!!! HIS LEASH CAME UNDONE AFTER THE BIG HALLOWEEN PARTY I THREW A FEW YEARS AGO AND I THOUGHT THIS MAN'S BEST FRIEND HAD BEEN LOST FOREVER!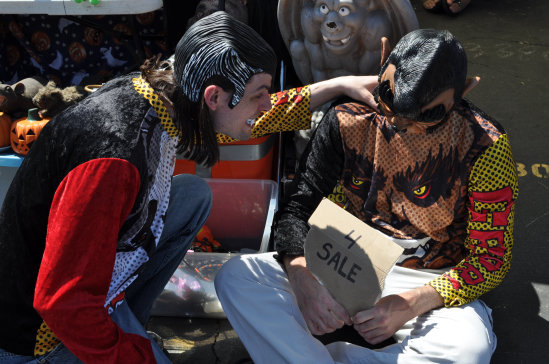 TURN THAT FROWN UPSIDE-DOWN, BUDDY! YOU'RE ABOUT TO BE REMOVED FROM THIS MARKET OF FLEAS, PERMANENTLY! YOUR OLD PAL, COUNT POP, HAS COME TO SAVE YOU FROM THE RAVAGES OF RETAIL!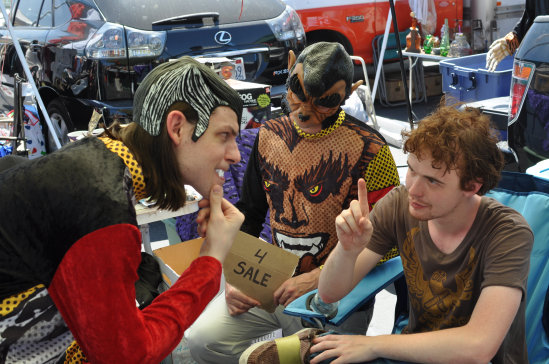 WHAT'S THAT YOU SAID, MISTER HALLOWEEN MERCHANT? ONE WHOLE DOLLAR TO BUY WEREWOLF POP!?!? WHY, THAT'S AN OUTRAGEOUS FEE!!! BUT YOU KNOW WHAT? IT LOOKS LIKE YOU'VE KEPT HIM IN NEAR MINT CONDITION ALL THESE YEARS AND HAD HIM FIXED AND VACCINATED AT THE VETERINARIAN, SO IF YOU THROW IN THAT NIFTY CARDBOARD "4 SALE" SIGN AS PART OF THE LOT, YOU'VE GOT YOURSELF A DEAL!
SOLD!!!!!!!!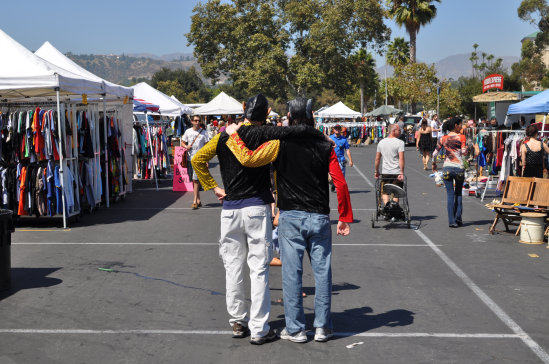 COME ON, WEREWOLF POP, MAYBE WE CAN FIND YOU A GOOD FLEA BATH HERE AT THE FLEA MARKET! I'M GLAD THAT GUY FED YOU WELL, BUT YOU SURE SMELL SUPER STINKY! IT'S GREAT TO BE REUNITED AFTER ALL THESE YEARS SO WE CAN BEBOP AND BOOGIE UNDER THE STARS AND CHASE SOME CARS! AND DON'T WORRY BUDDY, IT'S OK THAT YOU ATE THE "4 SALE" SIGN.
Oh but there's still much more!
CLICK HERE TO CONTINUE TO
PAGE 5 OF COUNT POP'S STORY!