by: -RoG-
...CONTINUED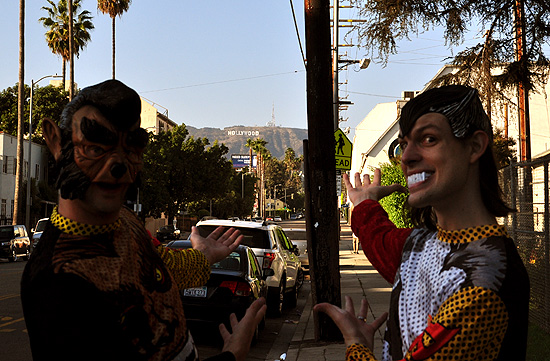 HOLD YOUR HOPPIN' HALLOWEEN HELL HORNS! WE'VE OVERLOOKED ONE OF THE MOST IMPORTANT LANDMARKS IN ALL OF LOS HALLOWANGELES! THE HOLLYWOOD SIGN! IT'S SOMETHING EVERYBODY IN THE CITY VIEWS NO LESS THAN FIVE-HUNDRED-AND-SEVENTY-NINE-BAJILLION TIMES PER HOUR, SO IF WE DECORATE IT, THEY'LL SURELY GET INTO THE HALLOWEEN SPIRIT IN A JIFFY! LET'S GET TO WORK!
STOP THE COUNT POP EXPRESS! THE HOLLYWOOD SIGN SURE LOOKS A LOT DIFFERENCE WHEN YOU GET UP CLOSE TO IT! WE THOUGHT IT WOULD BE MUCH BIGGER AND BOLDER THAN THIS! IT MUST BE ONE OF THOSE OPTICAL ILLUSIONS THAT PEOPLE WITH COO COO CA CHOO CONTUSIONS TALK ABOUT ALL THE TIME! IT LOOKS HUGE WHEN YOU STAND FAR AWAY FROM IT, BUT IT GETS TINY WHEN YOU STAND RIGHT NEXT TO IT! THAT'S WHAT SHE SAID! HOLLYWOOD? MORE LIKE HOLLYWEIRD!!!
THAT'S OKAY THOUGH, BECAUSE WE CLEARLY FOUND THE FAMOUS HOLLYWOOD SIGN AND WE'RE FIRST IN LINE TO MAKE A FINE SHRINE TO HALLOWEEN TIME!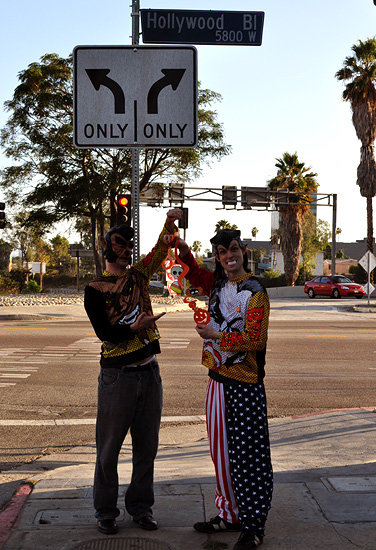 HERE'S A DANGLING DECORATION WITH PUMPKINS, SKELETONS, SPIDERS BATS, AND CANDY CORNS THAT WE CAN HANG FROM THE HOLLYWOOD SIGN! THIS IS GONNA LOOK BETTER THAN A CHEDDAR SWEATER! LET'S HANG IT!
NO!!! I SAID "LET'S HANG IT!" NOT "LET'S FANG IT!"
DOWN BOY! BAD WEREWOLF POP! BAD! THAT CANDY CORN ISN'T REAL! IT'S JUST A DECORATION TO INSPIRE THE BOPPIN' HALLOWEEN NATION! YOU ALREADY HAD A PIZZAWEEN LUNCH TODAY! THE OL' POPSTER WILL BUY YOU SOME REAL CANDY CORNS FOR DESSERT LATER ON, AND YOU CAN EVEN HAVE THEM FOR BREAKFAST AND SECOND BREAKFAST TOO!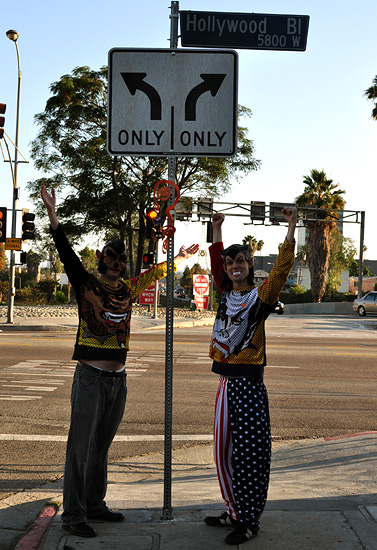 THERE WE GO! LOOKS DANDY LIKE HALLOWEEN CANDY! WE COULDN'T ATTACH IT TO THE ACTUAL HOLLYWOOD PART UP THERE BECAUSE WE COULDN'T REACH IT AND THIS ROCKABILLY RADSTER'S ROCKET SHIP IS GETTING A TUNE UP A JIFFY LUBE BEFORE HE GOES OFF ON ANOTHER GROOVY GALACTIC TOUR ONCE MORE! OUR HALLOWEEN DECORATION STILL LOOKS GREAT AND I'M SURE IT'LL LOOK HUGE WHEN YOU STAND FAR AWAY FROM IT JUST LIKE THE HOLLYWOOD SIGN DOES!
RIGHT ON! WE JUST TURNED HOLLYWOOD INTO HOLLYWEEN!!!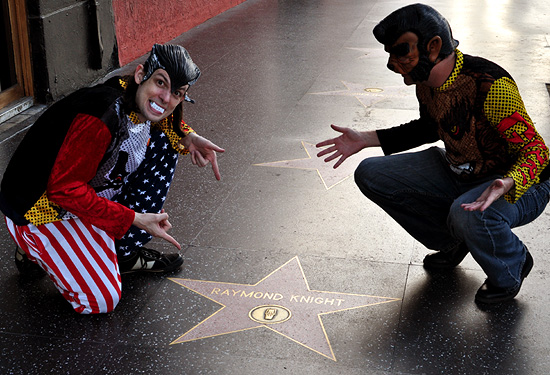 WOW! IT LOOKS LIKE THE GROUND HAS ALREADY BEEN DECORATED AROUND HERE, BECAUSE THERE ARE STARS EVERYWHERE! WHY, JUST LOOK AT THIS ONE! IT'S FOR RAYMOND KNIGHT FROM THE KUKU HOUR! HE WAS A RADIO STAR JUST LIKE COUNT POP! I GUESS THAT MEANS I SHOULD GET A STAR ON THIS WALK OF FAME TO ENSURE IT ISN'T A WALK OF LAME!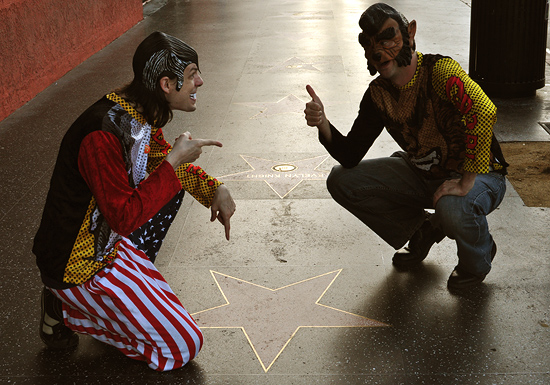 WELL WHADDAYA KNOW! IT LOOKS LIKE THEY LEFT AN EMPTY STAR HERE JUST FOR ME AFTER ALL! LOS HALLOWANGELES, I ACCEPT YOUR OFFER TO BE IMMORTALIZED ON THE HOLLYWEEN WALK OF FAME! IN FACT, YOU DON'T EVEN NEED TO DO ANY SLAVING OVER THAT FANCY ENGRAVING! I'VE ALREADY SPENT ENOUGH TIME IN A GRAVE! THE POPSTER CAN TAKE CARE OF HIS OWN STAR!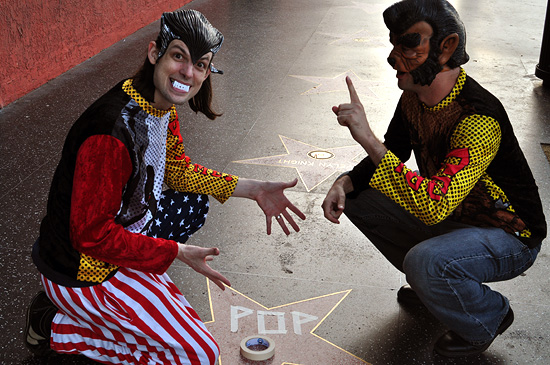 THERE WE GO! A LITTLE MASKING TAPE AND EVERYBODY'S MOUTHS WILL BE AGAPE AND HOW THIS PARTICULAR STAR IS IN SUCH GREAT SHAPE!
WHAT'S THAT, WEREWOLF POP? YOU SAY IT'S NOT FINISHED? WHAT'S IT NEED?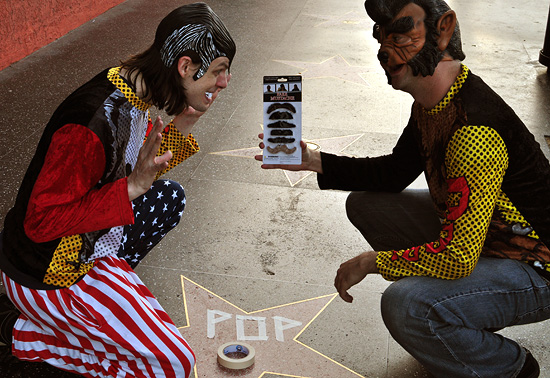 WEREWOLF POP: "ALL THE STARS HAVE A SYMBOL INSIDE THEM, COUNT POP! YOU NEED ONE TOO! WE BOUGHT A PACK OF MOUSTACHES, SO THEY SHOULD DO!"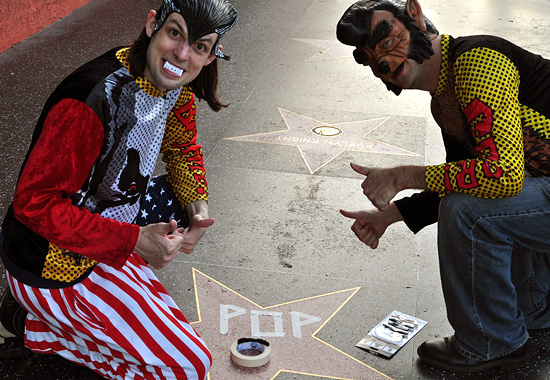 HOW ABOUT THAT! HE'S RIGHT! NOW THE POPSTER IS TRULY REPRESENTED HERE ON THE HOLLYWEEN WALK OF FAME WITH MEGA MOUSTACHE MIGHT!
WELP, IT LOOKS LIKE OUR DECORATING DETAIL IS FINALLY FINISHED! WE MADE THIS GRITTY CITY LOOK ALL KINDS OF HALLOWEEN PRETTY! LET'S GO CHECK OUT THE REST OF LOS HALLOWANGELES TO SEE IF WE'VE INSPIRED THE PEACHY-KEEN PRIMO PEOPLE OF THIS CITY TO DECORATE IT IN TRUE HALLOW-BOP FASHION!
***MINUTES LATER IN WHAT WAS A COMPLETELY
EMPTY PARKING LOT EARLIER THAT DAY***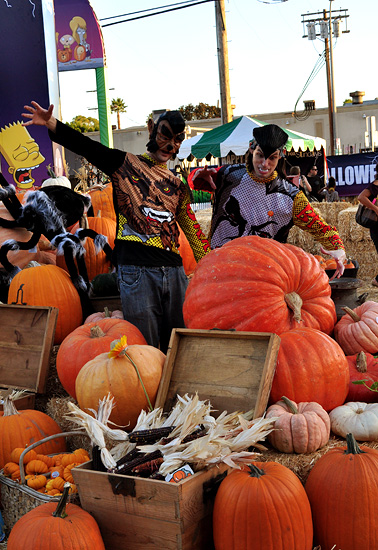 LOOK AT THIS, WEREWOLF POP! THIS WAS A COMPLETELY UNUSED PARKING LOT EARLIER TODAY, AND NOW EVERYBODY HAS SHOWED UP TO HELP TURN IT INTO A HALLOWEEN CELEBRATION! EVEN BART SIMPSON SHOWED UP AND HE KNOWS ALL ABOUT SPOOKY KOOKY HALLOWEENS BECAUSE HE HAS A TREEHOUSE OF HORRORS AND HE'S STILL HAVING A BLAST HERE IN THE PARKOWEEN LOT! AND WHO WOULDN'T BE HAVING FUN? IT HAS PUMPKINS OF EVERY SHAPE AND SIZE AND...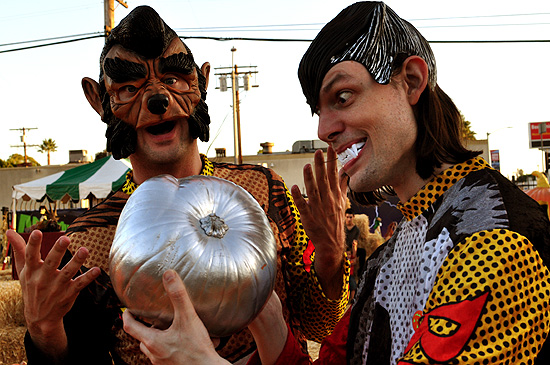 HOLY HALLOWEEN HAPPENSTANCE!
WE ACTUALLY FOUND THE LONG LOST
PLATINUM PUMPKIN PARAGON!!!!!!
WHO COULD HAVE IMAGINED THAT NOT ONLY WOULD WE ACTUALLY INSPIRE COUNTLESS KATRILLIONS OF LOS HALLOWANGELEANS TO TURN THEIR CITY INTO A HAUNTED HALLOWEEN MECCA OF ROCKABILLY BOPS, BUT WE WOULD ALSO FIND THE MOST VALUABLE PUMPKIN IN THE HISTORY OF HISTORY IN A PARKING LOT! THAT'S JUST THE MAGICAL POPPIN' POWER OF ROCK 'N ROLL!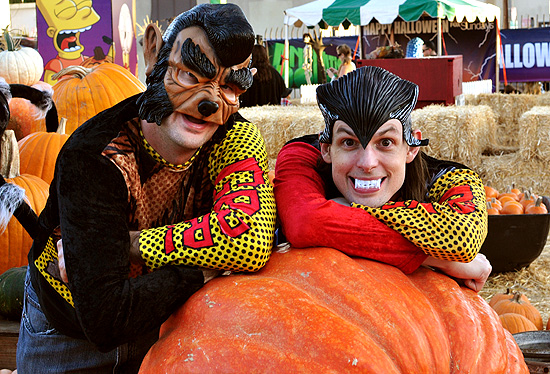 WELL MY POPPERS AND BOPPERS AND HALLOWEEN SHOPPERS, IT'S BEEN A SUPER SWELL WELL TIME HERE IN LOS HALLOWANGELES, AND EVEN IF YOU DON'T LIVE HERE, I HOPE YOUR OL' POPSTER PAL HAS INSPIRED YOU TO GO OUT AND DECORATE WHATEVER BOPPIN' TOWN YOU HAPPEN TO LIVE IN SO THAT EVERYBODY KNOWS THAT ROCKABILLY HALLOWEENS ARE HERE TO STAY! SO BE SURE TO GET OUT THERE AND DECORATE AND THEN SEND COUNT POP YOUR PHOTOS OF DECORATIONS ACROSS ALL THE NATIONS!
IT'S TIME FOR US TO HEAD BACK OUT ON ANOTHER GROOVY GALACTIC TOUR, BUT BEFORE WE DO, WE WANT TO SHARE WITH YOU THE EXCLUSIVE WORLD PREMIERE OF OUR NEWEST HALLOWEEN DANCE MUSIC VIDEO!
HAPPY HALLOWEEN!!!
*** Click here to return to page one of Count Pop's Gritty City Halloween Ditty! ***
Have any questions or comments about this piece?
SHARE YOUR THOUGHTS IN THE READER COMMENTS SECTION BELOW!