by: -RoG-
Many moons have passed since we last heard from Count Pop. After his last Halloween bash, Count Pop went on a world tour. No, I don't just mean a tour of this world... I mean he's the first rock 'n roll superstar to tour multiple planets. After touring the solar system to sold out arenas and moon craters for years, Count Pop eventually decided it was time to return to Earth in October of 2010 and take a brief break from his rockabilly tunes. He amassed quite a fortune and decided there was no better place to spend it in Halloween style than at Pasadena's infamous Rose Bowl Flea Market! Once again, he asked I-Mockery to follow him around to document his excursion so the fans would know just how down to earth he really is (when he's not on another planet). So we now proudly and humbly turn you over to Count Pop, just outside the Rose Bowl Flea Market where he is ready to take you on an exciting Halloween bargain hunting adventure! Take it away Count!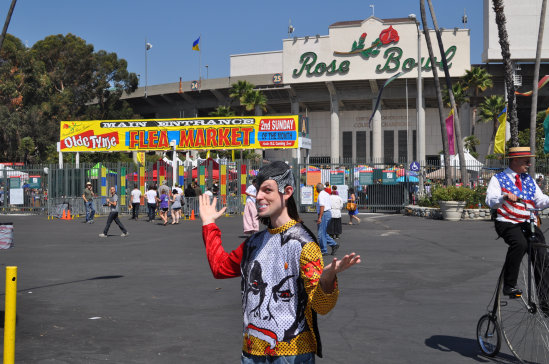 ONCE YOU POP, YOU CAN'T STOP! ONCE YOU STOP, YOU CAN'T BOP! HEYA KOOKY KIDDIES, IT'S YOUR OLD RADICAL ROCKABILLY RINGLEADER, COUNT POP! IT'S GREAT TO BE BACK AND I MISSED EVERY LAST ONE OF YOU WHILE I WAS SOARING THROUGH THE STARS AND GROOVIN' ALL AROUND THE GALAXY ON MY BIGGEST TOUR TO DATE! TODAY, I'M COMING ATCHA FROM THE ROSE BOWL FLEA MARKET IN PASADENA, CALIFORNIA! MAYBE WE'LL FIND FLEAS, MAYBE WE'LL FIND CHEESE, BUT WHATEVER WE FIND, IT'S SURE TO PLEASE! I THOUGHT I'D TAKE YOU ON A TERRIFYING TOUR OF ALL THE GOODS THAT SOUTHERN CALIFORNIA'S SPOOKIEST NOMADIC SALESMEN HAVE TO OFFER TO THE OL' POPSTER! SO LET'S HEAD ON INSIDE AND... HEY WAIT A MINUTE! WHO'S THAT PECULIAR PATRIOT TO MY POSTERIOR?
I DIDN'T GET HIS NAME, BUT LET'S JUST CALL HIM MOUSTACHE JIMMY JACK! MY PATENTED AMERIPANTS™ WERE AT THE DRY CLEANERS, BUT THANKFULLY THIS GUY WAS DRESSED FOR SUCCESS, FOR HE WORE HIS AMERIVEST™!!! POPTACULAR PATRIOTISM NEVER TAKES THE DAY OFF, BUT IT DOES ENJOY A RIDE ON A PENNY-FARTHING IN THE SUN FROM TIME TO TIME! THE WHEELS OF PATRIOTISM KEEP ON ROLLING, ESPECIALLY HUGE WHEELS LIKE THIS! I WANTED TO GO FOR A RIDE, BUT HE TOLD ME "SORRY, IT'S FOR MOUSTACHE PATRIOTS ONLY" AND THEN RODE OFF INTO THE SUNSET IN SEARCH OF HIS LONG LOST BARBERSHOP QUARTET BRETHREN! I'LL MISS YOU FOREVER, MOUSTACHE JIMMY JACK!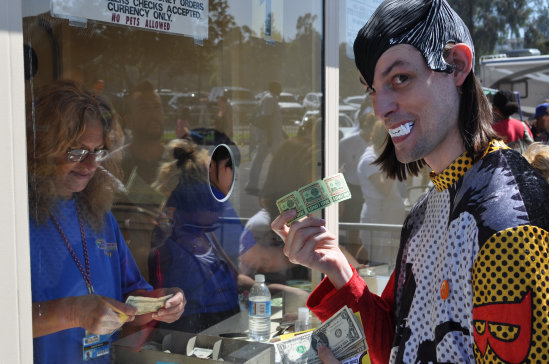 GOTTA BUY A TICKET BEFORE YOU CAN LICK IT AND KICK IT WITH THE MARKET OF FLEAS WHO AIM TO PLEASE! THE POPSTER ALWAYS BUYS THREE TICKETS! ONE IS NO FUN, TWO IS TOO FEW, THREE IS JUST RIGHT FOR ME! JUST DON'T BUY FOUR TICKETS, BECAUSE WHO IN THEIR RIGHT MIND NEEDS FOUR!?!? THAT'S CRAZY TALK!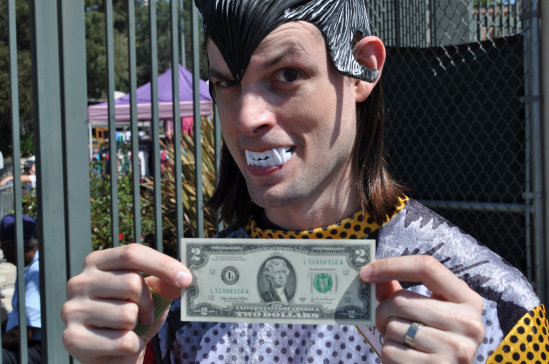 BUT YOU WANNA KNOW WHEN TWO ISN'T TOO FEW? WHEN THE CHANGE FOR YOUR TICKETS COMES IN THE FORM OF A TWO DOLLAR BILL! DID YOU KNOW THAT TWO DOLLAR BILLS ARE CONSIDERED THE LUCKIEST FORM OF CURRENCY? IT'S TRUE! UNLESS YOU GO TO IRELAND WHERE THEY HAVE NO MONEY AND ONLY PURCHASE GOODS WITH FOUR-LEAF CLOVERS. I FOUND A FOUR-LEAF CLOVER ONCE AND PURCHASED THE BIG BOPPER'S ENTIRE DISCOGRAPHY AND STILL HAD ENOUGH CLOVER LEFT OVER TO BUY A SHILLELAGH SANDWICH! BUT ENOUGH ABOUT THE LAND OF IRISH SPRING SOAPS ON ROPES, WE HAVE TICKETS TO A POPTACULAR PASADENA LAND OF UNLIMITED TREASURES AND PLEASURES! LET'S GO INSIDE!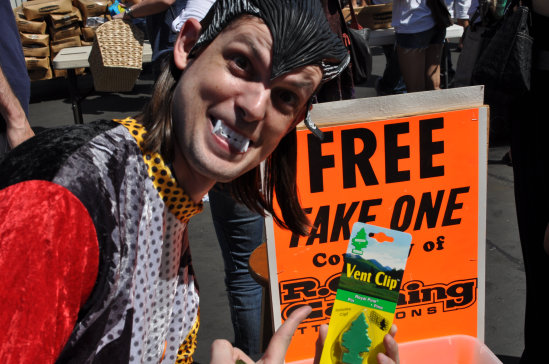 AS SOON AS I WALKED INTO THE FLEA MARKET, WHAT DID THE EYES PLACED IN MY FACE SEE? FREE CHRISTMAS TREE VENT CLIPS ALL FOR ME! IT SMELLS ALL WINTERGREENY AND I THINK THAT'S KEENY! LET'S SEE HOW IT LOOKS ON THE OL' POPSTER!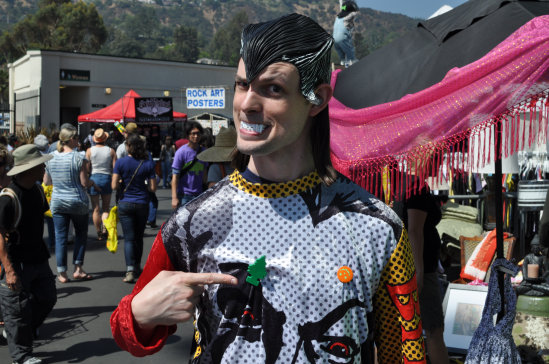 FASHION IS MY PASSION AND I GOT A TREE FOR FREE! THERE HAVE BEEN MANY FINE DAYS IN THE LIFE OF COUNT POP, BUT THIS IS ALREADY SHAPING UP TO BE ONE OF THE BEST! SPEAKING OF SHAPING UP, HAVE YOU BEEN DOING CALISTHENICS AND EATING YOUR LIMA BEANS? I SURE HOPE SO! DID YOU KNOW THAT YOU CAN SAVE TIME BY DOING CALISTHENICS AND EATING LIMA BEANS ALL AT ONCE? IT'S TRUE! YOUR HEALTHY POP PAL PRACTICES LIMASTHENICS EVERY DAY! THAT'S HOW I'VE KEPT MY YOUTHFUL, POPTASTIC LOOKS ALL THESE YEARS! WELL, THAT AND HOPPIN' AND A BOPPIN' TO THE BEST BOMBASTIC BEATS IN THE UNITED STATES OF ROCKTOBER EACH AND EVERY YEAR!
IT SURE IS GETTING HOT OUTSIDE, SO IT'S A GOOD THING I RAN INTO MY NEW PAL, BLIZZIE JOE! BLIZZIE JOE WAS PROMOTING HIS BLIZZIE DRINKS AND HANDING THEM OUT IN THE TINIEST SAMPLE CUPS KNOWN TO MAN! I'M SURE LILY TOMLIN WOULD ENJOY THESE CUPS, BUT I'M NOT THE INCREDIBLE SHRINKING WOMAN, I'M THE INCREDIBLE DRINKING COUNT POP AND I NEED A CUP FIT FOR A ROCKABILLY RADSTER! OH ALRIGHT, I'LL TRY A BLIZZIE IN ONE OF YOUR THIMBLE-SIZED CUPS!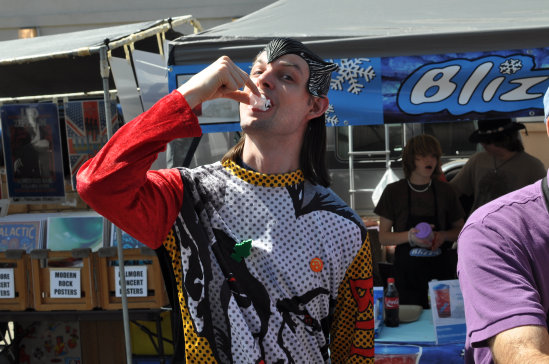 COOL AND REFRESHING! NOW CAN I HAVE ABOUT FIVE-HUNDRED MORE TO GET THE EQUIVALENT OF ONE SIPPY CUP'S WORTH? NO? WELL I'M TAKING MY BOPPIN' BUSINESS ELSEWHERE, DADDIO! COME ON HEPCATS, LET'S SEE WHAT ELSE WE CAN FIND IN THIS MAGICAL LAND OF DISCARDED GLEE!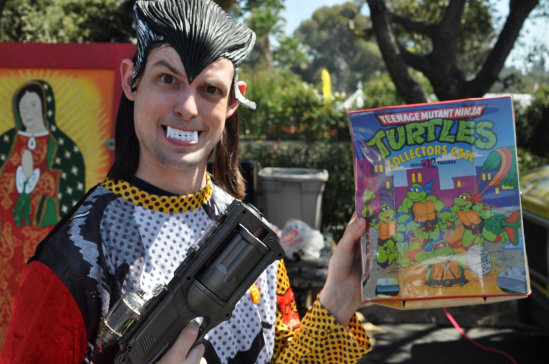 THE CUSTOM STEAMPUNK NERF GUN WAS NICE, BUT POP CAN'T PASS UP ON A COLLECTOR'S CASE OF TEENAGE MUTANT NINJA TURTLES! DID YOU KNOW I WAS SUPPOSED TO BE THE FIFTH TURTLE? IT'S TRUE! THE THEME SONG WENT LIKE THIS: "RAPHAEL IS COOL BUT RUDE, MICHAELANGELO IS A PARTY DUDE, COUNTPOPARDO SINGS THE #1 HIT TUNES!" IT WOULD'VE BEEN GREAT, BUT I COULDN'T COMMIT TO THE SERIES, BECAUSE THAT WOULD'VE MEANT I'D HAVE TO CANCEL MY WORLD TOUR AND THE POPSTER LIVES FOR BEING ON THE ROAD AND MEETING ALL THE POP FANS WHO INVITE HIM TO ENJOY ICE CREAM TREATS IN THEIR NINJA TURTLE VANS! I WAS THINKING OF MOVING MY BRAIN TO MY BELLY LIKE KRANG THOUGH! SEEMS TO ME THAT IF YOU PUT YOUR STOMACH IN YOUR HEAD, THE FOOD WOULD HAVE LESS OF A DISTANCE TO TRAVEL WHEN YOU'RE EATING! THAT KOOKY KRANG GUY IS ONE SMART FELLA!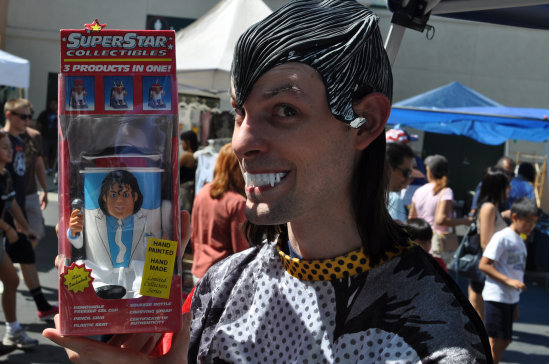 HEY NOW! NOBODY EVER TOLD ME MICHAEL JACKSON WAS THE KING OF CUPS TOO! AND WHAT A SUPERSTAR COLLECTIBLE HE IS! HE'S A FIGURE, A PENCIL HOLDER AND A SIPPY CUP ALL IN ONE! I'M GONNA HAVE TO TALK TO MERCHANDISING REPS TO SEE IF WE CAN GET A SUPERSTAR COLLECTIBLES COUNT POP CUP MADE! IF THESE THINGS ARE SELLING AT FLEA MARKETS, THEY'LL SELL DURING MY CONCERT TOUR FOR SURE! WHAT A SCORE!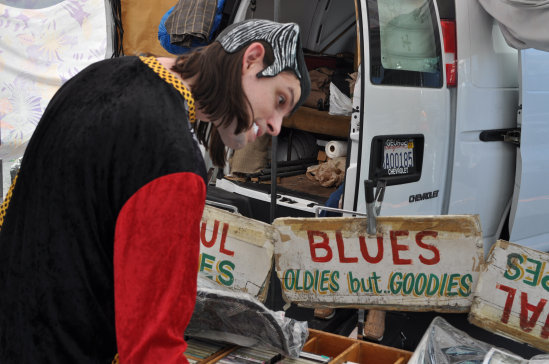 I DIDN'T FIND A SINGLE COUNT POP ALBUM IN THIS USED "OLDIES BUT GOODIES" BIN, AND THAT'S A GOOD THING! IT MEANS THAT THE POPSTER'S FANS CAN'T GET ENOUGH OF HIS MUSIC AND WOULD RATHER SELL THEIR UNBORN CHILDREN TO PAY THE RENT THAN SELL A COUNT POP ALBUM JUST OT MAKE A CENT! OH YOU DIDN'T KNOW I RELEASED A BLUES ALBUM? SURE, I ROCK AND I BOP WITH THE BEST OF 'EM, BUT COUNT POP ALSO GETS THE BLUES FROM TIME TO TIME. I ONCE CHIPPED A FANG AND WROTE AN ENTIRE ALBUM OF SONGS ABOUT IT! HERE, I'LL PLAY A SAMPLE TRACK FOR YOU: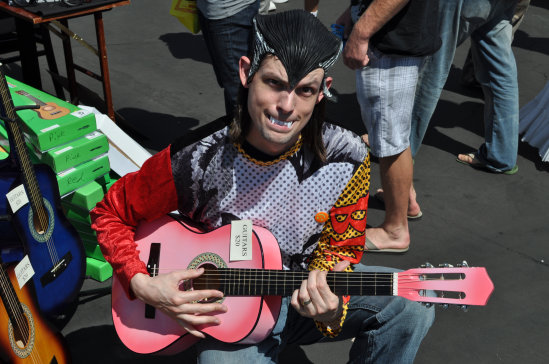 "BITING ON AN APPLE, CHIPPED MY FANG, OH CRAPPLE!
WHAT DO I DO? MY FANG FELL OFF AND NOW I'M FEELIN' BLUE!
WAIT, NOW I'M ACTUALLY TURNING BLUE! HEY LOOK, I'M CHOKING!
SOMEBODY PLEASE GIVE ME THE HEIMLICH, I'M NOT JOKING!
NEVERMIND. I SWALLOWED THE TOOF. WHAT A GOOF!
WHAT. A. GOOF.
OH BABY, I GOTS THE GOOF TOOF BLUES! "
YOU SEE? IT'S EASY TO GET THE BLUES. ESPECIALLY WHEN YOU'RE HOLDING ONTO A PINK FLAMENCO GUITAR. THE ONLY WAY TO CURE THOSE BLUES IS WITH A PINK FLAMINGO GUITAR, BECAUSE WHEN YOU'RE DONE PLAYING, IT BECOMES A CLASSY LAWN ORNAMENT!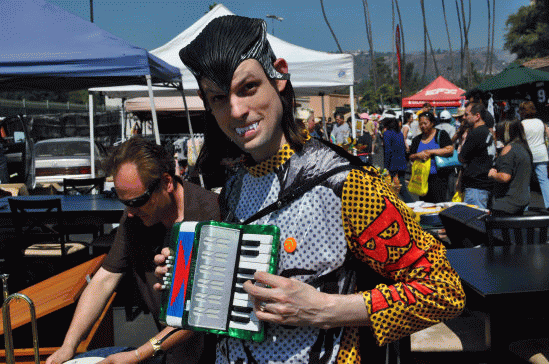 OH OKAY, AN ACCORDIAN WILL DO TOO! EVERYBODY POLKA POP 'TIL YOU CAN'T STOP! POLKA! POLKA! POLKA! POLKA EVERY DAY! POLKA! POLKA! POLKA! POLKA THE COUNT POP WAY! COME ON WEIRD AL YANKOVIC, YOU KNOW YOU WANT TO GO ON A POLKARAMA TOUR WITH COUNT POP! CALL ME!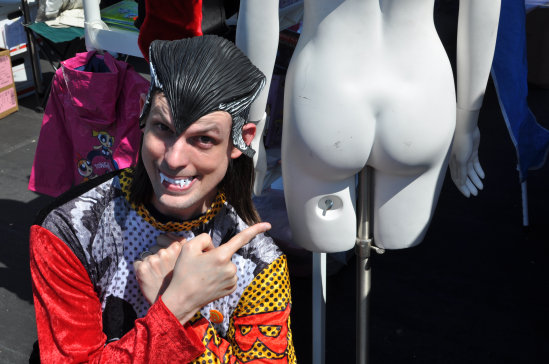 HEY KIDS, THIS IS WHAT HAPPENS WHY YOU TRY TO HOLLOW OUT A PORTION OF YOUR LEG WITH THE INTENTION OF USING IT TO SMUGGLE DRUGS INTO THE COUNTRY! THEY BLEACH YOUR SKIN WHITE, CUT OFF YOUR LEGS AND PROP YOUR BUTTOCKS UP ON A POLE OF SHAME FOR ALL TO SEE!
HA! HA! HA! YOUR FAVORITE POP PRANKSTER IS JUST PULLING A FAST ONE ON YOU! THEY DON'T DO ANY THAT! THEY JUST PUT YOU IN JAIL, WHERE YOU'RE STILL LIKELY TO HAVE YOUR BUTTOCKS PROPPED UP ON A POLE OF SHAME! THE POINT IS, BE COOL, STAY IN SCHOOL, DON'T DO DRUGS, DON'T POUR SALT ON SLUGS, DON'T SPILL RED WINE ON RUGS, LISTEN TO ME AND ENJOY SOME RADICAL ROCKABILLY!
Oh but there's still much more!
CLICK HERE TO CONTINUE TO
PAGE 2 OF COUNT POP'S STORY!