by: Max Burbank
...CONTINUED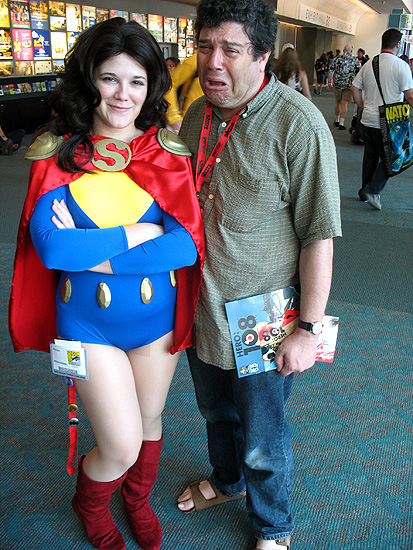 Okay, this is the Lois Lane with superpowers costume from one single issue of All Star Superman.
I knew that. That totally made me cry.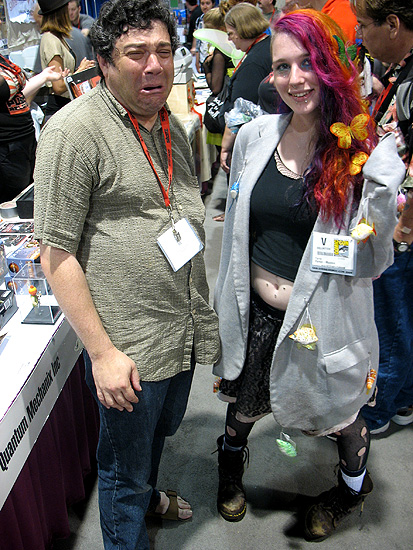 Delerium. From Sandman. Chick shaved half her head to make this work. That's commitment. It actually made me cry a little.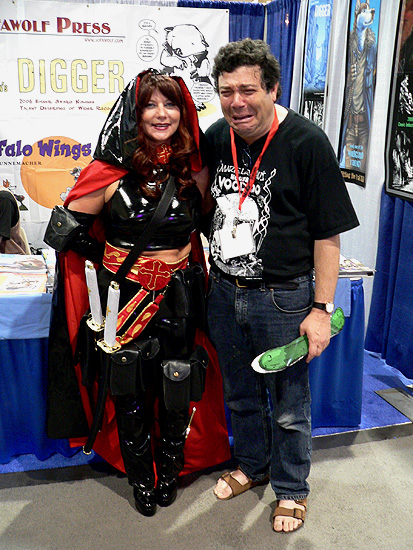 This is, what, the Baroness? From G I Joe? I think? I know shit all nothing about G I Joe except they were bigger when I was a kid and they had life like hair and kung fu grip. And here was this woman who'd put so much effort into a costume that could only appreciate in the most crude, sensory way and it was all so unfair I think I may have cried a little.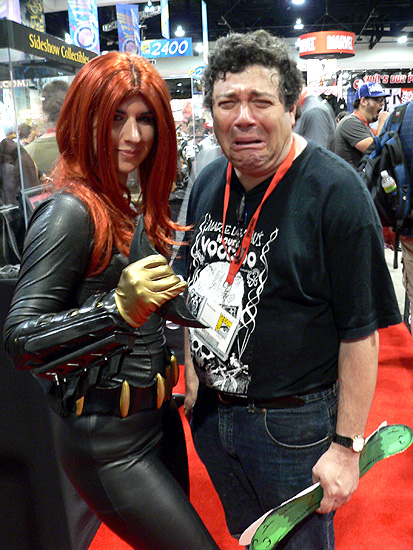 Batgirl, no cowl. Hadda be from that Birds of Prey TV show that ran, what, three episodes, none of which I ever saw, and since she's Batgirl and not Oracle, I gotta assume this get up is from some kind of flashback episode that for all I know might never have even aired. Television is one damn cruel medium. I cried.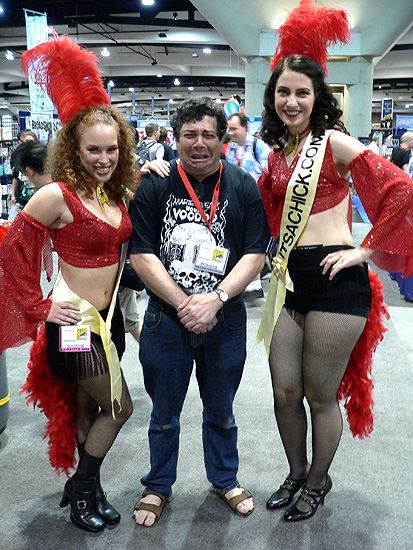 It was the end of the day, I was very tired and then there were these two showgirls and I didn't get it and I'm like 'Don't take a picture, don't take a picture' and FLASH! Picture taken. And I'm crying. Look we all have a human side, okay? I can't be on for you people all the time.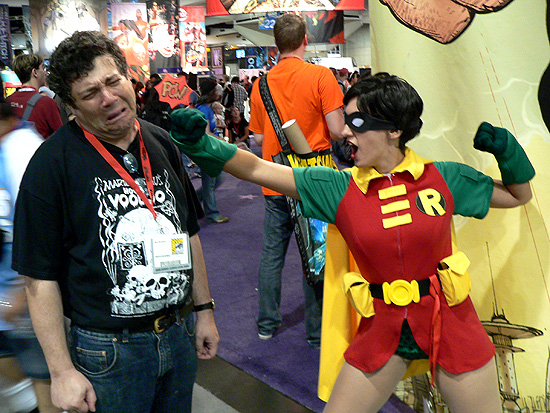 Okay, this chick seriously hurt me, all right? Jesus.
I'm one of those weak, weak people who happen to cry when they get hurt. Big damn deal.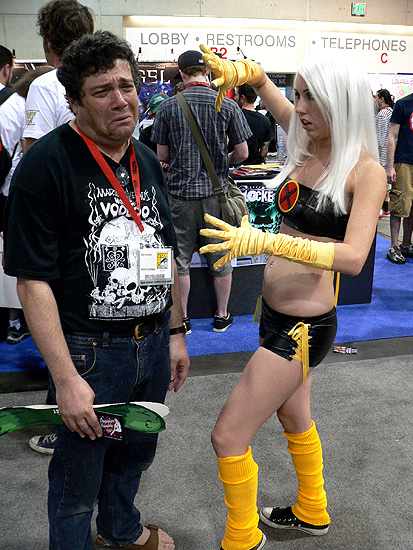 She was totally putting a hoodoo on me and I didn't expect it and I guess maybe I cried.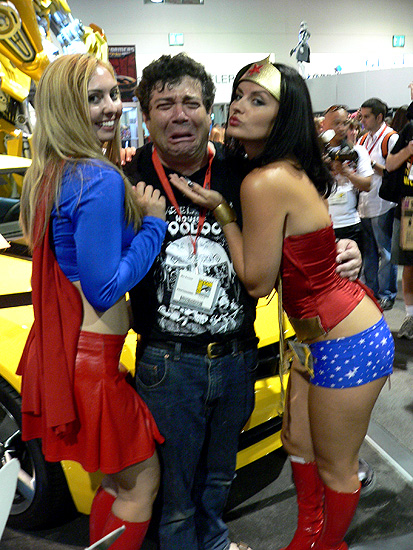 Oh, like this wouldn't make you cry!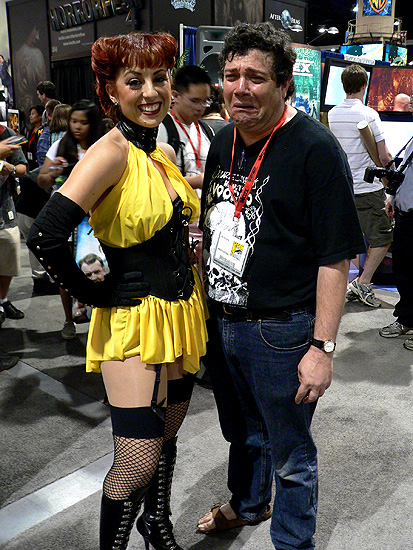 Golden age Silk Specter?! You're damn right I cried! What am I, made of stone?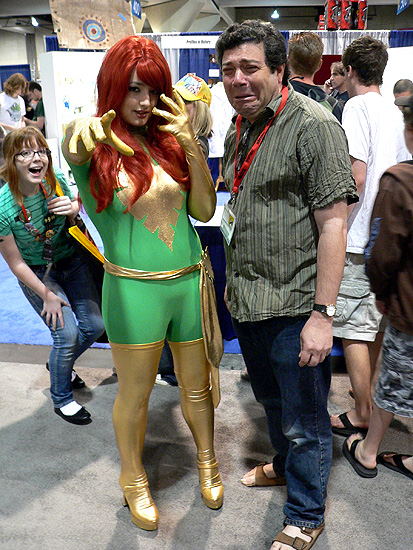 Look, the Phoenix character is completely ABOUT mortality. I'm a middle aged man. I cried.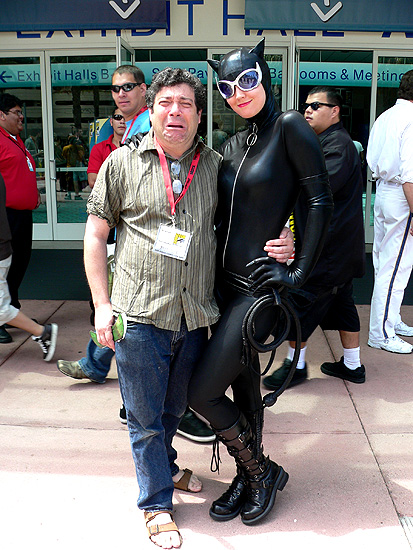 Okay the truth is Cat Woman does it for me even more than Wonder Woman. Now you know. I hope you're happy. Christ.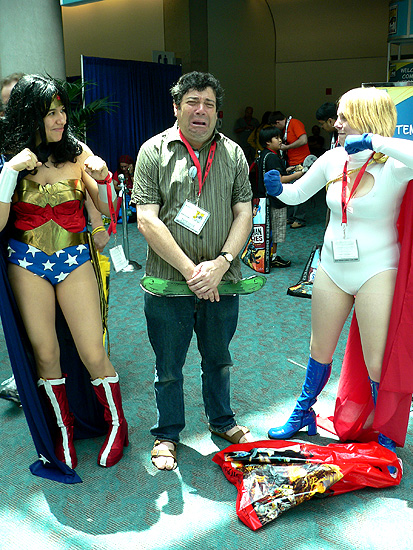 WHAT DO YOU WANT?! THEY WERE GOING TO BEAT THE SHIT OUT OF ME!!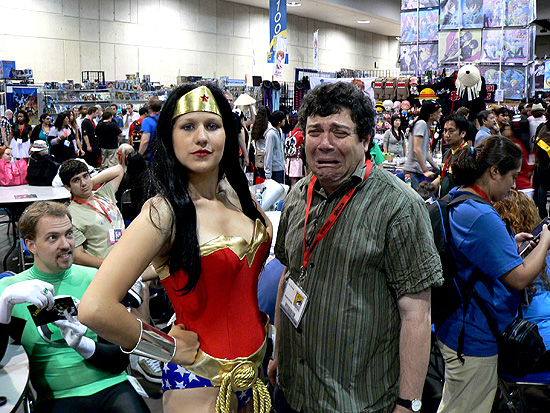 I totally wasn't going to cry and then fucking Green Lantern gives me the hairy eyeball.
What the fuck, man, it's just a fucking picture. Cool off.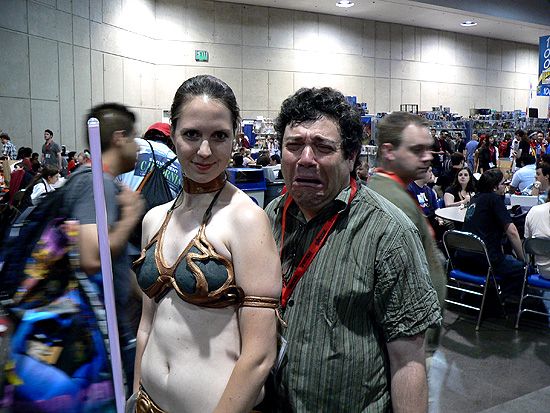 Everyone my age cries over slave girl Leia.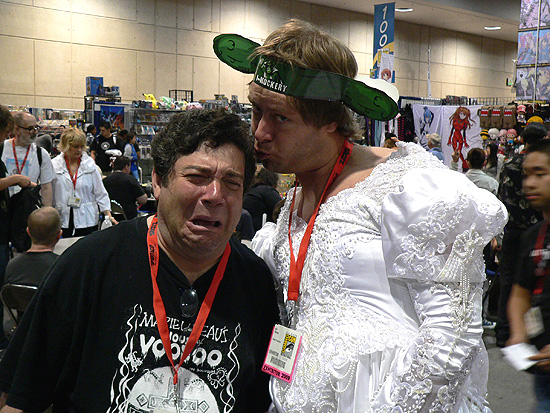 I think we've already established that if I get to confused, I kind of cry sometimes.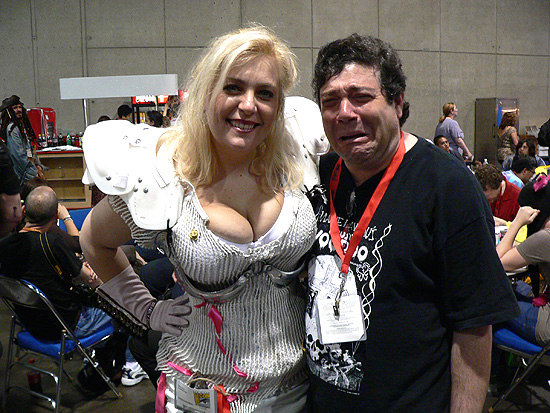 I won't lie. I thought they were gonna get me.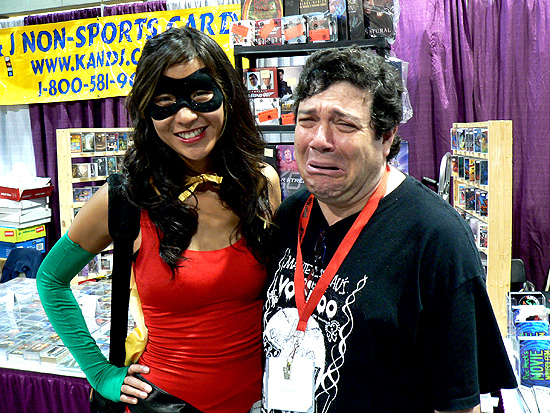 Okay, this chick Robin was fine, she didn't hit me or anything, but you don't have to be Pavlov's Dog to be conditioned, all right? After that first time, I see a chick robin, I burst into tears. It's PTSD.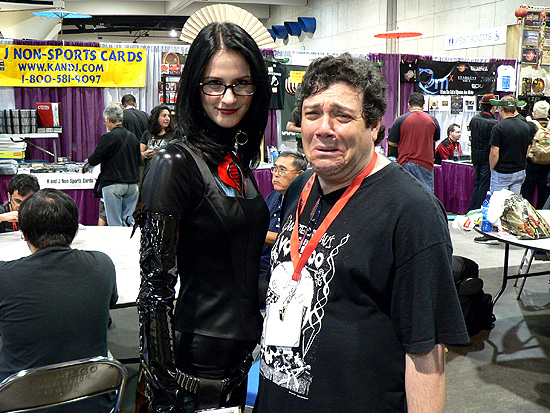 The Baroness. You got me. I don't know. I just cried.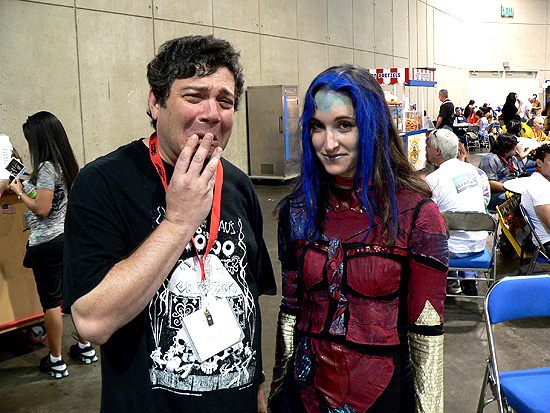 This character is from the last Season of Angel, which got cancelled WAY to soon and that still makes me mad.
Mad enough to cry? Yes.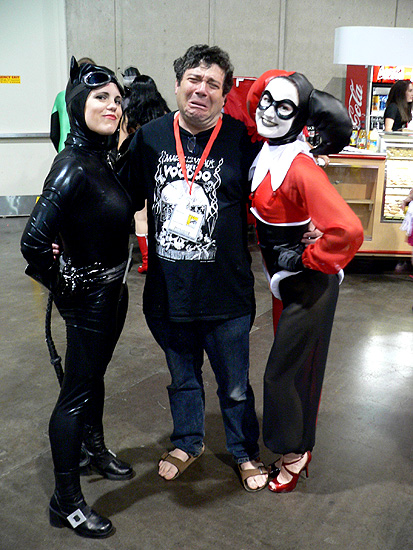 Harley Quinn? Didn't even notice. I would have but I was crying too much 'cause of the Catwoman.
It's like, psychological. I totally can't help it.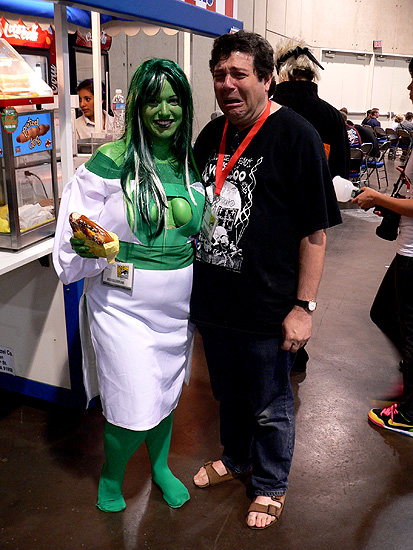 Jade as seen be Alex Ross for Kingdom Come. Eatin' a hot dog. THAT made me cry.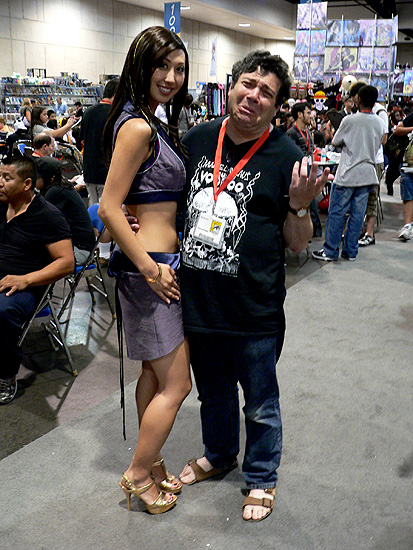 Who even IS this? Am I supposed to know? I'm so TIRED!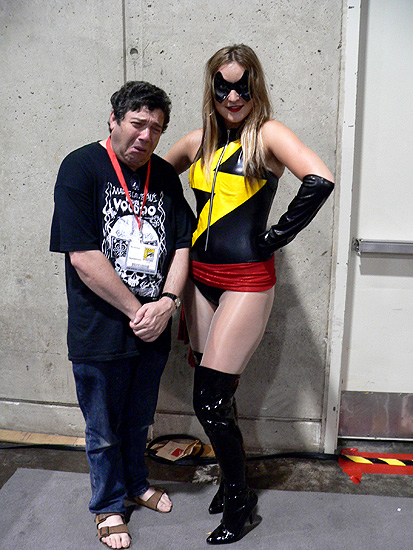 In this picture, a woman dressed as Warbird (Ms. Marvel) elicits tears.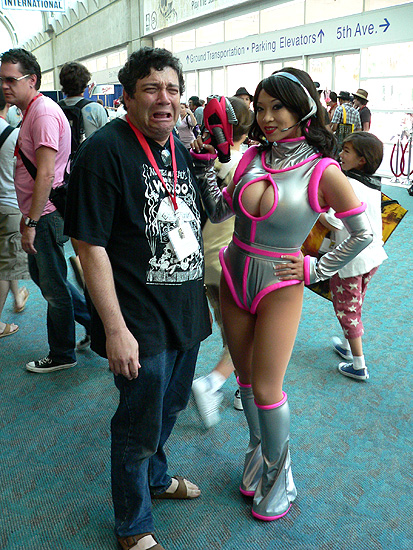 I DON'T KNOW WHO THIS IS, I DON'T KNOW WHO THIS IS, I CAN'T TAKE IT!!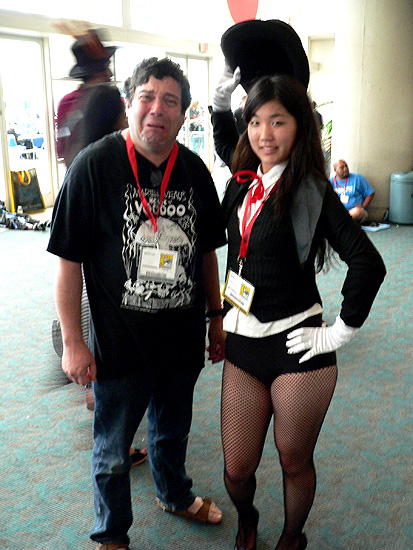 Zattana has been one of my favorites since I was, like, seven. Thinking of my lost, wasted youth, I cried.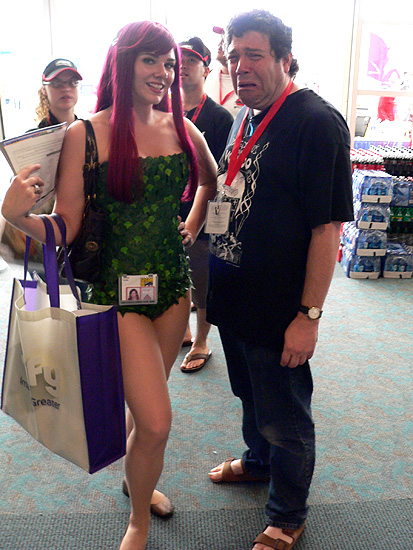 By the time I ran into this Poison Ivy I was crying pretty much non stop.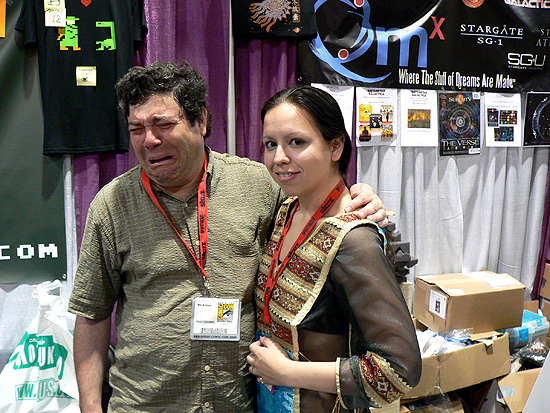 What can I say? BIG Firefly fan. Big. Total friggin' tragedy to have that show cancelled after one season.
Any reminder makes me howl like a toddler.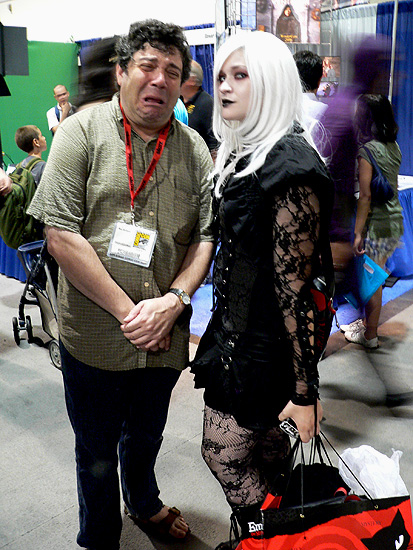 WHO, WHO, WHO IS SHE SUPPOSED TO BE DAMNIT!?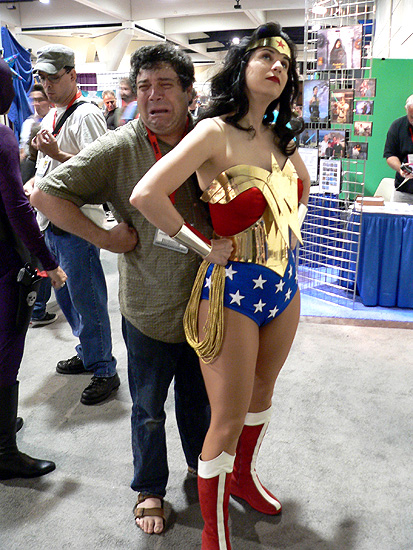 OH GOD, WONDER WOMAN!!!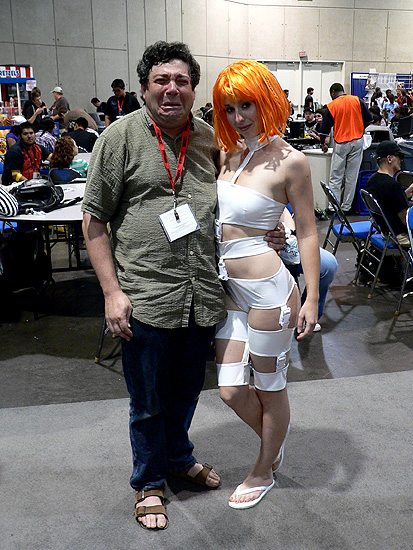 LEELOO!! LOOK AT HER!! LOOK AT HER, SHE'S PERFECT!! COME ON!!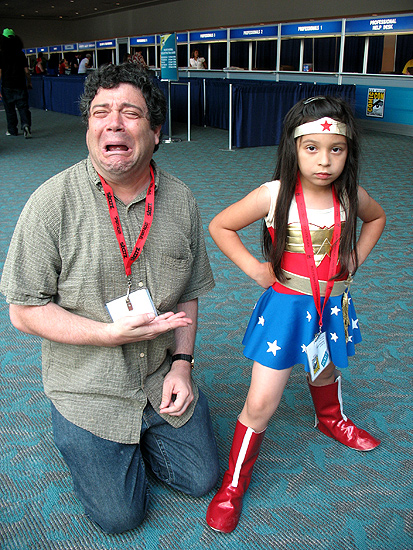 WAAAAAAAAAAAHHHHH-UNDER-WAAAAAHHHHH-OMAN!!!
SHE'S SO CUTE AND LITTLE AND... AND...
I need a moment. Don't look at me.
DON'T LOOK AT ME!!!
Have any questions or comments about this piece?
Email Max Burbank