---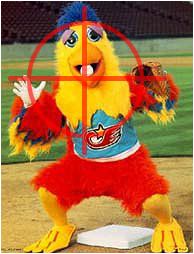 Public Enemy #1
Bad move. As soon as you put on the costume about 50 people jumped on you and started beating you. You see, everybody has seen the Chicken Mascot appear in various sports games and get in fights with the players and even the fans. Well, it's every American's dream to get a crack at that damned chicken. And by volunteering to wear a similar chicken mascot costume, you volunteered yourself to receive the beating of a lifetime. It looks like you won't be going "Trick or Treating" this year. But I guess that doesn't really matter, because the only way you could eat the candy now is if it was puréed and fed to you through a straw.


[Minimocks] [Articles] [Games] [Mockeries] [Shorts] [Comics] [Blog] [Info] [Forum] [Advertise] [Home]


Copyright © 1999-2007 I-Mockery.com : All Rights Reserved : ()
No portion of I-Mockery may be reprinted in any form without prior consent
We reserve the right to swallow your soul... and spit out the chewy parts.