You'd think you were looking at a sweet old lady, were it not for her screaming obscenities. She continues to rant at the cashier as you notice some odd activity in her overcoat. As she yells, she opens the front of her coat, as if to flash the Milk Duds with her Snowballs. You see a small pair of hands dart out of the coat to grab candy by the fistful. As the candy disappears into the overcoat, you hear a disgusting combination of chewing and slurping even over the screaming old woman.
You take a step forward to ask just what's going on here, but the old woman jumps in before you can finish saying "what":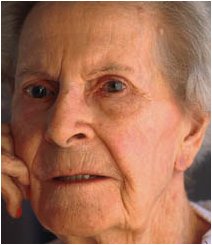 "Don't you take another step near me! Dale and I are on a very important mission right now! He's gotta have his sweets!"
Closer now, you can see the small child concealed within her coat. His mouth is smeared with chocolate. His eyes are wide open as he grabs a bag of Skittles and dumps it into his mouth. You try to ask why he needs so much junk food, but the old woman stops you before you can curl your lips to make the "w" sound:
"Doctor says he's got the diabetes, says that makes him hyperglycemic. Know what that is? Means he's got to get a lot of sugar in him all the time, or he'll get all listless and moody!"
The old woman has a few things confused, but even she can recognize that he's started having a seizure. She starts panicking and babbling incoherently. You hear the cashier passing out, but there's no time to worry about him. You've seen this sort of thing before on Trapper John, MD! You ask the old women if she has any insulin, but she's too busy running through a long list of saints. Luckily, you spy an insulin pen sticking just out of her pocket. Time to be a hero, just like Dr. House! You grab the pen, scream "get me some more vicodin!", and stab the boy's thigh.
After a few moments, the boy's seizure subsides, and he relaxes. The old woman breathes a sigh of relief. She thanks you for you quick action:
"Oh, thank you, stranger! You saved my boy with that magic pen of yours! Here, I want you to have this. It's a magic air horn you can use to ward off monsters!"
You take the breast pump from the old woman and thank her for it, trying not to imagine where this pump has been. She starts digging around for another "reward", but you've had enough. You grab a bottle of Hoo-Hoo and race back home.
What an ordeal. You hope this isn't a sign of things to come. Nevertheless, you're good for drinks now, time to think about how you're going to get to your great uncle's place.
Your best bet is to: