...CONTINUED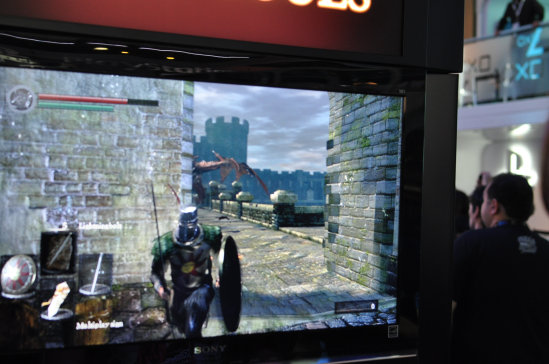 I had fun watching Dr. Boogie run away from a giant fire-breathing dragon. What a coward.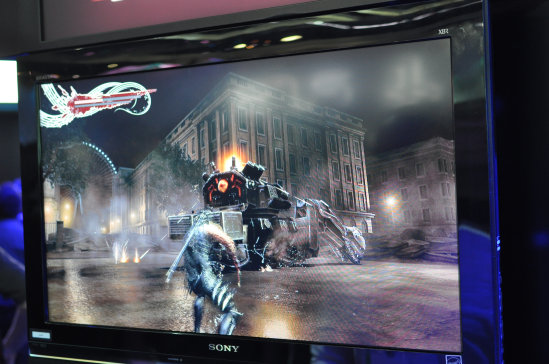 As a huge fan of the Ninja Gaiden series (both in terms of challenge and ridiculous storyline), I can tell you that the
Ninja Gaiden 3 demo did not disappoint in any way. I sliced my way through a variety of human foes in brutal fashion
and then went head to head with a big robot crab monster. Why? Because, those are the kind of things all ninjas encounter.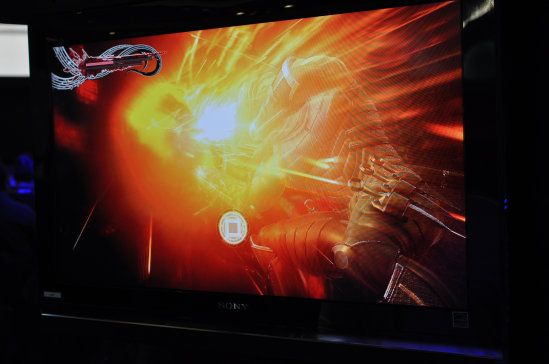 And when a ninja does encounter said crab monster, he cuts out its eyeball and walks away unscathed.
Yeah, it's safe to say I'll be buying this game the day it comes out.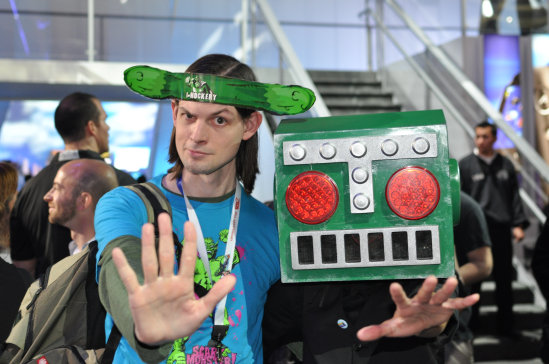 I stop, you stop, we all stop for our chums at Destructoid!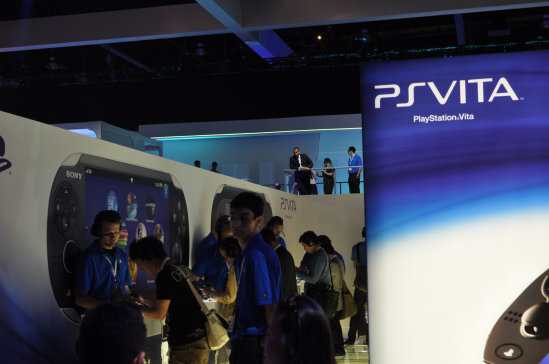 The new PlayStation Vita was also at E3 for people to demo, but you didn't have to wait hours to try it out.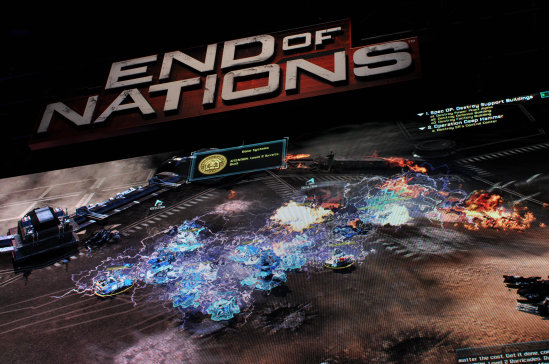 Things sure do explode in the End of Nations.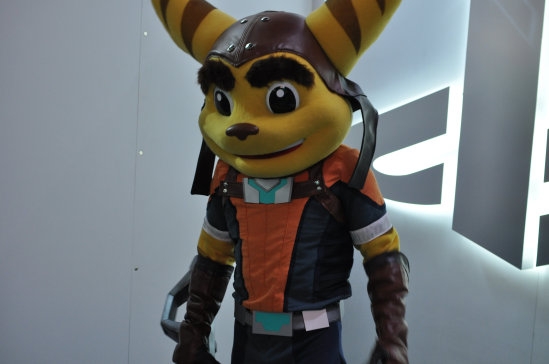 Ratchet was hanging out at E3, but where was Clank?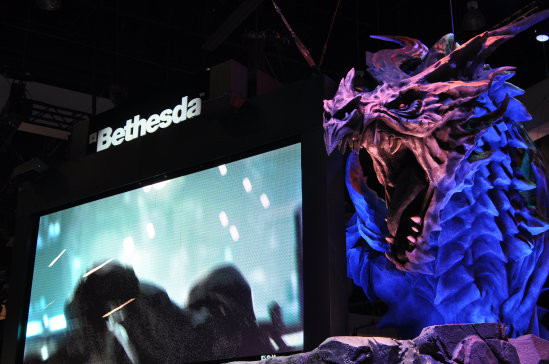 I'm guessing this guy ate him.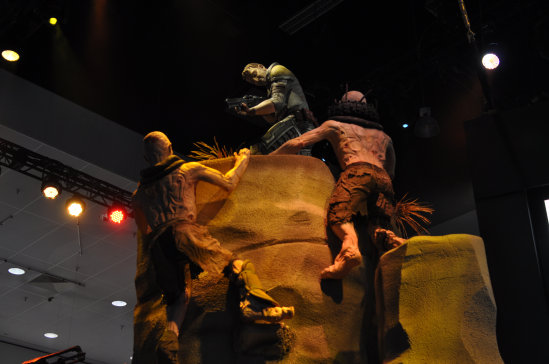 Another display promoting Rage.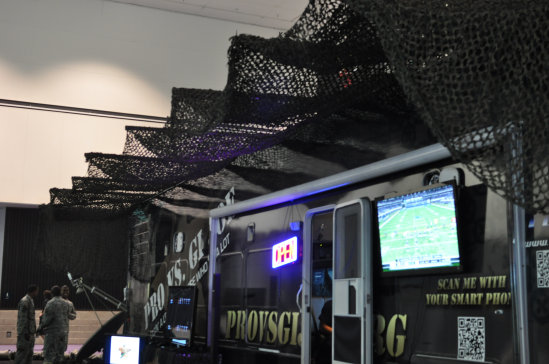 Pros vs. G.I. Joes?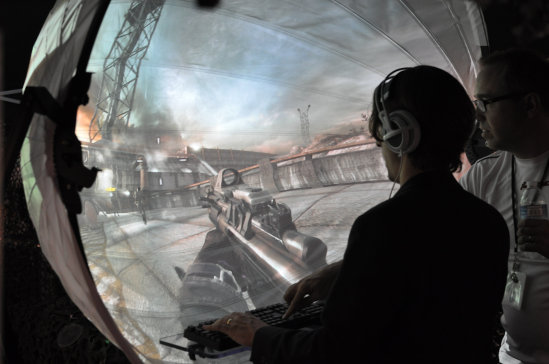 Now here was an interesting display unit. It's called the Dome and gives you a more intense 3D gaming experience.
While it does fold down 'n all, I still have a hard time picturing anybody having one of these set up in their living room.

Sure, they're doing fine right now, but the question is can they beat Death in Twister? Only then will I be impressed.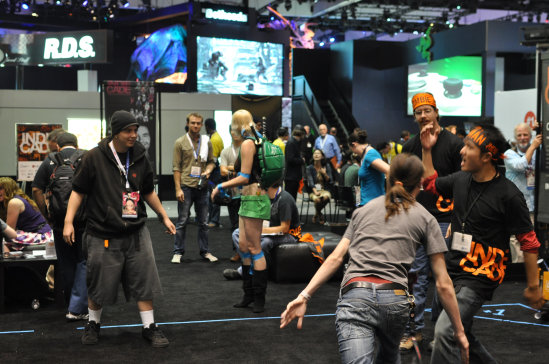 There was some kind of strange tag game going on in the independent gaming
area that looked a bit too much like LARPing, so we quickly ran away.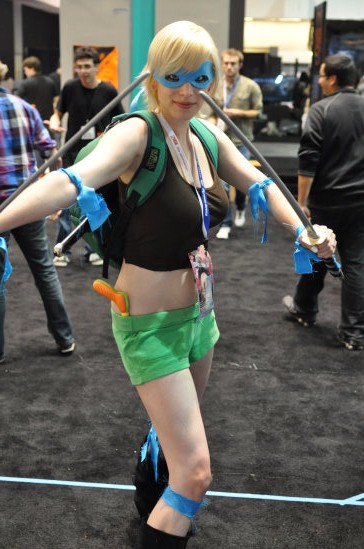 But not before I took a photo of some girl dressed as Leonardo from the Teenage Mutant Ninja Turtles.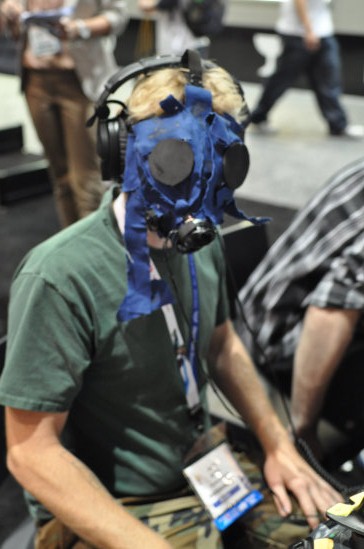 My buddy Alex tried out the most immersive game at the entire convention. And by "immersive" I mean "suffocating".

Over at IndieCade, Scribble Shooter lived up to its name with hand-drawn scribbled enemies to shoot at. Yep.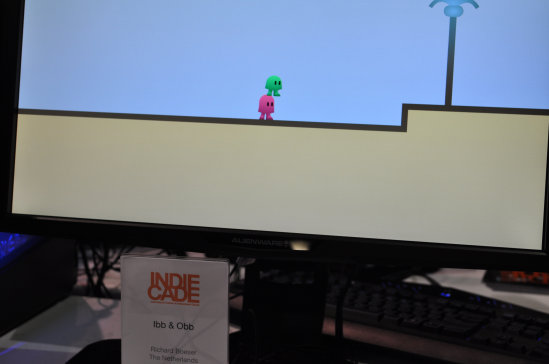 Of all the IndieCade games, Ibb & Obb was easily my favorite. It's a simple platformer which requires local co-op play with a friend. To say you rely on each other is an understatement. It's a fun game and I hope you can save your progress as you go along instead of having to start from scratch every playthrough. I'll definitely look into this one when it comes out.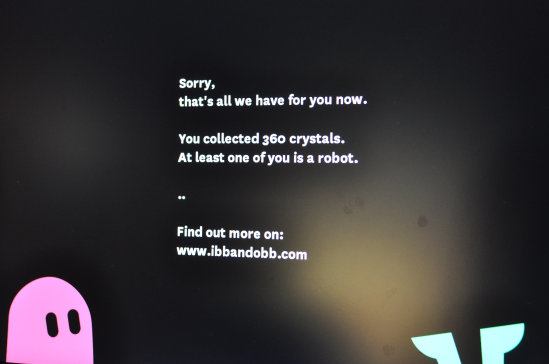 I need to find a way to work the phrase "At least one of you is a robot" into my conversations at least once a day.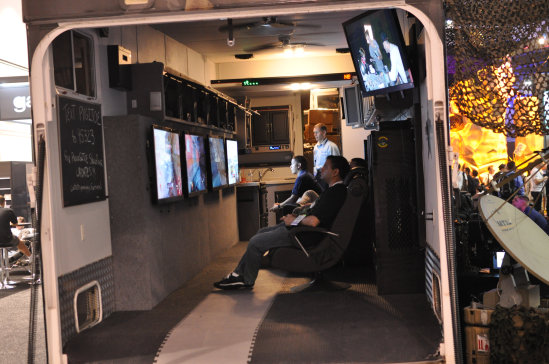 No matter where they travel, some people just can't leave the trailer park behind.
At least this one appears to be nicely tricked out with more screen than anybody could possibly need.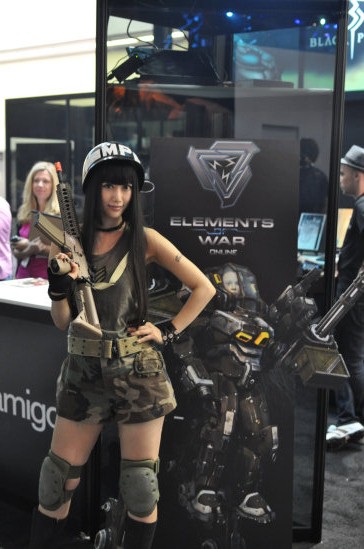 Apparently one of the elements of war is armed booth babes. And here I thought it was cadmium.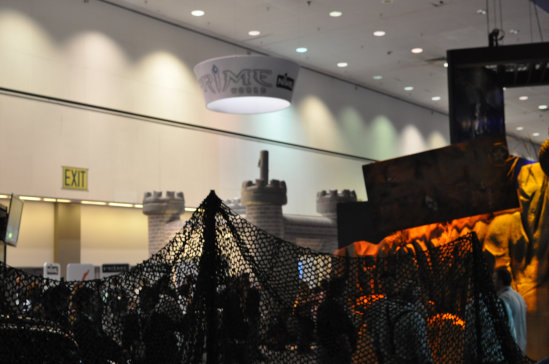 Off in the distance, we noticed a bouncy castle and felt the need to play investigate.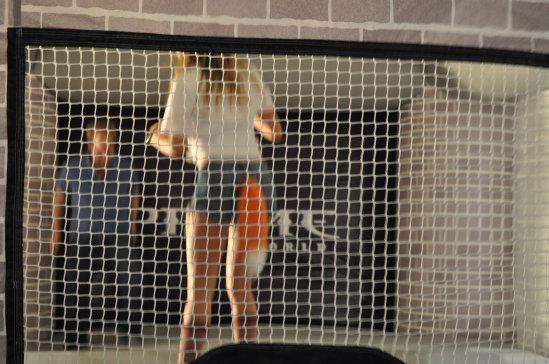 To our horror, the people running this bouncy castle were letting in one old nerd in at a
time to jump around with a booth babe who had a fox tail attached to her ass.
Creepy and pathetic... all in one lonesome bouncy castle of woe.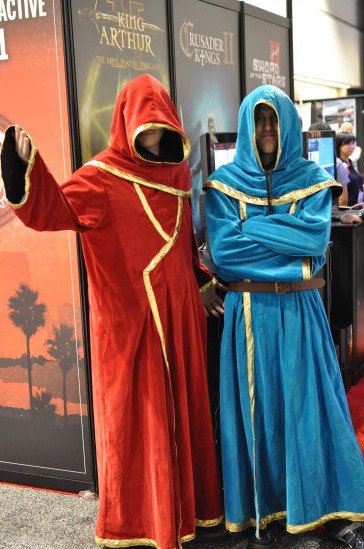 Kinda hard to cast a spell on me when your vision is impaired by your own cowl, dude.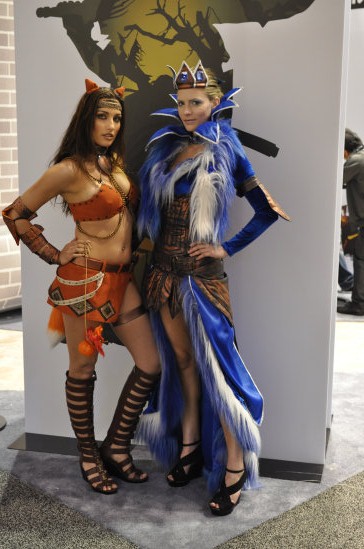 Cosplayers or maidens brought forward to modern times through sorcery?
Trick question. They're just booth babes promoting some game. And what game are they promoting? Beats me.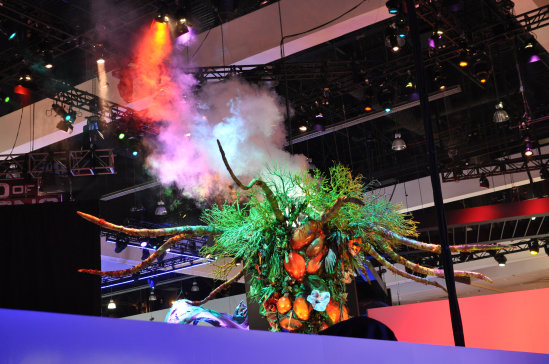 I have a feeling the fire marshall is gonna have a problem with this booth display.

The people behind Rift know that their display looked great last year, so why change it?
There's still much more to see from
I-Mockery's coverage of E3 2011!
Click here to continue onward to page 5!