...CONTINUED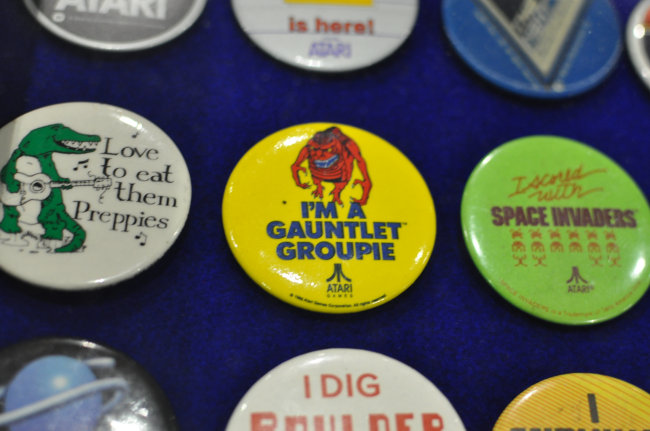 Yeah, but who isn't?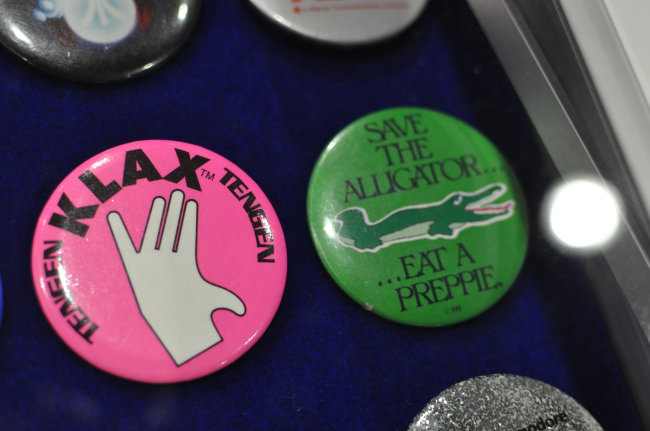 Eat a preppie? Okay.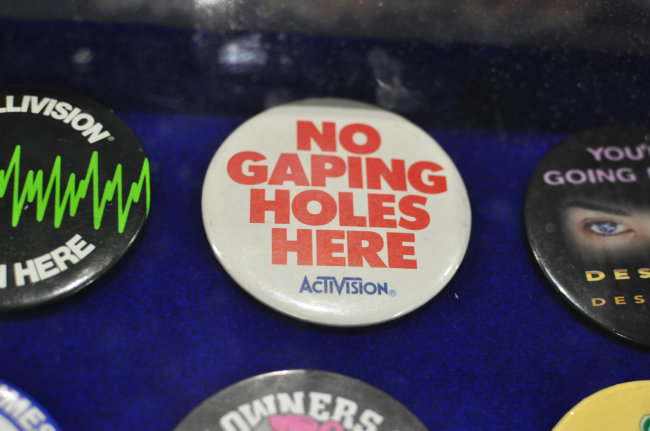 You're just gonna have to take Activision's word for it.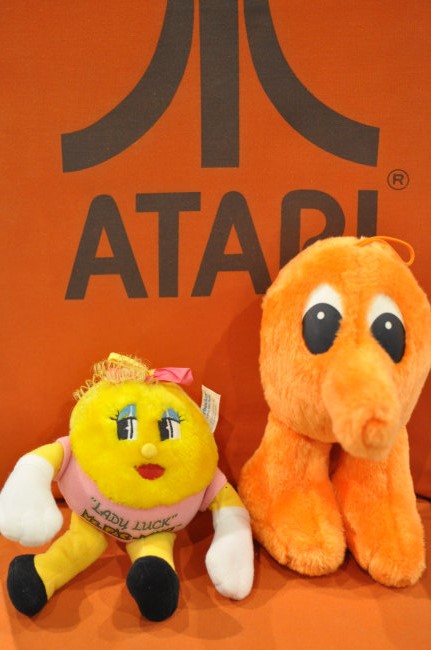 Q*Bert and Ms. Pac-Man. Friends forever.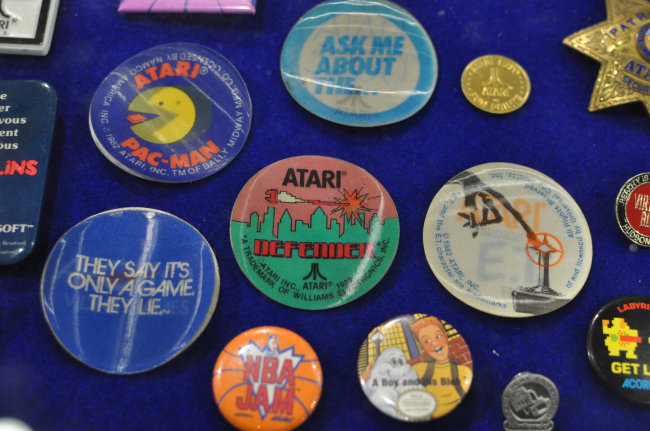 Always loved these lenticular Atari stickers as a kid.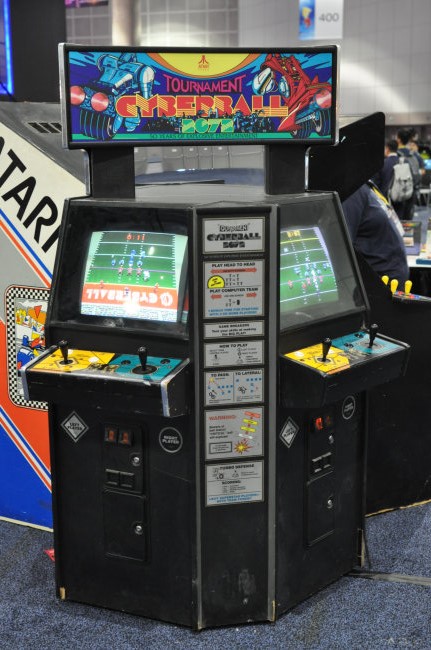 An old dual monitor Tournament Cyberball 2072 arcade cabinet.
The mirror on top is so you could look up to see the expression on your opponent's face!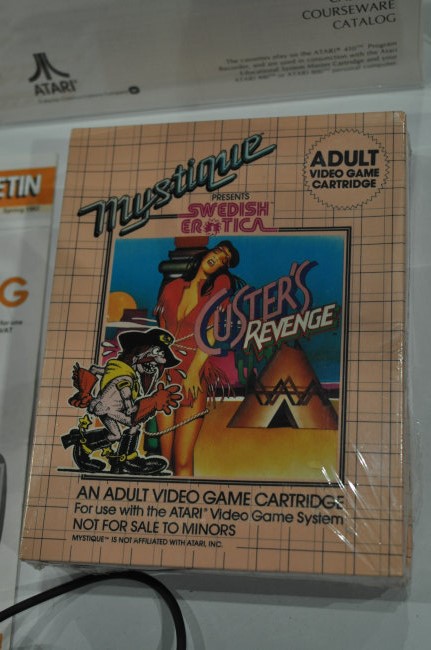 Custer's Revenge continues to live on in infamy.

Pac-Man is coming... and so is Atari-Man.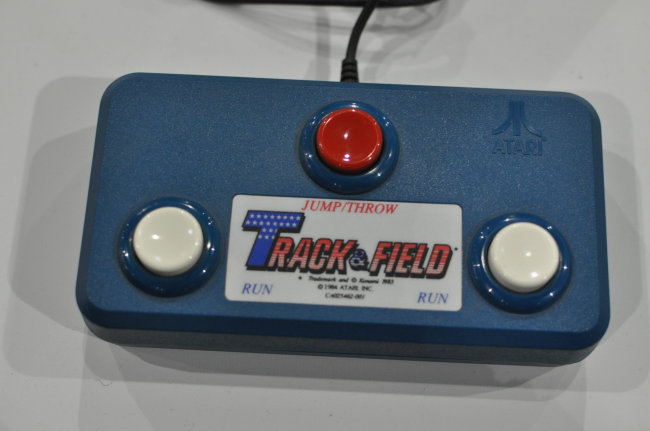 Track & Field would've been a lot easier to play if I had these buttons to mash when I was a kid.

So many people were trying on the Power Glove that bits of the black fabric were getting shredded and falling on the table.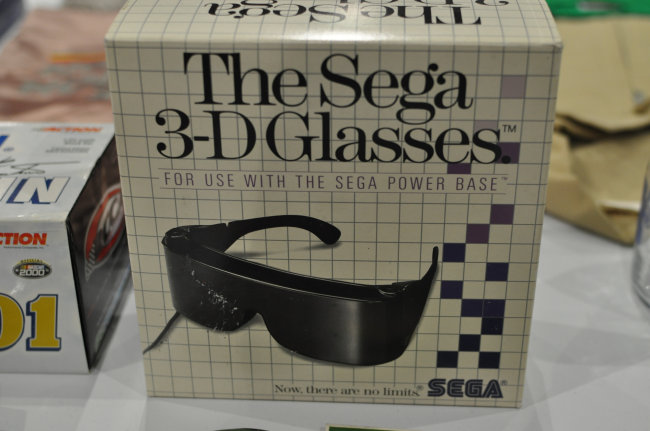 If you wanna look cool while playing video games, the Sega 3-D Glasses are your best option.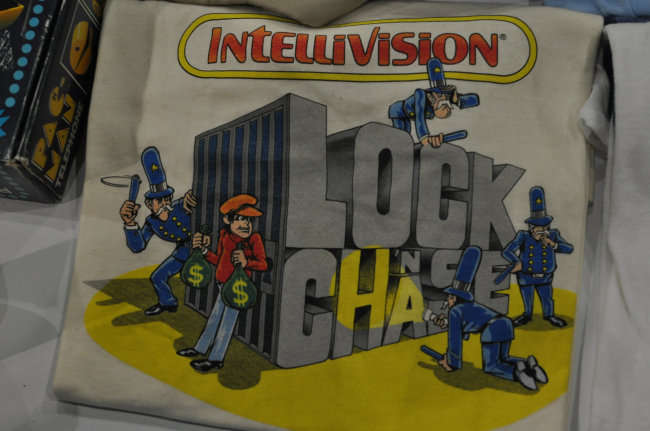 One of my favorite Pac-Man clones on the Intellivision - Lock 'N Chase promoted thievery. Good times!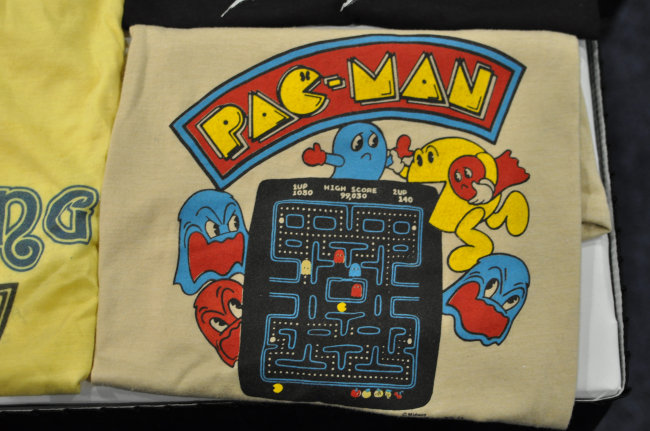 Always loved how the ghosts were depicted in this old Pac-Man art.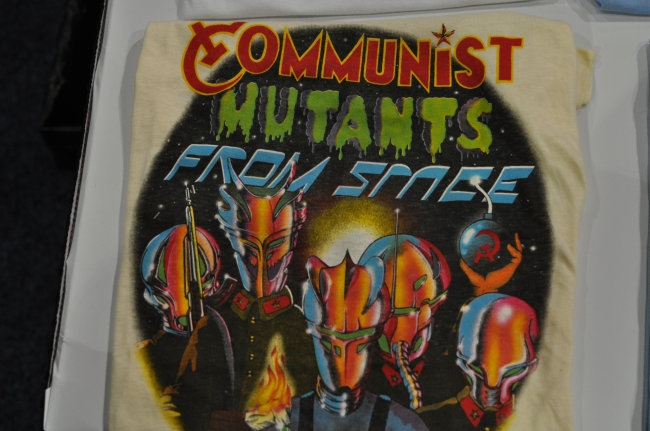 Communist Mutants From Space. I really don't need to add anything to that, do I?

Why play the Pole Position and Tron arcade games, when you can play the board games instead?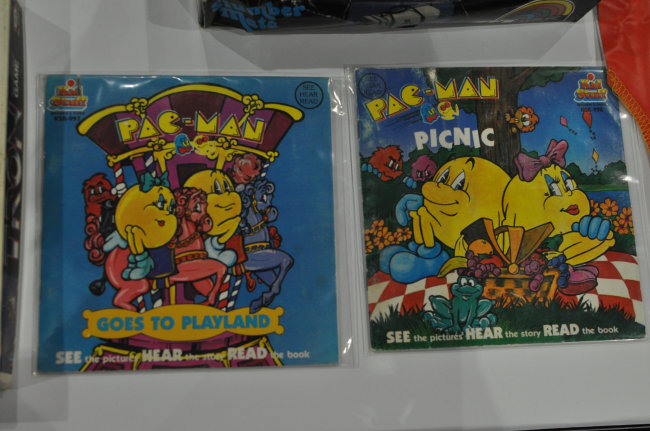 Some classic Pac-Man story LPs.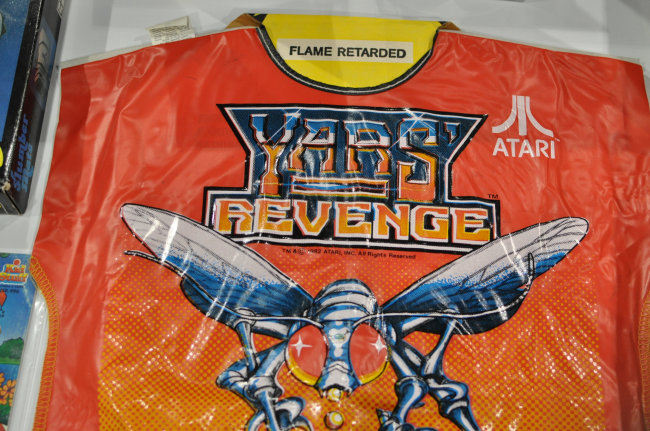 Who wouldn't want to dress up as Yar's Revenge for Halloween?
(Also, I believe they meant to say "retardant")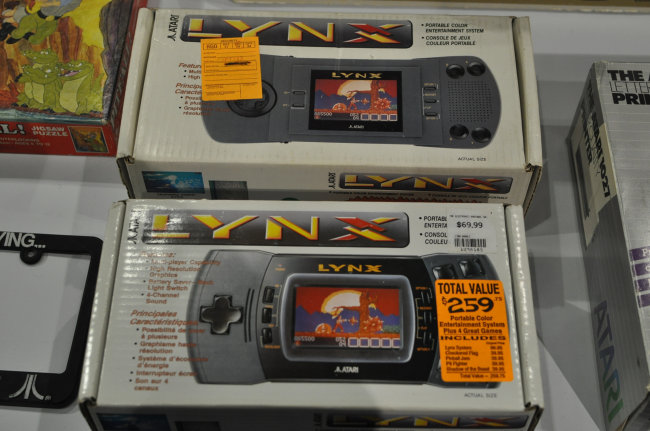 The awesome original Atari Lynx and its smaller successor.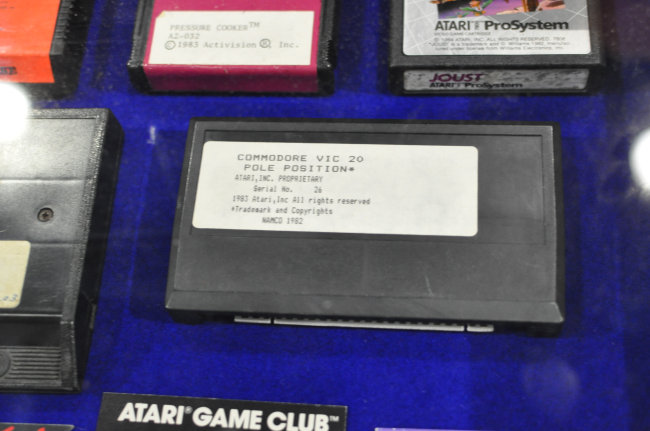 Old prototype cartridges, including Pole Position fomr the Commodore VIC-20.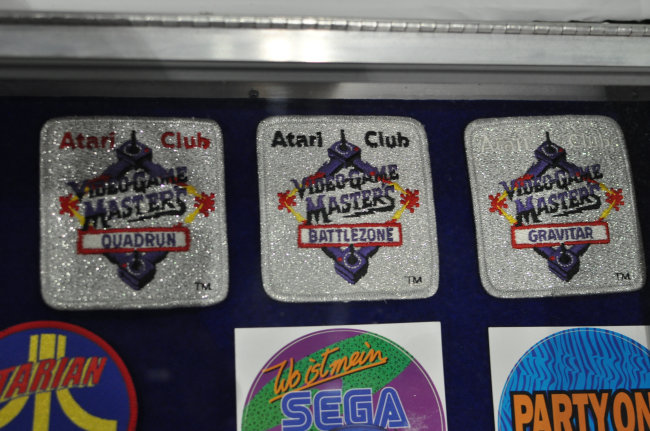 Are you an Atari Club Video Game Master?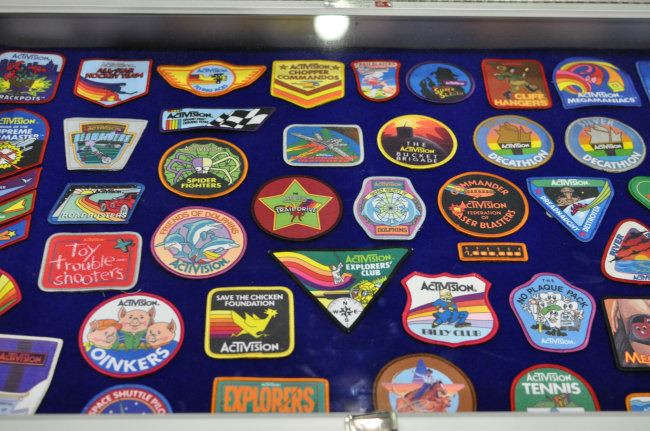 Activision's patches will always be one of my favorite promo items in video game history.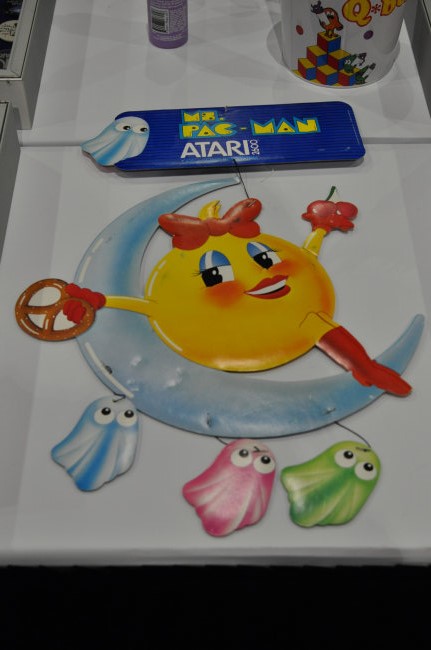 I need this Ms. Pac-Man Atari 2600 mobile hanging from my ceiling.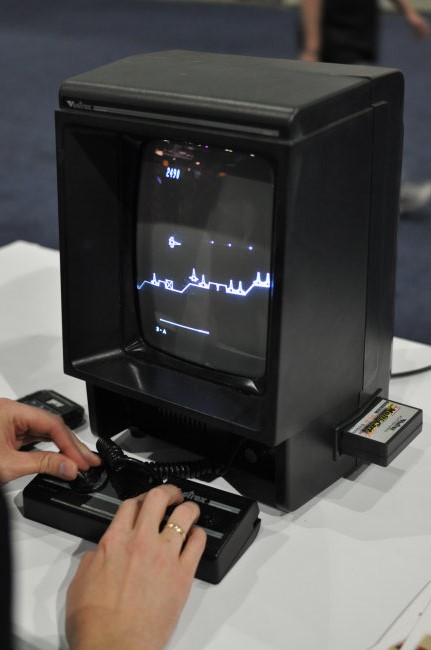 Of all the classic video game consoles out there that I don't own, the self-contained Vectrex is at the very top of my want list.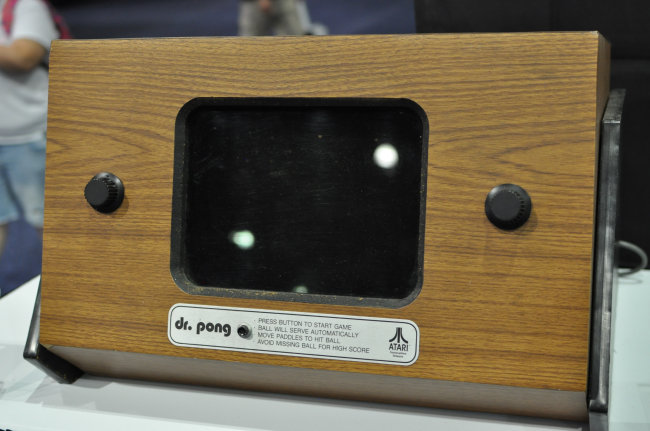 Dr. Pong? Now that's the kind of healthcare I can get on board with!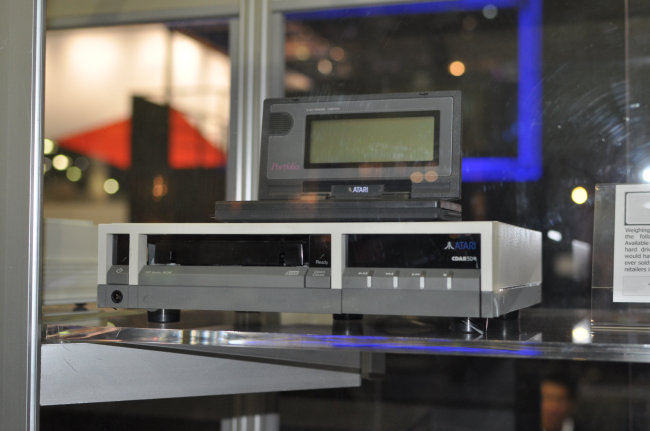 Didn't John Connor use this to break into the Cyberdyne Systems vault?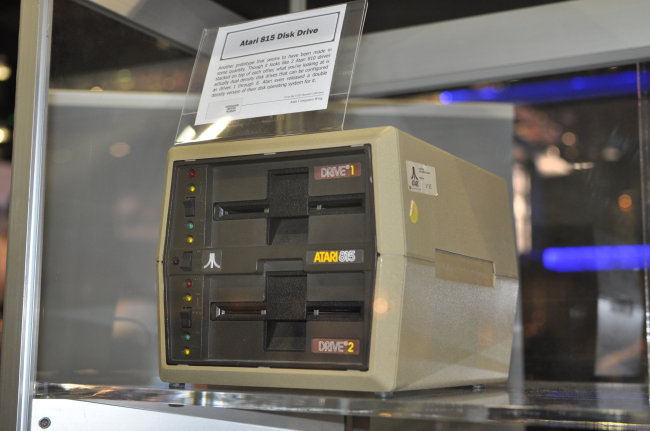 The Atari 815 Disk Drive. Cutting edge technology!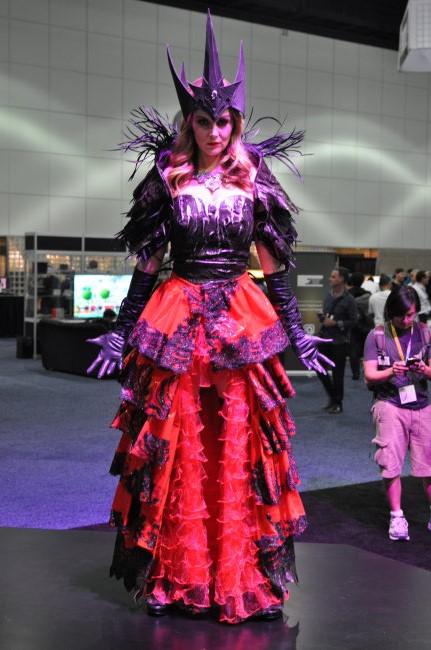 She was promoting a game, but damned if I can remember.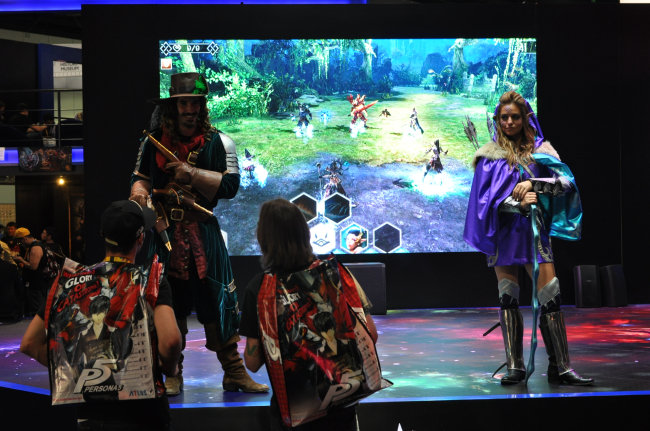 Free archery lessons, anyone?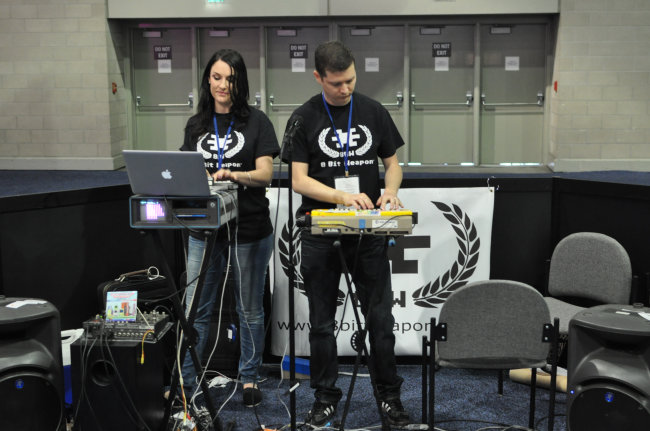 Always great to see Seth & Michelle from 8-Bit Weapon performing their chiptune goodness.
Michelle also has some new tunes from her ComputeHer act coming out soon, so keep an eye out for 'em!

Seconds later, his arm was ripped from his body and devoured.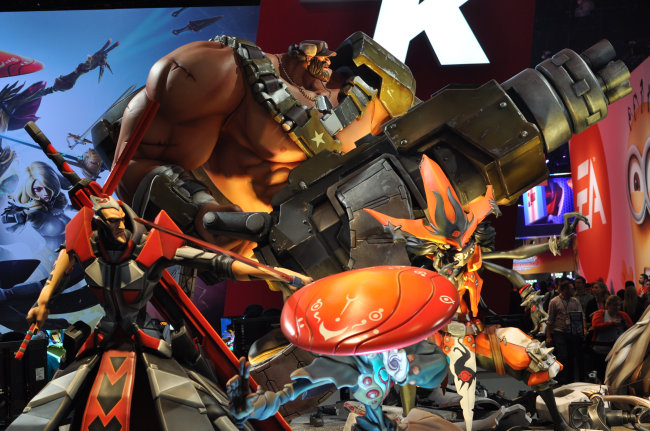 I dunno... I don't think his gun is big enough.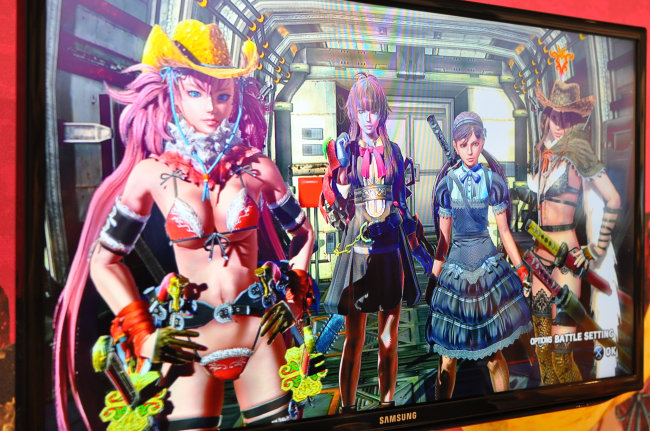 Always good to see strong female characters wearing realistic battle attire. *sigh*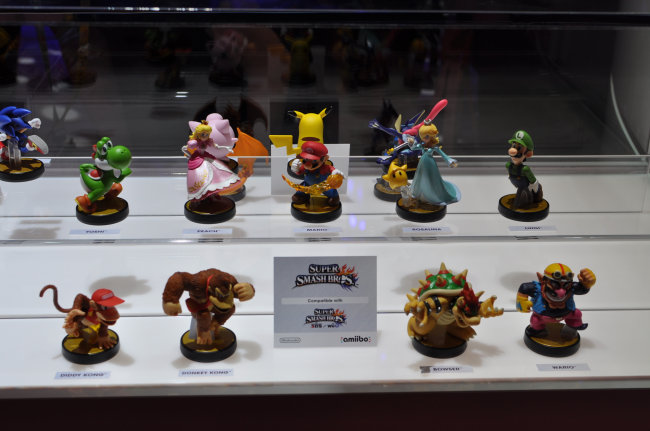 The increasingly popular Nintendo Amiibo figures from Super Smash Bros.

And more.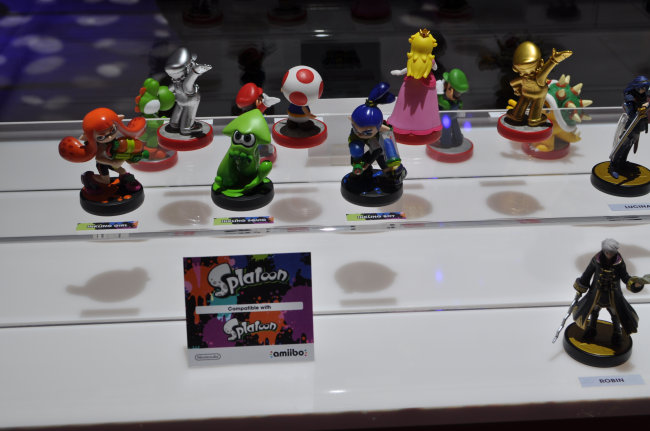 Splatoon Amiibos.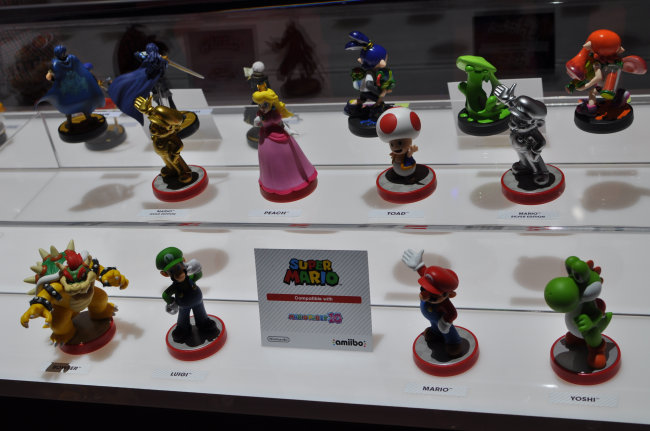 Super Mario Amiibos.

I honestly never wanted Amiibo figures before.
That all changed when I saw these R.O.B. Amiibo figures, including one with the old Japanese Famicom paint job!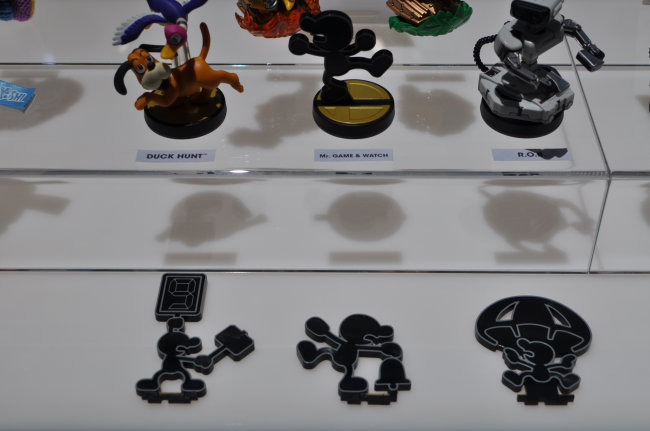 Didn't expect to see classic Game & Watch ones either!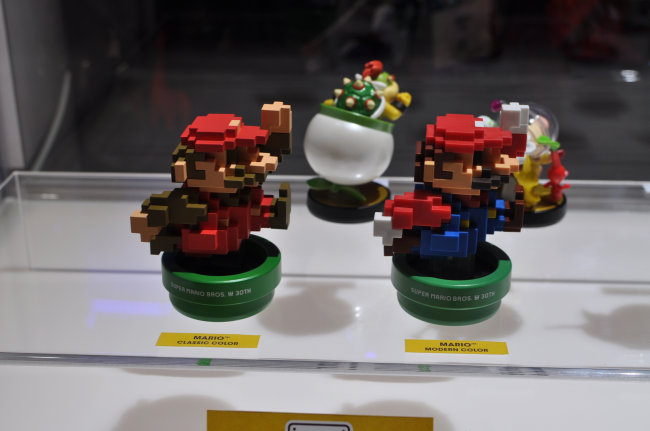 Loved these 3D pixelated Super Mario Bros. 30th anniversary Amiibos too.

Super Mario Maker in action.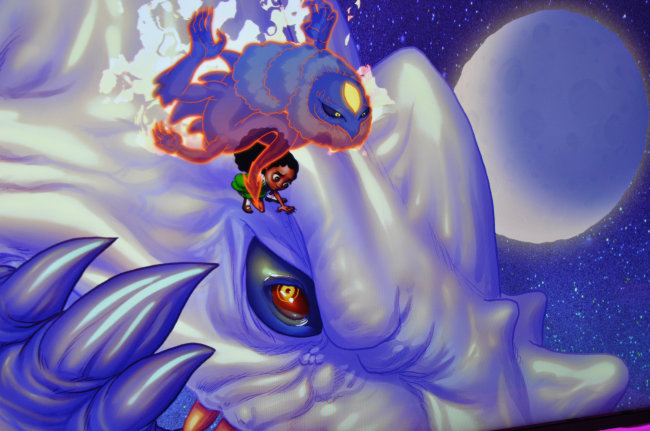 I really liked the art on Earth Night, even though it was hard to tell what the hell was going on at times.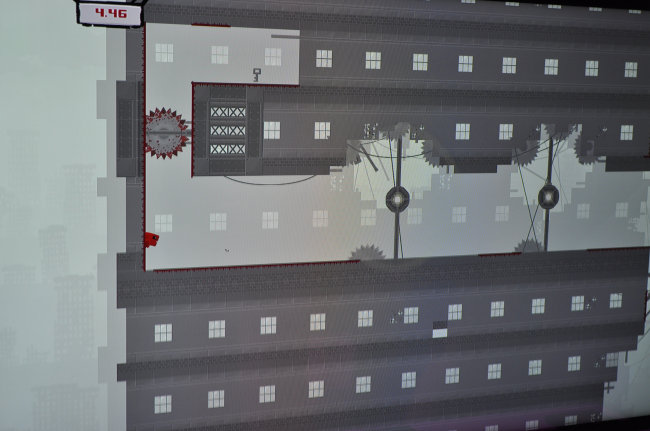 Always good to see Super Meat Boy in action from my ol' pal Edmund. Never gets old.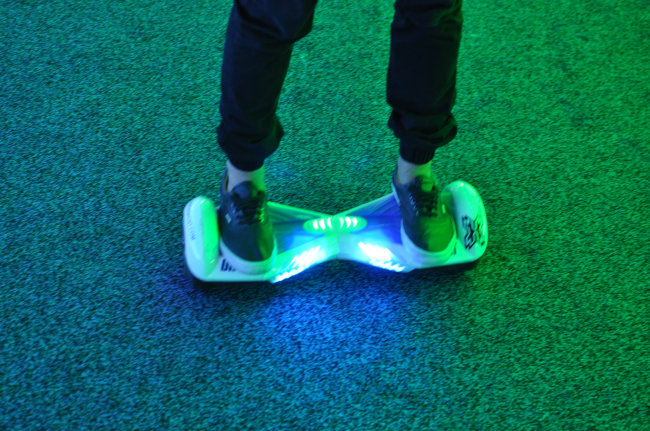 Got to take this "Ghost" for a ride. It's like a self-balanced, motorized skateboard turned sideways that you control by applying pressure with your feet. Takes getting used to, but it's really fun once you get the hang of it.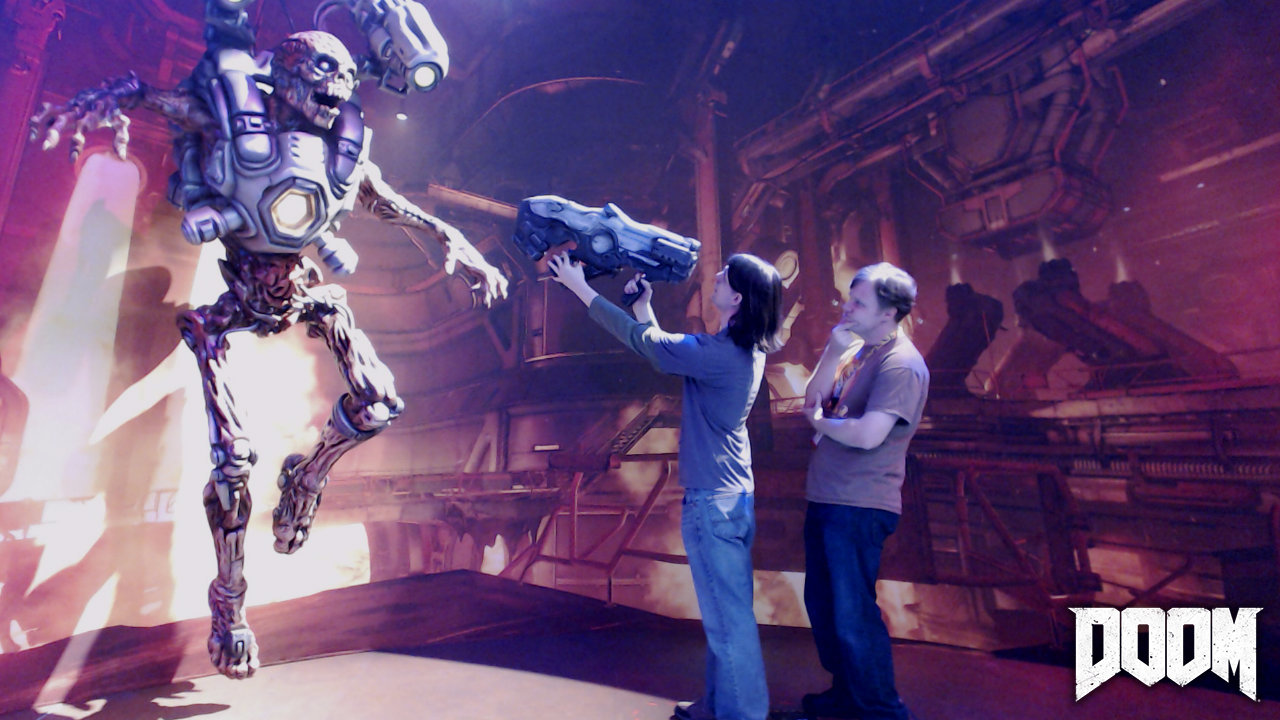 And closing out things, what would E3 be without some ridiculous free photos from various booths?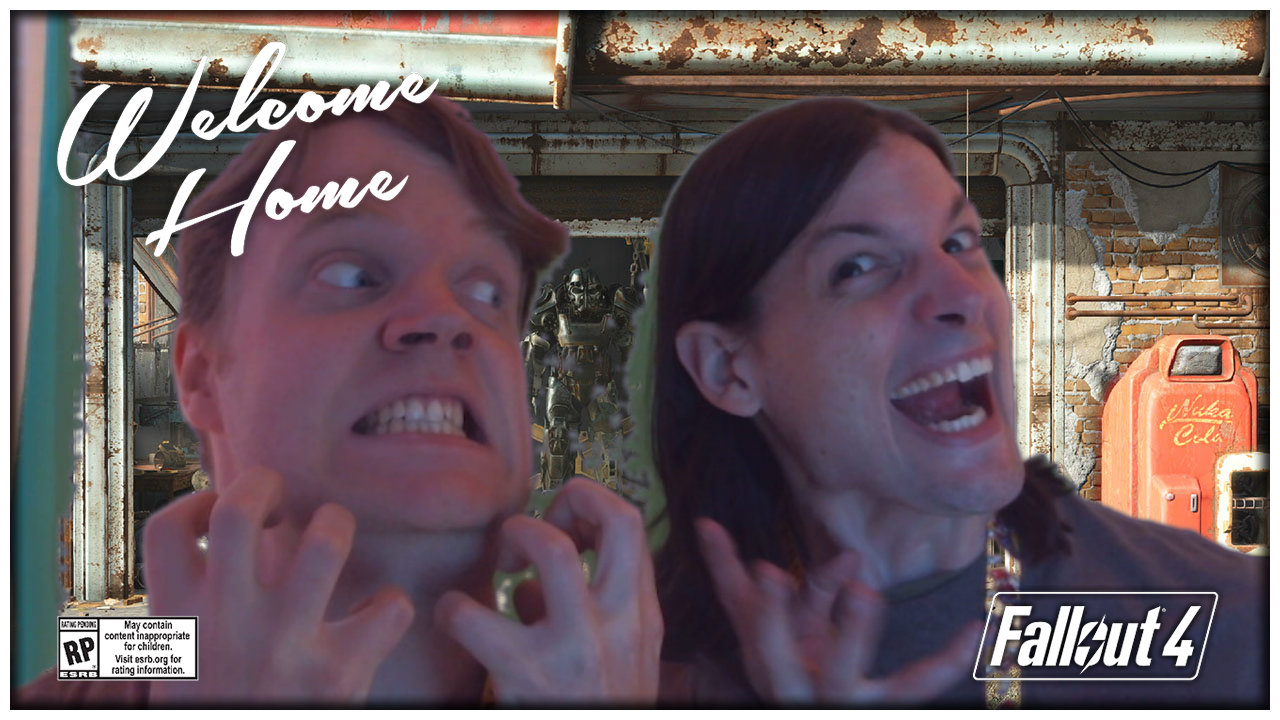 A postcard truly worthy of being sent to mom.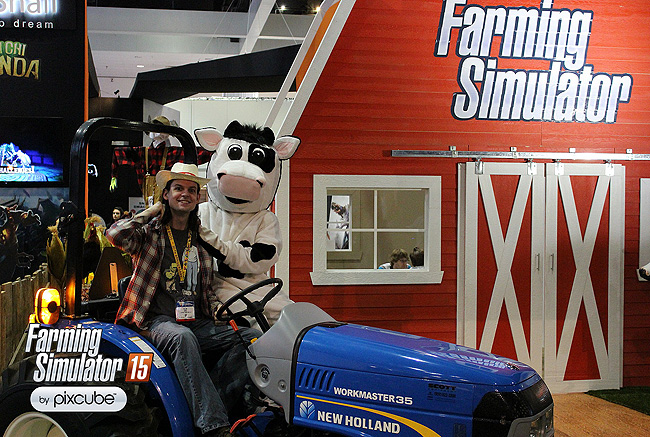 I made a new friend, and now I never have to buy milk for my cereal ever again. Awesome.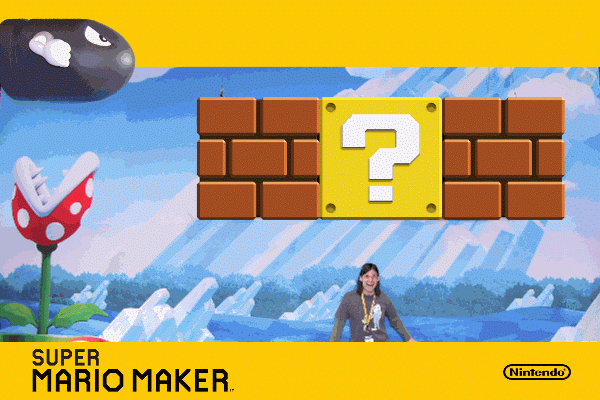 After years of making video games of my own, Nintendo finally gave me a chance to put my brain to work.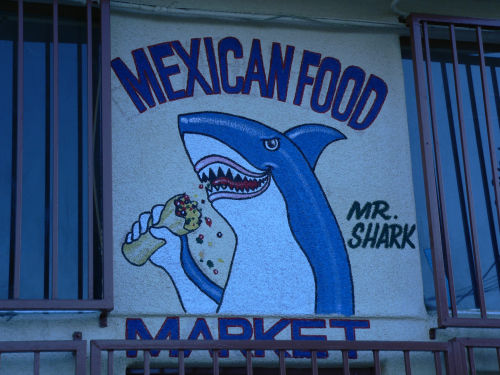 And if you've read any of our coverage of E3 from years past, you know that
Mr. Shark is sadly no longer there, but we'll never forget his glorious burrito-wielding visage.
Lastly, here's my big E3 video coverage. Check it out if you wanna watch me excitedly yell about everything I see!
And that pretty much wraps it up for our joint coverage of the 2015 Electronics Entertainment Expo! Hope you guys enjoyed it all and have at least a handful o' new games that you're looking forward to playing. Be sure to share your thoughts about the expo, the games and all the announcements that were made in the comments area below. See ya next year E3!
Have any questions or comments about this piece?
SHARE YOUR THOUGHTS IN THE READER COMMENTS SECTION BELOW!