...CONTINUED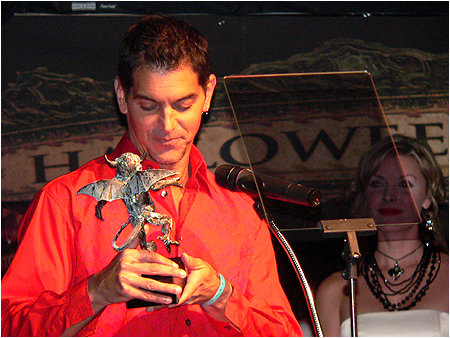 Don Mancini was very appreciative for both the award and that his
"Child's Play" movies have kept his career going over the past two decades.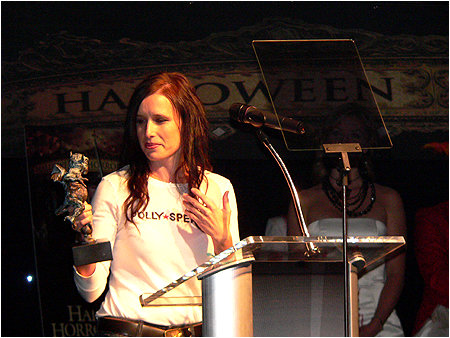 In addition to being frightened of her own movies, Shawnee Smith
appeared to be creeped out by her Eyegore Award too.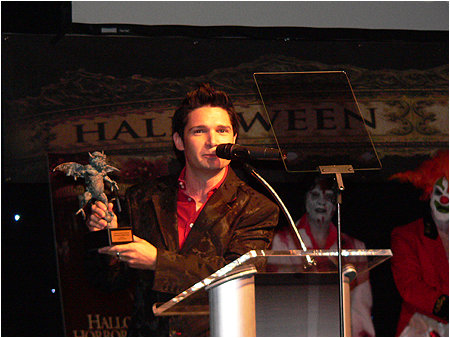 Corey liked his award and was glad to hear that everybody there was
so excited about his upcoming "Lost Boys 2" movie. Here's hoping it
doesn't make the Frog Brothers crap all over our childhood memories.
The Lost Boys was a perfect vampire movie, doing a sequel seems like a bad idea.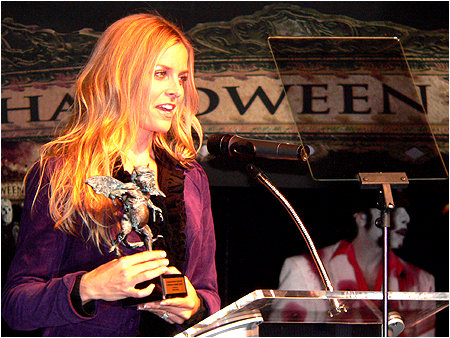 Sherri Moon seemed unimpressed with the event and wanted the party to get wilder.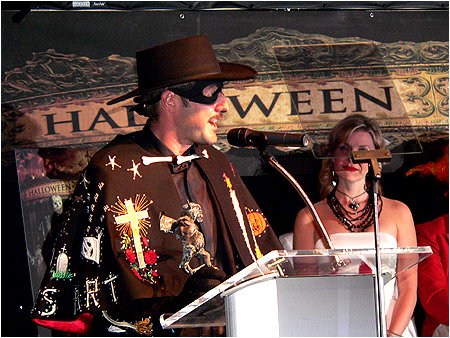 David actually came because his sister, Patricia Arquette, couldn't make it that night
so he was accepting the award on her behalf. He explained that he didn't know that
this event wasn't a costume party, so he was the only one there in costume.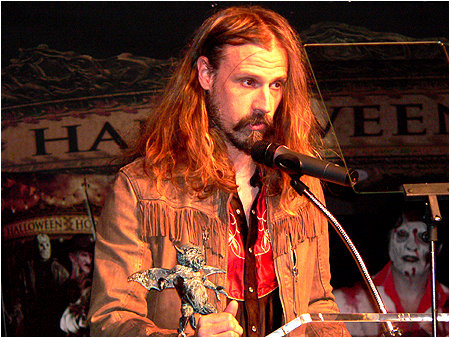 Rob Zombie accepted on behalf of Roger Corman who was stuck in traffic
and turned around to go home... bummer. I was really hoping to meet him.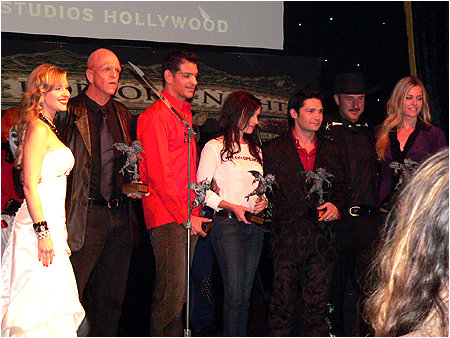 And to end the show, they all got on stage for a few more press shots. Huzzah.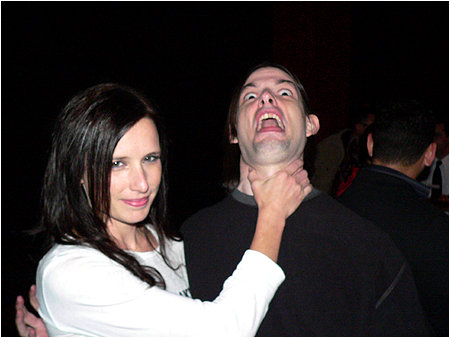 Scared of her movies as she may be, Shawnee Smith had
no reserves about choking the life out of me. Rock on, Shawnee.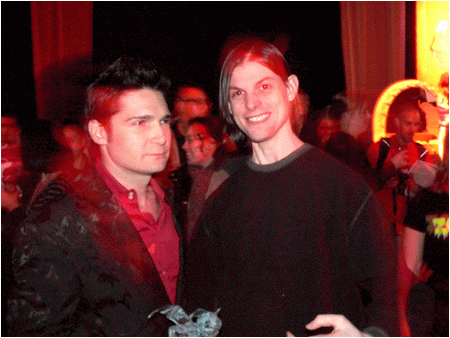 At this point the camera decided that it would start adding its own fiery
effects to any photos we took under the red lights at the party...
Or maybe it was just because Corey Feldman and I make such a hot couple.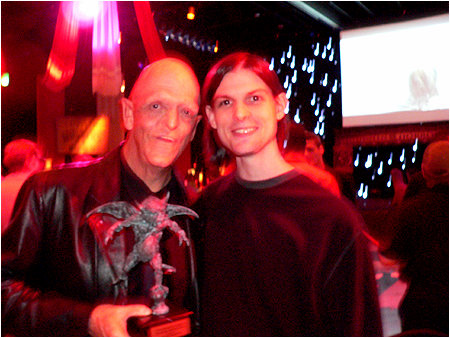 Sorry Corey, you're a really nice guy 'n all, but my heart belongs to Berryman.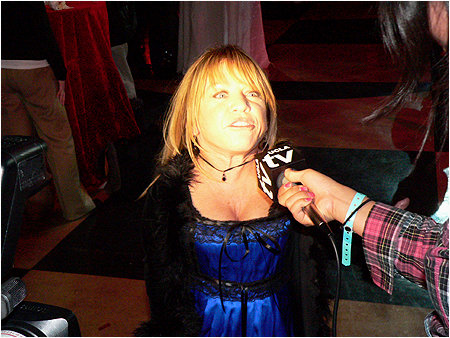 Debbie Lee Carrington also showed up, presumably because
she was a stunt double in Mancini's Bride of Chucky flick.
After the show was over, we all just hung out as everybody enjoyed the free booze and hors d'oeuvres along with the horror tunes by the band. It was a real nice event and hopefully it will continue to grow so they can eventually televise it for the public to see.
Now it was time to head out and get the full Halloween Horror Nights experience. What I didn't know is that we would be given VIP passes (ooo la la) which allowed us to skip to the front of the line for all of the gory mazes. A night of instant horrific gratification? Count me in!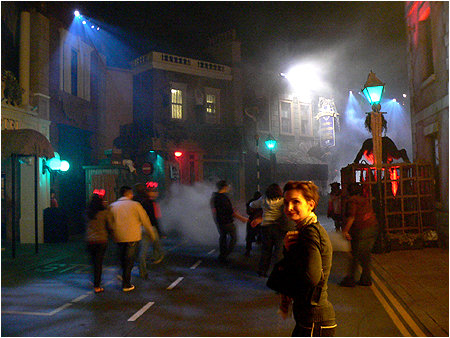 Upon exiting the theater where the Eyegore party was, we found ourselves walking down a street filled with smoke, strobes and some bloody characters walking around...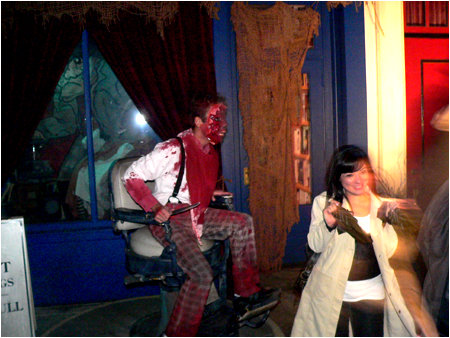 This guy was promising to give people the closest shave in town
and I gotta say, I'm inclined to believe he was telling the truth.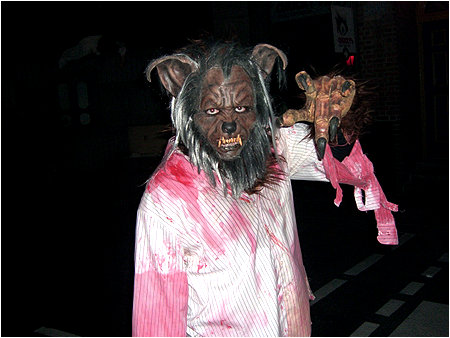 What up, dawg.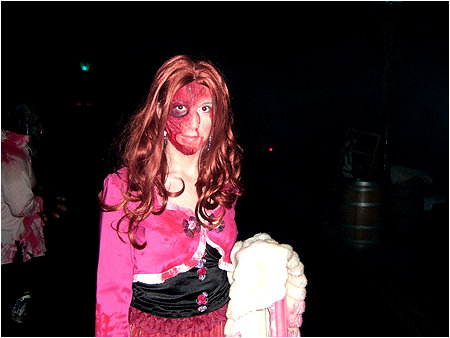 That's what happens when you don't put suntan lotion on your face.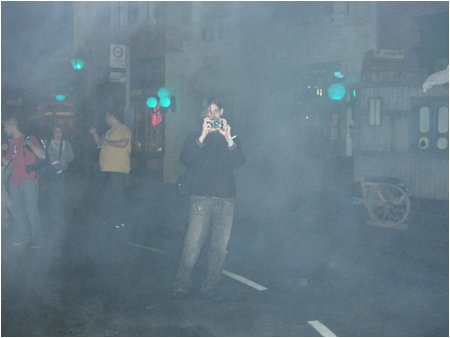 The smoke machines were running on full blast all night long.
Believe it or not, this was one of the less smoky areas.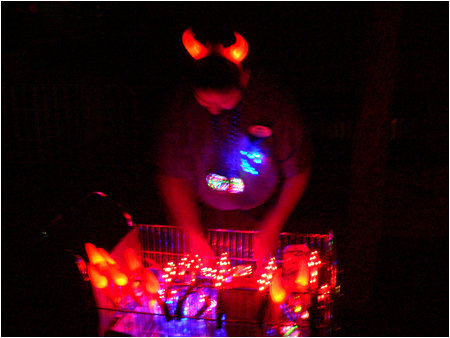 Satan took a backseat to Freddy, Jason and Leatherface this night.
He was stuck selling glowing devil horns from a grocery cart. Poor Satan. :(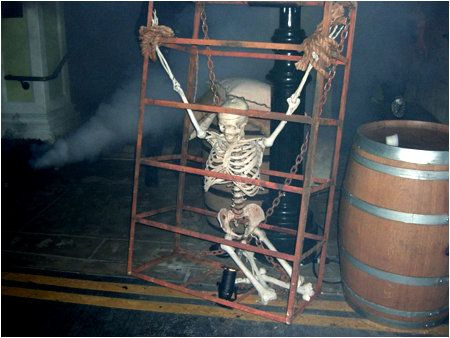 A few seconds later, that fog machine in the back made
it damned near impossible to even see this skeleton.

Gotta love this vintage funeral casket cart.

The Terminator 2 show seemed a bit out of place with all of the other ones.
I mean, even Bill & Ted had an "Excellent Halloween Adventure", which
you can find footage of online if any of you care to check it out.
Would the Terminator 2 3-D show turn
out to be the scariest event of them all?
Click here to find out on page 3 of the
Eyegore & Halloween Horror Nights pics!
---
help support I-Mockery by supporting our sponsors:

---
Running a big site like I-Mockery takes a lot o' time and costs moola too.
Want to help show your support?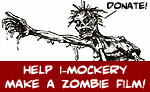 DONATE TO OUR ZOMBIE MOVIE!
Come talk about this piece & more on our Message Forums!