by: -RoG-
"Freddy's Nightmares" was a really fun horror anthology series that only ran for two seasons, and for fans of A Nightmare on Elm Street, it provided a much-needed steady Freddy fix. Now you may recall from the pilot episode I reviewed that we basically saw a prequel to the Elm Street movies. Well, the cop that Freddy kills in that episode had two twin daughters; we even saw Freddy fantasizing about killing them while he was on trial in court. Now what kind of homicidal maniac would he be if he just forgot about those two simply because an angry mob killed him by setting him on fire? With that in mind, I present you with the sequel to the original "No More Mr. Nice Guy" pilot episode: "Sister's Keeper!"

After the always amusing intro sequence with 80's metal guitar droning on and on, we're treated to some impressive title graphics. Well impressive in that they didn't spell anything wrong I guess. And so we're back at the home of twin sisters, Lisa and Merit Blocker.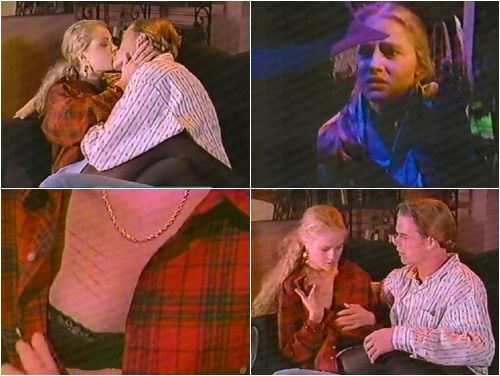 Looks like Lisa is having a dandy ol' time with her boyfriend, John. I think John is supposed to come off like a popular jock or something, but I'll be damned if he doesn't come off as a huge dork. While Lisa and John are sucking face downstairs, Merit is upstairs having a nightmare. She sees Freddy in the mirror and breaks it, then Freddy makes one of his typical quips, "Seven years bad luck, hahahaha!" But what's this? Merit didn't wake up with a scratch on her... her sister downstairs, however, now has marks on her chest from where Merit got slashed in her dream.
Ah ha! So there's the basic plot of the entire episode for ya; if one twin gets hurt in her dreams, the other twin feels the damage in real life. It's kind of like how things worked with Tomax and Xamot, the Crimson twins from G.I. Joe... only they're now blonde girls being stalked in their dreams by a murdered child killer. Works for me!
So Lisa is the popular one who refuses to believe that Freddy killed her father or that he's still hanging around trying to kill them in their dreams. Merit is labeled as the "crazy" one simply because she thinks Freddy is out to kill them. Merit has another nightmare about her blanket strangling her as it becomes Freddy's infamous red 'n green striped sweater. Come morning time, Lisa has strangle marks on her neck, yet still shrugs it off as "Pretty freaky, huh?" So yeah, Lisa is popular, Merit is the "crazy" one. This of course has a big effect on her social life at high school, or lack thereof.

So there's guy Jeff in school who really likes Merit, and he tries to prove it to her by singing horrible love songs while strumming the guitar (not actually playing any real songs mind you) which gets annoying really fast. Guess that's why she hasn't gone out with him; even "crazy" people have their standards. Alison, the official "mean-spirited bitch" of the episode constantly harasses Merit, partially because she's jealous of lame guitar guy liking her.
After being treated to more corny generic 80's rock and a plethora of mullets traveling down the school hallways, Alison meets up with Merit at her locker. She then makes fun of both her and dad going nuts, "What's it like being crazy?" The one really frustrating thing about this episode is that both Alison and John are annoying characters that you think are gonna die. John, being a horny teenage guy, and Alison being a mean bitch... clearly this is the perfect setup for characters that are gonna die, right? Nope. Not a thing happens to 'em, so get that idea out of your head so you're not let-down later.
But don't worry, while we may not have horny guy and bitch woman character slayings, we do have...

THE DREADED PURPLE LIGHTS!
Goofy lighting was a big thing in the Freddy's Nightmares series, especially whenever Freddy was getting ready to screw with someone. Right on cue, the lights go purple later that evening and it's off to another one of Merit's dream sequences we go!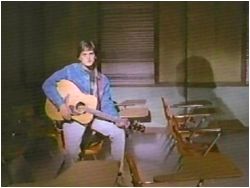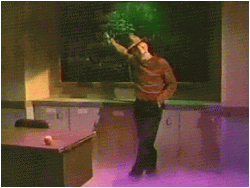 Merit appears back in her school classroom and Jeff is there singing his damned "Merit I Love You So" song again. Then the camera pans over to the right and we see Freddy scratching the blackboard.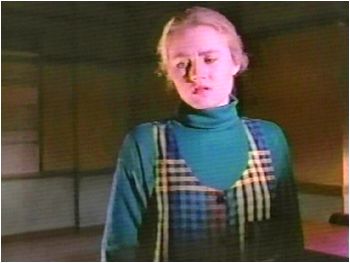 AWWW WHY SO GLUM, CHUM?
I guess the sounds of Jeff's guitar playing combined with Freddy scratching the blackboard with his claws wasn't her cup o' tea. Actually, I prefer the sound of Freddy's scratching than hearing that unskilled bastard play another note on his guitar. Well anyway, there's only one way to cure this lady of her blues. The cure for the blues is some good ol' fashioned...

ROCK
and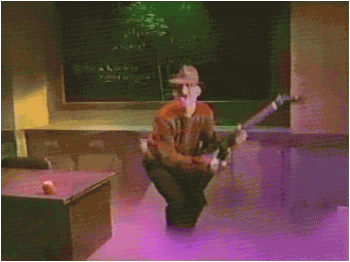 ROLL!
Now you see what you were missing out on with this show? We're all aware that Freddy knows how to slash... but only now have you learned that Freddy knows how to THRASH! Freddy starts to rock out as he sings: "M-M-MERIT I'LL EAT YOUR SOUL!"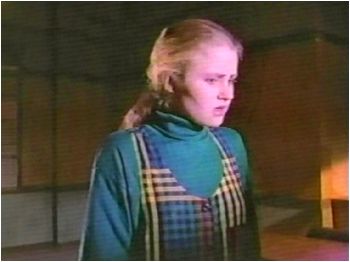 What, still not enjoying yourself? Sheesh! Tough crowd...
So Lisa eventually gets fed up with Merit always talking about how much people make fun of her in school, saying that Merit is basically being overdramatic. Lisa decides to pretend to be Merit for a day and see what it's like. Sure enough, she gets picked on by every mullet-head around. Now she's starting to realize what Merit goes through every day.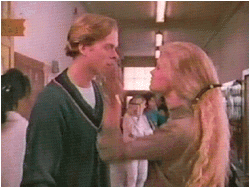 As of that's not bad enough, Lisa's real boyfriend John hits on her thinking that she's Merit! She slaps him on the face and calls him a two-timing creep. This is the first of several slaps in this episode. I dunno, I guess twins are all about slapping people. Oh yeah, Alison continues to act like a bitch. Big surprise.

Back at home Merit is having fun on her day off pretending to be Lisa by doing up her hair and putting on bright red lipstick. Then the doorbell rings and she runs downstairs and it's John come to visit her, thinking she's Lisa. Notice anything though? The red lipstick is gone! Three cheers for continuity! Hip hip hooray! Ok, one cheer was enough.

Back in school, Lisa sees more of the torments that Merit experiences on a daily basis. Ally McBitch tosses a paper airplane onto her desk, and when Lisa opens it up, she finds a picture of Freddy saying "Hi!" Now I know people can be mean in high school, but it takes another level of balls to make fun of someone because their father was murdered. Way to take it up a notch, Alison.
Once again we switch to back at home where Merit is making out with John because she wanted to feel what it's like to be Lisa. John still thinks she's Lisa... that is until she tells him that she really is Merit. And what does he say in response? "Cooooooooooooool!" Then he proceeds to kiss her once again, resulting in yet another slap. Twins, I tell ya...
WHAT DOES FREDDY HAVE UP HIS
RED & GREEN STRIPED SLEEVES NEXT?
Click here to continue onward to page 2!