by: -RoG-
The Olympics. Oh how we Americans would pride ourselves on winning various competitions in the Olympics. Well, nowadays I think the Olympics are watched less than re-runs of Saved By The Bell. I mean, without action like Tanya Harding giving Nanci Kerrigan some "pipe time", what reason is there to watch the Olympics anymore? We've just come to expect too much of them. Olympians are just humans, they're not superheroes... or are they?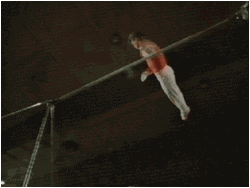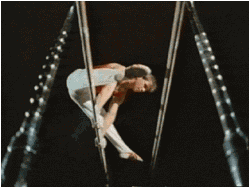 You see, back in the early 80s after America won the gold in Ice Hockey, there was an insane amount of "GO USA! GO USA!" patriotism spreading around the country. These weren't just sports figures damnit, these were WARRIORS going into BATTLE for our COUNTRY in the name of GOD! Yeah well, holding these people in such high regards led to some pretty horrible shit. Sure, we saw Mary Lou Retton's face on everything from happy meals to Michelin tires, but we also saw Olympians trying to make crossovers once their Olympic days had ended. One such Olympian was Kurt Thomas, an Olympic gymnast who was sure he could make the crossover from "flexible sports guy" to "movie star" with ease. Could he pull it off? Well, let's take a gander and his one and only film, GYMKATA, and see for ourselves. With a tagline like, "The skill of gymnastics, the kill of karate." how can we possibly go wrong, right?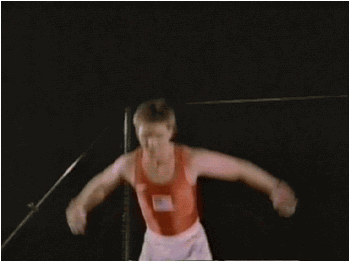 AMERICA, MEET YOUR MOVIE CHAMPION!

Meet Jonathan Cabot (played by Kurt Thomas) on the right there, he sure has a fine lookin' mullet along with some fine lookin' trophies eh? Well he's about to engage in a competition where the only trophy you can win is YOUR LIFE! "In the tiny, yet savage, country of Parmistan, there is a perfect spot for a 'star wars' site. For the US to get this site, they must compete in the brutal 'Game'." Yep the US wants to set up a Star Wars defense system in Parmistan, but instead of sending in military troops, they decide to send in a champion gymnast. If he can win this deadly game which nobody has won in over 900 years, the Kahn of Parmistan will grant him a favor (ie: he'll allow them to setup the 'star wars' defense program - the ultimate early warning system in case of a nuclear attack). And that my friends, is the premise of this insane movie.
Oh and if you're wondering why they can't send in military troops, they give a perfectly logical reason for it: "Direct military action is out of style." I shit you not. I never would've thought that our use of military force was something that Joan Rivers had so much power over.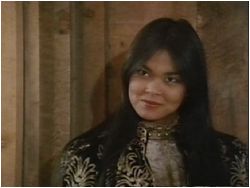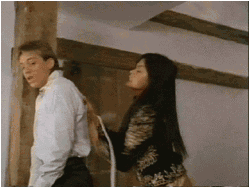 And here we have Princess Rubali, daughter of the Kahn from Parmistan. But don't let her looks deceive you, behind that pretty gaze lies a vicious killer, as Jonathan discovers quickly. Princess Rubali is played by Tetchie Agbayani, a former Playboy model. Yep, they were really packing an all-star cast into this flick... no doubt about it. Anyway, she's an expert at "The Game" and will be overseeing his training for the next 2 months. That's right, they're expecting to save the security of the United States by training a gymnast in martial arts for 2 whopping months. Brilliant.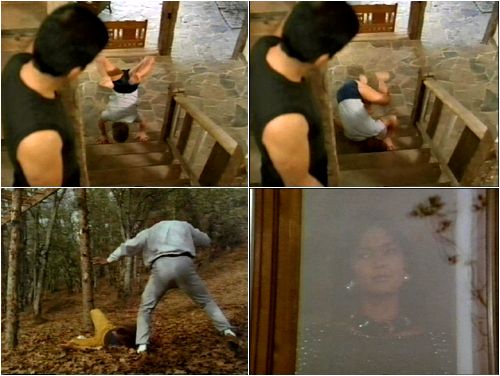 Now I know you're used to seeing those awesome training sequences in movies such as Rocky, where we see our champion busting his ass to some extremely motivational music much like, "The Eye of the Tiger". Well... Gymkata has none of that. All we see is Jonathan fumbling around with no musical accompaniment while his Asian martial arts trainer lets out the occasional stereotypical "yosh" from time to time. The big black guy is there to get Jonathan to run a lot and fight in hand-to-hand combat situations. Again no music, just a handful of bad crashing sound effects that came straight from the Looney Tunes archives.

And what better way to add to the production value of a movie than to bring in some random animals. Just what kind of point is the martial arts master trying to make while the bird sits upon his forearm? Your guess is as good as mine. I only wish they had a scene where Jonathan tried to become a beastmaster; at least then we'd be treated to seeing his eyes plucked out by a pissed off bird or his crotch smashed by a horse. And the other guy has some very inspiring words as he rides upon his mighty steed:
"They will skin you if you're not real good. You gotta outsmart 'em.
You gotta outquick 'em! Now push it!"
Outquick 'em? With words of wisdom like that, the USA is doomed. But hey, at least Jonathan has a sense of humor about it all, "I know I'll outsleep 'em!" HAR!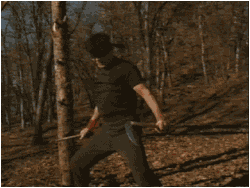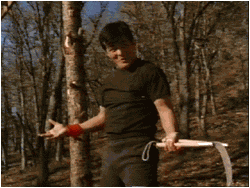 Ah finally we get some inspirational training music, and while it's no "eye of the tiger", it still sounds like something they'd play on The A-Team, and that's good enough for me. Of course, most of this music takes place while the martial arts master is showing off his skills with the kamas. But don't think for a minute you're gonna see Jonathan working with those things, he may be able to do some fancy splits, but he'd cut his head off if he tried messing with those weapons.

Jonathan starts to improve after a while and he even takes down the big black dude in a staff fight, but the princess knows he still has a ways to go.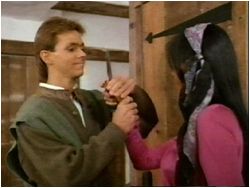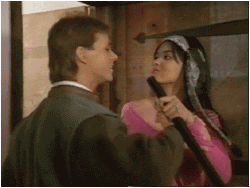 Haven't you learned anything Jonathan? You can't trust that dame, she's a tricky one!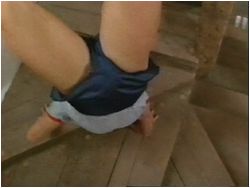 One of the main focuses of Jonathan's training is making him able to climb up a staircase on his hands. Parmistan must be a friggin' strange place if you have to walk up stairs on your hands, that's all I can say. Either that, or they're just trying to show off his gymnastic skills once again for no reason whatsoever. I'm guessing it's the latter case. Either way, we're treated to some nauseatingly action-packed closeups of his crotch as he climbs those staircases in extremely short shorts. Why the director chose to film right on top of Kurt's groin instead of giving us a more tasteful side view is beyond me. All I know is that once he reaches the top of those stairs, his martial arts master is way, WAY too excited about it.

YAAA! YAAA! YOSH!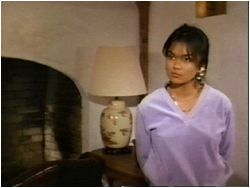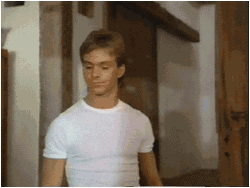 Well now that he can climb a staircase on his hands, it's obvious that Jonathan is more than ready to save the United States from any future nuclear attacks. Still, the princess remains silent and isn't quite sure he's ready. So Jonathan looks deep inside his soul and flips on the ol' "Gymnastic charm" as I like to call it. Yep, he shows off his gymnastic skills yet again by doing flips and having a conversation with himself, pretending to speak like the princess.

He moves in for a kiss and she yanks out a switchblade, but he's obviously got a lot of confidence stored inside his mighty mullet. "Sometimes you just gotta take a chance," he says, and with that we move on to an awkward love scene. And no, she doesn't get naked in this flick... I guess even Agbayani had an idea of just how bad this movies was going to be and decided it wouldn't be worth showing some skin in.

Karabal, on the Caspian Sea. I'm not sure what it is about that phrase, but they feel the need to repeat over and over again in this movie, both in dialogue and by displaying the name in bold letters on the screen. I guess the director really wants you to understand that the footage you're watching no longer takes place in America. Well it doesn't take long for the action to pick up, for the city is filled with anti-American hooligans—including ones with bows and arrows. Guess it's time to put Jonathan's Gymkata skills to the test! GO USA! GO USA! GO USA!
Jonathan starts flipping off the walls 'n all over the place, easily defeating a few of the thugs. But while he's off fighting the thugs in an alley, it looks as though one of his buddies was axed to death. Rubali was kidnapped too. Man, the Karabal nightlife sure is action-packed!
WILL JONATHAN HUNT DOWN THE AX-WIELDING KILLER
OF HIS FRIEND AND AVENGE HIS UNTIMELY DEATH?
WILL HE RESCUE RUBALI ONLY TO LEARN THAT SHE'S A MAN?
WILL JONATHAN DISCOVER AN S&M NIGHT CLUB AND REALIZE THAT HE
ENJOYS THE SOOTHING TOUCH OF LEATHER AGAINST HIS MILKY WHITE SKIN?
Click here to continue onward to page 2!