by: -RoG-
...CONTINUED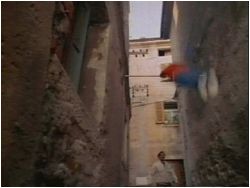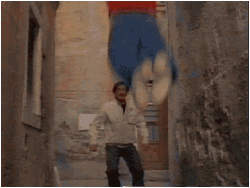 In one of many shining examples of continuity and brilliant editing, it's suddenly daytime again and Jonathan soon finds himself being chased through the city by more evil thugs. But hey! Wouldn't you know it, there JUST HAPPENS to be a horizontal bar perfectly positioned in this back alley! What luck! Jonathan hops onto the horizontal bar and begins his doing is routine flips and twirls, all while knocking out any foes that dare try attacking him.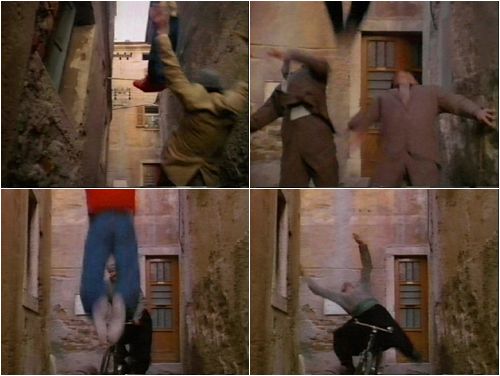 One by one, they all get their asses handed to them by the swinging monkey boy. He even knocks an innocent cyclist off of his bike. But hey, he's not from the USA so who cares... AM I RIGHT GUYS??? LOL!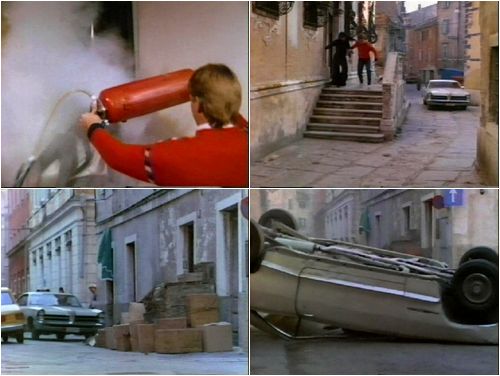 Well, Jonathan manages to break through the fort knox-like security of the bad guys' hideout (a whopping 3 people guarding it) by using a busted fire extinguisher, then he and the princess make a run for it. They're chased by some thugs in a car, but as luck would have it, there's a bunch of cardboard boxes in the street. And if there's one thing action movies have taught us, it's that empty cardboard boxes have the ability to flip speeding cars.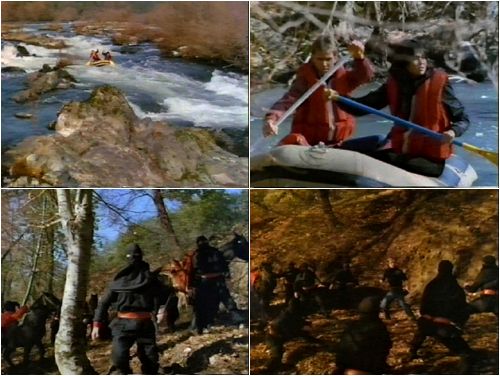 Jonathan and the princess make their way towards her father's kingdom through some heavy rapids so that he can participate in The Game. Oh but he's got another game to participate in first. He has to fight off a gang of angry ninjas! As you already know, ninjas HATE people who ride in rubber boats.

Well, Jonathan fumbles around in some poorly choreographed fighting sequences, mainly lying on his back and kicking the ninjas from the ground. But it is during this sequence that we get to see just how angry the mullet boy can truly get...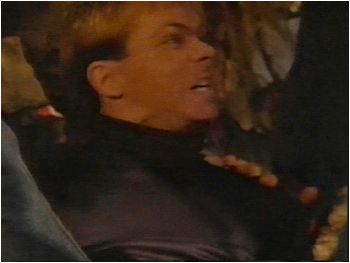 BEHOLD THE FURY OF KURT THOMAS!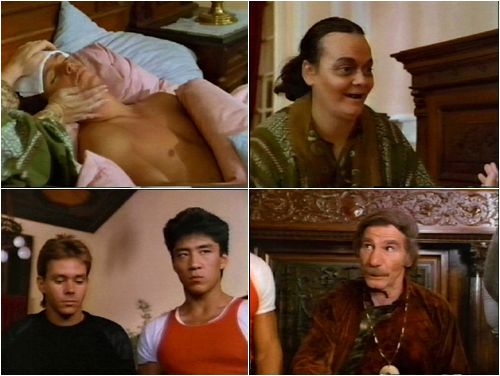 Well, as angry as he may have been, he still couldn't defeat all the ninjas. He's knocked unconscious and is brought to the Kahn of Parmistan along with the princess. The Kahn, played by Buck Kartalian, really reminds me of Mel Brooks anytime he shouts "Yakmallah!" ... and I think he's the only one of the only people in this film who still somehow has an acting career. But with a name like "Buck", I suppose life has no limits.

Anyway, Buck... er... the Kahn explains The Game to all of the contestants and shows off his scale version of the course. While it's not as impressive as the model scenes that they build for the G.I. Joe toy commercials, it still gets the job done. But what better way to show the contestants just what they're going up against than to give a real live demonstration.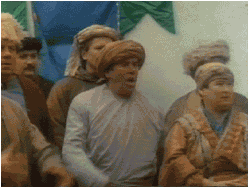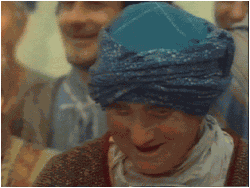 And man oh man do the people of Parmistan love watching the game. Actually, they don't really get to watch it, they just get to hear about who died. But these are simple people, and as you can tell by the excitement in their faces, that's more than enough to keep them entertained. Yep these people sure do love The Game. YAKMALLAH!

These men have been convicted of grave crimes, but the king is a kind man who is giving them a chance at life by allowing them to play The Game. And it is here that we are introduced to the saddest of all ninjas... THE FLAG NINJAS. Yes, scattered throughout the course of The Game, the flag ninjas lead an existence in which they're only purpose is to hold up a flag and let the participants know which direction to run towards next. Get used to seeing those sad, sad flag ninjas.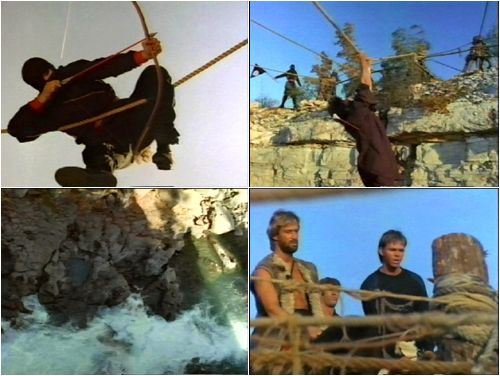 As I stated earlier, nobody has survived The Game in over 900 years, and these disheveled prisoners don't last very long at all. The last of them is shot by a ninja with a bow and arrow as he tries to cross the deadly gorge. What's more, you can see the excellent special effects as the arrow bends with the fabric of his shirt before he falls off the rope. It's ridiculously clear that the arrow isn't actually embedded in his back, but instead just clinging onto his shirt. And then we're treated to yet another wacky Wile E. Coyote sound effect as the prisoner's body crashes onto the rocks below.
MEEP! MEEP!

And now that the prisoners were killed in The Game, it's time for the people to celebrate! We're treated to some wonderful visuals of jesters with cymbals and circus freaks with a penchant for piercing their mouths. Oh joy of joys, this is truly going to be a celebration that will go down in the history books!

Feast your eyes upon this my friends, a rare glimpse at ninjas playing a fun game. The game is called "Catch the Ninja in the Net!" The premise of this game is quite simple: two ninjas ride around on horses while trying to catch each other in an oversized butterfly net. As jovial a game as it is, I doubt they let the flag ninjas play. Poor flag ninjas, they miss out on everything. :(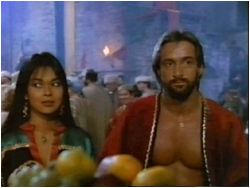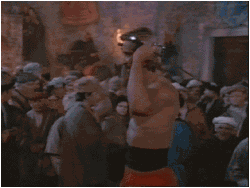 It's an entertaining party until the Kahn announces the wedding of his daughter, princess Rubali to Zamir, which will take place tomorrow after The Game. This Zamir guy, who's the closest aid of the king, is obviously the main bad guy of the movie and he doesn't hesitate to let Jonathan know that he doesn't approve of him making eyes with the princess. So what does a man of Parmistan do when he wants to defend his honor? Naturally, he busts out a pair of sai and twirls them around to show everyone that he means business. And then we're treated to a wonderful conversation between these two macho men...
Zamir: "You must understand, she's mine."

Jonathan: "It's not over yet, so put your hardware back in your pants."
Oh the innuendo... the hot, steaming inneundo.

The next day, it's time to get The Game started. That big guy in the background goes by the name "Thorg", and he's apparently an international superstar. They don't exactly explain what he's done that's made him so famous, but when you go by the name "Thorg", wear a red headband, and have shiny gauntlets on your forearms... I suppose it's not so surprising that you'd be known in even the most remote corners of the world. Well, The Game gets started, but before Jonathan can even run out of the kingdom, Thorg kicks his ass and leaves him behind. I guess Thorg is world famous for being a cheating bastard.
WILL THORG FIRE LASERS FROM HIS SILVER GAUNTLETS AND SET JONATHAN ON FIRE?
WILL THE NAME "THORG" BECOME THE MOST POPULAR NAME ON THE PLANET?
WILL JONATHAN JUST LAY THERE ON THE GROUND LIKE A WIMP AND GET TRAMPLED BY HORSES, THUS ENDING THE MOVIE IN A COMPLETELY UNPREDICTABLE WAY?
Click here to continue onward to page 3!