by: -RoG-
...CONTINUED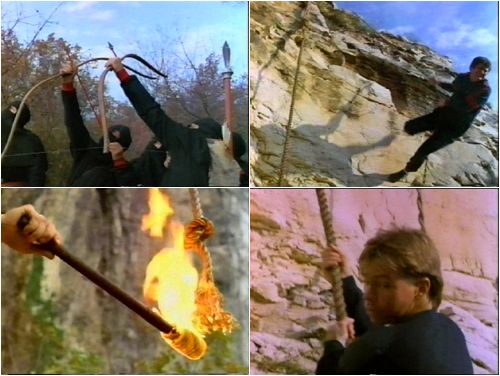 So off they go to play The Game... the ninjas quickly shoot one one of the competitors off of the first rope obstacle. But instead of shooting Jonathan down, Zamir sets the rope he's climbing on fire and says "Burn you bastard!"... giving him plenty of time to reach the top before getting burned. They could've easily shot him down, but you know how movies like these go... the hero must be given every possible chance to survive for some stupid reason.

Jonathan reaches the top of the rope and finds a flag ninja. He complains to the flag ninja, "Hey! They broke the rules, kill them!" and the flag ninja looks at him as if to say, "Dude, I'm a fucking flag ninja, my life is obviously worthless. So what the hell do you want me to do about it?" Classic. So Jonathan keeps running...

...and then we see yet another sad flag ninja. Poor fella.

Another contestant is killed in action with a spear to the back. That's what you get for wearing a hideous jogging suit to a big competition like this, pal. And then guess what we see? That's right...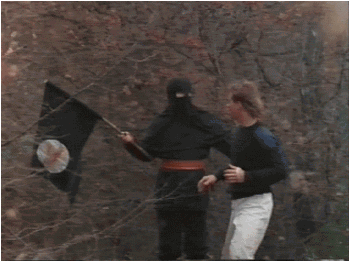 ...another lonely flag ninja.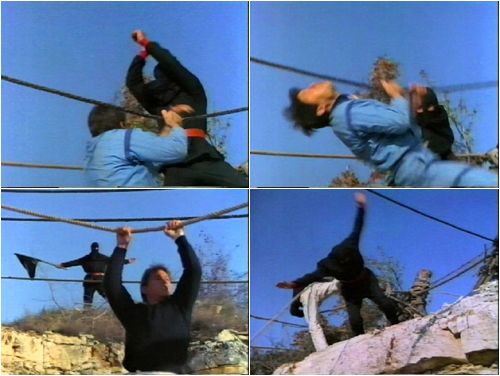 The contestants start making it to the deadly gorge one by one, and while some of them make it across, others get hacked apart by ninjas when they reach the other side. I think one of the rules of this movie is that if you wear a jogging suit, you have to die at some point. These rules apply to real life as well mind you. Jonathan manages to make it across even though Zamir cuts the rope he's climbing across. Then with an awkward hook kick, he knocks one of the ninjas into the gorge.

Next up, we find Mr. Wondergauntlets himself, Thorg, fighting one of the other competitors. This competitor is good at martial arts, but he's no match for the power of Thorg. The fight is unsettling to watch (filled with the same 2 or 3 sound effects that we've heard throughout the entiremovie) with Thorg eventually removing his belt and you wonder if you're about to witness a scene from Deliverance. But no, Thorg, being the good sportsman that he is, is just using his belt to choke the poor bastard to death. And man, does Thorg enjoy his dirty work...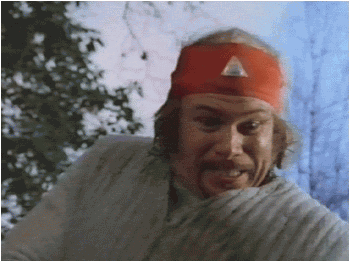 THORG LIKE KILL! RAAAAAAAR!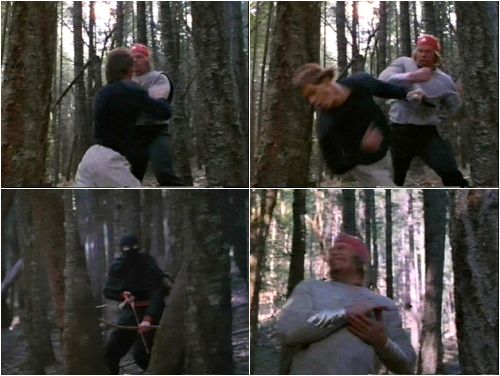 After seeing that Thorg killed one of the other competitors, Jonathan is finally fed-up. It's time to bust out some Gymkata on the Thorgster! Unfortunately for Jonathan, Thorg basically starts pounding the crap out of him right after he says "The finish line for you is right here, Cabot." Jonathan then remembers his wise martial arts masters words about listening to the sounds around you or some shit. He then ducks just as an arrow from a ninja goes whizzing by his head, and it hits Thorg right in the heart. Thorg is wounded, but don't count the big lug out just yet.

And now prepare for a complete shift in the movie—Jonathan and Thorg are now headed for The Village of the Crazies! Yes, that's the actual name of this village, for all of the people who inhabit it are both cannibalistic, and yes... crazy. Just how crazy are they?

LOOK AT THIS GUY! HE'S CHOPPING OFF HIS OWN HAND! WOOOOO! HE SURE IS CRAZY! WHY HE'S NOT JUST CRAZY... HE'S CAH-RAY-ZAY!!!

Apparently there is never any sunlight in the Village of the Crazies either, just a lot of smog. The director is really trying too hard to make this look like a horror movie, but it's not scary at all. There's dead competitors and dogs who enjoy drinking their spilled blood oooooh! But what about crazy people? Sure, there's plenty of them laughing and cackling from their windows with all sorts of cheezy horror movie effects, but I want to see some real crazy action. Oh wait, who's this guy? Could he be crazy?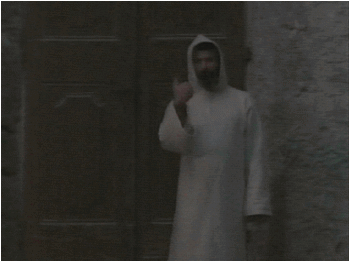 COME HITHER...
I'VE SOMETHING TO SHOW YOU!
wait for it...
wait for it...
wait for it...
wait for it...
wait for it...
wait for it...
wait for it...
wait for it...
wait for it...
wait for it...
wait for it...
wait for it...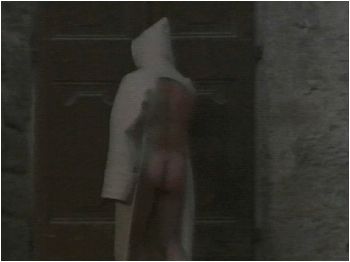 YES! THAT'S WHAT I'M TALKIN' ABOUT!
PURE UNADULTERATED CRAZY!
I <3 THE VILLAGE OF THE CRAZIES!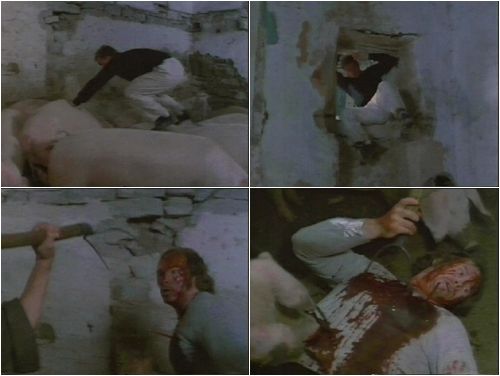 After fighting his way through some more crazies and boobie traps, Jonathan runs into what I like to call "the pig room" because... well... it's a room filled with pigs. Thorg chases him in there, but Jonathan manages to climb up to a window. Then it's just Thorg versus a bunch of the crazy villagers in the pig room, and needless to say, they stick him with their pitchforks. Even his silver gauntlets couldn't save him. And that, my friends, is the end of Thorg.
But don't spend too much time crying over Thorg, for one of the true highlights of Gymkata is upon us.

Jonathan runs desperately through the village as more of the crazies chase him down, and just when it looks like they have him corned... he finds it. A POMMEL HORSE THAT JUST HAPPENS TO BE RIGHT IN THE MIDDLE OF TOWN SQUARE! WHAT LUCK! I couldn't believe it when I first saw it, but there it was... in the middle of a town of crazies was a piece of stone gymnastic equipment. And you know what happens next right? Of course you do...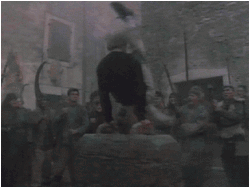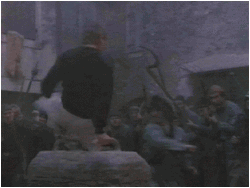 Jonathan busts out his über gymnastic whiz-kid skills and goes to town on the crazies, all of whom are nice enough to take their turns attacking him one by one. That's what crazy people do... they wait their turn to attack. The scene goes on and on, and it's one of those things that makes me proud to be an American. Wait, do "proud" and "embarrassed" mean the same thing? I'm pretty sure they do.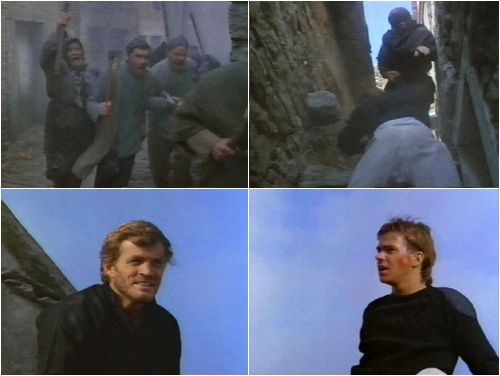 Jonathan realizes that he could spend all day on the pommel horse and the crazies would still keep attacking him, so he decides to try making a run for it. He attempts to climb up to the roof, but he starts to get tired and makes some of the girliest whimpering noises that I've EVER heard an action movie star make. But wait! There's a flag ninja up there, minus the flag, and he's helping pull Jonathan up! Who could it be? Why, it's Jonathan's dad! It turns out his dad was an undercover agent who was forced to play The Game. Well, they make a run for it and escape the Village of the Crazies, and then they have a warm teary-eyed embrace. This gives Zamir plenty of time to shoot Jonathan's father in the back. Then just before dad passes out he gives Jonathan all the motivation he needs... "WIN JOHNNY!"

Oh yeah, it's go-time baby. America's gymnastic hero against Parmistan's #1 bad guy.

Being an American, Jonathan naturally underestimates the power of Zamir and gets manhandled for the first few minutes. Zamir calls him a "bastard" once again, I guess that's just his favorite bad guy insult. But once he takes a moment to think before he acts, Jonathan pulls out one of the most absurd moves in history out of his ass...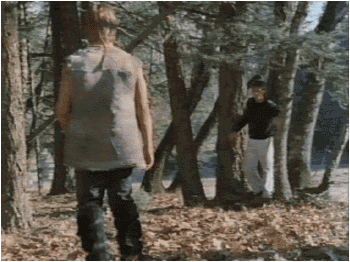 Your eyes do not deceive you my friends... he actually did that. Jonathan starts flipping around all over the place like a monkey, knocking down Zamir left 'n right. And then he hops onto Zamir's back and wraps those mighty olympic legs around his neck...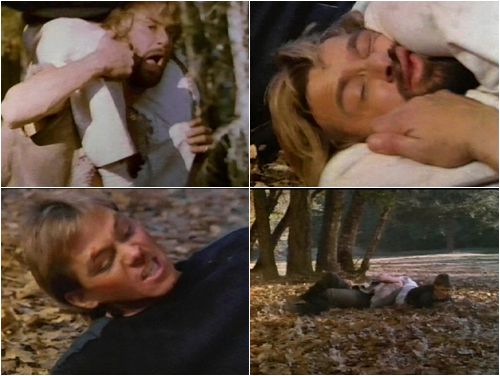 And that's when The Fury of Kurt Thomas™ is unleashed once again. Zamir's neck snaps like a twig and with that, the future security of America is safe. Jonathan returns to the village with his dad somehow still alive, but instead of tending to his father's wounds... he just leaves him suffering on the horse. Why? Because he wants to be with his lady.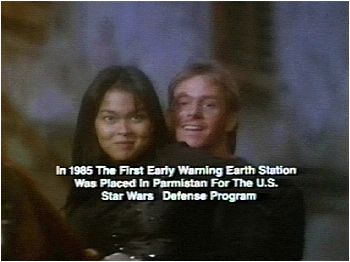 Star Wars defense program my ass. Gymkata is quite possibly the worst martial arts action movie you'll ever see. Horrible acting, horrible directing, horrible sound effects, and a plot that most elementary school kids would dismiss as being "bullshit". Gymkata takes "so bad it's good" to new levels. Amazingly, it somehow played in theatres and had a total domestic gross of $5,730,596. And as bad as all of these things about the movie are, that's not even the worst of it. No the worst thing about this insane movie is that it's actually based on a book.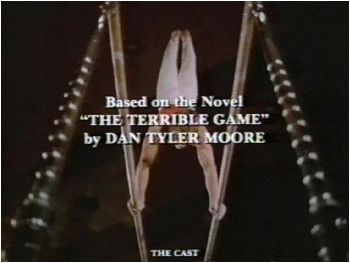 "The events, characters and firms depicted in this photoplay are fictitious.
Any similarity to actual persons, living or dead, or to actual firms is purely coincidental."
NO REALLY!?
the end.
Have any questions or comments about this piece?
Email -RoG-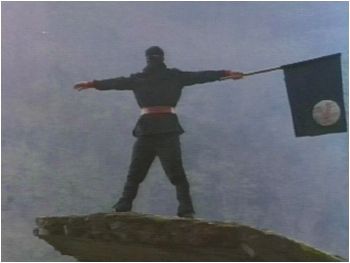 "HEY GUYS! WHAT ABOUT ME?? CAN I PUT THIS GODDAMNED FLAG DOWN YET?"
***UPDATE***
CONGRATS EVERYBODY! WE DID IT!!!
GYMKATA HAS BEEN RELEASED ON DVD!