by: -RoG-
...CONTINUED
Wrigley's Extra Pumpkin Spice Gum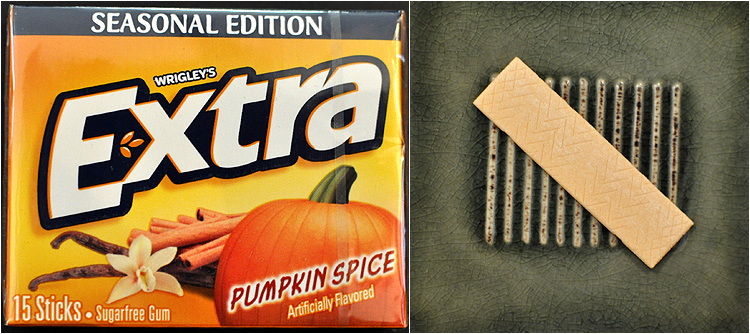 Another surprise this season is seeing Extra gum jumping into the festivities. Not traditionally a brand we'd associate with Halloween, I guess we'll have to start thinking differently about them come Fall every year if they continue to release seasonal edition flavors like this. And man, the cinnamon scent with this stuff is STRONG; it really hits you as soon as you remove the cellophane wrapping before you even open the actual package. The taste surprised me too, as it's extremely good for a sugarfree gum. It reminds me of Big Red in many ways, just with a slightly milder punch to it. If you like gum, give this stuff a try, as I'm sure it won't disappoint at all. Welcome to the Halloween candy kingdom, Wrigley's!
out of 5 Mad Scientists
Lunchables S'mores Dippers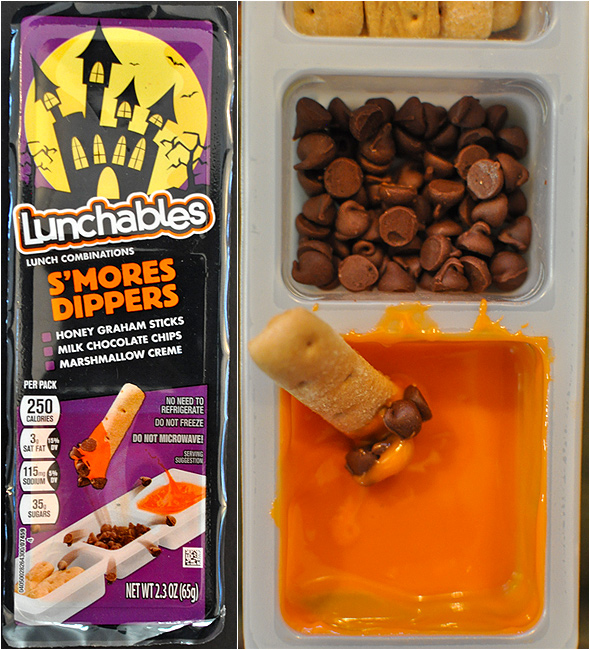 Lunchables have been putting out Halloween lunch snack packs for years, but this is my first time putting them to the test. This year, they've released two varieties that can be found alongside Halloween candies in many stores. The first variety is the S'mores Dippers pack, which contains honey graham sticks, chocolate chips, and marshmallow creme. The packaging design is great, what with the haunted house silhouette in front of a full moon along with all the standard Halloween colors. What's nice is they took it a step further and made the treat itself feel extra Halloweeny by dying the marshmallow fluff orange. It's so gooey that I can't help feel like it's the most unhealthy thing I've tested this year (which may or may not be the case), but nutritional concerns aside, it still tastes pretty good. I wouldn't trade genuine campfire S'mores for these any day, but they're a fun little Halloween snack, and not your standard trick-or-treat sack filler.



out of 5 Audrey II plants
Lunchables Dirt Cake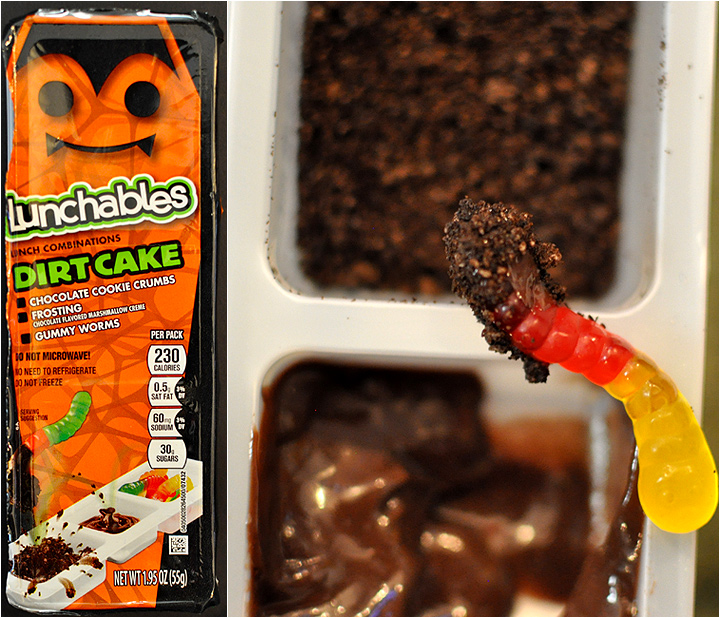 God, I just love the name of these alone. Dirt Cake sounds soooo close to "Dirt Nap", and I totally think that's what they were going for here. This pack contains chocolate cookie crumbs, chocolate marshmallow frosting, and gummy worms to dip into them. Definitely the most fun of the two packs, and I was surprised that the gummy worm / cookie / frosting combination actually worked decently enough - moreso with the cherry part of the worm instead of the lemon and lime sections. Granted, I still prefer the Lunchables S'mores Dippers in terms of flavor, but this set feels like the more Halloweeny one of the two. I mean, you're dipping candy worms in dirt and eating them. Even ol' Beetlejuice would give that idea a big thumbs up.



out of 5 Jaws
Frankenbar


Yep, Frankenstein now has his very own chocolate bar. It's made of dark chocolate and filled with sea salt caramel. Well, I'm not sure "filled" is the right word... perhaps "drizzled" would be more suitable. It's in there, but there's not a ton of it. The dark chocolate is certainly good, though I'd prefer it to be a little more bitter, and the small amount of caramel is annoying. Overall, the Frankenbar is decent enough, but ol' Franky could still use some additional caramel body donors to improve the flavor so it doesn't leave me wanting something more.


out of 5 hungry piranhas
Bridebar


I love that they also made a Bride of Frankenstein bar. She's made of the same dark chocolate as Franky, but she doesn't have any caramel filling. Honestly, I prefer it this way, because the small amount of caramel in the Frankenbar was distracting since they didn't include quite enough of it. With the Bride, you get pure dark chocolate, and for many people, that's just what the doctor ordered.



out of 5 Grim Reapers
Starburst Halloween Mix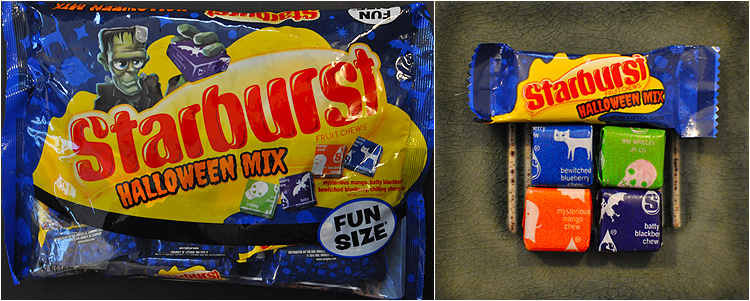 This might be my favorite packaging of ALL the 2015 Halloween Candies. The Starburst Halloween Mix comes in both fun size bags and in their standard packages, and just look at those gorgeous designs! Frankenstein grabbing ahold of one of the candies, each piece wrapped with unique Halloween designs, along with everything against a subtle blue backdrop filled with ghosts, skulls, cats, bats, and more. And yes, they even gave each flavor an appropriately spooky name - Mysterious Mango, Batty Blackberry, Bewitched Blueberry, and Chilling Cherry Kiwi.

They put so much into the packaging I had to just sit and admire it for a while before actually conducting the taste test itself. Honestly, the only one of these I wasn't loving was the mango, but that's no fault of the candy itself, as I've never been a fan of mango flavoring in general. The other three flavors are excellent, with the blackberry ones standing out as the best of the bunch. I'm not kidding when I say these are an absolute MUST BUY for Halloween 2015. Go fetch!
out of 5 sheet ghosts
So that does it for my Ultimate Guide to the Halloween Candies of 2015. While the absurdly large novelty candies from previous years like Gremlin Meat were absent, there was a real solid mix this season, with quite a few of them ranking higher than I would've expected. As always, I must remind you that many of the candies I reviewed last year and other previous years are still available stores again this season, so be sure to keep an eye out for them as well and read my old reviews to get the scoop on 'em. If you happen to spot any candies that I haven't covered yet, drop me a line and let me know so I can try to track 'em down and update this article with a quick review before Halloween rolls around.
Now if you'll excuse me, since I've finished tasting and reviewing all these candies, there are some construction workers outside my place that need some assistance. You see, the jackhammer they were using just broke down, and given how hyper I am at the moment, what with my bloodstream being made of 99% sugar, I'm quite sure I can punch my way through the pavement with my bare hands for them.
By the way, I can't even begin to tell you how much work goes into putting this article together every year, so I'd really appreciate it if you would please share my big candy review on your favorite social networks with all your pals. You can find the link to the first page of candies below to share with everyone. And speaking of below, be sure to drop a comment down there to lemme know what you thought of all the candies I reviewed and if there were any ones I missed out on this season. Thanks for reading my big review; now get out there, eat a ton of candies, and have another keen Halloween!!!
Click here to return to page 1 of the Halloween candy reviews!
Have any questions or comments about this piece?
SHARE YOUR THOUGHTS IN THE READER COMMENTS SECTION BELOW!