by: -RoG-
...CONTINUED
7-Eleven Gummi Eye Balls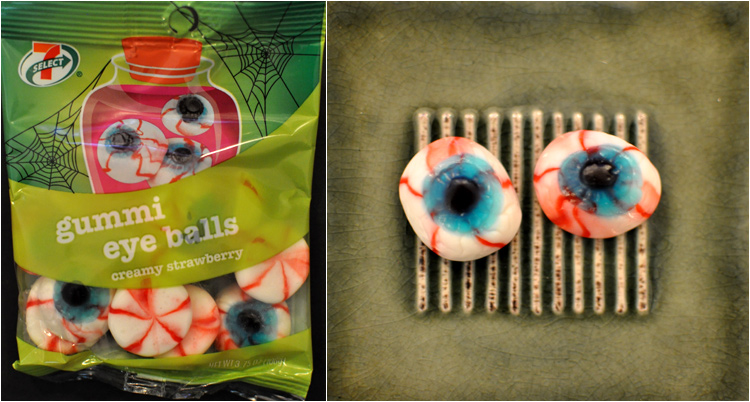 7-Eleven is finally getting on board with Halloween candies after all these years, and I'm hoping this is the beginning of an annual tradition with them. They've released a variety of Halloween candies this year, starting with these strawberry flavored gummy eyeball candies. I'm happy to report that they're pretty decent too; they don't suffer from that overly-chemical flavoring that many of these gummy candies do, and they're just soft & chewy enough to make you want more.
out of 5 crazy Jacks
7-Eleven Bloody Bones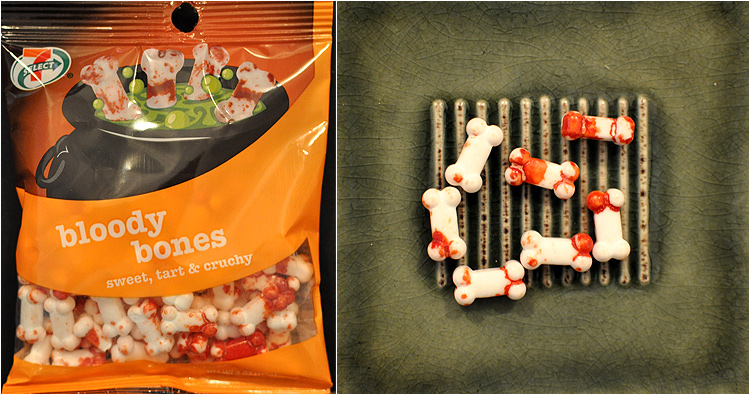 Next up, our favorite convenience store has delivered us a bag of bloody bones. We've all seen bloody bones before, but these ones are still shaped nicely and splattered with red blood coloring. The packaging is also good, with the bones floating in a cauldron of bubbling green liquid. As far as taste goes, they remind me a lot of Smarties, which I'm a fan of, so these are well worth trying out if you can get your hands on 'em. And hey, there's no denying that bloody bones can also make for some great last-minute table sprinkle decorations for your Halloween celebrations.



out of 5 chainsaws
7-Eleven Ghost White Gummi Bears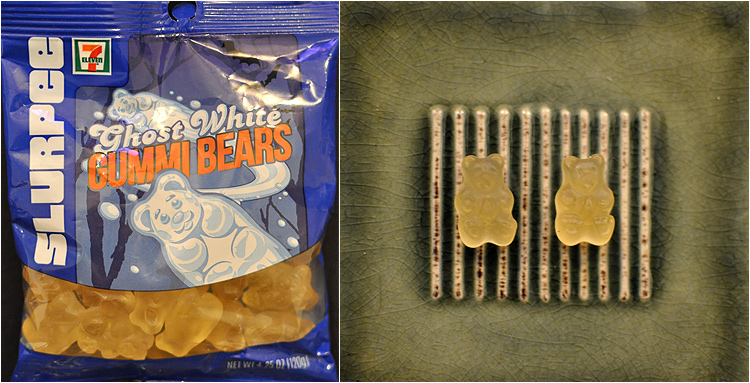 I'm torn on these. These were the biggest surprise from 7-Eleven this season, because they turned Gummi Bears into ghosts and tied them in with a Slurpee of the same name. I absolutely love the concept and visuals of these specter bears floating past silhouettes of vampire bats and dead trees on the package, but the flavor just isn't doing it for me. I like pineapple here 'n there, but the flavor of these come off as more of a chemical pineapple. So while they get a big thumbs up for visual presentation, I can't say I'm a fan of the flavor. That said, I know several people who do enjoy 'em, so as with anything I review, it's all a matter of personal taste. Try 'em yourself to see what you really think.


out of 5 Kiefer vampires
Pumpkin Pie Kit Kat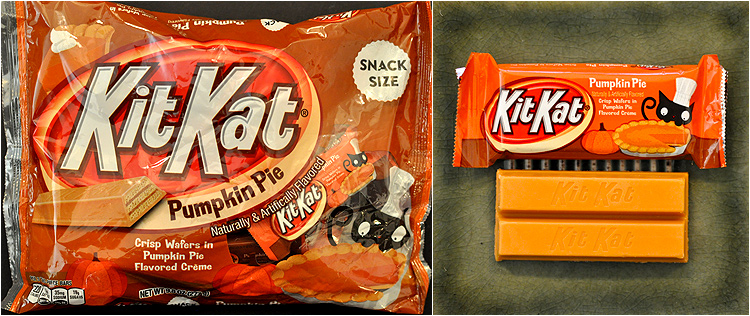 Kit Kats have always been one of my favorite candies, so I'm always hoping they'll try something new come Halloween every year. This time around, they've introduced these new pumpkin pie flavored ones, and they're pretty damned good. The white chocolate mixed with the crispy wafers already works well, and the pumpkin flavoring really seals the deal. Not sure why they didn't call them "pumpkin spice", since the flavoring really tastes like just about every other pumpkin spice flavored thing out there these days. Maybe they just wanted to stand out from the rest of the pack. I can respect that.



out of 5 Freddy gloves
Hershey's Caramel Apple Filled Milk Chocolates


I really wanted to like these, but the apple flavoring mixed with the chocolate just isn't doing it for me. The apple completely overpowers everything else, and it's not a particularly good apple flavor. On a positive note, I do like that the chocolates themselves at least look like apples, complete with the stems and leaves. Drop the apple and you'd have a real winner here.


out of 5 jack-o-lanterns
Forkz Eyeball 2-Pack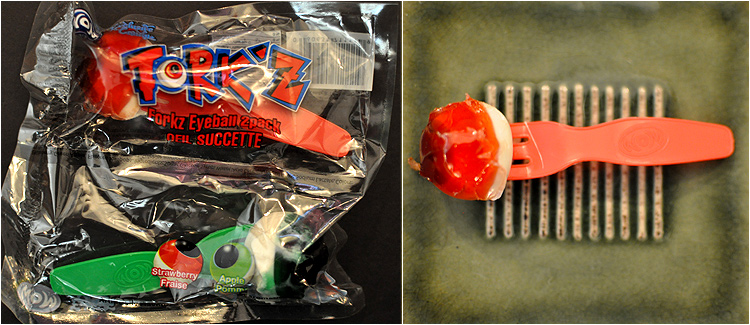 My mom was traveling in Canada and stumbled on these odd little candies. As you can see, they're a fun Halloweeny spin on your average lollipop, in that you're given a plastic fork with an eyeball sucker stuck on the end of it. They come in 2-packs with strawberry and apple flavored pops. While the eyes are far from perfect, and they stick to the inside of the packaging like crazy, the pops themselves are tasty, with mild flavors. Also, you get a tiny plastic fork, which can also double as a pitchfork for some horror action figures.
out of 5 Frankensteins
Brach's Mellowcreme Pumpkins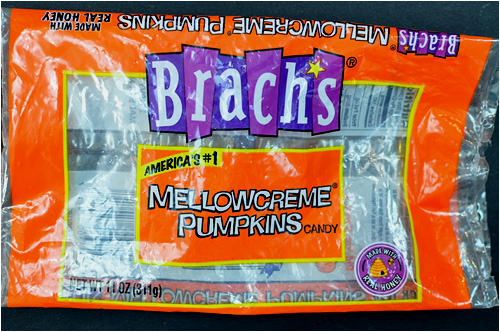 Sure, this is an empty bag of Mellocreme Pumpkins you're staring at, but I did snap a photo of my Mellowcreme Pumpkins bag earlier in the season to prove that I could do it before devouring them. See? It wasn't so hard. In fact, it was downright easy. I don't have a problem. I can quit them anytime I want. It's easy. It's.... it's.... it's.....................
OKAY FINE! THAT BAG I TWEETED A PHOTO OF? THAT WAS EVIDENCE EXHIBIT H FROM MY COURT TRIAL THAT'S CURRENTLY TAKING PLACE. YOU SEE, I WAS CAUGHT RUNNING OUT OF A CVS WITH 500 BAGS OF MELLOWCREME PUMPKINS AND THE ARRESTING OFFICER SAID HE'D ENCOUNTERED CRAZIES ON PCP WHO WERE EASIER TO SUBDUE. SO WHAT!? YOU THINK I WAS GOING TO LET THAT OFFICER TAKE ME DOWN? HE DIDN'T WANT TO ARREST ME. HE COULD CARE LESS ABOUT THAT. HE JUST WANTED MY MELLOWCREMES!!!! YOU KNOW THAT'S WHAT HE WANTED, THAT SONOFABITCH! BUT I SHOWED HIM! I SHOVED HIS LIFELESS BODY RIGHT DOWN A STORM DRAIN! WHAT? THAT'S ILLEGAL? THE HELL IT IS! I WAS DEFENDING MYSELF! I WAS DEFENDING MY MELLOWCREME PUMPKINS! WE ALL HAVE A GOD-GIVEN RIGHT TO DEFEND OUR HALLOWEEN CANDIES TO THE DEATH! IT'S IN THE CONSTITUTION! LOOK IT UP! IF YOU CAN'T FIND IT, YOU CLEARLY DON'T KNOW HOW TO READ! BESIDES, I HAVE PROOF THAT THE COP INTENDED TO TAKE MY MELLOWCREMES AFTER ARRESTING ME. A LOCAL ENTERTAINER BIRTHDAY CLOWN NAMED PENNYWISE WAS HANGING OUT IN THAT STORM DRAIN AND HE SAW THE WHOLE THING HAPPEN! HE TOLD ME TO SHOVE THE COP INTO THE STORM DRAIN AND HE'D GIVE HIM A STERN TALKING TO! THANK GOODNESS WE HAVE CITIZENS LIKE PENNYWISE WHO CARE ABOUT OUR WELL BEING, AND THE WELL BEING OF OUR BELOVED MELLOWCREME PUMPKINS! WITHOUT PEOPLE LIKE PENNYWISE, THE POLICE WOULD CONTINUE TO ABUSE THEIR POWER. SO YEAH, JUST WAIT UNTIL I SHOW THE PROSECUTOR THIS MOUNTAIN OF EVIDENCE! THEY'RE GONNA BE THE LAUGHING STOCK OF EVERY COURT ROOM IN THE WORLD! WHAT'S THAT, MR. PROSECUTOR? YOU DON'T CARE ABOUT MELLOWCREME PUMPKINS, YOU SAY? THIS IS ABOUT THE POLICE OFFICER WHO I FED TO A KILLER CLOWN? PFFT! OVERRULED, I SAY! OVERRULED! IF YOUR LAWS DON'T ALIGN WITH ME AND MY MELLOWCREMES, IT'S NOT US THAT NEED FIXING. IT'S YOUR LAWS THAT NEED FIXING! WE THE JURY FIND THE DEFENDANT NOT GUILTY! WE THE JURY FIND THE DEFENDANT TO BE AN AWESOME HALLOWEEN WARRIOR WHO WILL FOREVER STAND UP FOR THE RIGHTS OF ALL THE MELLOCREME PUMPKINS OF THE WORLD!
GO IN PEACE, MELLOWCREME MASTER! GO IN PEACE!





out of 5 witch hats
Coffin Crisp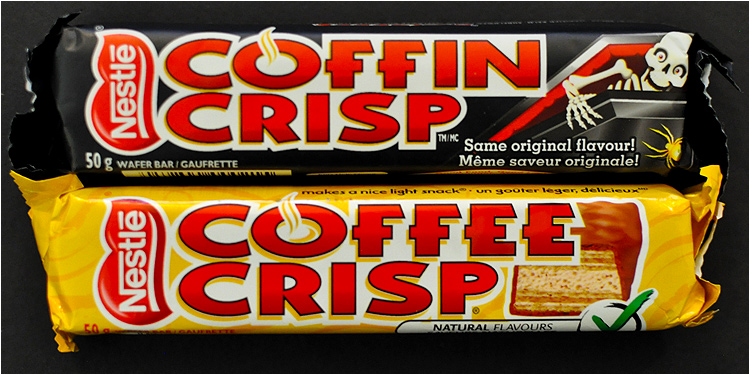 Here's another one that isn't typically available in the United States, but Coffee Crisp is a fairly popular Nestle treat in Canada. Come Halloween, they change it to Coffin Crisp, and feature a skeleton emerging from a coffin on the package. Sure, they don't change the candy at all, but any packaging with a design and title like that is something we can all get on board with aesthetically. I just wish it wasn't coffee flavored.


out of 5 tombstones
Eat If You Dare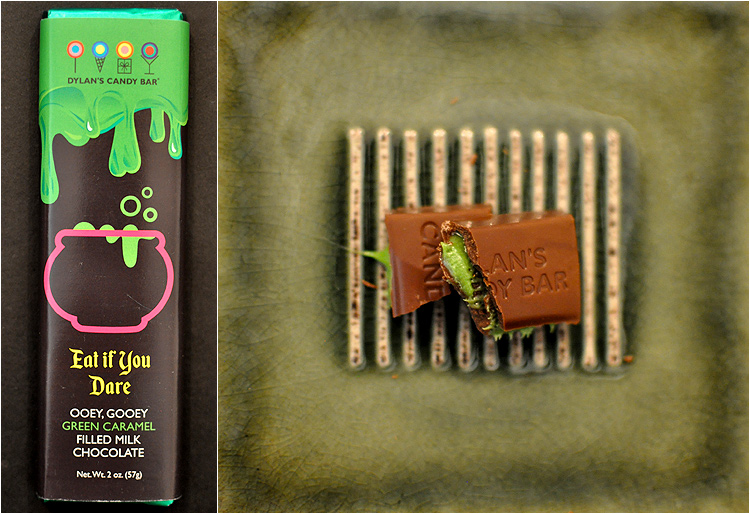 Now here's a new one from Dylan's Candy Bar. It's a bar of chocolate filled with GREEN caramel, that presumably came straight out of that bubbling neon pink cauldron on the packaging. The chocolate is tasty as can be, but it keeps messing with my head. Every time I look at that green caramel and take a bite, I'm expecting it to taste like an Andes mint chocolate. Spooky! I possibly would've given this an even higher rating if they actually did something interesting with the candy bar design, instead of merely advertising their brand on it. Still, it's a very tasty treat that plays with your expectations, and that's never a bad thing.




out of 5 Edgar Allen Poes.
Oh but there's more!
CLICK HERE TO CONTINUE TO
PAGE 3 OF THE CANDIES!