by: -RoG-
...CONTINUED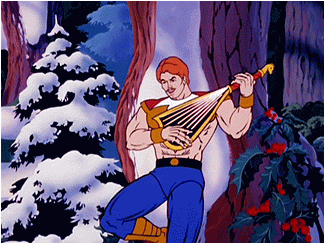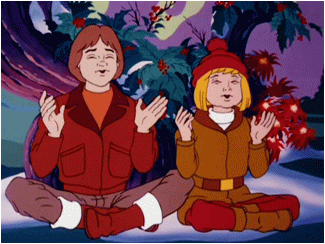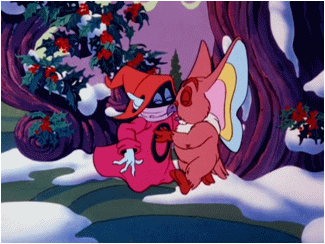 Back on Eternia, the kids are watching Bow kill off any shred of his remaining heterosexuality as he leans up against a tree and plays a mandolin-like instrument while they all join in to sing his new Christmas song about love and caring. I'm not really sure how they already know the lyrics to it since he claims to have just finished writing it, but I guess that's just the magic of Christmas, right? Perfuma adds to the mood by decorating the area with snow and flowers galore. Orko and Kowl (the creature that appears to be a hybrid of a Koala and an Owl, but with giant technicolor ears) get their dance groove on as well. Just when you think this holly jolly hootenanny couldn't get any more horrendous, Hordak shows up in style:
No, your eyes sadly do not deceive you... That is indeed a giant flying penis. A "peniscopter" if you will. Hordak quickly shoots out a tractor beam at the kids and Orko so he can be "well rewarded" by Horde Prime. Being the genius that he is, Bow tries to shoot down the peniscopter with his bow and arrow set. I'm sorry, but even if he managed to get the shot off, a dinky little arrow isn't going to do much damage to a well-armored phallus, er, helicopter like that. Well anyway, he doesn't even get the shot off because the peniscopter shoots him with an ice beam... or maybe it's just quick-hardening semen. Yeah, now that I think about it, that's probably what it was.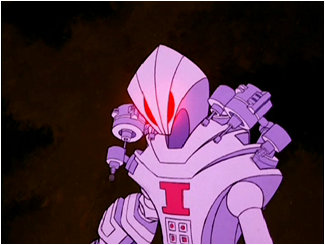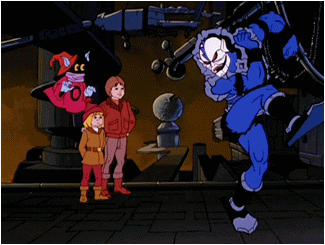 Hordak returns to Etheria when the Monstroids grab his peniscopter right out of the sky and demand that he leaves Orko and the kids with them. Hordak of course gripes about it at first, but when the Monstroids point a ridiculous number shoulder blasters at him, he has a quick change of heart, cartoonishly runs off the screen and retreats in his peniscopter. Say what you want about Skeletor's evil failures, but I always thought Hordak was a far bigger wimp in comparison.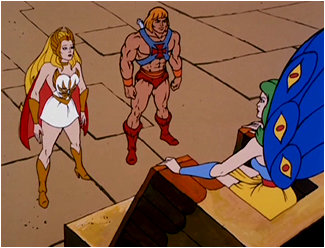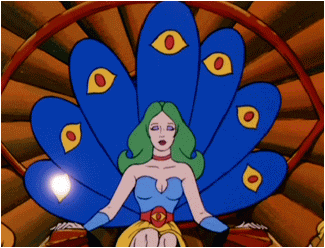 Meanwhile, Peek-a-Blue's multivision helps She-Ra and He-Man learn the children's whereabouts. And here you thought those pretty peacockish feathers were just for show? Psshaw! She also informs them that the "little machine people" also known as the Manchines have set out to rescue Orko and the children. Why? Who knows, I guess the Manchines are just really friendly, but they're still gonna need the help of He-Man and She-Ra.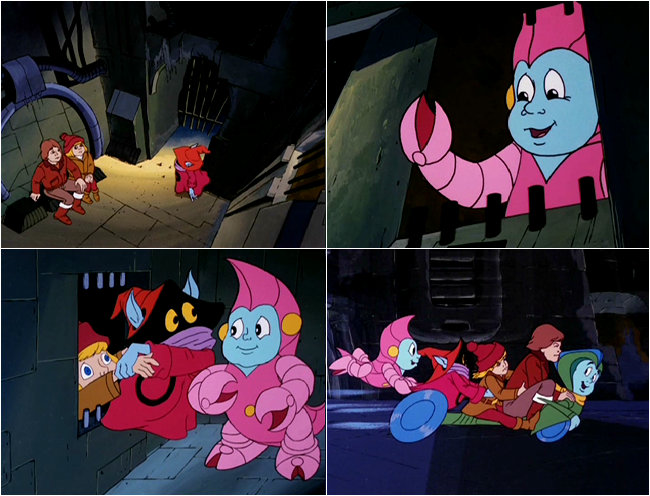 In their new prison cell, Orko apologizes to the kids for getting them in this mess when a a Manchine by the name of Cutter shows up to lend a helping hand. His hand transforms into a buzz-saw and he makes short work of their cell bars. What I want to know is why this... thing... looks like a nightmarish pink robotic dino-midget-mutant with lobster claws. I know nature can be cruel, but this would have to be one of its most stomach-churning abortions if it were real. Furthermore, he has a cousin named Zipper who appears to be nothing more than a scooter with a head (not nearly as cool as the classic anthropomorphic Speed Buggy cartoon by Hanna-Barbera, mind you). Whoever did the voice for Zipper tried to make him sound speedy (or zippy!) by adding z's onto various words, but honestly... it sounds like a bad Bill Cosby impersonation more than anything since the words blend together. Anyway, Zipper arrives to help all of them make a speedy escape, or so he thought.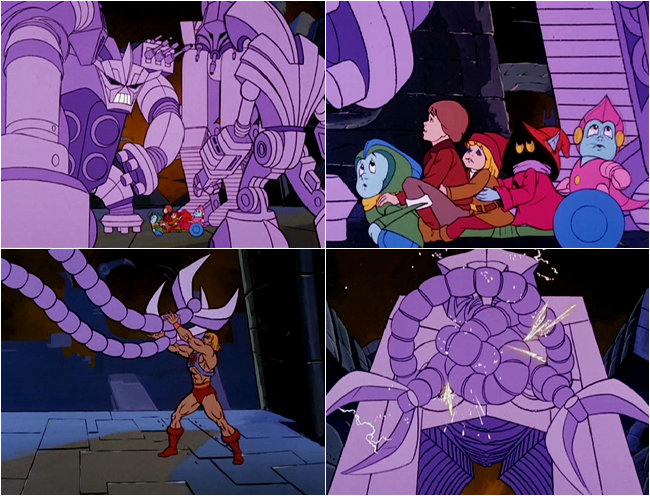 He may be fast, but Zippy is soon surrounded by the Monstroids and looks like their brave (and disturbing) escape attempt is about to be thwarted when He-Man and She-Ra show up to save the day. As powerful as the Monstroids are supposed to be, I gotta say, they're apparently not built well at all. Why do I say this? Because even the slightest inconvenience appears to make them short-circuit and/or explode. For starters, He-Man tangles up one of their arms which somehow causes it to completely short out and fall over. Wait... what!?

She-Ra turns her sword into a lasso and uses it to yank one of the robot's feet out from under it. The robot falls over and... yep, you guessed it... it shorts out. Why? Because, you know... falling over is the one true weakness of all powerful robots.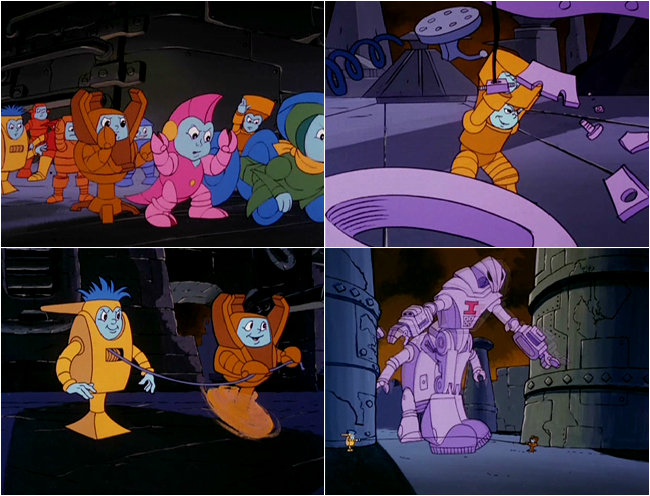 Being the mortal enemies of the Monstroids, the Manchines decide to get in on the action as an entire group of them join the battle. It seems that some Manchines have better uses than others. For example, one of them has an extremely hard head akin to the likes of Ram-Man and when He-Man tosses a Monstroid his way, the Machine uses his head to bust it to a dozen tiny pieces. Another Manchine, however, has a chest filled with rope. Sure, his buddy extends the rope and uses it to trip some of the Monstroids (which destroys them, of course) but come on... a rope chest robot? You know that Manchine has to feel pretty friggin' useless most of the time. With the mighty Monstroids being all but destroyed, the kids rejoice and are greeted by another new face...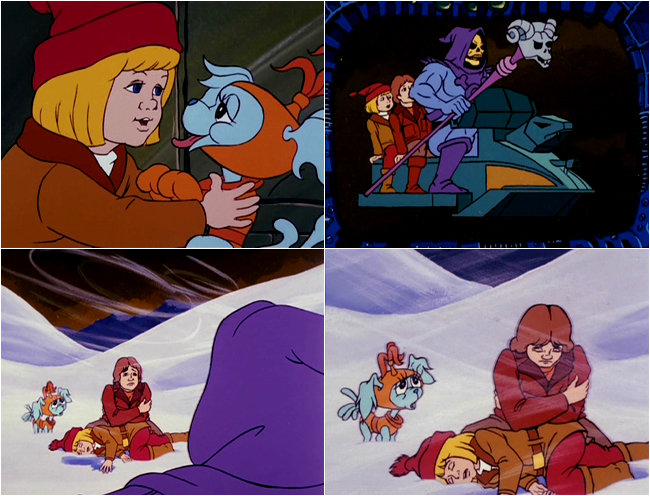 The Manchines have a puppy named Relay! I wish I was kidding, but I'm not. It also has some eyelashes. Maybe she's born with it, maybe it's Maybeline! Actually it's a "he", which makes the eyelashes all the more confusing. Their puppy runs right up to Alisha and starts licking her face. Eugh. Skeletor then shows up and captures the kids and the dog while He-Man, She-Ra and the Manchines are celebrating their victory over the Monstroids. Skeletor flies off after temporarily disabling Swifty so She-Ra can't chase after him, but Hordak shows up (thankfully, not in the peniscopter) and damages Skeletor's ride so that he crash lands in a snowy mountainous area. Skeletor has no problem with the winter weather, but the same can't be said for his three hostages. "Please mister! Be nice! It's Christmas time! It's a season of love and joy and caring!" Skeletor scoffs as Alisha passes out in the snow, "Ha! Is that what Christmas is? No wonder Horde Prime wants to get rid of it! A season of love!? Caring!? JOY!? Yeeeuch! What a disgusting idea!"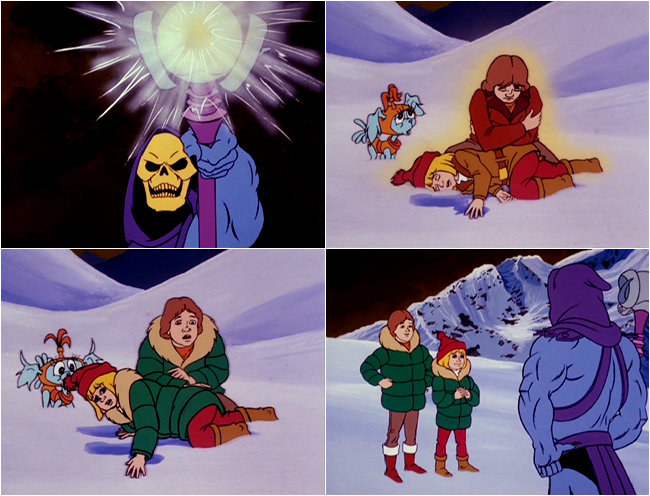 Still, Skeletor realizes he needs to keep moving before Hordak returns with reenforcements, so he uses his magical staff to create warm jackets for the kids. The're both extremely happy now and thank Skeletor for his kindness to which he responds, "Kind!? Never use that word around me!" Classic Skelee. He then commands them to keep moving, but Alisha remembers that they need to bring Relay with them. Skeletor commands the children to leave the puppy behind and to keep moving, but that's when things get insane...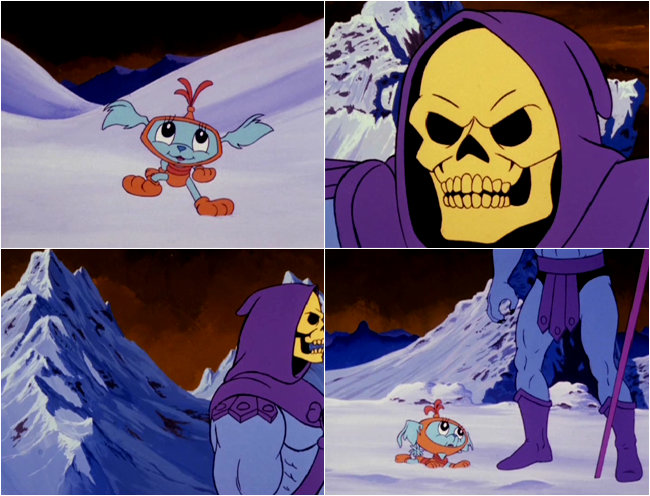 Skeletor starts to walk away, but when he hears the whimpers of Relay, he turns around and looks into those big, helpless, puppy dog eyes and it's all over. He picks up Relay and carries him since he's unable to walk in the snow.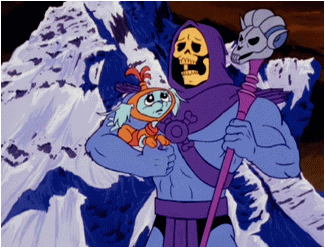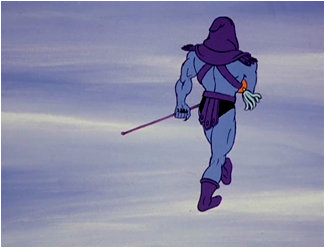 As he walks off with Relay in his arms, Skeletor starts talking to himself, "Blast it! I don't know what's coming over me... but whatever it is, I don't like it!" And then as he continues to walk, it gets even better: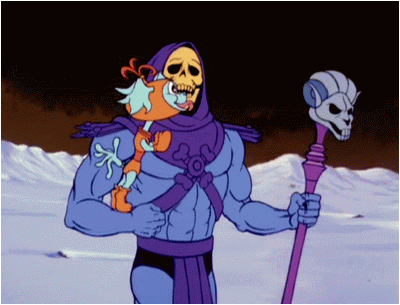 Relay begins licking Skeletor's face as a sign of affection. He tells Relay to stop it, but you can tell Skeletor's actually enjoying it despite what he says. The kids even offer to carry the dog for him, to which he replies, "Uhh... no! Uhh... no, we'll go faster if uh... if I carry him! But uhh... tell more more about this uh... Christmas." They go on to explain the holiday in more detail to him, and Skeletor assumes all the activities involve violence. For example, he expects any presents that people receive have explosive devices hidden inside them. One could only wish, Skeletor... one could only wish.
The He-Madness isn't over yet!
Click here to continue to Page 3 of the
He-Man and She-Ra Christmas Special!