by: Dr. Boogie
...CONTINUED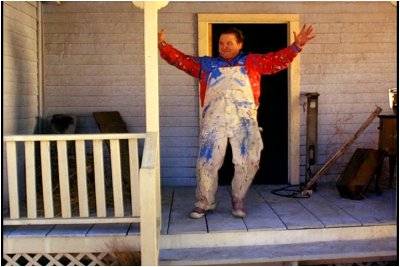 Topside, nobody buys Ozzie's story about a bug-eating leprechaun. He even shows them the basement, but by that time, the Leprechaun has found a decent hiding place, and Ozzie winds up looking even more like a fat dope. Oh Oz.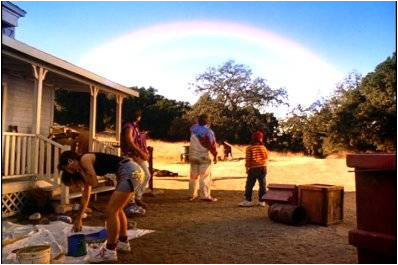 Back outside, Ozzie sees rainbow forming in the sky. No one else thinks a rainbow spontaneously forming in the skies over the dry, brush-lined hills of North Dakota is remarkable. Ozzie runs off to find the pot of gold that must be at the end of the rainbow, and Alex follows, hoping to keep his lumbering idiot friend from harm. Meanwhile, Tory asks Nathan if the paint they're using is biodegradable. Because she's from LA.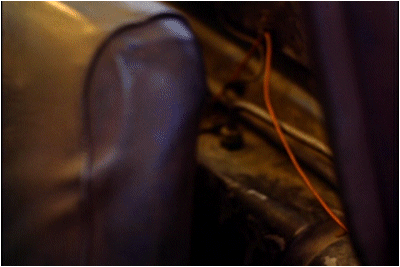 The rainbow leads to an old rusted out pickup truck. Ozzie manages to find one of the coins, but then the bag itself magically appears. Was Dan O'Grady some kind of North Dakotan druid?
Ozzie finally remembers that this gold was the very thing the Leprechaun who assaulted him was talking about, even though he had been talking about leprechauns and their wealth-hiding techniques since he left the house. At the same time, Alex thinks the leprechaun stuff is nonsense, even though he just found a bag of gold coins at the end of a rainbow. It's hard to say which of them is the dumber of the two.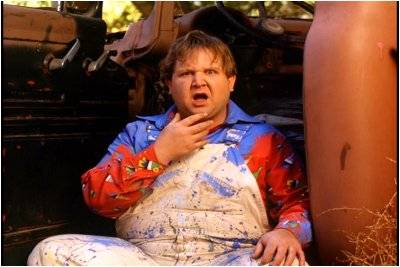 Then Ozzie decides to defend his title by biting the coin to check its authenticity, and accidentally swallowing it in the process. He's forced to ask a tough question:
"Hey, can you die from swallowing gold?"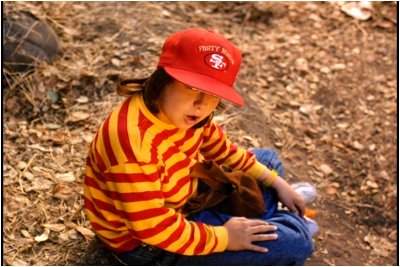 "Yeah, after I kill you!"
Man, this kid is a chop-buster. Anyway, Alex claims that he can get the coins "checked out" in town, and that they should hide them in the meantime. Luckily, he knows the perfect place: the rusted out truck where they've been hidden for ten years. Nah, I'm just kidding. He wants to hide them in the well by the house.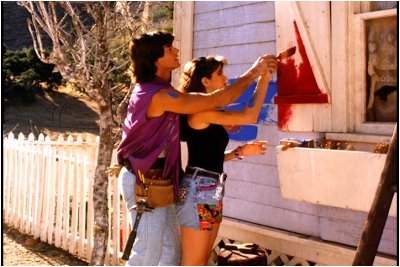 Meanwhile, Nathan is pretending to be impressed with how quickly Tory is learning how to paint a house. Nathan has been so busy flirting with Tory that he forgot that you need paint to paint a house. Luckily, Tory has also figured out how to get a paint bucket from a truck. Is there no limit to her capacity for learning?

But the Leprechaun is there, underneath the truck. He starts pawing at her leg, and she mistakenly assumes that it's Nathan doing the pawing. Yes, Tory, after you and Nathan parted ways, he made a sharp turn, ran to the truck, and slid underneath it like a major league baseball player sliding into home, just so he could check your ankle for stubble. And he did all this without you hearing or seeing anything.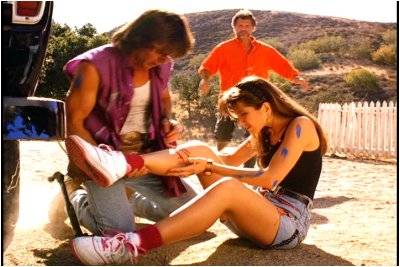 Once she finally figures out how stupid an idea this way, she screams and spooks the Leprechaun. Nathan and her dad are wondering what kind of animal made the scratches. Luckily, someone ADR'ed a cat meowing into the scene to answer that question.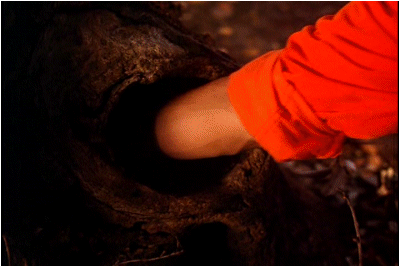 JD thinks the cat is hurt. As if to show where Tory gets her own powers of intuition, he blindly sticks his entire arm into a stump where the meowing is coming from. The Leprechaun bites him, and everyone is surprised. Not by the idea of a domesticated cat having a mouth that large, but I guess surprised that a cornered, injured animal would bite someone. Shocking.
JD is in need of some immediate medical care now, so it's off to the emergency room. Little do they realize, the Leprechaun is right behind them!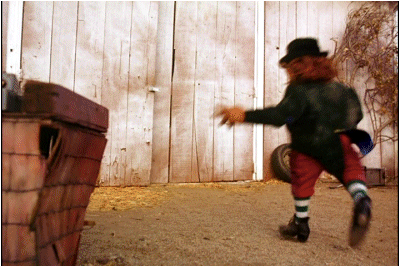 Now answer me honestly, folks: would you know this was a horror movie if I hadn't mentioned it earlier?
Anyway, while JD is getting his "cat bite" looked at, Alex and Ozzie sneak off to a collectible shop to have one of the Leprechaun's coins appraised.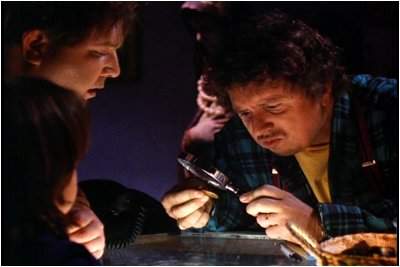 The collector can't tell exactly how much the coin is worth, but he puts its value somewhere between $500 and "priceless". A night of research, he explains, should be enough for him to give them a more definite answer. And what a night it is.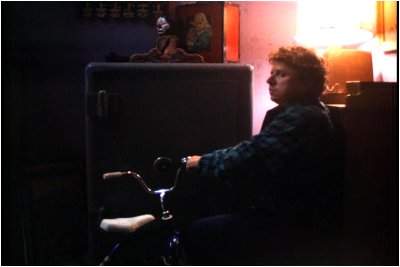 He hears the menacing sound of a bicycle bell in the distance. And then he gets nudged by a small tricycle. Well, that's nothing to be too worried about. No reason he should stop putting the coin in his safe.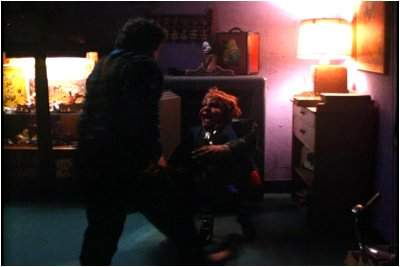 But the Leprechaun was already there! Dun dun duuuun!!! He demands the collector give him back his gold, I mean "me gold". The collector is a bit confused by this less-than-frightening character, but a quick bite on the leg is enough to convince him to give up the coin. What happens next may very well be one of the most gory and horrific scenes ever recorded on film.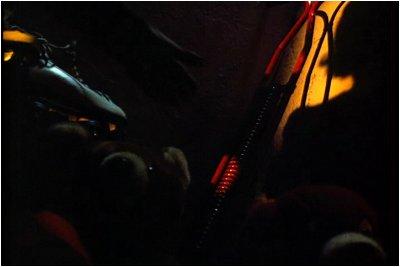 The Leprechaun finds a pogo stick in the corner, and decides to put it to good use: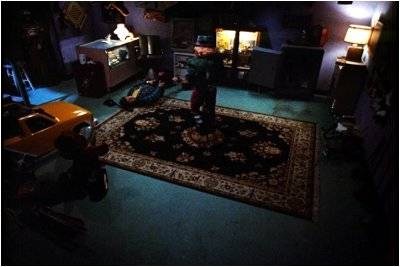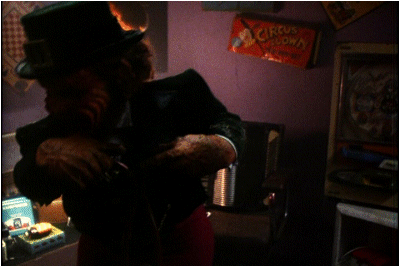 "This old Lep, he played one, he played pogo on his lung!"
Your eyes do not deceive you: HE KILLS THE MAN WITH A POGO STICK!!! The brutality! The sadism! The use of a children's rhyme to underscore the mayhem! I was so horrified I almost had to stop right there. And then he shined the man's shoes.
Then, "by the luck of the Irish", the Leprechaun spots a small children's pedal car. A definite improvement over a tricycle.

On the less gruesome side of town, Tory and Nathan are eating at a diner. If you were hoping for great comedy dialogue about an LA girl who just isn't adjusting to life away from the big city, or if you were hoping to hear yet another country song about four-leaf clovers, then this is the scene for you.
Luckily (no pun intended), the Leprechaun is up to more interesting hijinx.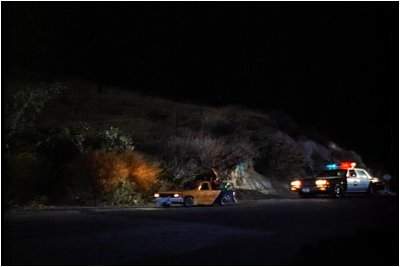 Using, let's say leprechaun magic, the Leprechaun has gotten the little toy car up to highway speeds. Fast enough to attract the attention of a police officer, I believe his name is Officer Deadmeat.

The cop pulls him over and lectures him about being too young to drive. But the Leprechaun explains that he's actually 600 years old. How else would he know about...

The Leprechaun Eye Rake!? Take that, Johnny Law! And next time, remember to fasten that button that keeps your gun from getting yanked out of its holster and thrown away (leprechauns are very pro-gun control).

The cop runs off, but the Leprechaun isn't through with him yet. It's time for a high-stakes game of hide and seek!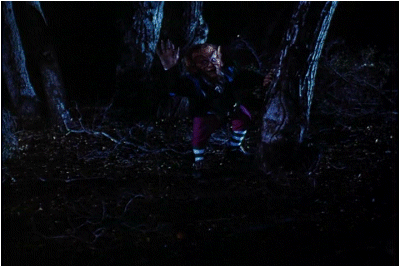 The cop starts off with some hiding of his own, but the Leprechaun has 600 years of practice. The cop gets a little frustrated. Soon, he gets so frustrated that he hurls his nightstick. Oh well, I'm sure he can always fight off the Leprechaun with his bare hands. I mean, he's got at least three feet on the guy. One good punch should...


*crack*
Oh, nevermind.

There's still more madness to Leprechaun!
Click here to continue onward to page 3!